The number of ways that Universal Orlando Resort has changed so far this decade is, to put it mildly, mind-boggling; ever since the twin advent of Harry Potter and Comcast (the new corporate owner), attendance has soared, the money spigot has been turned resolutely on, and the developments have been coming fast and heavy. Just consider these two little factoids: by this time next year, the number of Universal's on-site hotels will have doubled (with an accompanying room count that will have almost tripled) and the vast majority of Universal Studios Florida's attractions will have been replaced. Neither by itself is a small feat, and both together are staggering.
But all of this progress invariably leads to one simple question: how much more progress is waiting just around the corner? It's human nature to ask what's next to begin with, but Universal Orlando's recently-fertile ground makes the query all the more potent. Luckily for us, there are some just-emerging trends that we can pick up on and extrapolate to the near-future, allowing us to guess just what the next 10-year cycle will bring us.
(And, no, we're not talking about the continued appearance of new attractions, such as next year's Fast & Furious: Supercharged, or theme park lands, like next decade's Super Nintendo World – these are givens, thanks both to Universal's recent track record and its many press releases on the matter already.)
How will Universal change in the next decade? Let's find out.
1. "Off-site" will increasingly become "on-site"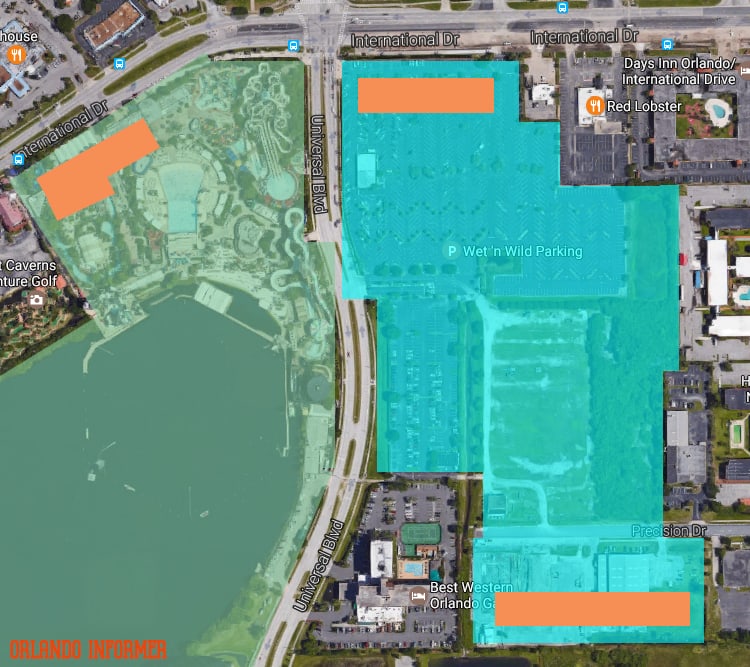 Universal Orlando Resort proper sits on only some 940 acres of land (we say "only" because its neighbor just down the street, Walt Disney World Resort, resides on some 13,000 acres), and nearly all of that has already been accounted for, what with the impending arrivals of Aventura Hotel and Volcano Bay's five-acre expansion. What does a land-strapped company do when it still has plenty of expansions to take care of? Easy – buy more land.
In fact, Universal has already done just that. First up is a 63-acre slice of real estate just five minutes down the road that used to be home to Wet 'n Wild Orlando, the resort's first water park, and which will, in 2020, be the location of Universal Orlando's seventh and eighth hotels. After that is a 474-acre lot some 10 minutes further down the road, nearby the Orange County Convention Center; expect to see a third theme park and a second CityWalk here sometime in the '20s.
How the company will handle all these multiple swaths of property is the real question. Will it attempt to unite them all via monorail or skyway, like Disney is currently implementing, thereby making it able to deliver a completely-seamless vacation? Or will it stick with bus service, making it more of a trek from one location to the other, possibly replete with changes in hotel accommodations for visiting families? This is the real question, and its answer will not only determine Universal's success on this front, it'll also be the key to the next round of land-gobbling – don't be surprised if, by this time next decade, we'll be hearing about several more 50-acre purchases, each containing another hotel, entertainment venue, or next-generation attraction.
Universal Orlando may truly become the first major distributed (or non-linear, if you will) theme park resort.
2. Increased technology
Yes, we did say that we'd sidestep the gimmes for the purposes of our prognostication, but this isn't quite what'd you think – at least, not on first glance.
While, of course, Universal will continue to research the latest in technology for the purposes of wowing guests in its attractions, what we've seen over the past year or two has been the company actively applying this same level of R&D to the other facets of the guest experience, as well:
Waiting in line
Both Race through New York Starring Jimmy Fallon and Volcano Bay feature something called Virtual Line, which has visitors log their wait in a, well, virtual line using their smart phones; this way, they can go about enjoying other parts of the parks instead of being stuck in a queue proper. Even better, however, Fallon takes this one step further, transforming the queue from a long, linear line into a series of waiting areas that allow patrons to casually go one from activity to another, whether that be watching clips, playing games, or enjoying live performances.
Universal has been quite forceful in describing how this will be the future of the waiting game not only for its Florida resort, but also, it thinks, for all the rest of the entertainment industry. Fast & Furious has already been confirmed to feature this next-gen queue, and it's expected that all of the third theme park will built from the ground up with this in mind.
Facial recognition
Earlier this year, Universal began testing facial-recognition tech, in this case for validating an on-site hotel guest's Express Pass. It's easy to see how most, if not all, Express Passes will similarly follow suit – but then there's also the possibility of the technology being implemented across the board. Is it impossible to think of turnstiles being replaced by cameras at the front of the parks (thereby reducing wait times and fraudulent activity both), or dark rides that can be personalized to a whole new level (such as, say, Harry Potter talking directly to you in his next ride)? Actually, in the immortal words of Agent Smith, it's inevitable.
(A corollary to this technological point is Universal's apparent interest in augmented reality [AR], such as its recent patent to issue special glasses to visitors that will enable them to receive a whole stream of personalized data [say, waypoints to finding Toothsome Chocolate Emporium for first-timers] or computer-generated imagery that enhances the "natural" surroundings. Before we know it, just walking down a theme-park land's street can be the greatest attraction of them all.)
Mobile ordering
This is a front that Disney is clearly beating out Universal on, but we don't expect that to be the case for long.
The idea goes a little something like this: instead of waiting in line at a restaurant to order your food, patrons will be able to do so on their phones. Then, when they arrive at the venue, all they do is send the message that they're there; the cooking staff will quickly prepare the order, which can be picked up in a special side window that has only a fraction of the normal wait. This will free up visitors' time just as Virtual Line does for dark rides, and the AR experiences will help with the management of all these bigger-than-ever crowds that are churning the streets.
We should note that Universal is already researching this mobile-order possibility, and we should expect to see it implemented sometime in the not-too-distant future. But just imagine what a new theme-park land (Nintendo, anyone?) would look like that had such a feature built into it from the ground up – that's where the true potential of this feature will truly shine.
3. Next-generation hotels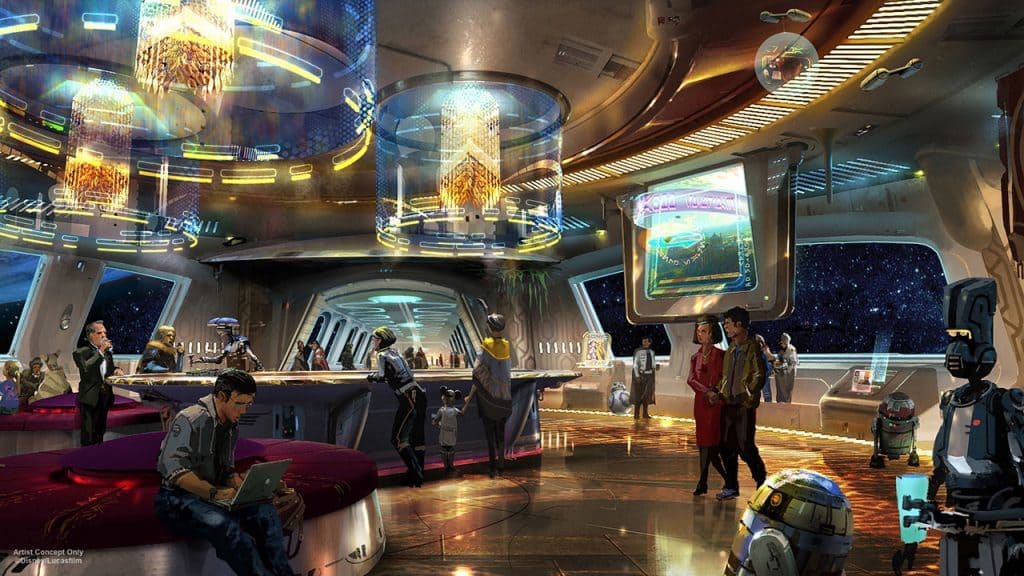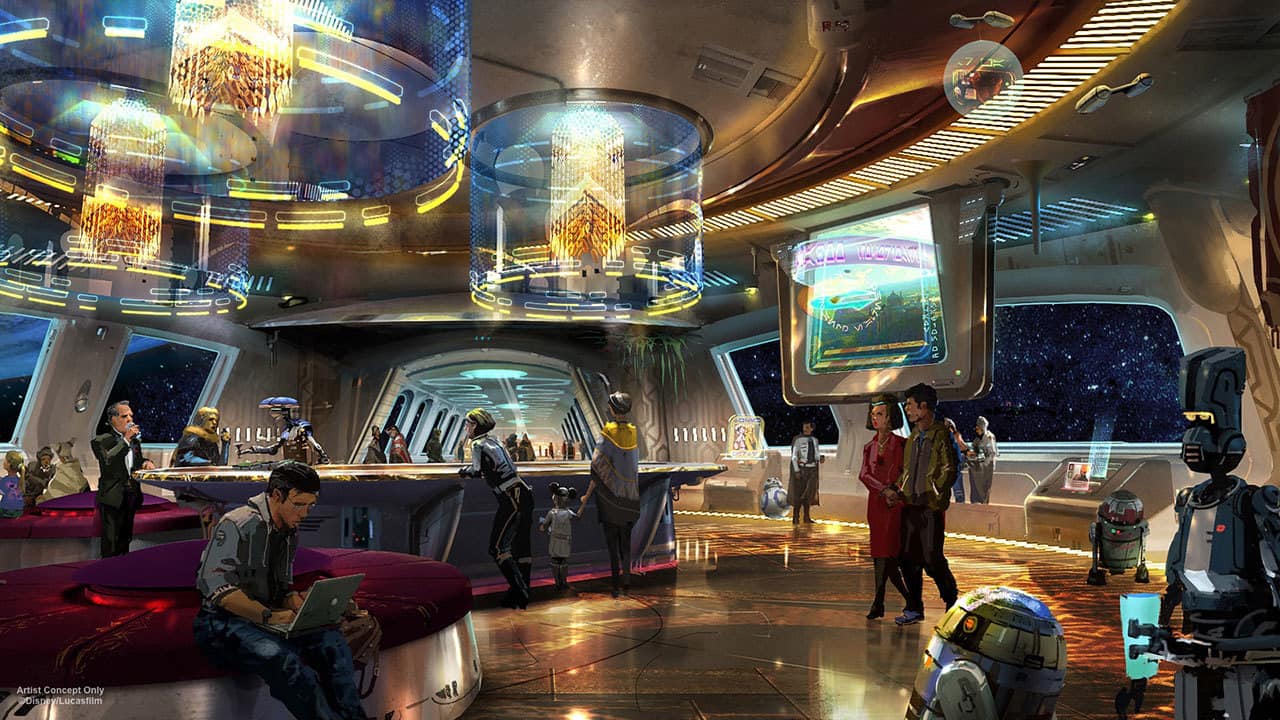 The newest wrinkle to the theme-park formula is one that has already, at this point, become one of the best-known: just last month, Disney announced its Star Wars hotel, which – we think – will be placed directly adjacent to Star Wars: Galaxy's Edge right on Hollywood Studios property and which will allow guests to have a completely lived-in experience, with every second of their vacations being immersed in that galaxy far, far away.
It's such a tantalizing – and lucrative, if the rumored $650-a-night rates are to be believed – possibility that Disney has already branded the experience "Disney 360" and is purportedly looking into duplicating the format for a possible Indiana Jones Land in Animal Kingdom. This, of course, means that Universal is right behind them, researching its own next-generation hotel(s).
Just where would these new fully-themed properties go? Depending upon how small – that is to say, how exclusive – the company wants to go, it could conceivably squeeze one or two into either Universal Studios Florida (Nintendo-branded, hypothetically) or Islands of Adventure (Harry Potter); should they revolve around two-night packages that similarly cost an arm a leg, these boutique hotels could make more than a pretty penny without having the huge capacity of, say, Cabana Bay Beach Resort. And this is where that third theme park comes into play yet again – this would be the very first park in America to be designed and built since the advent of this new, just-emerging trend, and it could therefore be the first to fully reap the rewards of such an approach.
Everyone has been talking about how we have now fully entered the Age of the Intellectual Property, where a new theme-park land will only be built if it can be based upon a pre-existing franchise. It just may be, however, that we're already one step beyond that; the question facing theme-park operators won't be if the brand is strong enough, generally, but whether it could also support an accompany hotel (and restaurant and exclusive gift shop).
–
Be sure to follow Orlando Informer on Facebook, Twitter, and Instagram for the latest news, tips, and more at Universal Orlando, Walt Disney World, and other Orlando attractions.