Note from the editor: although this trip report was originally filed back in September 2013, its tips are timelessly insightful and will help you to have a special occasion to remember.
My boyfriend Brandon and I just got back yesterday from Universal Studios Florida, Islands of Adventure, and Halloween Horror Nights. It feels a little crummy to be back in the real world, but we had such a wonderful experience at Universal Orlando Resort that I'm getting excited again because I'm able to share it with you!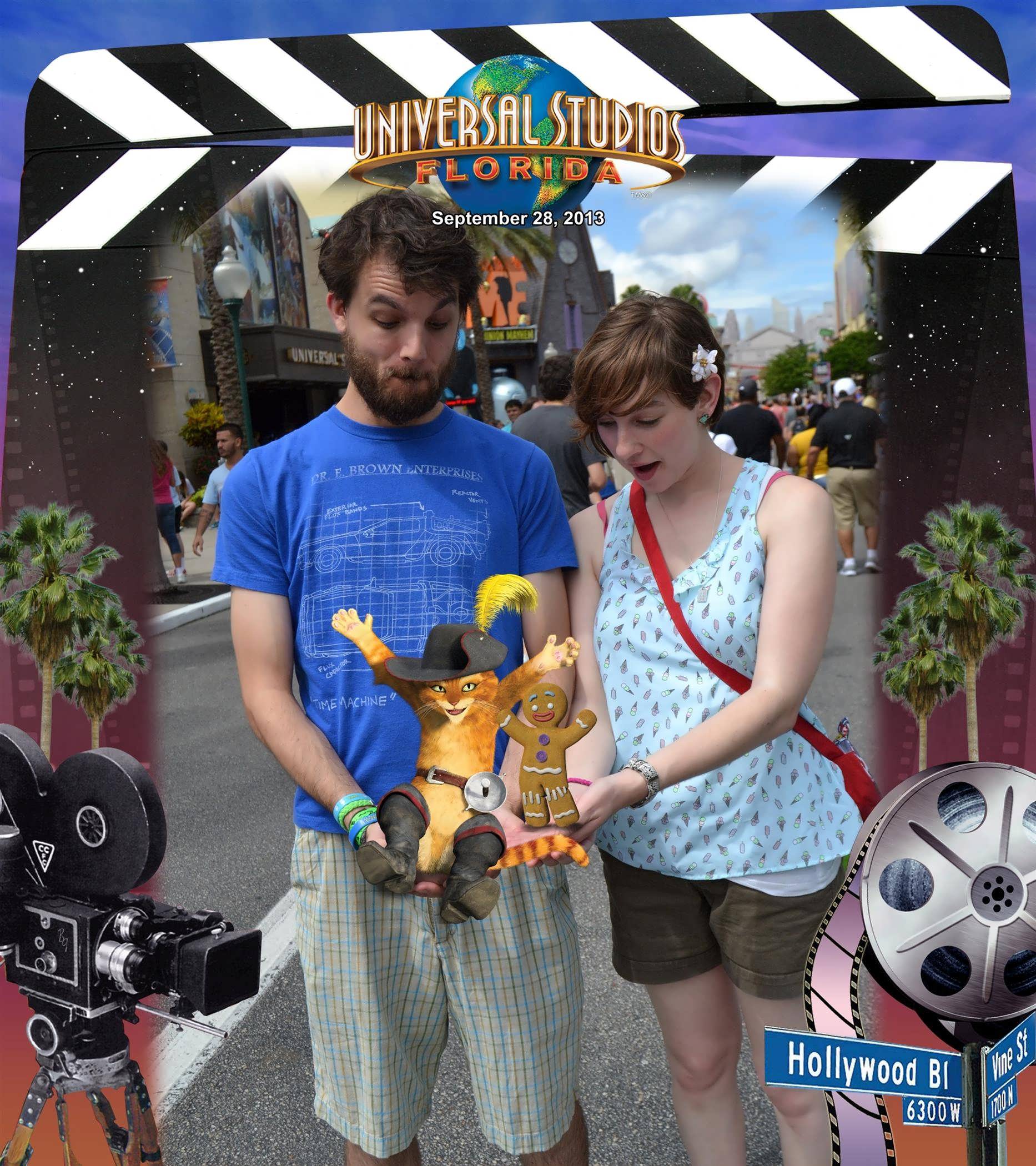 We visited Universal Orlando in 2012 for our one-year anniversary. It was a last minute trip, and we really didn't know what we were getting into. Now, for our second anniversary, we were smarter, more enthusiastic, and prepared for a wonderful time thanks to the Orlando Informer site and touring plans! Versus our previous trip, we did three things to really enhance this year's experience: purchased the Universal Photo Connect Star Card Package, went to Halloween Horror Nights 2013, and stayed on-site at Universal Orlando. I highly recommend all three to everyone visiting Universal Orlando, and here's why…
Universal Photo Connect Star Card
In total we had 37 souvenir Universal photos taken with borders, in addition to all of the originals we have without borders! We were able to get in on the $49.99 pre-purchase deal, and we received our HHN souvenir photo as our free 8×10 print (displayed in the HHN section below). I also thought it was nice that the lanyard included with the Star Card Package had a clear, plastic zip cardholder, so there is no need to purchase one to hold our tickets and cards. We rode Transformers six times and several other somewhat intense rides, and my cardholder held up the entire time.
As we explored Universal's parks, we thought it was so much fun searching for the photographers and striking the perfect pose for the ride photos!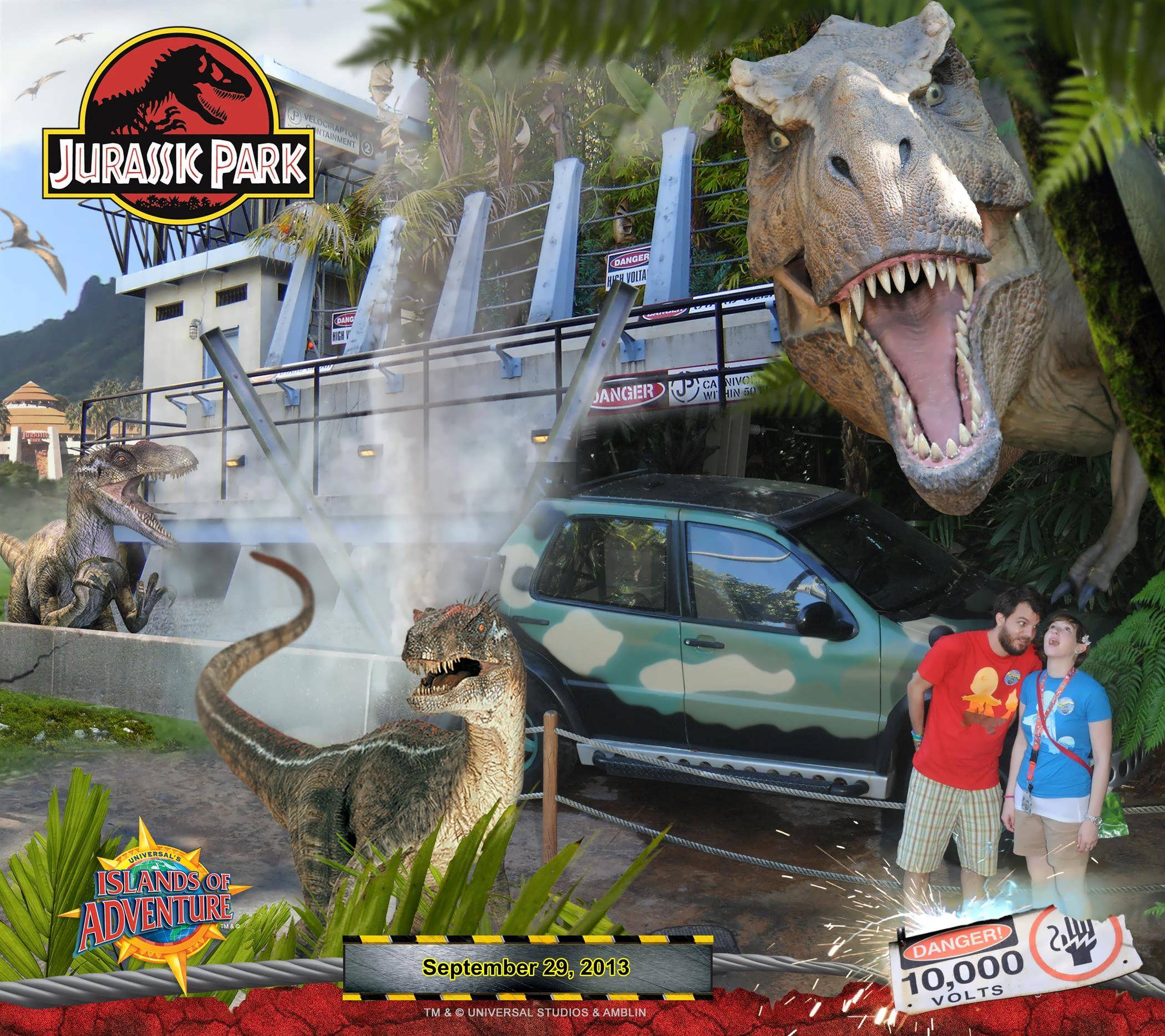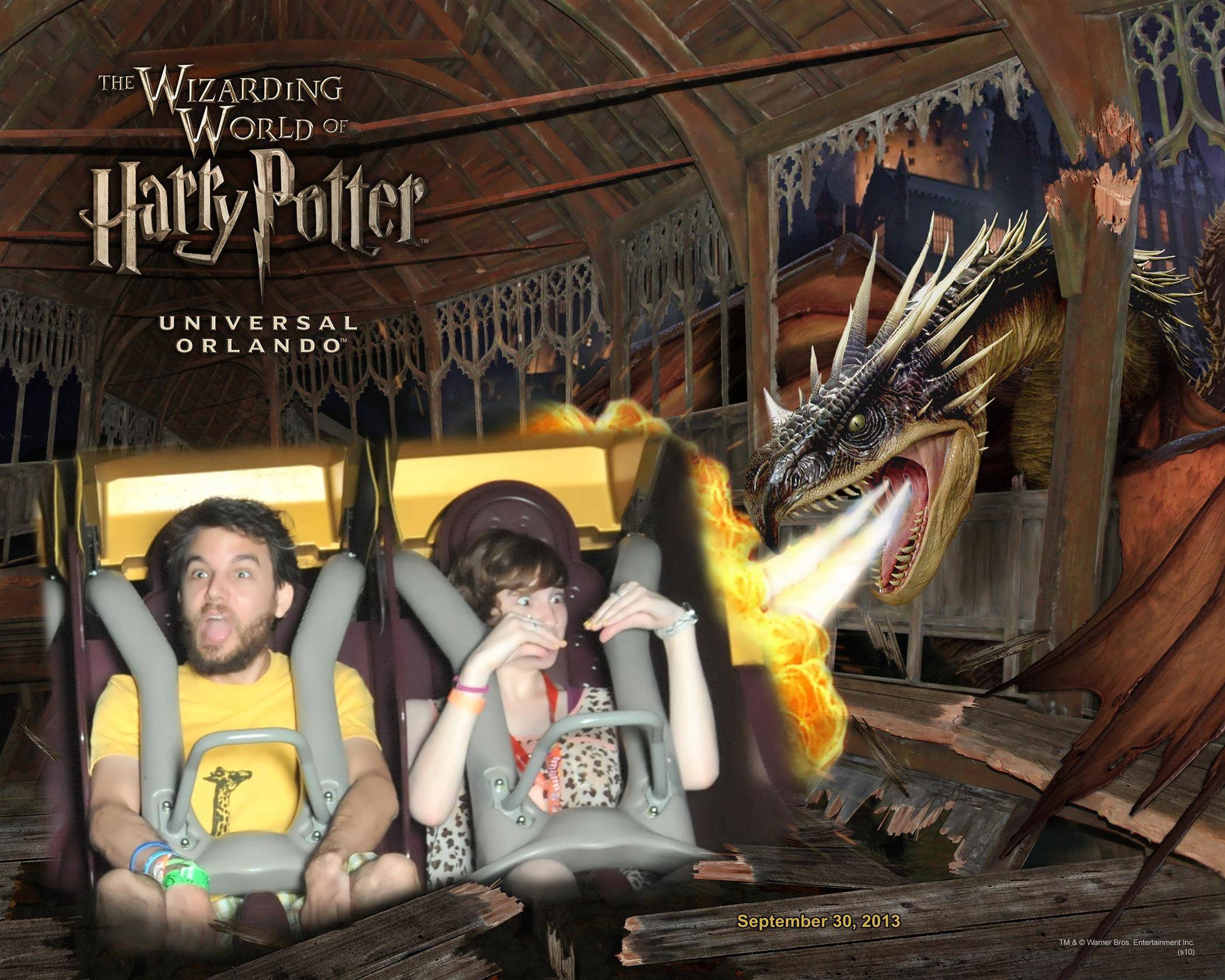 Photographers were pretty plentiful and extremely willing to make our photos priceless, including the photographers out during Halloween Horror Nights. Last year we only had one picture taken of the two of us during our whole visit. This year we got so many more, and it was so easy (and inexpensive) using the Photo Connect Star Card Package!
<script async src="//pagead2.googlesyndication.com/pagead/js/adsbygoogle.js"></script>
Halloween Horror Nights 2013
Last year, we noticed a billboard for this event and knew we had to go back to see it. We went to Halloween Horror Nights on Sunday, September 29. The crowds were definitely present even on a non-peak night, but it was not difficult to see all of the houses given the time. The real challenge, it turns out, was all the extra walking, because we were already tired from a full day of bouncing around the parks, let alone HHN at night. Yikes!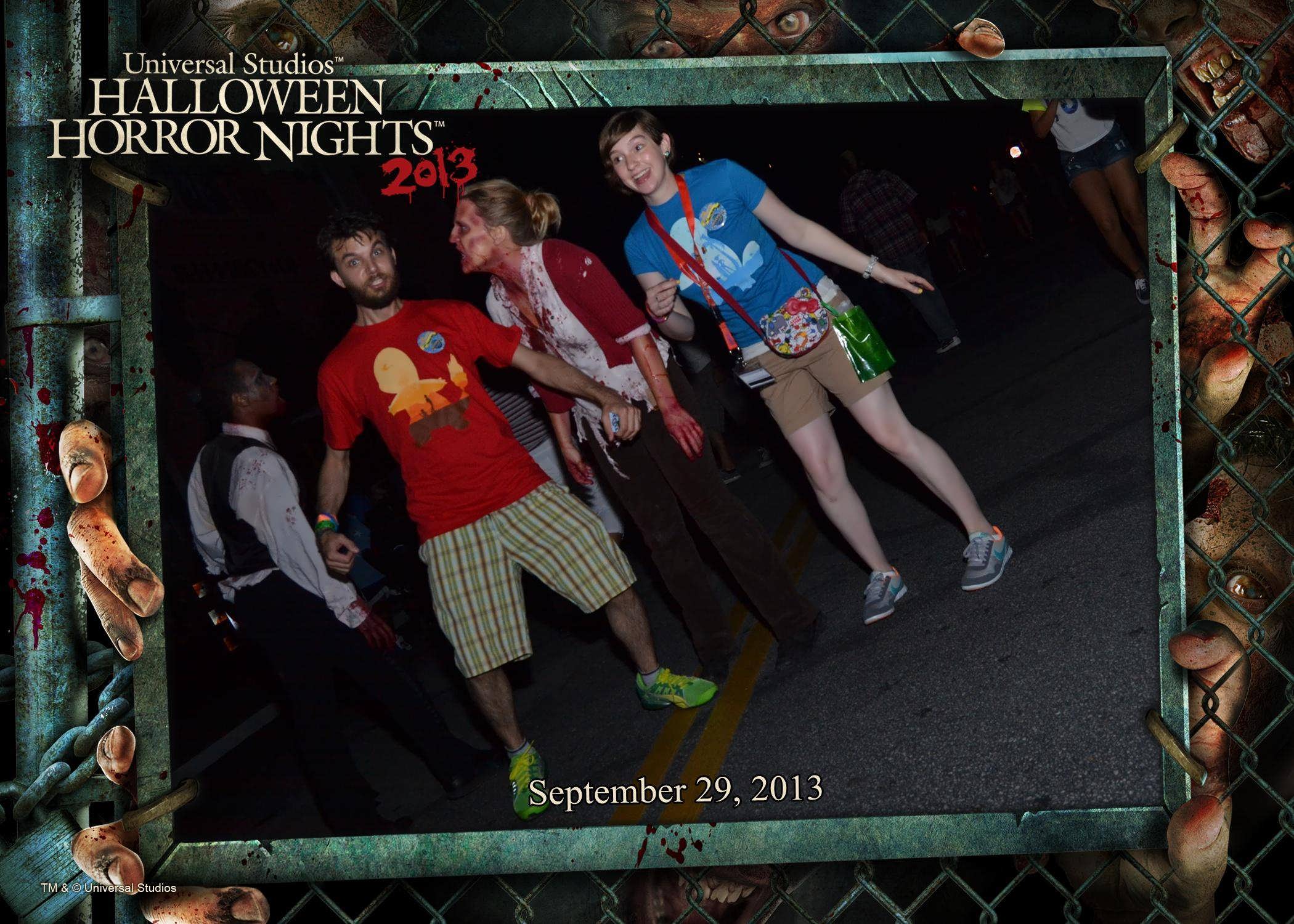 For the haunted houses, we visited American Werewolf in London, Resident Evil, Walking Dead, La Llorona, and Cabin in the Woods. We could have seen Evil Dead and the two original houses, but we opted to people watch, take photos with zombies, and see the Bill & Ted Show with the remainder of our time.
When the event opened, everyone rushed to Cabin in the Woods and the wait time was 60 minutes. We opted to do American Werewolf, Resident Evil, Walking Dead, La Llorona (waiting only 20 minutes at the most for each) and then swing back around to do Cabin in the Woods. We were lucky that, at the end of the night, the wait time dropped for Cabin to 35 minutes and took only 25. This was our absolute favorite house because it was very true to the movies.
If you're going Universal during September or October, do not miss out on Halloween Horror Nights; it made our trip so memorable. The decorations, scares, houses, even food is worth the additional cost.
Staying on-site at Universal Orlando
We booked accommodations at Royal Pacific Resort, and this place felt like a vacation unto itself. Our room was extremely comfortable, and we had a gorgeous park view that made us feel like we never left the fun! Another feature we really liked was the water taxis: during our stay we never waited more than 10 minutes for one, nor did we ever have to worry about transportation, which was wonderful at the end of the nights.
For our anniversary, I was to be able to order a dessert that was delivered as we arrived at the resort. I had to pay a little for the cookies, mugs, milk, and delivery, but it was so nice, and it was a huge surprise for my boyfriend!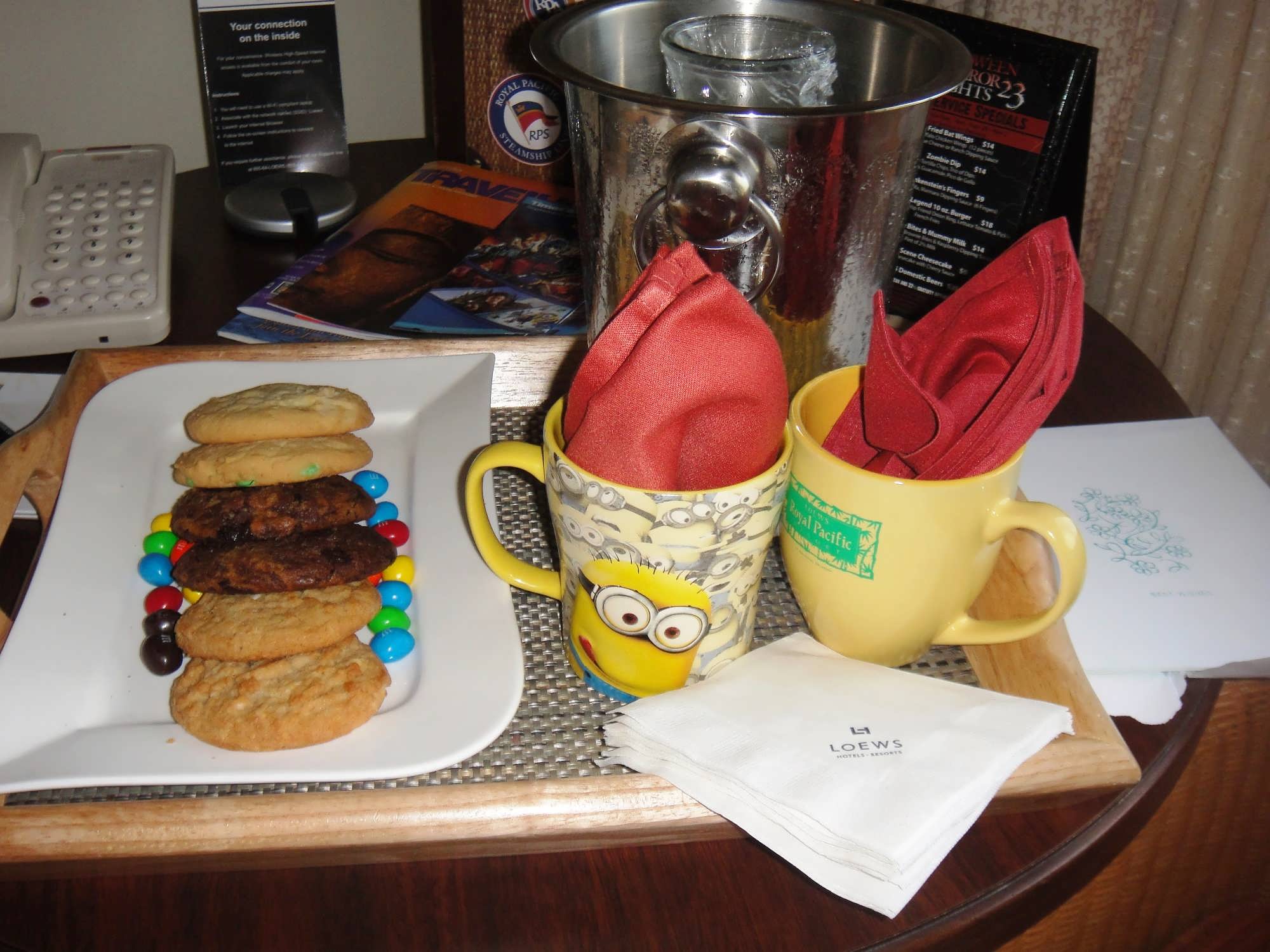 The dessert also came with a card, which I was able to personalize. Inside the card, the resort staff included seeds to plant and make wishes for many years to come.
Overall, we loved staying on-site at Universal, and we really loved Royal Pacific Resort — it was the perfect home for us during our two-year anniversary celebration. And don't forget the unlimited Express Passes included too! During our visit crowds were relatively low, but we still saw 50 minute wait times for Despicable Me, etc.
Thanks to the thrills of Universal and Halloween Horror Nights, the luxury of staying on-site, and all the info from Orlando Informer, our anniversary trip was definitely one in a minion!
– Stephanie Schroeder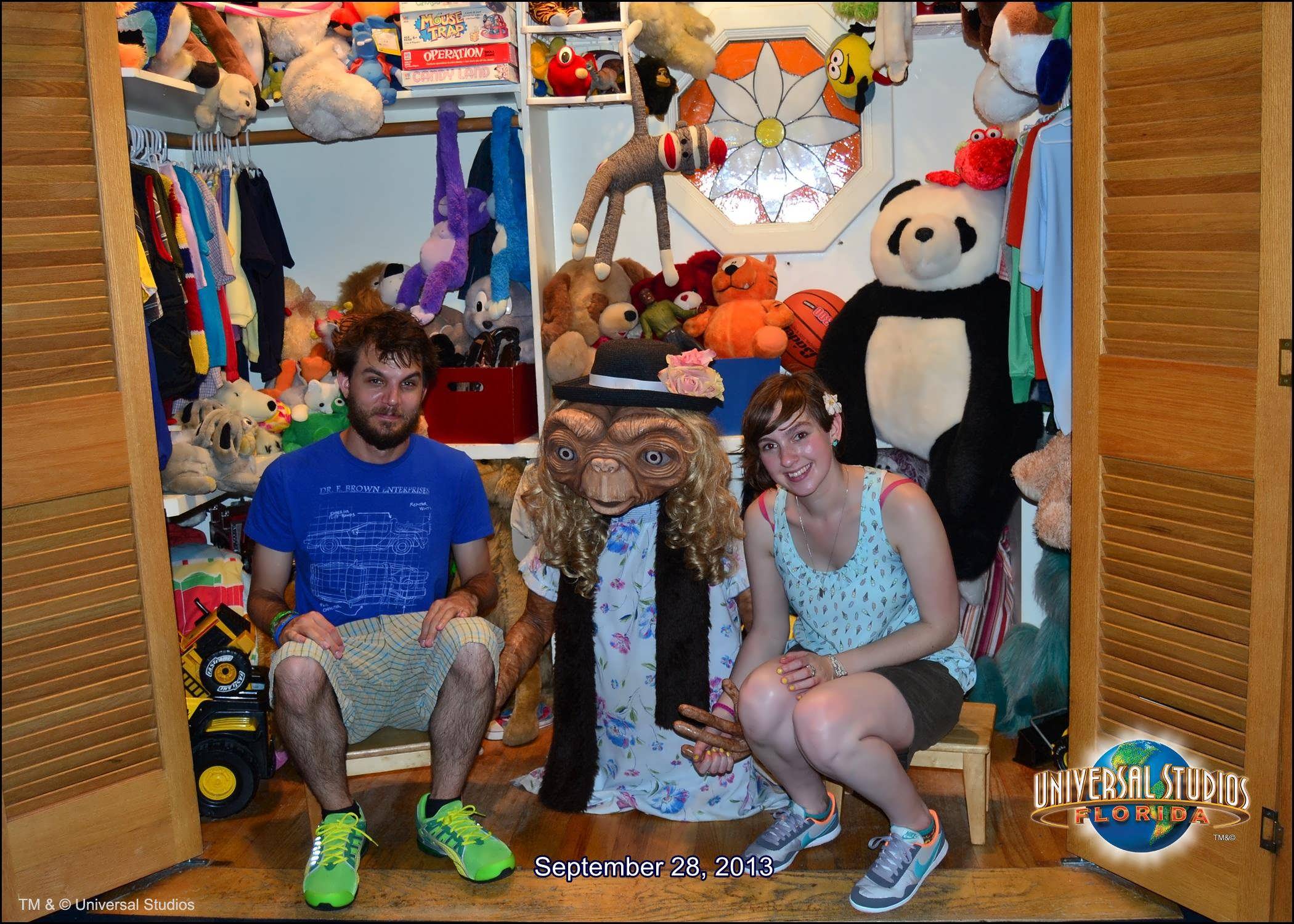 Have your own timeless tips to celebrate anniversaries — or any other special occasion? Share 'em in the comments below.
Planning a vacation to Orlando?
Want to skip all the work and just price out a vacation to Universal Orlando? We'll find the best deals for you – for free (seriously.) Learn more, or check out some of the current deals: