Everyone has been abuzz about Christmas in The Wizarding World of Harry Potter, and rightfully so – that new holiday program is nothing short of breathtaking, from the new musical performances to what arguably is now the crown jewel of the Wizarding World, the Magic of Christmas at Hogwarts Castle projection-mapping show (you can read about both of those items in our in-depth review).
But this completely ignores the other brand-new element that Universal is debuting this weekend: its Holiday Parade Featuring Macy's. A massive production, this new nightly celebration features 13 new balloons and 15 new floats, all produced from the company's close working relationship with three of its biggest partners – Illumination, Macy's, and DreamWorks Animation (which it now owns).
We got the chance to speak with Lora Sauls, a senior show director at Universal and the head of the Holiday Parade, to get her insight on what the lengthy design process was like and how she and her team ended up with the (magical) results we see now. Here are the three biggest secrets we managed to pry out of her.
1. Everything is based on emotion first
Universal's Holiday Parade Featuring Macy's
Okay – someone comes by and dumps a whole smorgasbord of characters or franchises into your lap and instructs you to use them to build a brand-new Christmas event. What's your guiding star, the thematic methodology you use to string them all together into one cohesive whole?
For Sauls and her team, it was simple: their childhood memories of the holidays, and the traditions their families have passed down from generation to generation.
Each of the first three parade vignettes – that's Minions, Madagascar, and Shrek – are each used to illustrate one of these particular emotional facets. The Minions are meant to evoke the childhood joy and playfulness of the season, which is why we see them trying (and not always succeeding, in typical Minion fashion) to decorate a giant Christmas tree, making snow angels, and singing "Jingle Bells" the whole way through.
The Madagascar cast embodies friendship and comradery, items or qualities that are highlighted and cherished during the holidays. Each of the many characters is passing out gifts or singing songs together (King Julien has his own special version of "Santa Claus Is Coming to Town") or otherwise just enjoying one another's company. And, finally, the presence of the two Shrek families – Shrek, Fiona, and their ogre babies alongside Donkey, Dragon, and the Dronkeys – is meant to celebrate, well, family, which is the most important part of Christmas for the designers.
2. The scope's much bigger than before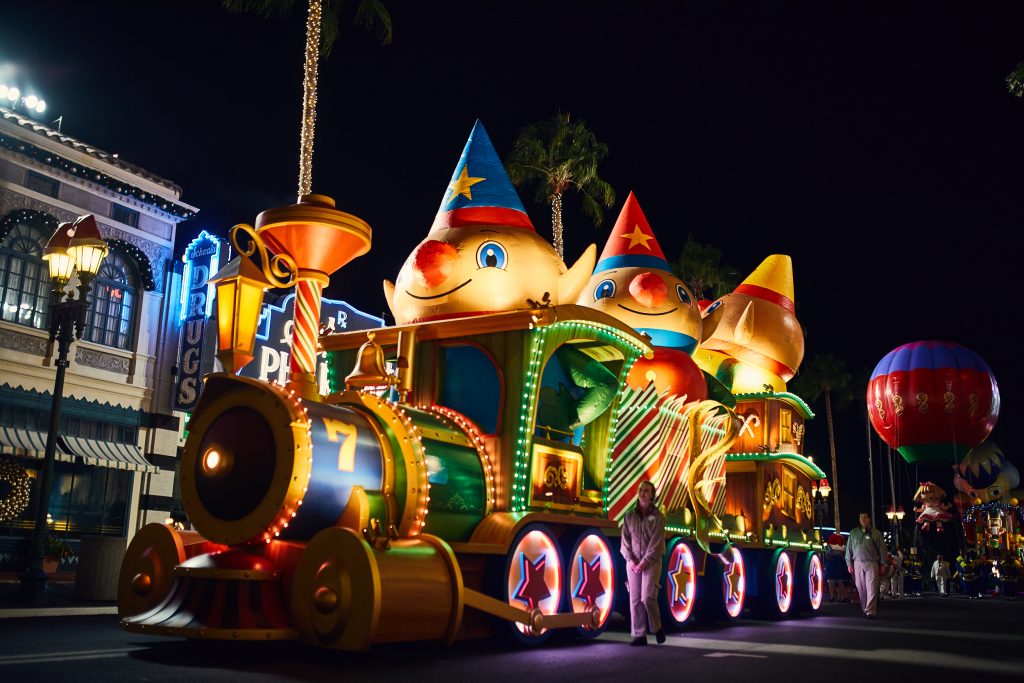 Forget all the hard numbers behind how many balloons or parade floats are present in this year's production – let's look at what goes into them.
For starters, Universal wanted to employ self-driving technology for the floats, which is similarly used in the Superstar Parade (which debuted in 2012, making it the second-newest parade in Universal history – not to mention its first-ever daily one). This allowed a greater degree of flexibility, and Sauls and her craftsmen then took advantage of that freedom by pouring as much detail as they possibly could in each of the floats, allowing guests to soak up as much of it as possible.
This can most clearly be seen in Santa Claus's new sleigh, which brings up the rear of the Holiday Parade. It's almost completely covered in LED lights, which are synchronized to the music and which make the whole float – which consists of a giant globe, symbolizing Santa's gift-filled journey around the world, and his traditional sleigh – positively look alive. When combined with the flurry of snow that accompanies old St. Nick wherever he goes throughout the park, it certainly does make for the production's centerpiece.
Speaking of which…
3. Everything started with Santa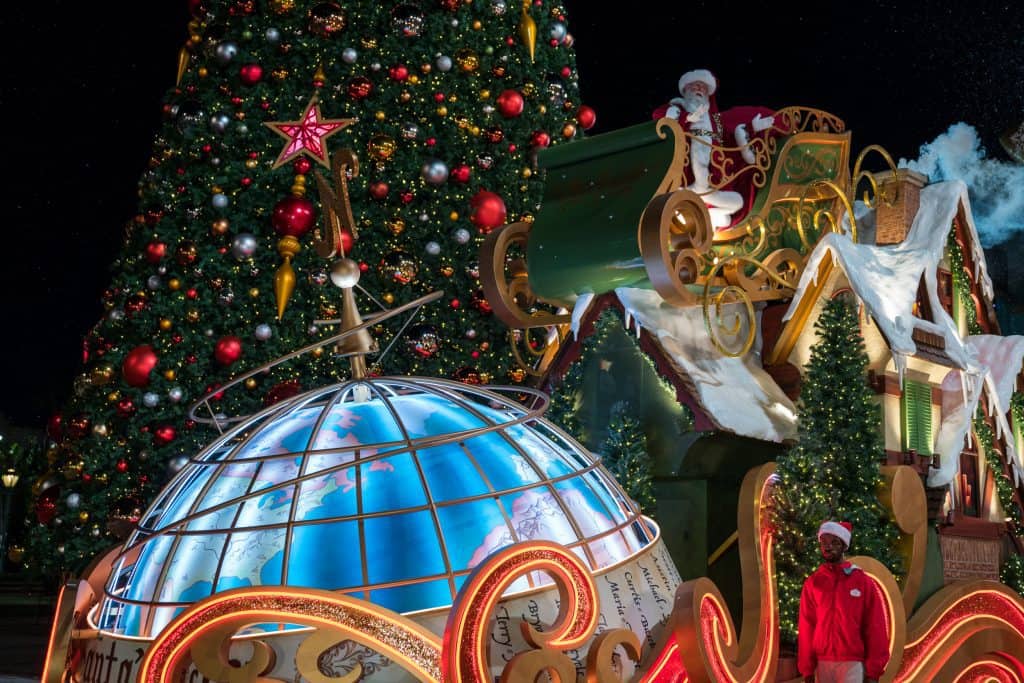 Planning for Universal's Holiday Parade Featuring Macy's began two-and-a-half years ago, which was roughly a full year before NBCUniversal's corporate parent, Comcast, scooped up DreamWorks's animation division. That means Lora Sauls's team had already generated a lot of material before the likes of Shrek and Madagascar became available for inclusion (or, at least, confirmed to be available, since those properties had a long history in Universal parks even before April 2016), which begs the question: what did that original approach consist of?
Everything started with Santa Claus, Sauls said. They wanted to focus on him, to elevate him and allow him to reign over the whole proceedings. Since the character already ended the previous incarnation of the parade next to New York's big Christmas tree, lighting it every night, the designers took that as their basis and then erected his fancy new ride around it. Since Santa really is the manifestation of all of our childhoods just by his very nature, extending that concept out to then include the three intellectual properties later on in the process was a natural design choice.
It's a shrewd move. While various Hollywood franchises may fall out of favor with popular culture (as enjoyable as they may be), and while Macy's balloons may come or go at Universal Orlando Resort (as impressive as they are), jolly ol' St. Nick is, well, timeless – just as our nostalgia is. He is the culmination of our yuletide trip down memory lane, and he's the joyous climax of our Christmas experience at Universal Studios Florida; treating everything else as place-setting shows that Sauls doesn't wish to put the traditional cart in front of the IP horse.
Which results in a better theme-park experience for all of us.
–
Learn everything there is to know about Universal's Holiday Parade Featuring Macy's in our complete guide.
And for even more on Universal's newly-expanded Christmas offerings, be sure to follow Orlando Informer on Facebook, Twitter, and Instagram.