Over the years, Disney has almost perfected the art of maintaining classic elements while also introducing new ingredients at its sprawling theme-park resorts, perpetuating nostalgia while injecting just enough of the adrenaline of the new. It's a heady brew, and it's perhaps best exemplified by the crown jewel of its various holiday celebrations, Mickey's Very Merry Christmas Party.
For 2019, the most wonderful time of the year is being rendered even more wonderful by the addition of three new key items. Forget the returning likes of the beautiful Frozen Holiday Wish nighttime spectacular or the infectious Mickey's Once upon a Christmastime Parade – say hello instead to a veritable avalanche of fun themed treats, brand-new yuletide overlays to some of Magic Kingdom's most classic attractions, and a delightful new fireworks show that rounds out the night in true Christmas style.
Exclusive new bites and sips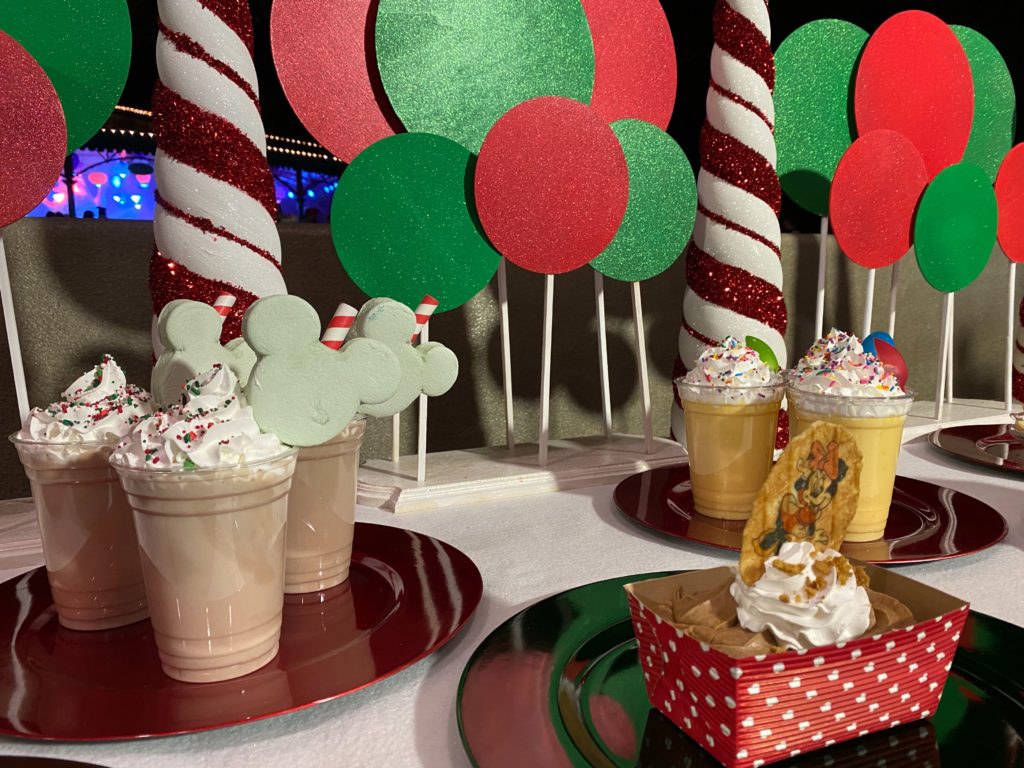 The culinary experience has increasingly become a major component of guests' immersion at Central Florida's various theme parks, and it's easy to see why when one sets foot into Mickey's Very Merry Christmas Party this year. A whopping 13 new dishes or drinks have been added to the holiday roster, ranging from the rather straightforward (a beer cheese dip with bacon and breadsticks) to the more unusual (a cold hot-chocolate float that's made with cherry- and pistachio-flavored ice cream).
Here's the full skinny on all of them, straight from Disney itself, replete with their places of purchase and whether they're exclusive to the hard-ticketed Very Merry Christmas Party:
Cherry & Pistachio Float – cherry- and pistachio-flavored soft serve swirled together, served on top of cold hot chocolate (Aloha Isle; sold all day).
Deck the Halls – frozen eggnog and confetti sprinkles topped with whipped cream and a chocolate Christmas light (Cosmic Ray's Starlight Café; sold all day).
Gaston's Cheese Dip – beer cheese dip with smoked bacon bits served with breadstick antlers (Gaston's Tavern; party-exclusive).
Gingerbread Sundae – gingerbread soft-serve sundae topped with whipped cream and speculaas biscuit pieces served in a Minnie dot boat with a Minnie waffle wafer topper (Storybook Treats; sold all day).
Jolly Tamale Christmas – three house-made tamales filled with shredded chicken and a trip to the fixings bar (Pecos Bill Tall Tale Inn and Café; party-exclusive).
Kakamora Float – coconut soft serve served on top of pineapple juice and non-alcoholic blue curacao syrup and garnished with a chocolate Kakamora cake pop (Aloha Isle; party-exclusive).
Olaf's Frozen Hot Chocolate Cake – gluten-friendly chocolate cake layered with chocolate crisps, chocolate panna cotta, and marshmallow fluff (Main Street Bakery; sold all day).
An Orange Bird Christmas – orange-scented white chocolate mousse filled with orange curd on a citrus-almond cream cake with buttercream leaves and a white chocolate piece (Sunshine Tree Terrace; party-exclusive).
Santa Mickey Waffle Sundae – red velvet waffle, mint chip ice cream, seasonal sprinkles, chocolate sauce, and peppermint powder (Sleepy Hollow; sold all day).
Snowflake Brownie – chocolate brownie decorated with a sugar snowflake and piped with icing (Casey's Corner; sold all day).
Sven's Carrot Cake – carrot cake topped with cream cheese icing, sugar carrots, and a Sven chocolate piece (Pecos Bill Tall Tale Inn and Café; party-exclusive).
'Tis the Season – chilled orange Fanta mixed with cranberry juice and green apple boba (Cool Ship; party exclusive).
To Be Jolly Float – peppermint iced coffee topped with vanilla ice cream, crushed peppermint, and a Minnie chocolate bow (Plaza Ice Cream Parlor; party-exclusive).
Christmas ride overlays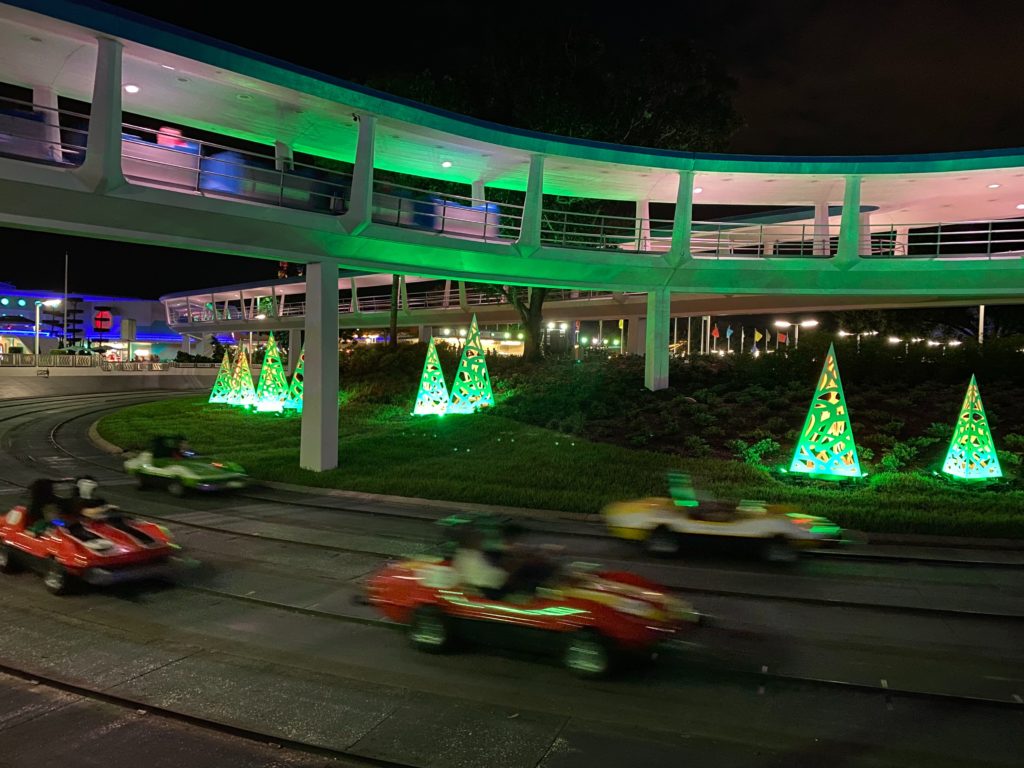 Easily what has generated the most interest since it was originally announced back in July, Disney is – for the very first time ever – applying the seasonal overlay to four of its most classic attractions at Magic Kingdom. While nothing particularly elaborate (nothing on the scale of, say, Disneyland's Haunted Mansion Holiday, where the characters of The Nightmare before Christmas invade the beloved ride), these "holiday twists," as the company itself calls them, are nonetheless fun and effective at spreading some yuletide cheer.
Christmas music and lighting infuse both Space Mountain and Mad Tea Party to notable effect, while Monsters, Inc. Laugh Floor gets its fair share of festive décor and jokes. But our favorite is probably Tomorrowland Speedway, which is positively festooned with oversized decorations and lights – the latter of which is synched to the new holiday soundtrack. Again, it may not sound (or, in the case of the photos, look) like much, but once you're behind the wheel and zooming around the track, it really helps the 48-year-old ride take on a new life.
Minnie's Wonderful Christmastime Fireworks
We've saved the best for last, we think.
Minnie's Wonderful Christmastime Fireworks replaces the previous seasonal spectacle, Wishes, and does so with aplomb. Every element of this production seems to seamlessly build upon the others, creating an impressive yuletide tapestry that combines the modern (some pretty stellar projection-mapping that transforms Cinderella Castle into a series of festive tableaus) with the traditional (a soundtrack that includes such favorites as "Deck the Halls," "We Wish You a Merry Christmas," and the always-wonderful "Wonderful Christmas Time" by Paul McCartney).
The premise here is that Minnie Mouse has invited you to celebrate the holidays with her, hoping to "evoke heartfelt moments of home and family" as you do. Wonderful Christmastime Fireworks hits that cheery nail squarely on the head and is not to be missed.
–
Mickey's Very Merry Christmas Party runs for 23 select nights, from Friday, November 8 to Sunday, December 22 (the longest run yet in its history!).
Share your favorite Christmas memories at Disney with thousands of other die-hard fans in our OI Community Facebook group. And then don't forget to follow Orlando Informer on Facebook, Twitter, and Instagram for the latest news and tips at Universal Orlando, Walt Disney World, and other Orlando experiences.