UPDATE (11:20 am, 03.18.21): SeaWorld sent out a press release this morning containing even more information on the below experiences, including the teaser that additional announcements for SeaWorld Orlando will be arriving later this year. The article has been updated throughout.
---
Walt Disney World Resort has its giant 50th anniversary bash later this year. Universal Orlando Resort, meanwhile, has the mammoth Jurassic World VelociCoaster opening this summer. And SeaWorld Orlando, for its part, is expected to receive 2021's other notable roller coaster, Ice Breaker, at some point – but, it turns out, that's not all the park has cooking for guests this year.
Just this week, SeaWorld has detailed a mini-slew of experiences, both updated and wholly new, that will greet visitors starting this month (if, indeed, they haven't debuted already). The timing ensures some welcome new elements for the currently ongoing Seven Seas Food Festival – which lasts from February 5 to May 9 – and it should serve to help keep repeat visitations high for the rest of '21, as well, particularly among the local crowd.
Although there are several new elements to this refreshed lineup, all of them can be broken down into three general buckets, which is exactly what we're going to do for you right now.
(Before we plunge in, however, first make sure you nab your SeaWorld tickets, and then, once you're back home, be sure you tell everyone what you thought of it all.)
An updated front of the park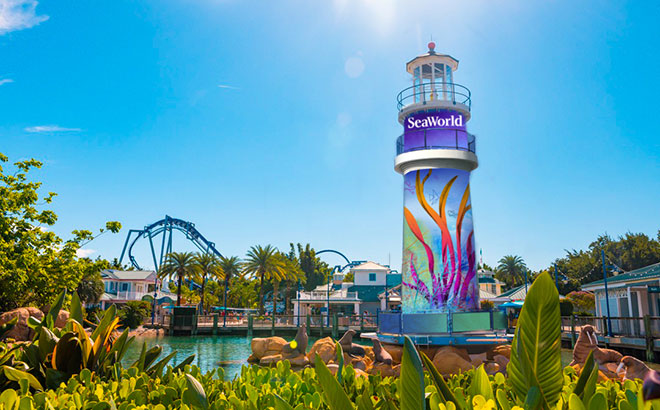 This first grouping is a small point, but it's also a fun one – and one of the theme parks' long-held secrets has been setting the appropriate welcome mat for attendees, prepping the stage for all of the experiences that are to be had that day.
To this end, SeaWorld has implemented two touch-ups to the front of its Orlando park, starting with its "iconic" entrance lighthouse. The 50-foot structure was recently given over to five different artists from the company, who painted a new, vibrant mural that covers the entire building – it features 16 different sea animals and a new color palette that is meant to be evocative, celebrating the arrival of spring.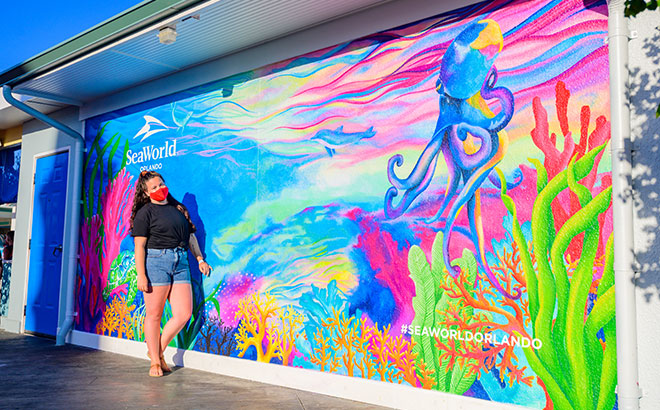 It's also meant to help carry over into the next addition, a brand-new Instagram wall that depicts a coral seascape. Showing a squid and dolphin working their way through the vivid surroundings, it's just as brilliantly rendered as the matching lighthouse.
Even better, the company has worked one last surprise into the new proceedings: at nighttime, the theme park's icon out front will be illuminated with blacklight, which will "reveal a new look you don't want to miss." Whether this is ultraviolet highlights that have been worked into the design or a hidden picture that isn't revealed until dark, the company won't say, but it's a fun enough proposition either way.
SeaWorld's new food venues
Clearly, the heart of SeaWorld Orlando's 2021 mini-revamp is food – which isn't surprising, given the huge focus the company has been putting on culinary events to keep both its annual passholders and Florida residents coming back most weekends of the year. And on this front, three new venues have already been or will shortly be added to the park's roster, with each slightly focusing on a different type of experience.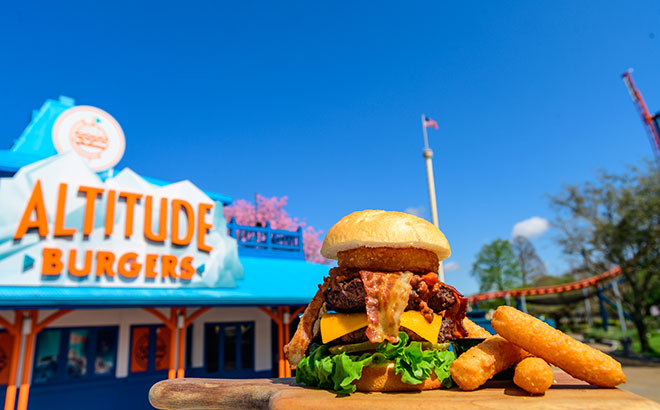 First up is Altitude Burgers, a burger bar designed to complement the upcoming Ice Breaker in ways both literal and thematic; it's located nearby the ride (and the Glacier Bar, which just bowed in October) and features light arctic theming, positioning itself as a base camp for snowy explorers ("The terrain may be frozen," SeaWorld says, "but the food never is!"). This remodel of the former Mango Joe's allows guests to build their own "ultimate" burgers or grilled chicken sandwiches – or to enjoy artisan pizzas and various beers on tap. And we'd be remiss if we didn't point out the flagship Altitude Burger, which is a pound of fresh beef topped with bacon, homemade chili, onion rings, and a specialty sauce.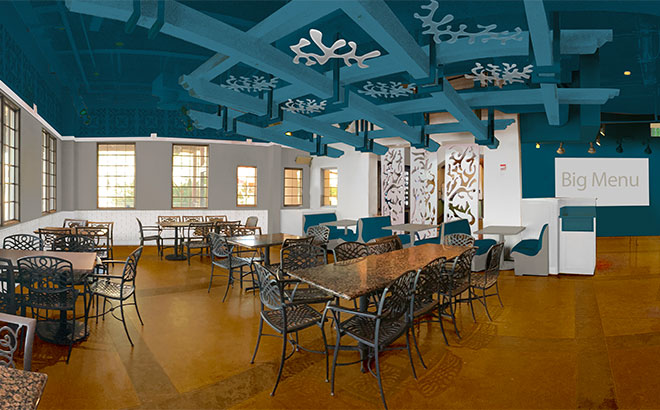 Lakeside Grill – another remodeling, this time of the late Spice Mill – is the second on the list, and it features a fun gimmick: a "one of a kind" 600-gallon aquarium, populated with various species of reef fish and live coral, will sit in the dining room, surrounded by coastal-inspired decor. (Don't worry – the popular waterfront seating, which provides some nice panoramic views, isn't going anywhere, but it, too, will get freshened up with the new aesthetic.) The menu, meanwhile, will have a Mediterranean overhaul, brandishing turkey burgers, kabobs, falafel, and hummus. (Note: Lakeside Grill is currently expected to open in late March.)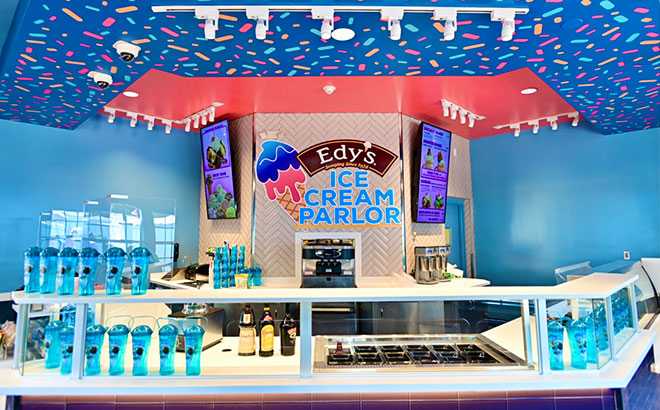 And bringing up the rear of this trio of refreshed gastronomical destinations is Edy's Ice Cream Parlor, which is snuggled up in the front of SeaWorld, next to Dolphin Nursery. Fourteen different flavors are on-hand, along with enormous brownie sundaes and "mega-monster" milkshakes that – most promisingly – can have shots of various liqueurs or cordials added into them (if you're of age, of course).
SeaWorld's renovated experiences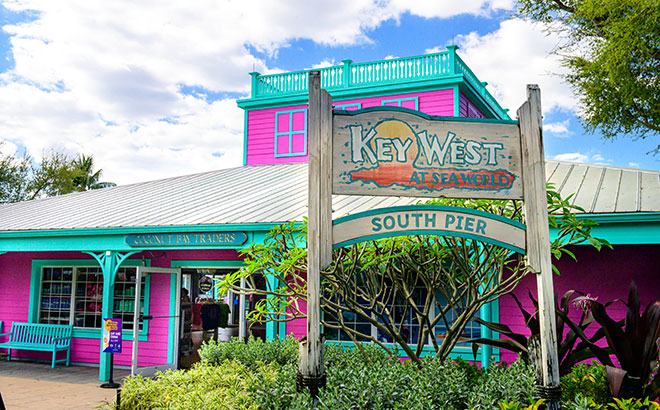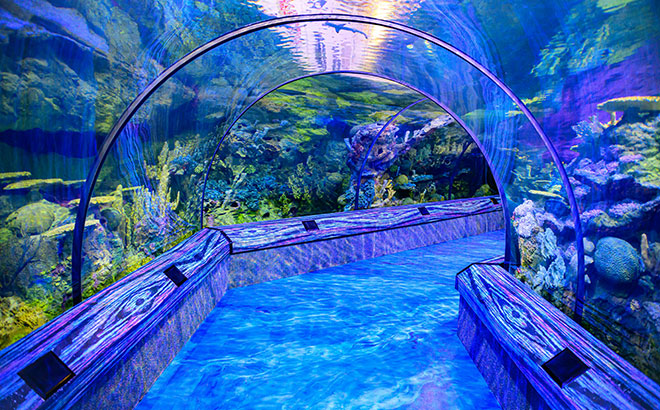 Rounding out this expanded theme-park lineup is a couple of reimagined or refurbished sections of SeaWorld Orlando which, just like its refreshed introductory area, may not be game-changing elements unto themselves but which, as parts of a greater whole, are certainly noteworthy.
That colorful sliver of the park that has been devoted to Key West, Florida, the southernmost part of the continental United States, has been "completely refreshed," from its food offerings (Captain Pete's Island Eats) to its retail locations (Coconut Bay Traders) to, most importantly, its attractions (Dolphin Cove, with its various animal presentations). And the long-lived Shark Encounter has similarly received a reimagining, seeing new flooring, lighting, and interpretive displays being installed – along with all-new habitats that feature the likes of lobsters, lionfish, moray eels, and Caribbean fish. Given the fondness guests have expressed over the years for both of these items, their upkeep and updating will be sure to help crowds while away the time until the bigger heavyhitters (we're looking at you, Ice Breaker) can arrive.
---
Can't wait to try out some of these new experiences for yourself? Get your tickets here, and then be sure to share your excitement with 120,000+ other die-hard vacation planners in our Orlando Informer Community on Facebook.
You can also follow Orlando Informer on Facebook, Twitter, and Instagram for the latest news, tips, and rumors at Universal Orlando, Walt Disney World, and other Orlando attractions.