Going on a date is fun and exciting.  Whether it's your first or your fiftieth, with your girlfriend, boyfriend, husband, wife, significant other, or the guy you just met at Halloween Horror Nights.  Wait, scratch that last, it may not be such a good idea.  It might even be a double date, group date, and a cute mother-son or daddy-daughter night out.
Whatever the case may be, enjoying a great date is one of those things almost everyone loves to do.  And when the setting for your date is CityWalk at Universal Orlando Resort, that great night out can become a truly amazing one.
Here are some ideas to help get you started on crafting your own awesome date night.  Hopefully they will lead to lots of fun, selfies, and most importantly treasured memories that will last a lifetime.
There are some suggestions which will require a little planning and reservations on your part.  Then there are some more "chill" suggestions – you know they are more relaxed because these suggestions are actually wearing flip-flops and carrying a fruity drink.
PLANNING AHEAD
With these ideas, get ready to spend some time planning your night, but it'll be worth it in the end.  And while there is a bit of a higher price tag in this section, it's no secret that going to theme parks ain't cheap and, besides, you can't take it with you, right?
Start the night out with some serious "Laissez les bons temps rouler!"  What the heck does that mean?  Well, it's a Cajun expression that means "Let the good times roll!"  (Who says my articles aren't educational?)  And if you are going to experience that wonderful attitude that permeates New Orleans, where better to start than Emeril's Orlando?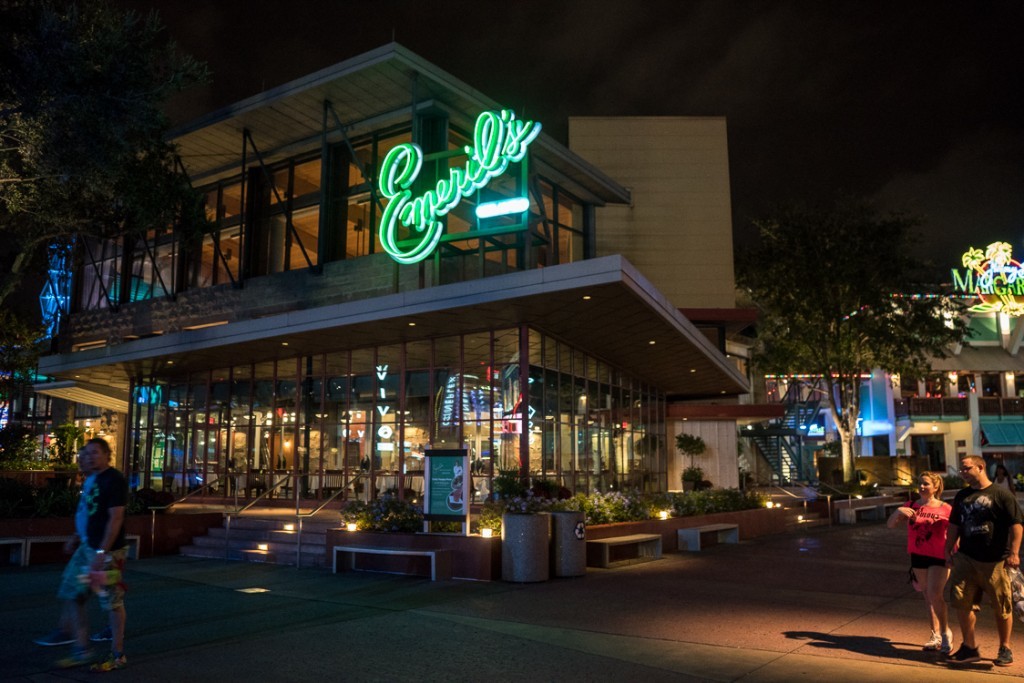 Emeril's at Universal Orlando's CityWalk at night.
Emeril's offers some of the finest dining in all of CityWalk.  The food and drink isn't exactly cheap, but the selections offered here are amazing, so it's a fantastic splurge.  And whatever you do, you must finish off your meal with Emeril's famous Banana Cream Pie, which I literally would have married had I met it before my wife.  (Just kidding honey, please put down the wand.)
After that, make sure you have tickets for the stunning Blue Man Group show.  Housed in its own resident soundstage in CityWalk, the Blue Man Group is hard to define exactly…  Take equal parts comedy, rock concert, theater, and dance party, mix them all together and you'd get the recipe for this rather unforgettable multi-sensory experience.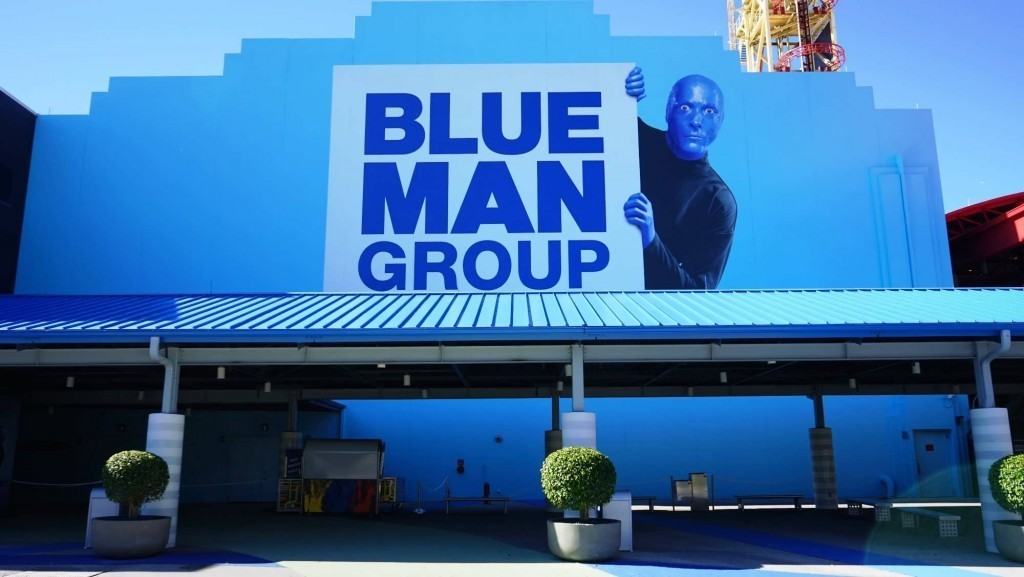 Blue Man Group Theater at Universal Orlando's CityWalk.
Tickets can be pricey, so check for advertised specials and discounts for Florida Residents, annual passholders, and AAA members.
BONUS TIP:  Show your Blue Man Group ticket at Emeril's Orlando to receive a 10% food discount per person with a ticket.  This offer is valid for up to four people, for the same day as your Blue Man Group performance.
Dinner and a show or dinner and dancing?  It's your choice…  Groove the night away (at least until 2am) and dance off those Banana Cream calories at "the groove", a unique multi-level club designed to look like a century old theater in various stages of renovation.  Enjoy multiple full service bars, dance floor, guest DJs, and a balcony-terrace overlooking CityWalk so when your feet need a break you can do some people-watching.
When you've had enough of getting footloose, you and your date sing the rest of the night away at CityWalk's Rising Star, where you can enjoy karaoke nightly.  Tuesdays through Saturdays feature a host and you can actually perform with a live band and backup singers!  Sunday and Monday evenings also feature a host, live backup singers, but recorded tracks in lieu of a band.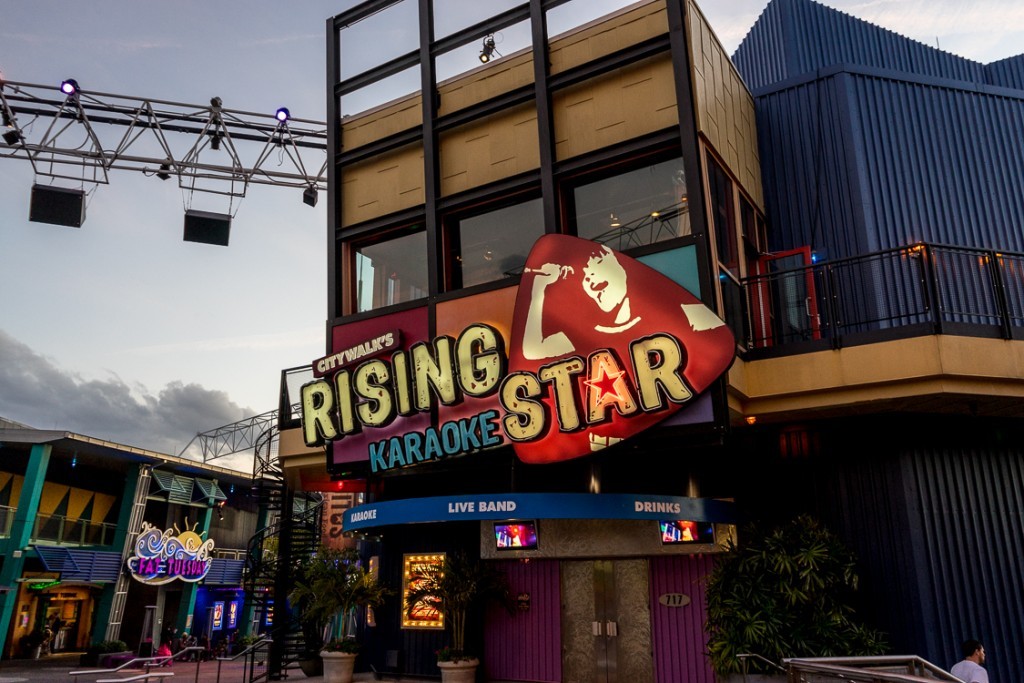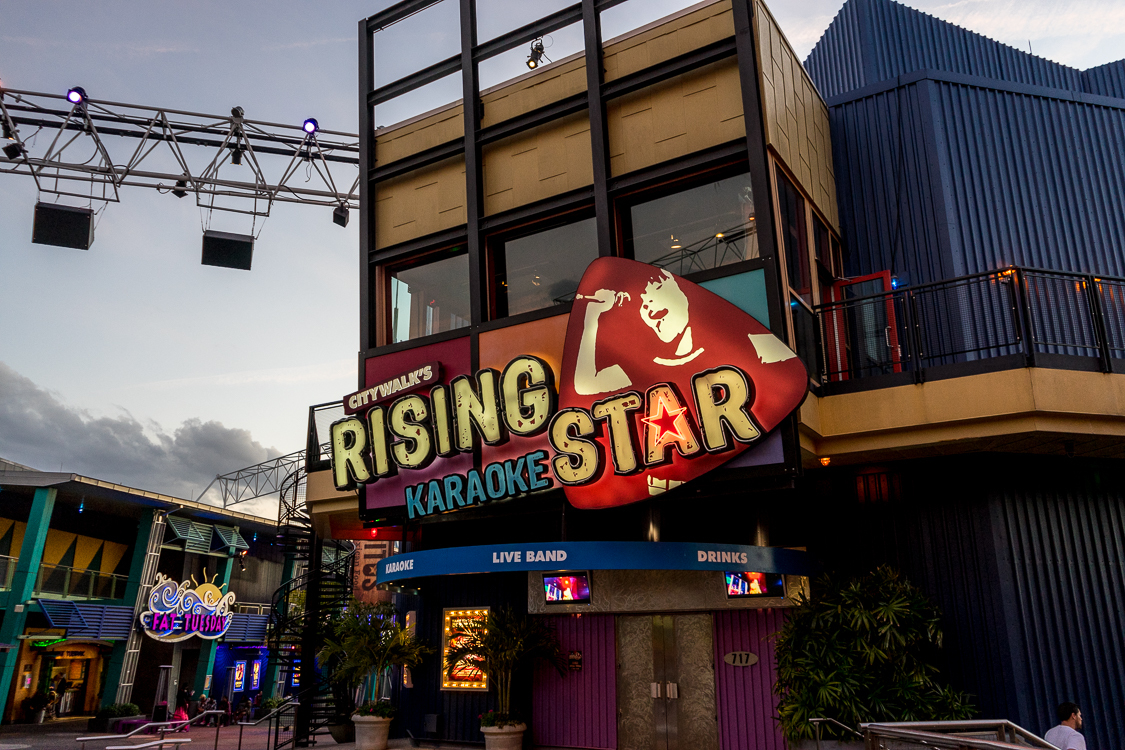 Rising Star at Universal Orlando's CityWalk.
JUST RELAX, MON
Vacations are made for relaxing, so some people would rather not plan ahead.  Plus, at times a theme park trip can make you feel like you need a vacation from your vacation!  That's where a nice relaxing date night can make all the difference after a busy morning in the parks, and save you money to buy more Butterbeer too.
You won't need to obtain a License to Chill in advance, you can just stroll right on into the place that embodies "laid back" attitude: Jimmy Buffett's Margaritaville.  The music immediately sets the mood, whether Jimmy's familiar standards playing on the video screens, or the live bands performing on the restaurant's stage each evening.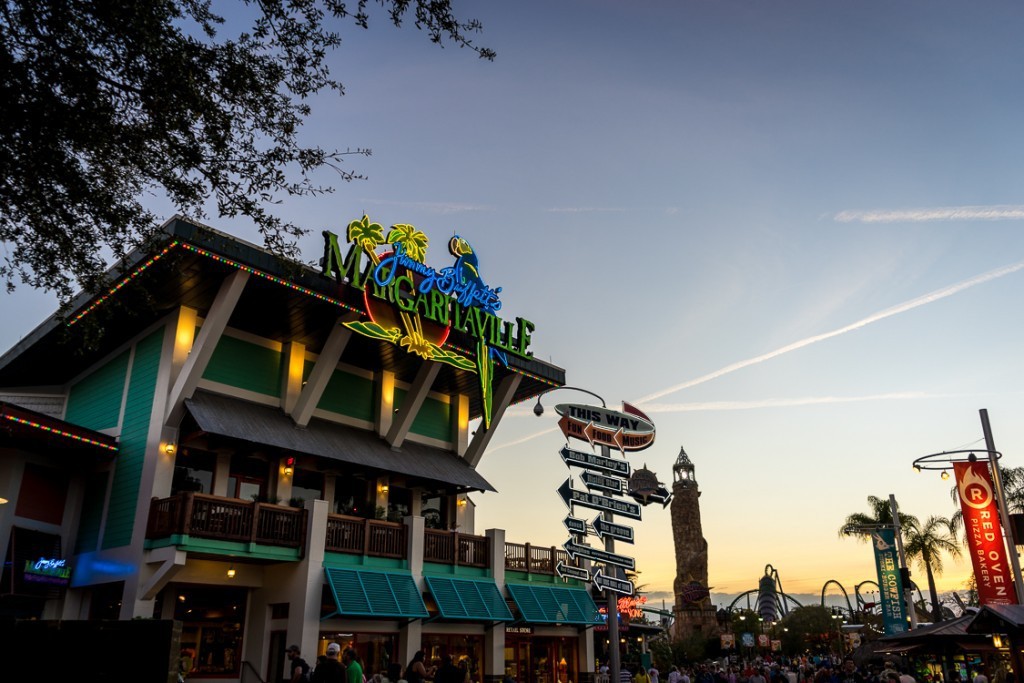 Wasted away again in Margaritaville at Universal Orlando Resort's CityWalk!
The drinks help too, and there are three separate bars to choose from, plus some excellent food set in a very casual dining atmosphere.  Don't forget to pack your flip-flops (just be careful not to step on any pop tops!)
Margaritaville is kind of like its own mini-Island of Adventure.  Besides the restaurant proper, there is outdoor seating available on the Porch of Indecision to do some people watching, or just kick back and listen to, or even sing-along with, the live guitarist out there.  And across the way, you'll discover the Lone Palm Airport, which features Jimmy Buffett's seaplane, the Hemisphere Dancer.  When not landing planes, the Lone Palm doubles as an outdoor lounge and tiki bar.
If you're not a Parrothead, there is another option to get your relax on!  Venture over to Bob Marley – A Tribute to Freedom.  Enjoy great Jamaican cuisine, drinks, and a live reggae journey of music and culture celebrating the life of the man widely considered the "King of Reggae."
This unique location is a lovingly recreated replica of Bob's home on 56 Hope Road in Kingston, Jamaica.  And inside you will find a plethora of photographs, artifacts, and video clips from the legendary career of Bob Marley.  The restaurant also features a lovely open-air veranda and courtyard.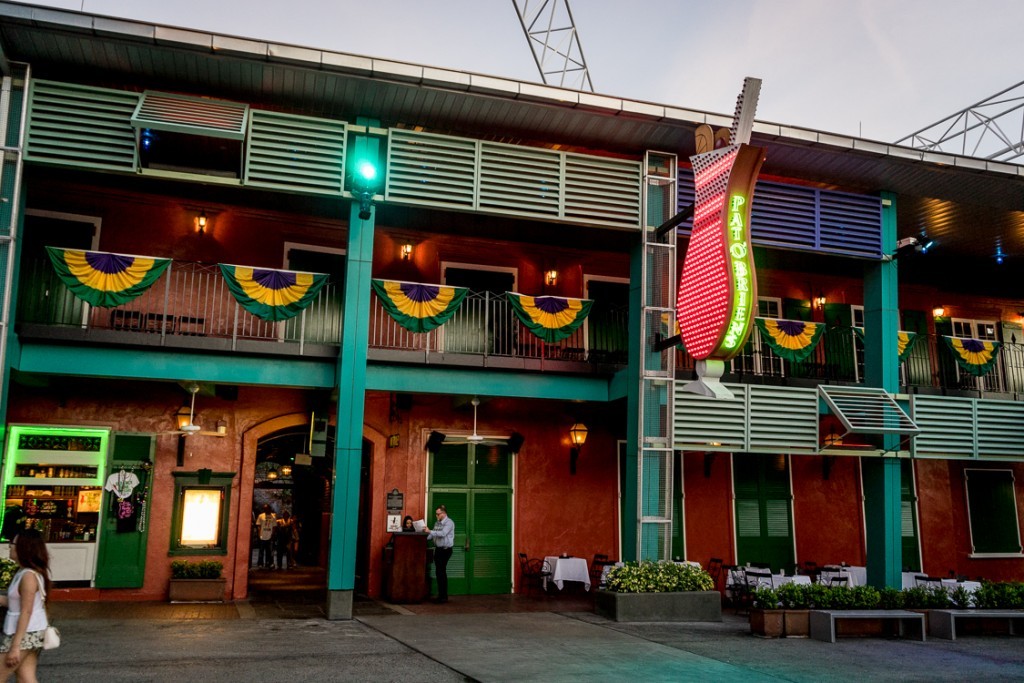 Pato'Briens at Universal Orlando Resort's CityWalk.
Now that you and your date are nice and relaxed, you can enjoy a round of miniature golf at Hollywood Drive-in Golf.  This isn't your parent's mini-golf; these are two state-of-the-art 18-hole courses unlike any other miniature golf you've previously experienced.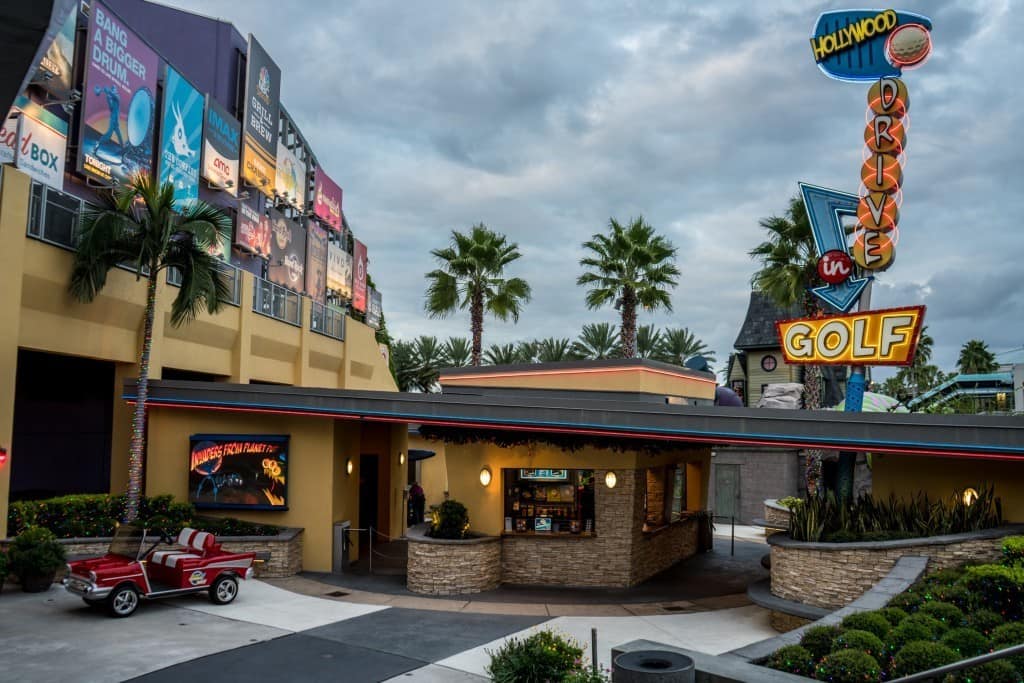 Hollywood Drive-In Golf at Universal Orlando Resort's CityWalk.
You can choose between two amazingly detailed courses modeled after classic drive-in movie genres, horror and sci-fi: "The Haunting of Ghostly Greens" and "Invaders from Planet Putt."  Both courses feature some amazing holes with high-tech special effects and atmospheric neon lighting.
BONUS TIP:  CityWalk offers a Meal and Mini-Golf deal which offers a nice discount on dinner and golf, and is valid at both Margaritaville and Bob Marley Restaurants.  Score!
And if miniaturized golfing isn't your thing, CityWalk is full of other options to enjoy.  You can hit up the legendary Pat O'Brien's where you can sing along to musical standards performed by dueling pianos, enjoy the "flaming fountain" patio, or try their famous "Hurricane" specialty drink.
For sports fans, there is the new NBC Sports Grill & Brew, where you enjoy some tasty food as you cheer for your favorite team on 100 HD screens, play some foosball, cheer your favorite team along with fellow fans, and check out the unique indoor-outdoor beer garden.  (I need one of those for my house!)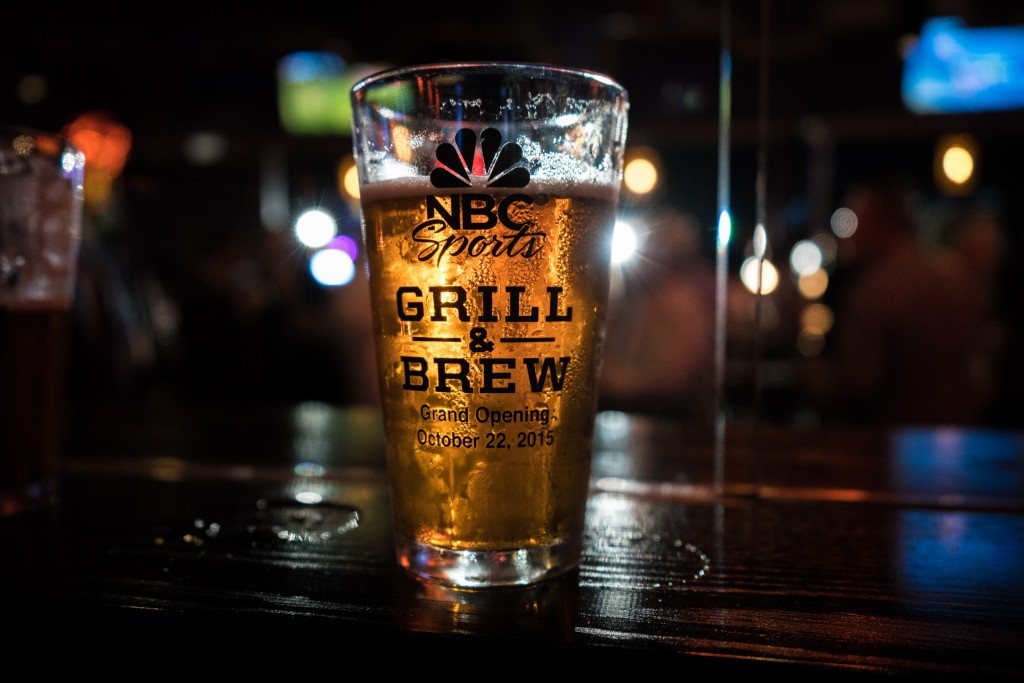 NBC Sports Grill & Brew at Universal Orlando Resort's CityWalk.
Whatever you decide, it's going to be a night to remember at CityWalk in Universal Orlando! You can begin planning it by using our over 200 free pages of Universal vacation planning information. If you don't have the time to plan every detail yourself, Orlando Informer Travel can help! We can assist you with your trips to Universal, Disney, and more. Best of all, our services are free to you. Seriously. To get in touch, simply call (844) ORL-INFO or email us, or learn more by visiting Travel.OrlandoInformer.com.