Growing up in Orlando, it was apparent to me from a very early age that Universal Studios Florida was a theme park you graduated into. It meant you had hit a certain height range and had acquired a certain level of bravado, and the thought of a great white shark lurking in Central Florida didn't immediately have you break out into cold sweats.
Cue the "Pomp and Circumstance."
In the early 1990s, my family had visited the park only once, but by the time I had hit high school (and Islands of Adventure was freshly opened), that had all changed for me. In my childhood, Universal had been the exciting, thrilling, mysterious adventure park down the street – but from the time I became a teenager on, I was ready to explore all it had to offer.
Take into account here, I wouldn't dub myself much of a thrill seeker, as I now inch closer to 40 years of age than 20 (and gone are the days of riding roller coasters nonstop and back to back). But I am an advocate for riding each new attraction at least once, and there are only a couple I now send friends off to experience while I volunteer as tribute to hold the bags. (I should also point out that, when it comes to thrill rides and, in particular, roller coasters, there seems to be a bit of relativity here – what I might find to be "too much" might be your sweet spot, and vice versa.)
Still, it's certain that Universal Orlando Resort knows how to make your heart race and leave you wanting more. Here are the 10 most intense rides it currently boasts at all three of its parks: Universal Studios Florida, Islands of Adventure, and Volcano Bay.
Doctor Doom's Fearfall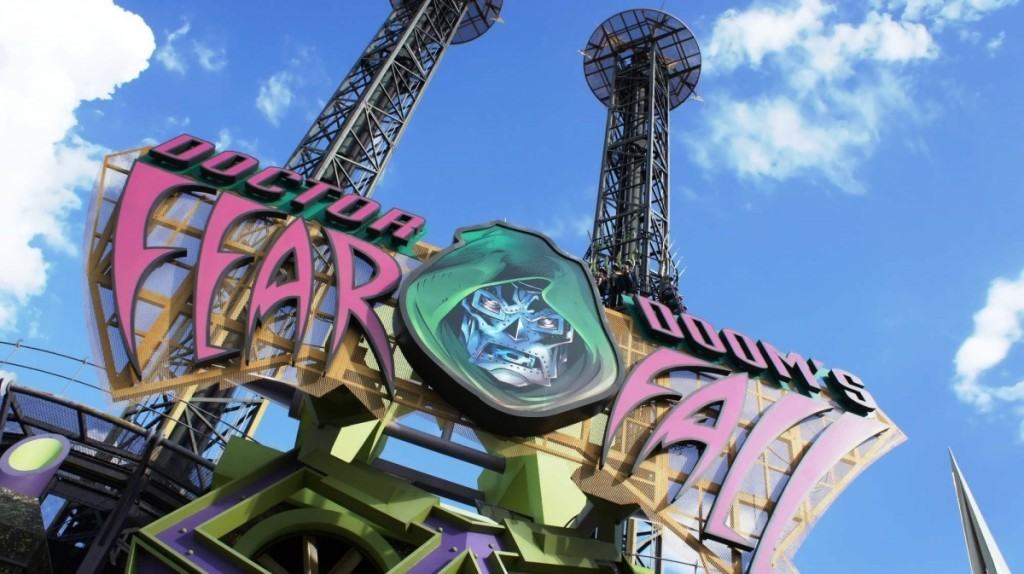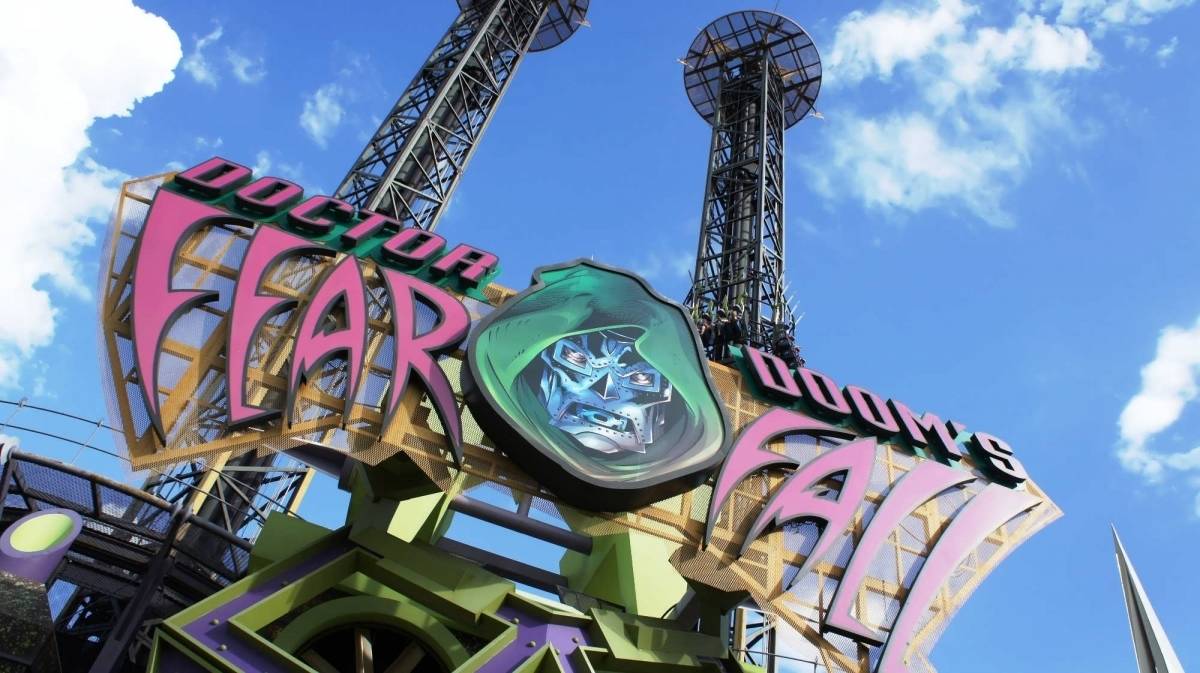 Location: Marvel Super Hero Island, Islands of Adventure
Thrill factor: 5
Thrill seekers feel one of two ways about heights – you either love them or you hate 'em. Doctor Doom's Fearfall blasts you 185 feet in the Florida sky before dropping you back down in a move that defies gravity. Love heights? You'll easily love Fearfall! Not crazy about your feet leaving the ground? Chances are you'll think this thrill factor is slightly above a five.
Jurassic Park River Adventure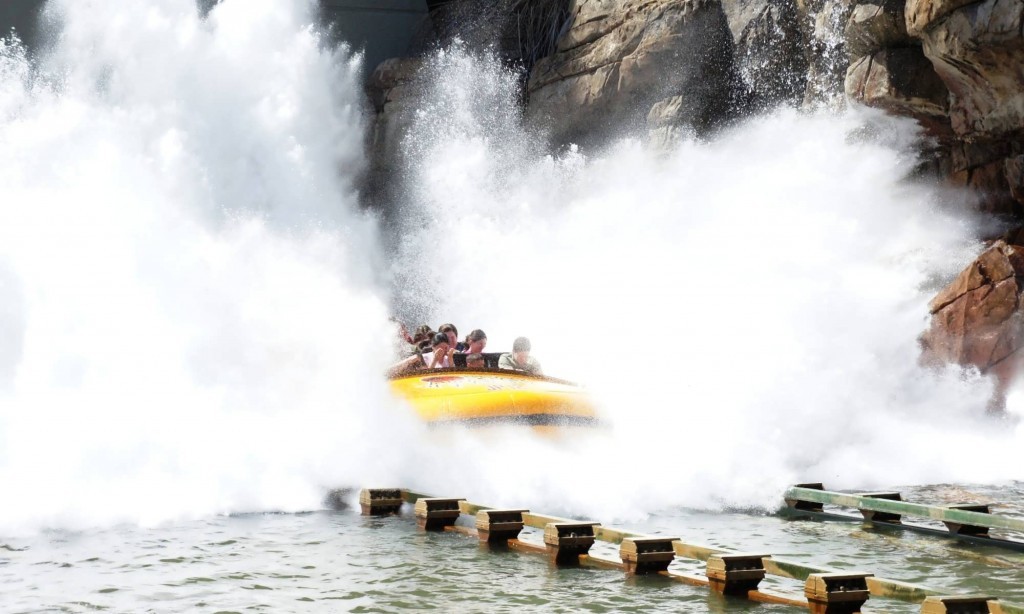 Location: Jurassic Park, Islands of Adventure
Thrill factor: 6
So, you've survived being thrown 185 feet into the air, and now you're ready for something calmer – a scenic water cruise sounds delightful! Until, of course, things go awry, and you not only find yourself in the "restricted area" of Jurassic Park but face-to-face with a T-Rex.
There's only one way out… and it's a pitch-black 85-foot drop that's surely going to leave you soaked.
Harry Potter and the Escape from Gringotts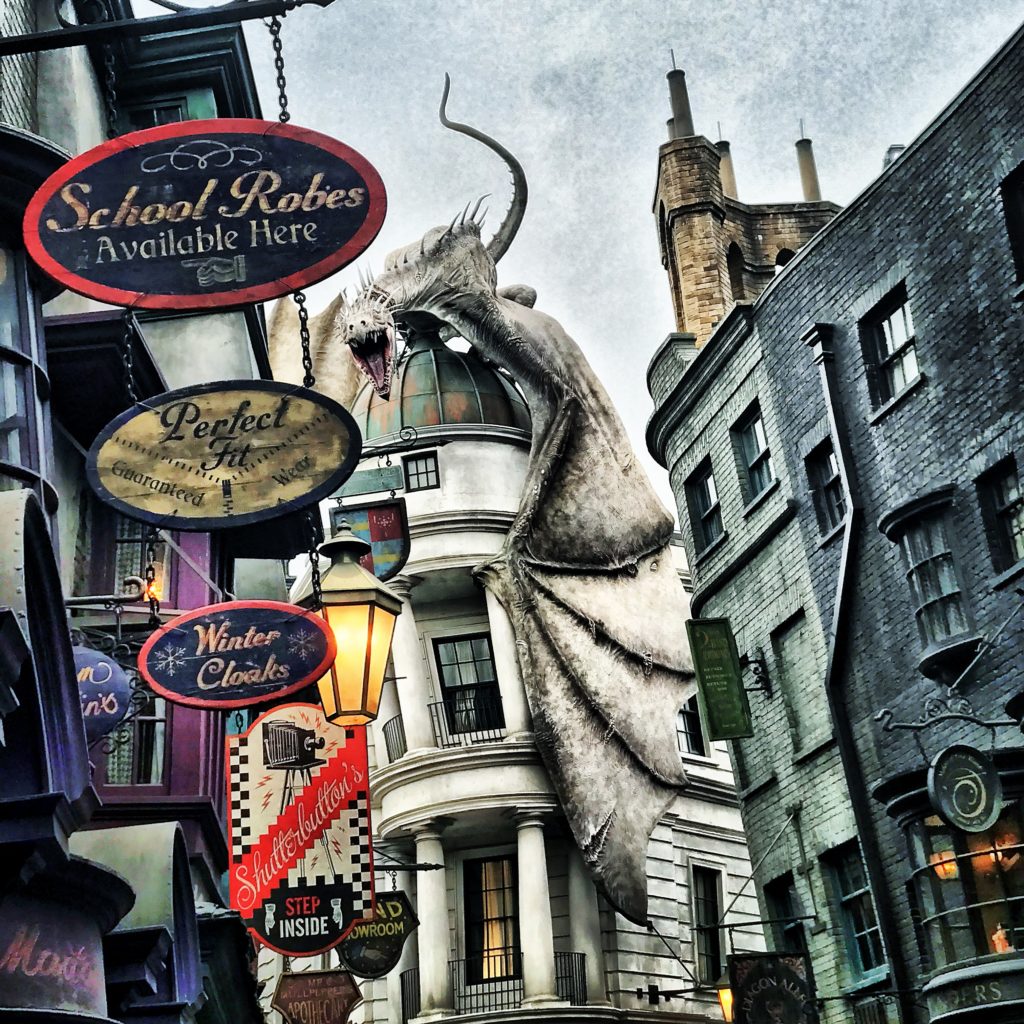 Location: The Wizarding World of Harry Potter – Diagon Alley, Universal Studios Florida
Thrill factor: 5
Harry Potter and the Escape from Gringotts has held the steadfast "favorite ride" spot in my heart since it opened five(?!) years ago. It combines coaster thrills with a little ride-film magic that tells an incredible 3D story and keeps you on the edge of your seat. Is there a drop? Yes, but, in comparison to other thrill rides at Universal Orlando, it's fairly small at 30 feet. Those 30 feet are packed with anticipation, however, and the experience always leaves me just as excited as the first time I rode it.
Revenge of the Mummy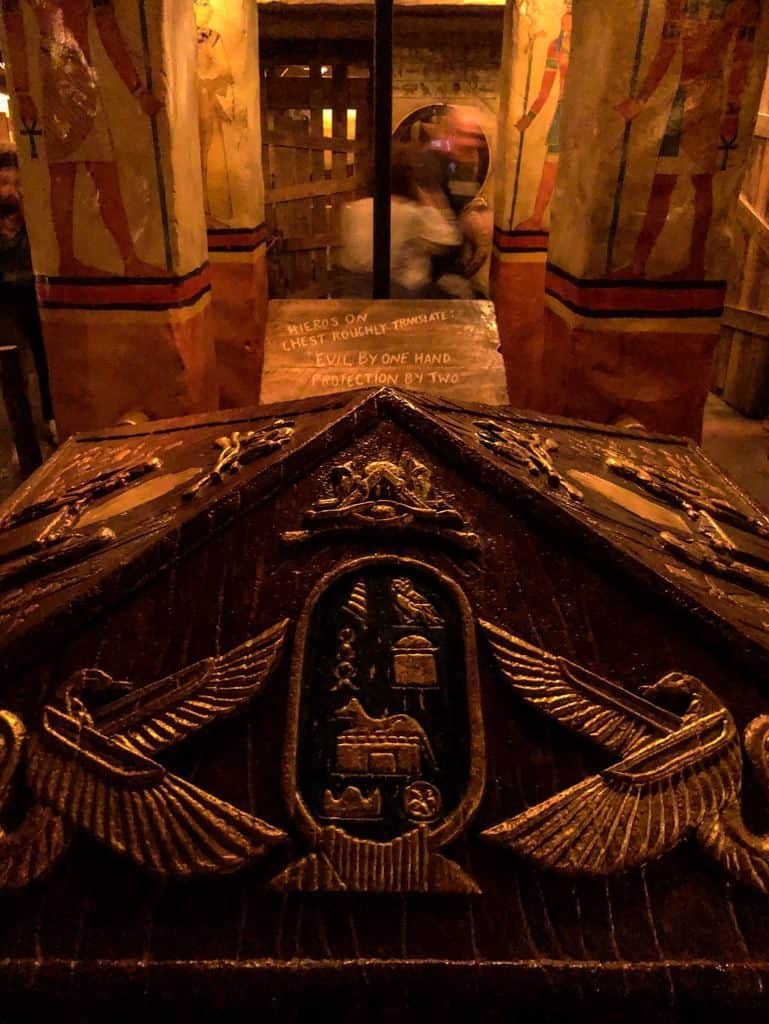 Location: New York, Universal Studios Florida
Thrill factor: 7
I once convinced my younger sister, who is not what you would call a "fan of roller coasters," to ride Revenge of the Mummy by telling her it "wasn't that bad" because it didn't go upside down. I lied and paid the price as she bit me on my shoulder just before the largest drop of 39 feet amidst swarms of insects and a fire-filled tomb.
So, the moral of this story is don't lie to your sister, and Revenge of the Mummy is every bit as intense as they say it is as you try to escape Imhotep's wrath.
The Incredible Hulk Coaster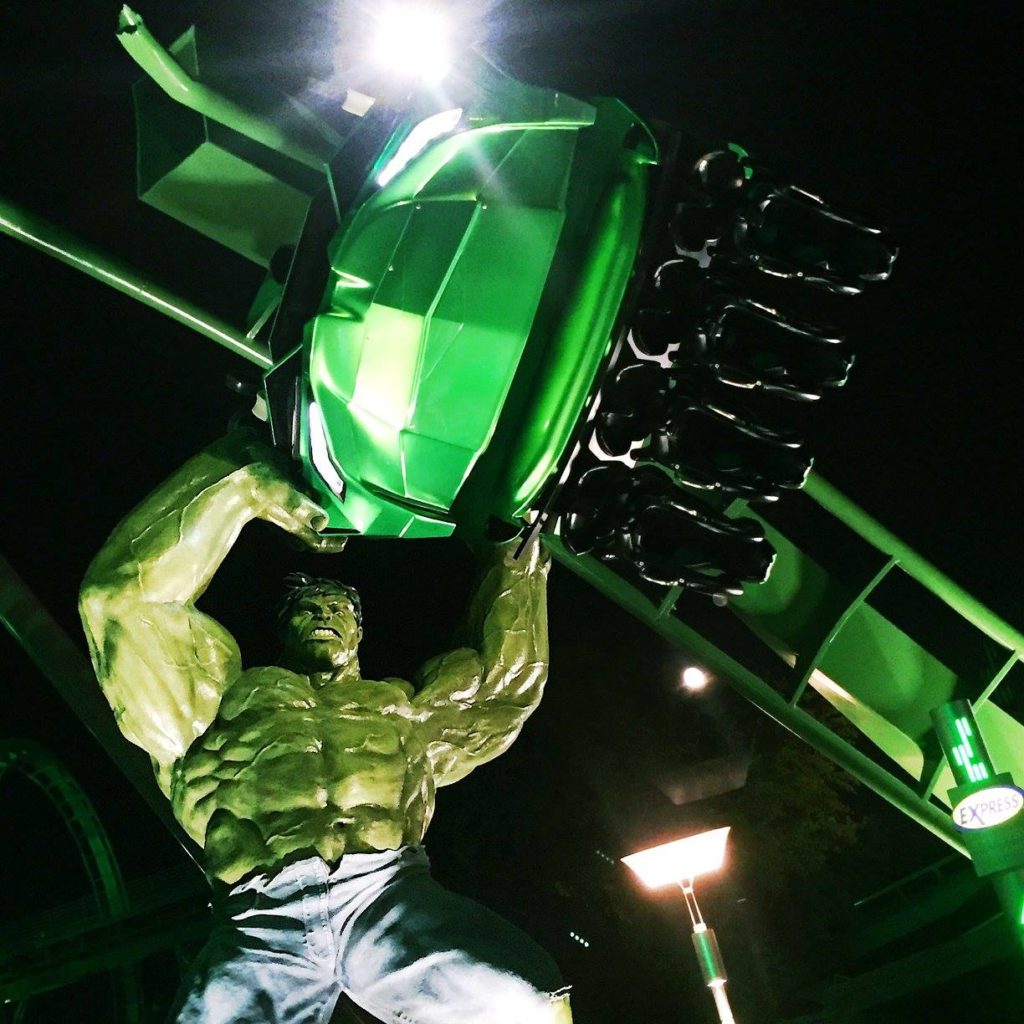 Location: Marvel Super Hero Island, Islands of Adventure
Thrill factor: 8
If "getting blasted with gamma radiation" and "racing up to 67 miles per hour" are on your theme-park to do list, then The Incredible Hulk Coaster is for you! Feel Hulk's power surge with every unstoppable twist and zero-gravity roll as you tear through the sky. This is easily one of the most thrilling rides not only at Islands of Adventure, but on the entire planet with its many inversions and positive G-force moments.
Sit down, buckle up, and get ready to smash!
Harry Potter and the Forbidden Journey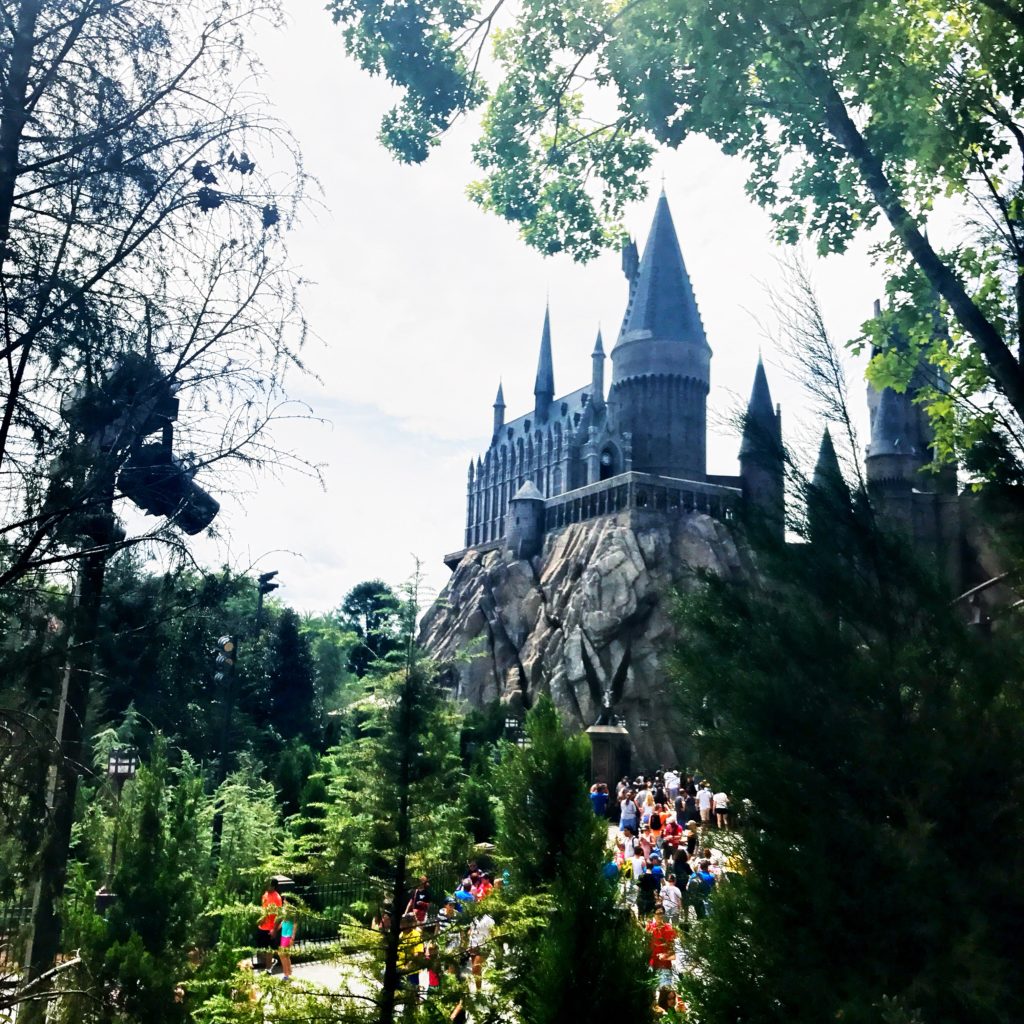 Location: The Wizarding World of Harry Potter – Hogsmeade, Islands of Adventure
Thrill factor: 7
It was hard for me to give this one just a seven, because Harry Potter and the Forbidden Journey is one of the two rides at Universal I'll "never do again," but I know many who adore this attraction – and with good reason! This brilliant, first-of-its-kind experience takes you on a wild, at-times disorientating journey through Hogwarts Castle with Harry and his crew. The disorientating part is what gets me personally, as there's just a little too much magic with the groundbreaking, state-of-the-art technology that has you soaring through the Hogwarts grounds. That being said, I feel strongly that most should ride Forbidden Journey at least once if you're able, because there is truly nothing else out there like it.
Remember how I said thrill factors were all relative? The sister that bit me during Revenge of the Mummy loves Forbidden Journey.
Hollywood Rip Ride Rockit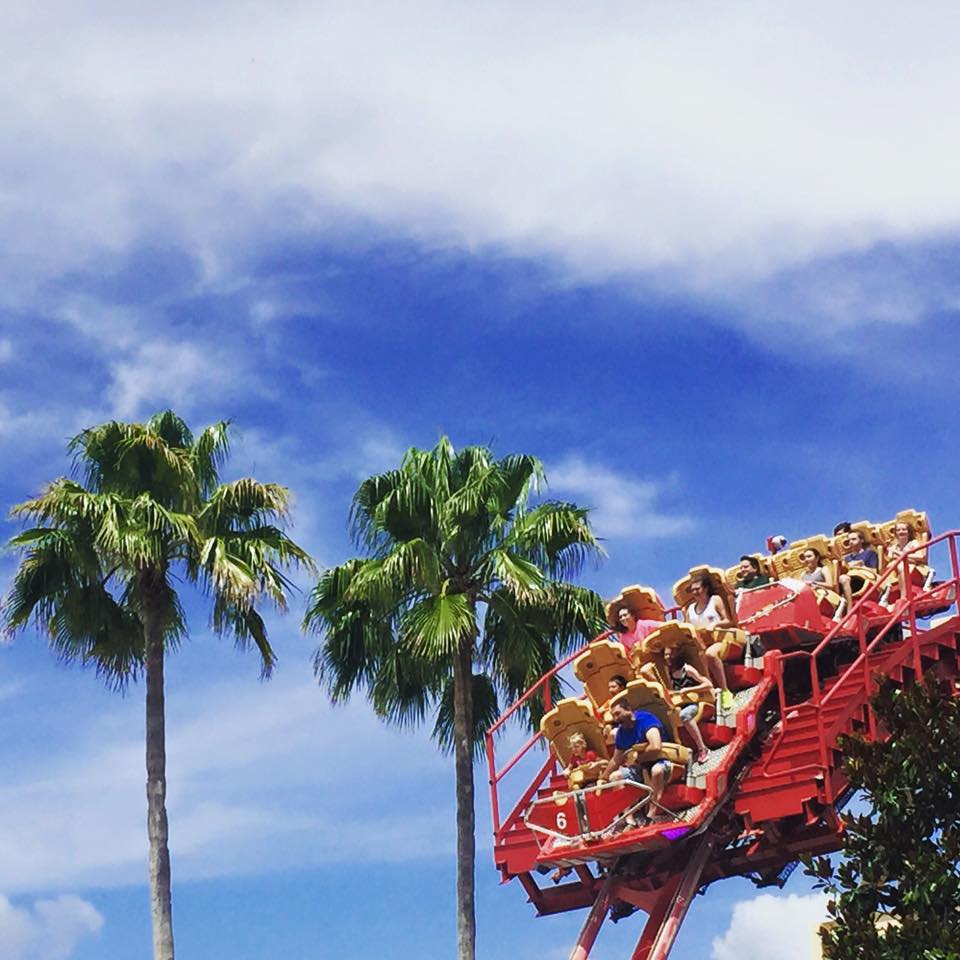 Location: Hollywood, Universal Studios Florida
Thrill factor: 10
Meet the other Universal attraction I'll "never do again" – so much so that it's a 10 in my world. The 167-foot vertical, 90-degree lift alone was enough for me to put it in this category. If you don't think that's thrilling enough, however, Hollywood Rip Ride Rockit will for sure have your adrenaline pumping as it races up to speeds of 65 mph with six near-miss encounters, all while playing the music track you selected at the beginning of the ride.
If that's not rock 'n roll, I don't know what is.
Hagrid's Magical Creatures Motorbike Adventure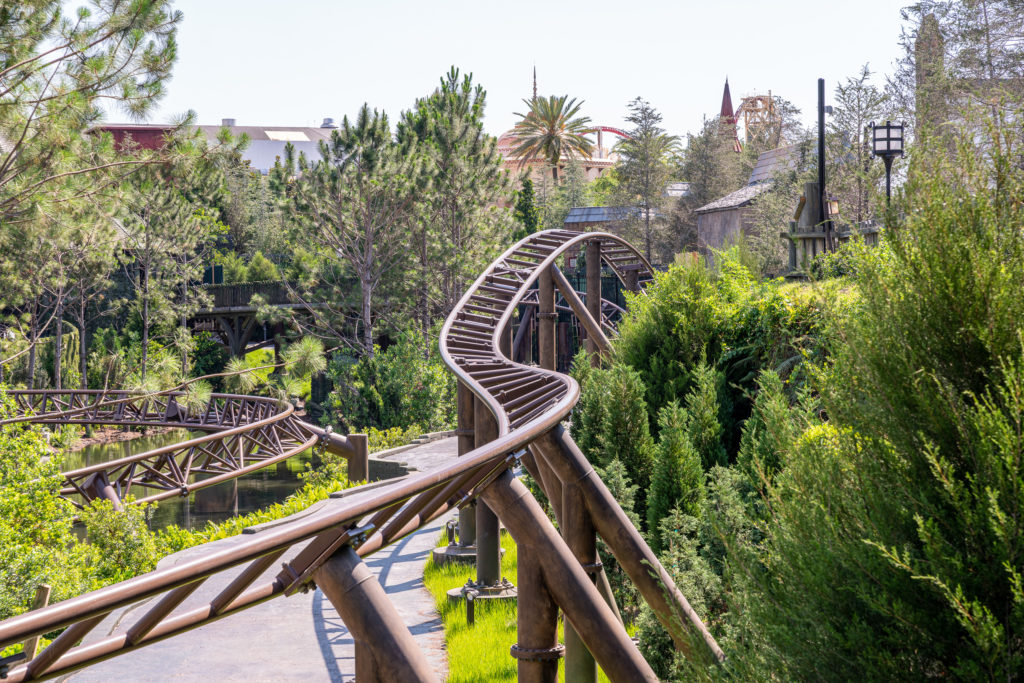 Location: The Wizarding World of Harry Potter – Hogsmeade, Islands of Adventure
Thrill factor: 6
Anything could happen on Hagrid's Magical Creatures Motorbike Adventure as you fly deep into the Forbidden Forest with Hagrid as your guide. You'll move every which way (yes, even backwards) as you dodge obstacles and fierce beasts and get up close and personal with some of the wizarding world's rarest creatures at speeds of up to 50 mph. Oh, did we mention there's a 16-foot free-fall drop, too? (It's [arguably] the first of its kind in the United States!)
Krakatau Aqua Coaster
Location: Krakatau, Volcano Bay
Thrill factor: 5
The flagship attraction at Volcano Bay may steal just a bit of thunder from the Krakatau volcano as it weaves around the volcano itself and comes packed with drops and serious airtime – and, unlike water slides, Krakatau Aqua Coaster can also propel you upward! This water coaster also gets bonus points because of the technology it uses – there's no climbing to the very top of the volcano to board. It's a unique experience and a ride that will have you raving non-stop to all your friends back home.
Honu of the Honu ika Moana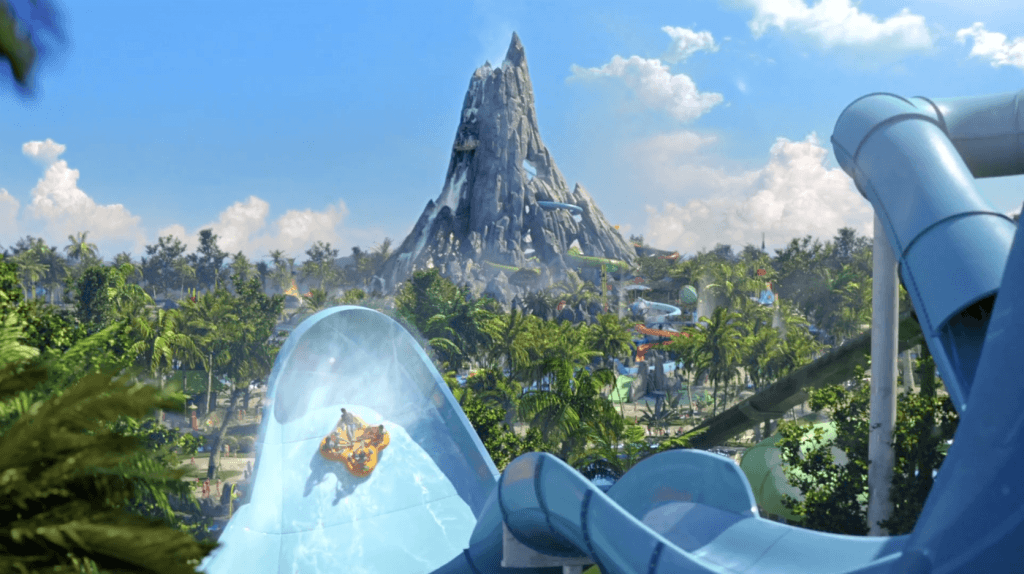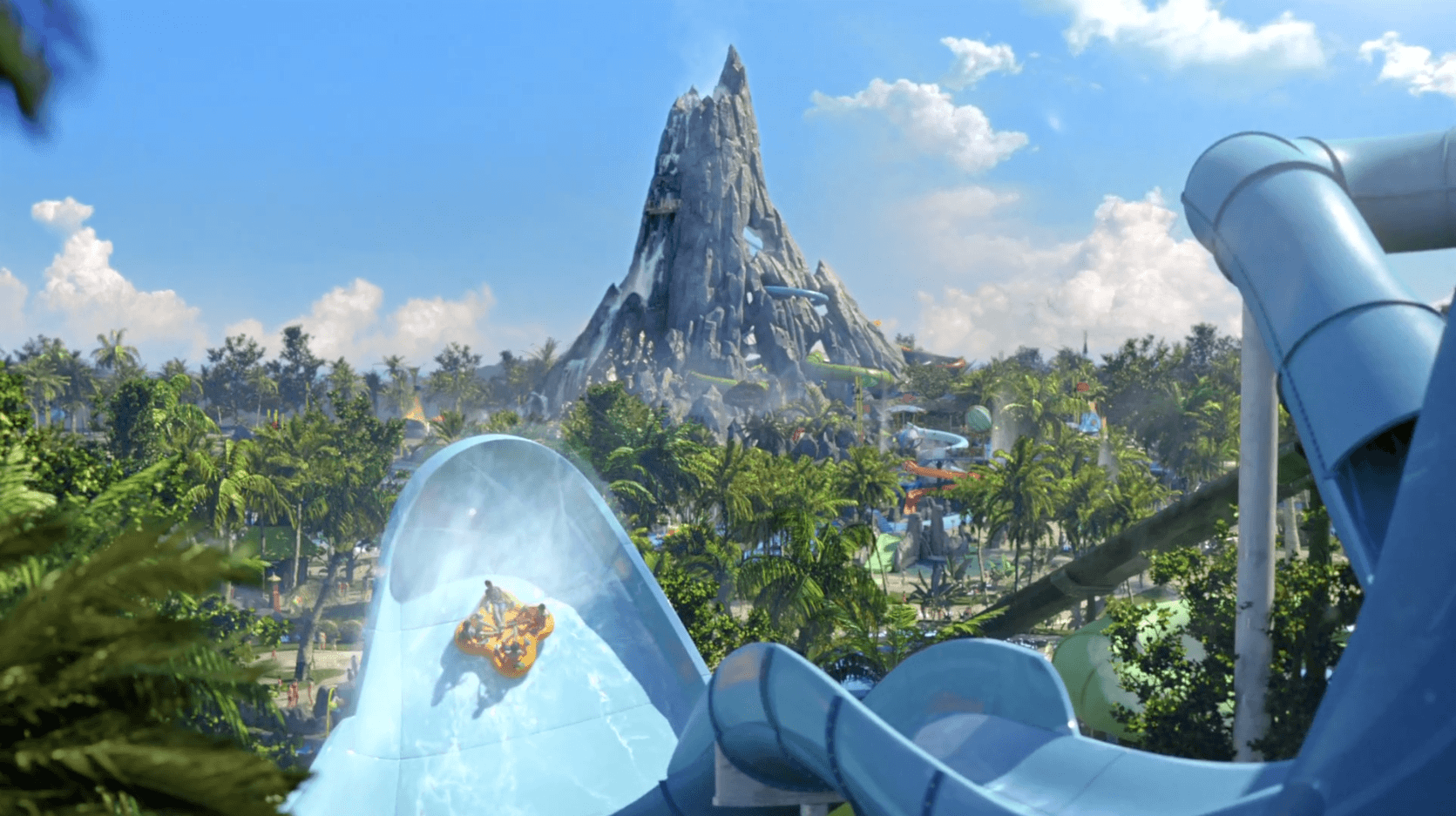 Location: River Village, Volcano Bay
Thrill factor: 7 (Honu specifically)
This ride has two multi-person slides, the "Turtle" (Honu) and the "Whale" (ika Moana). Honu is for the thrill seeker, as the walls can be quite terrifying on this side, and ika Moana is for someone looking for a calmer ride.
Honu was the first ride we did upon entering Volcano Bay back when it opened in 2017, and as we sloshed up the walls, my heart raced. Immediately, we knew this entire park was different, thanks to Honu's many twists and turns.
–
Did we miss a thrilling ride on your list? Tell us and 70,000+ other vacation planners in our OI Community Facebook group.
And be sure to follow Orlando Informer on Facebook, Twitter, and Instagram for the latest news and tips at Universal Orlando, Walt Disney World, and other Orlando experiences.