When you think of Florida, you likely think of summer – palm trees, a scorching sun, and a life spent by the water with fun frozen drinks that magically appear out of thin (but humid) air. Summer in Florida isn't just a season, it's a lifestyle – and one we locals tend to live year-round, where it goes from hot to hotter to "how is it possibly this hot? Have we become the sun? I'm pretty sure we've become the sun!" (Also known as June to August.)
No matter if you live where others vacation or have been appropriately tempted by Florida's coastline vacation vibes, there may be no better way to ring in summer than to look at the best beaches near Central Florida. Orlando is prime real estate because not only are we the heartbeat of the theme-park district, but we're also nearly smack dab in the middle of both the historic East Coast and the stunning Gulf Coast beaches. (Notoriously, you'll always see a few of our sandy locales on the tops of some fancy "best of beaches" lists, too!)
Because there's only one direction to travel in Florida where you won't, at some point, run into the ocean, you have tons of options. The ones on this list, however, all make for some of the best day trips around.
East Coast beaches (about a one-hour drive time)
Florida's East Coast beaches offer a unique mix of history, wildlife, sunrises, rocket launches, surfing, and more. Here are five of our favorites:
1. New Smyrna Beach
Lovingly known as NSB by locals, New Smyrna Beach is a hot spot for surfing, quirky shops, and delightful eats. You can also drive your car on this beach's compacted sand! And once you've gotten your fill with paddle boarding and sunbathing, be sure to check out Flagler Avenue, which is sure to charm you into adoring NSB even more.
Traveling with your pup or, perhaps, just need to get your puppy fix while at the beach? Not far from New Smyrna is New Smyrna Dunes, which allows our furry friends to frolic in the slightly calmer waters. Pets must be leashed here, and it does get quite busy (with a solid little hike from your car to the water), so I recommend getting there early. This park also offers showers (for both humans and pups) and bathrooms.
2. Cocoa Beach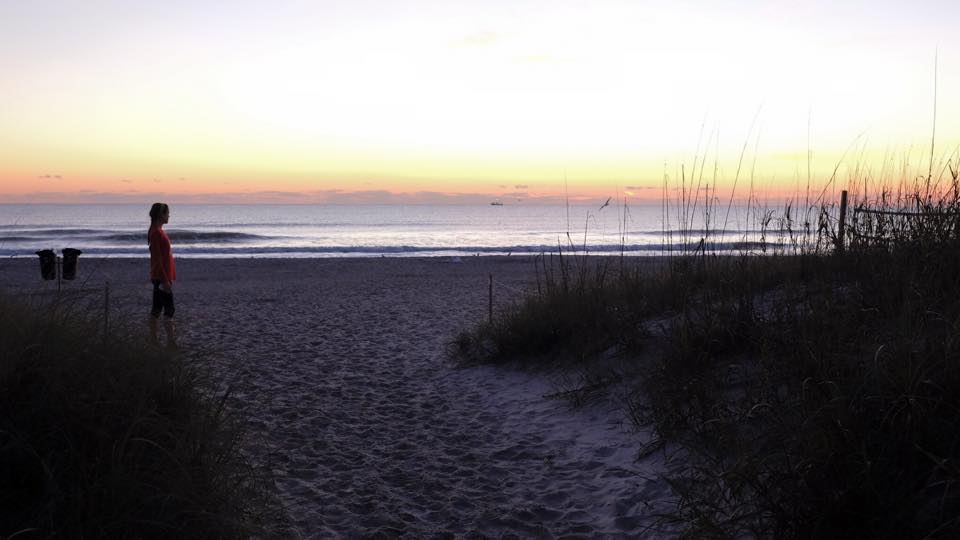 Ready for restaurants, bars, shopping, and live entertainment? Looking for the largest Ron Jon Surf Shop or just an awesome pier? It's all here in one of the locals' favorite beaches in Florida – where you can surf, parasail, paddle board, or windsurf! Rentals and lessons are readily available, and Cocoa Beach is now also open to dogs that are on a six-foot leash (between the hours of 6:00 am and 10:00 am or between 5:00 pm and 7:00 pm).
Cocoa Beach's popularity can also make it quite crowded, pending the season you're visiting – you may want to make this trek during the weekday so as not to compete with your fellow travelers for the perfect spot to relax.
3. Daytona Beach
The "world's most famous beach" makes the list because you've likely heard about it, and it definitely has its appeal (although, for us locals, we typically prefer NSB or Cocoa). If you're a NASCAR fan, especially, Daytona Beach is for you!
You can drive your car on the beach in Daytona or check out one of the free summer concerts that offer movies and fireworks (from May to October) over at the Bandshell. The boardwalk and fishing pier are also can't-miss spots at this historic beach. And nearby at Ponce Inlet, you can climb to the top of Florida's tallest lighthouse, which was built in 1835.
4. Canaveral National Seashore
Looking for the perfect beach to watch a NASA launch from the Kennedy Space Center? On a clear day, you'll be able to spot a lift-off even in Orlando – but for an experience unlike any other (save for actually being at Kennedy Space Center grounds on launch day), Canaveral National Seashore is a great location to mix both space and sea.
57,000 acres of pristine, quiet coastline await you here, with an amazing ecosystem that includes manatees and sea turtles. It's a great spot for swimming, catching some rays, walking or hiking, and, even, riding horses down the beach.
5. Port Canaveral
What's better than a day at the beach? Well, how about watching the cruise ships leave port for their voyages out into the Caribbean and beyond? There's nothing like experiencing the majestic wonders you'll spot here (including the ships of Disney Cruise Line, Norwegian, Carnival, and Royal Caribbean) after a day of splashing in the waters of Florida's Space Coast. Check out Jetty Park, a beach right next to the port, or Grills Seafood Deck & Tiki Bar and Fishlips Waterfront Bar & Grill – two restaurants right on the water with some of the best viewing spots. (Most ships depart around 4:00 pm, though you should check schedules to see when they may be coming or going.)
You can mostly "get it all" in Port Canaveral, too, as this is another great spot for viewing launches that are happening at the Kennedy Space Center, which is only about 15 to 20 minutes away.
Gulf Coast beaches (about a two-hour drive time)
Florida's quirky Gulf Coast beaches offer an alluring mix of wildlife, sunsets, warmer/calmer water, the Gasparilla Pirate Festival, and more. These are our five picks here:
1. St. Pete Beach
This Art Deco award-winning beach town is a great spot to watch the sun set. Here, you'll find the historic Don CeSar resort, world-class museums like the Dali Museum, and five stories of dining and shopping opportunities at The Pier. Nearby, boats depart to Shell Key, which is a nesting site for sea turtles and other marine life.
2. Clearwater Beach
Just named America's number-one beach, Clearwater is definitely a renowned hot spot. Complete with shopping, dining, live entertainment, and a revitalized downtown area, Clearwater has you covered! White sand and clear, shallow waters make this beach a destination that can't be beat for families, and it also offers all kinds of activities and wildlife opportunities. Don't miss the Clearwater Marine Aquarium – home to Winter the Dolphin, star of the popular movie Dolphin Tale that was filmed on location right here in Clearwater. There is also a nightly sunset celebration at the Clearwater Beach Pier.
Want to help with sea-turtle conservation as a bit of philanthropy while on vacation? Check out the Sea Turtle Trackers for ways you can help!
3. Treasure Island
One of my personal favorites, and with an unmatched sunset view, Treasure Island is stunning – three miles of white, sandy beaches that are perfect for swimming, shelling, snorkeling, kayaking, and more. The "world's longest waterfront bar" also claims Treasure Island as its home – Gators Cafe & Saloon, which has a tasting room and tiki lounge and which is accessible by boat.
Also, the Pirate Ship at John's Pass in nearby Madeira Beach is a can't-miss two-hour family-excursion pirate cruise that offers great music, a dance party for all, dolphin watching, a dynamic treasure hunt, and pirate stories (complete with water gun battles).
4. Fort De Soto Park
Another top Florida beach, Fort De Soto Park is the largest park in Pinellas County and is made up of five interconnected islands that are home to a variety of Florida wildlife – including more than 328 species of birds! The area is also a refuge for the loggerhead sea turtle, which nests here between April and September. It may be easier to list what you can't do at Fort De Soto Park, but top activities include fishing, boating, nature trails, kayaking, camping, a historic fort to explore, and a popular dog beach.
Let's focus in on that last one. The Fort De Soto dog beach offers a quarter mile where pups can splash in the waters and run freely off-leash (so long as they are under voice control). There is also a fenced-in dog park (separate fencing for small dogs and large dogs), as well as showers for your pups. All canoes, kayaks, and stand-up paddle boards that are available for rent at the park are dog-friendly, as well! (It's recommended that you bring a puppy life vest just to be on the safe side during these activities.)
5. Indian Shores
Just west of St. Petersburg, and close to Treasure Island and Clearwater Beach, Indian Shores sails at an even slower pace than most beach towns, and that is part of its draw, as fewer crowds make it ideal for sunset watching and a family-friendly ambiance. And in case amazing restaurants, bars, coffee shops, and a number of fun things to do while you're visiting – including the Suncoast Seabird Sanctuary – just aren't enough, the beaches here also all have showers, with bathrooms being at the main beach access point.
–
Ready to take on Florida's coastline? Don't forget the proper gear – sunscreen, hats, water, towels, bathing suit, and even more sunscreen! It's also not a bad idea to always check the weather and surf reports for these areas to ensure it's optimum for when you're visiting.
As you can see, both Florida's East and Gulf Coasts offer plenty of options that go far beyond just sunbathing. No two beaches are truly alike, and these unique day trips are a shore thing when planning a vacation to Orlando – especially if you have an extra day to spare or need a break from the hustle and bustle of our theme parks' non-stop pace.
Don't see your favorite beach on our list? Tell 70,000+ other vacation planners where you think they should go in our OI Community Facebook group.
And be sure to follow Orlando Informer on Facebook, Twitter, and Instagram for the latest news and tips at Universal Orlando, Walt Disney World, and other Orlando experiences.