The year was 2000. We were all thanking our lucky stars to have miraculously survived Y2K, and Tom Cruise was about to ride high on the success of Mission: Impossible 2. 'Twas a simpler time, and us theme-park fans were enamored with our newest, shiniest destination: Universal's Islands of Adventure, which had opened the year prior.
But while Islands of Adventure was wowing guests with the likes of The Amazing Adventures of Spider-Man, Jurassic Park River Adventure, and Dudley Do-Right's Ripsaw Falls, Universal Studios Florida had a new E-ticket attraction up its sleeve. Men in Black Alien Attack opened April 14, 2000, and the world rejoiced.
On this, its 20th birthday, we're celebrating Alien Attack with a gift to you, the galaxy defenders: 20 lesser-known facts about the ride. From the first seedlings of an idea to what became a reality (and has lasted 20 years since!), we're breaking down the details of what is, candidly, our favorite alien shoot-down ride in Orlando.
How Men in Black Alien Attack was born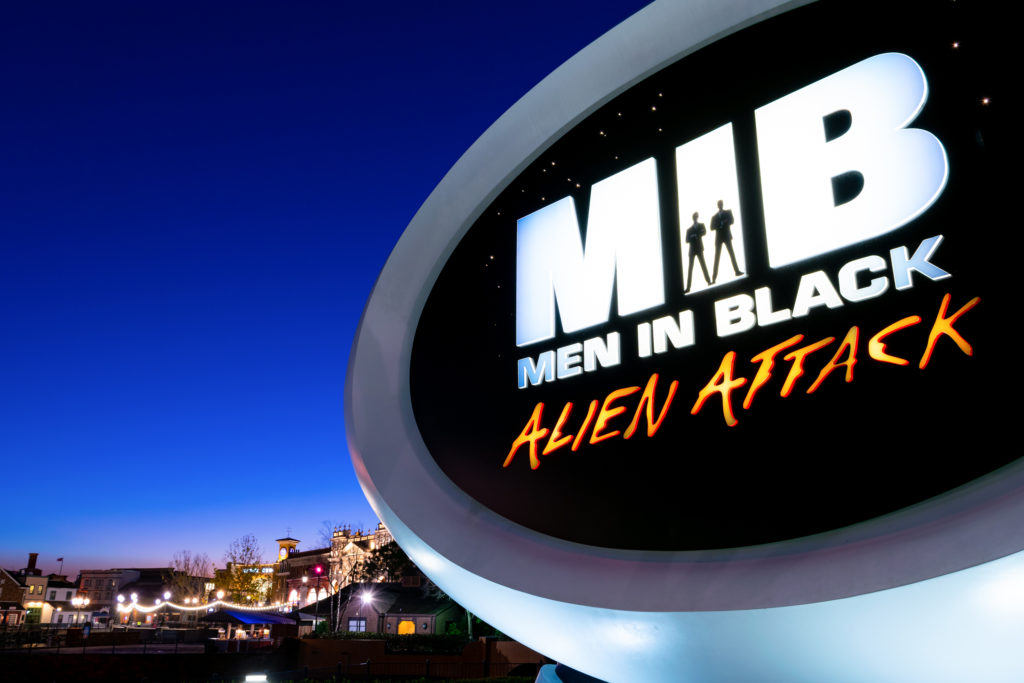 1. With Men in Black becoming a huge success when it hit theaters in July 1997, Universal fast-tracked the process for acquiring the rights from Sony-Columbia. Within two months, the first designs for Men in Black Alien Attack were being drafted and pitched.
2. The main reason the attraction was greenlit was to help balance out the crowds that Universal thought would be swarming its also-in-development Islands of Adventure; the company hoped that placing an enticing new ride in Universal Studios Florida would help keep guests on this side. Although Islands didn't end up attracting the huge crowds that Universal was expecting, the move still largely didn't work, with many visitors spending the majority of their time at the new park.
3. Men in Black Alien Attack had an ambitious original development schedule of only 28 months – about half the time as many attractions, including those that were in the works at the soon-to-open Islands of Adventure. The ride's engineering was repurposed from other Universal attractions in order to accommodate the tight schedule; for example, designers tested The Amazing Adventures of Spider-Man's ride vehicles by putting targets throughout the existing attraction one night before selecting The Cat in the Hat's vehicle instead. (The MIB designers, however, still augmented this base – while the bottom of the ride vehicle was the same as Cat, everything up top was brand-new.)
Men in Black Alien Attack: what could have been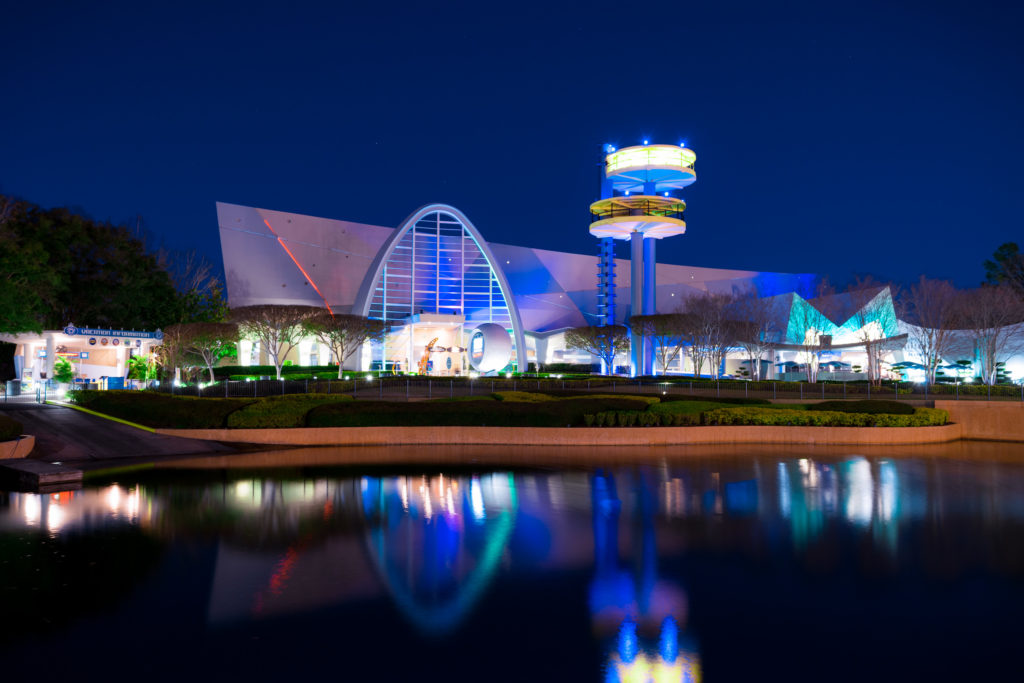 4. The plot of land where Men in Black Alien Attack now calls home was an expansion pad originally designed into the layout of Universal Studios Florida, as Universal anticipated the park's eventual growth. Universal Studios Hollywood's Jurassic Park: The Ride was meant to be copied-and-pasted into this space before the mammoth franchise ended up earning its own island in Islands of Adventure.
5. Equally intergalactic, the original concept for what ended up being Men in Black was a head-turning indoor roller coaster based on the 1995 film Apollo 13. As though a ride centered around an astronaut version of Tom Hanks wasn't enough, the facade and queue were set to be inspired by the Kennedy Space Center's massive Vehicle Assembly Building. Guests would ride around the moon in lunar lander-style capsules, which almost sounds reminiscent of the 2003 Epcot attraction, Mission: Space. Unfortunately, this premise was too ambitious for the tight schedule Universal had available.
6. Curious about the next couple of concepts to be laid to rest? Idea number two for the park's soon-to-be newest E-ticket was a modified, outdoor incarnation of the Apollo 13 coaster. This stripped-down version was rejected before a generic disaster-movie concept was put on the table and also quickly turned down.
7. The fourth premise brought to light is something that would have been fitting in Universal Studios Florida's modern-day Production Central. Heading in a slightly more child-friendly, animated direction, Nickelodeon characters and The Simpsons were considered as stars of the attraction. The premise of the latter was that the Simpson family won a contest to visit Orlando, satirizing Walt Disney World Resort and other Central Florida theme parks as a result. (Sound familiar? This was eventually brought to life with The Simpsons Ride, in 2008. And, of course, the Nickelodeon concept came to fruition in the form of Jimmy Neutron's Nicktoon Blast, which was open between '03 and '11).
8. The last, and weirdest, take on what would eventually be Alien Attack went for a significantly older demographic. Universal aimed for a horror attraction based on Stephen King's books, including It and The Shining, and even welcomed John Murdy, who eventually became the head of Hollywood's Halloween Horror Nights, to lead the charge. One of the most prominent features here would have been a "trick ending," in which riders would have anticipated exiting the attraction but instead been shocked by Pennywise the Dancing Clown emerging from the faux control booth. (This might ring a bell, too, because the gag was repurposed for Revenge of the Mummy when it opened in 2004.) The Stephen King and Men in Black concepts were both pitched to Universal's management, who agreed the fun aliens would have a wider appeal than straight-up horror.
9. Before settling on the 1964 World's Fair as the attraction's facade, other designs were considered, including the Orlando International Airport, which would have even included a baggage-claim area and boarding tram inside. (Similarly, an early idea for Men in Black's ending would've had guests arriving at the Tropicana Orange Juice Factory tour, since that company, like Universal at the time, was also owned by Seagram.)
Men in Black Alien Attack's nods to Disney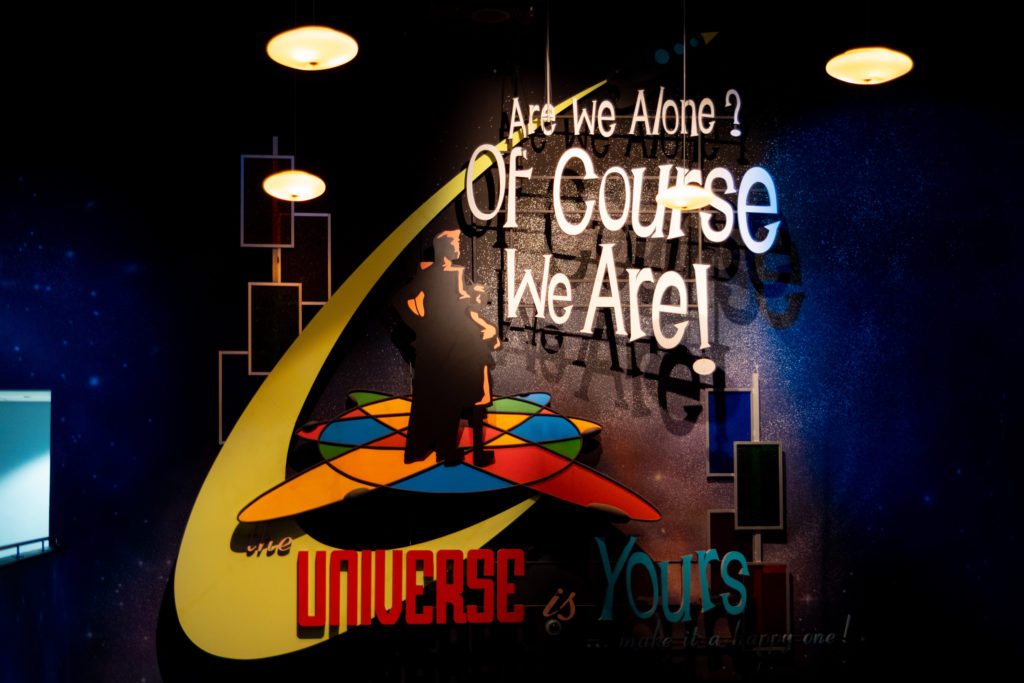 10. The 1964 World's Fair pavilion was finally decided as the facade for Men in Black Alien Attack. As to not interfere with the existing New York section of Universal Studios, the narrative would be that the attraction was relocated from NY to the theme park. (Coincidentally, in real-life history, Walt Disney's Carousel of Progress was featured at the New York's World Fair in 1964 and 1965 before being relocated to Disneyland's Tomorrowland in '67.)
11. When guests first enter the "Universe and You" presentation, they'll hear a parody tune of the Carousel of Progress theme song, which is an even deeper Disney reference than it seems. Brothers Robert and Richard Sherman, renowned for creating some of Disney's catchiest film tunes alongside Walt himself, wrote "There's a Great, Big, Beautiful Tomorrow" for the attraction. Composer Buddy Baker then worked to create varying iterations to fit the different decades showcased in the ride. (And Alien Attack composer Andy Garfield studied under Buddy Baker at the University of Southern California.)
12. The Men in Black ride uses the same technology in its "zappers" as Disney utilized for Buzz Lightyear's Space Ranger Spin, which opened in 1998. Universal took the system one step further by allowing guests to pick up the weapons for extended mobility and, therefore, a more action-packed face-off with aliens.
13. Buzz Lightyear's Space Ranger Spin debuted during the construction of Men in Black Alien Attack, and it inspired the Universal team to make a key difference in their take on an extraterrestrial shoot-out. Rather than having visible targets, Men in Black would use the aliens' various body parts as the targets – this made for a more immersive experience, allowing guests to feel as though they were in the movie itself, rather than a game. Camouflaged targets, such as blast marks, were considered until they didn't prove helpful to improving guests' scores, and the overall number of sensors per alien had to be dramatically increased – since guests had no obvious marker to aim for, they would shoot everywhere.
Men in Black Alien Attack: some interesting details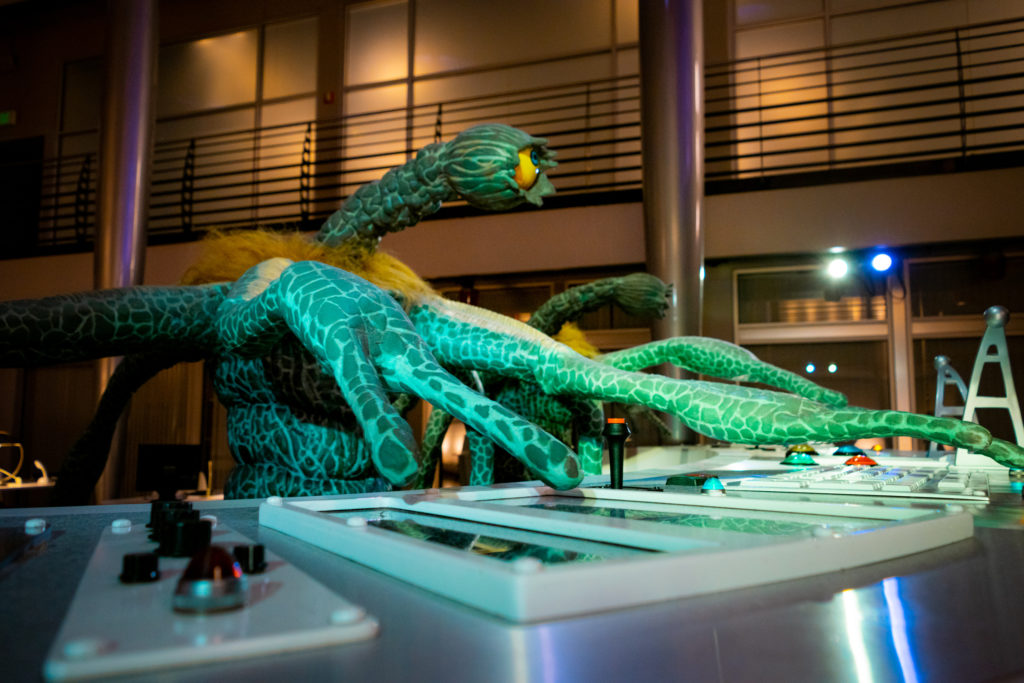 14. Men in Black Alien Attack was marketed as having Universal's "most ambitious" animatronic figures at the time – a fact that is particularly amusing when you compare those aliens to modern robotics, like Hagrid's hyper-realistic self on Hagrid's Magical Creatures Motorbike Adventure (then again, back then, the only other animatronic-heavy ride was E.T. Adventure). In addition, nearly all of these characters were custom-designed by Universal.
15. Concept designer Neville Page designed the ride's vehicle, zapper guns, and roughly half of the alien animatronics (including the Big Bug at the end). Since making his mark on Men in Black, Page has worked on Avatar, Cloverfield, and Tron: Legacy, and even appeared as a judge on SyFy's special-effects competition show, Face Off.
16. Men in Black has a show-building footprint that is some 80,000 square feet, which was the biggest in Universal history upon its opening.
Men in Black Alien Attack: critical finishing touches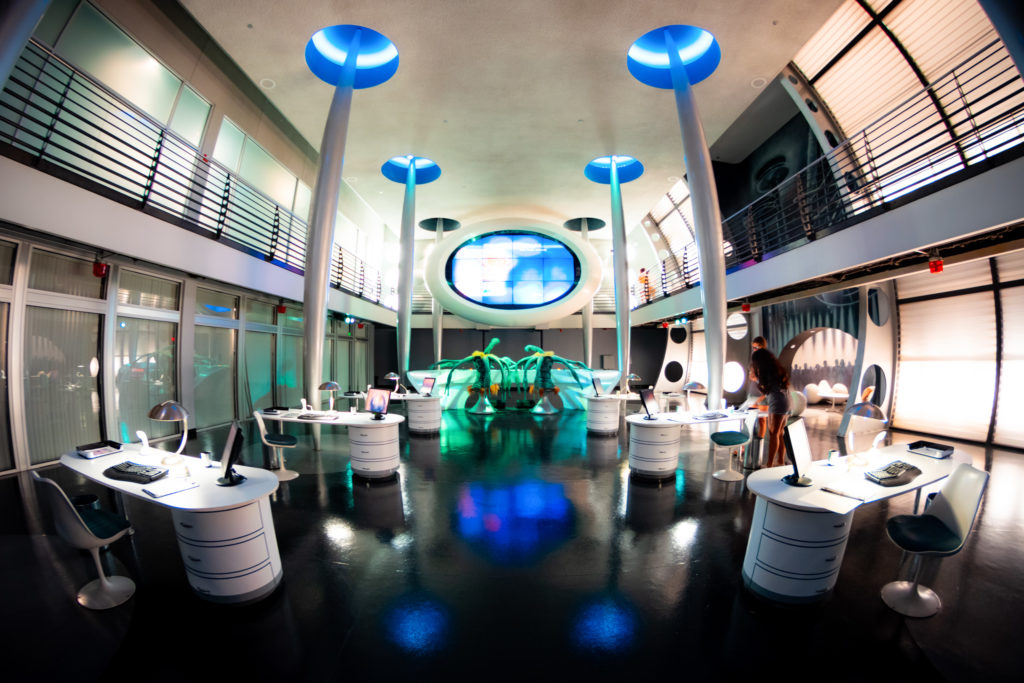 17. The all-important red button you are instructed to press towards the end of Men in Black Alien Attack was originally meant to take you through a super-speed tunnel like the car in the Men in Black movie. Once it proved too difficult to add a convincing speed effect to an otherwise-slow-moving ride vehicle, the red button was set to blow up the Big Bug from the inside.
18. Because the space and layout of the attraction didn't allow for many turns, it was tough to hide aliens around corners to add an element of surprise. That's why the designers incorporated other effects to add variety to the ride experience, like scanning the opposing car for alien lifeforms.
19. History impacted some small details on Alien Attack. Because the tragedy of Columbine took place the year prior, Universal decided to refer to the ride's shooting guns as "zappers," and an animatronic figure of a little girl being "zapped" by Will Smith was also removed out of sensitivity.
20. The Men in Black film distributor, Sony-Columbia, didn't have much to say about the attraction before its debut, but executive producer Steven Spielberg had feedback. One of his suggestions that became a reality was the inclusion of Frank the pug as a small Easter egg (Frank, of course, has since become a star of merchandise in the Alien Attack gift shop).
–
Men in Black Alien Attack has quite the illustrious history, doesn't it? We're so grateful it survived many ideas and iterations to become the fan-favorite we know and love today. Here's to many more years of Men in Black, and maxing out your score at 999,999 the next time you ride it!
Have even more fun facts about our beloved Men in Black Alien Attack? Share your intel with 90,000+ other Universal fans over in our OI Community Facebook group. And don't forget to follow Orlando Informer on Facebook, Twitter, and Instagram for the latest news and tips at Universal Orlando, Walt Disney World, and other Orlando experiences.
Special thanks to Dave Cobb, the head designer of Men in Black Alien Attack, for his input on this article.