Editor's note: 2014 price increase
Last Wednesday, Universal raised its prices uncharacteristically early, mostly to answer Disney's rate hike from the weekend before. And while the price increase was instituted at the gates right away, Universal Orlando's website was left at 2013 pricing for some inexplicable reason – until now.
As of today, here are the new online prices:
1-Day Single-Park – was $92.00, now $96.00
2-Day Single-Park – was $125.99, now $135.99
3-Day Single-Park – was $140.99, now $145.99
4-Day Single-Park – was $150.99, now $155.99
1-Day Park-to-Park – was $128.00, now $136.00
2-Day Park-to-Park – was $146.99, now $175.99
3-Day Park-to-Park – was $159.99, now $185.99
4-Day Park-to-Park – was $167.99, now $195.99
*Gate prices are the same for 1-day tickets, $20.00 more for multi-day tickets.
Most notably, a 2-day Park-to-Park online ticket, which is likely to be the most popular option for most guests this summer, saw a 20% increase. (Keep in mind that a Park-to-Park ticket will be required to ride the Hogwarts Express from USF's Diagon Alley to IOA's Hogsmeade.)
As of right now, annual pass pricing has not gone up, but that is expected to happen literally any day now. Curious about the FlexTicket? That option had an increase earlier this year, and it is not expected to go up again soon – although anything is possible.
Finally, guests should be made aware that some analysts are predicting that Universal (and Disney) will raise its prices again, right before Diagon Alley's projected opening of June.
Universal Studios Florida trip report
I visited Universal Studios Florida (USF) this past weekend and spent an enjoyable day at the park. The weather was clear and sunny, with temperatures in the upper 70s – a beautiful day in Central Florida!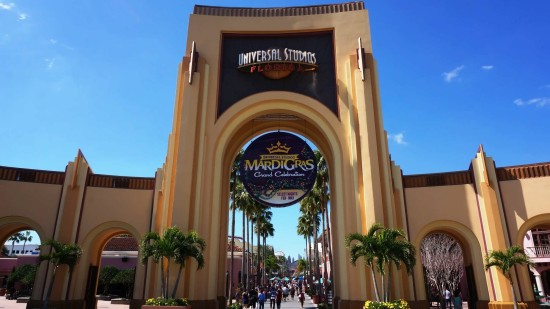 [wptouch target="non-mobile"]Remember, you can click any image to view it full-screen. And don't miss the complete photo gallery with 33 new full-screen images at the bottom of the post.
[/wptouch]
Walking around the park this trip, I noticed some construction projects. The SF Beer Company building next to Disaster was wrapped for refurbishment.
And in the Wizarding World of Harry Potter – Diagon Alley, I observed progress on the waterfront buildings. Each facade was being painted the day I visited, and this addition makes the waterfront buildings look even more impressive than they were last month.
Some of the lettering on King's Cross Station has been removed, and most of the lettering for Wyndham's is still missing.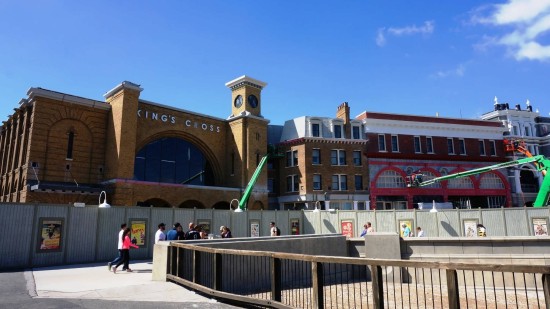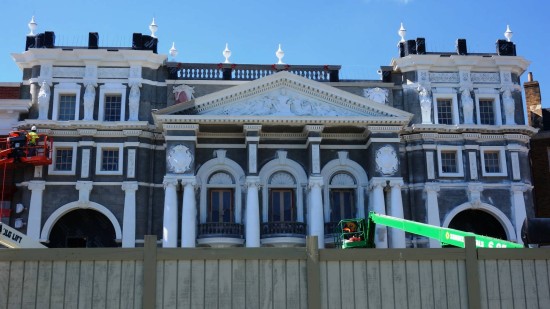 Unfortunately, the "take a peek" telephone booths have been removed and the openings in the construction fence filled.
This change is disappointing to me, but I hope it means that work is starting on the outside of Diagon Alley at the ground level, including the Knight Bus interactive area.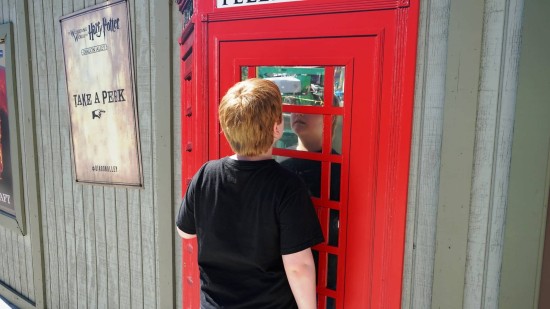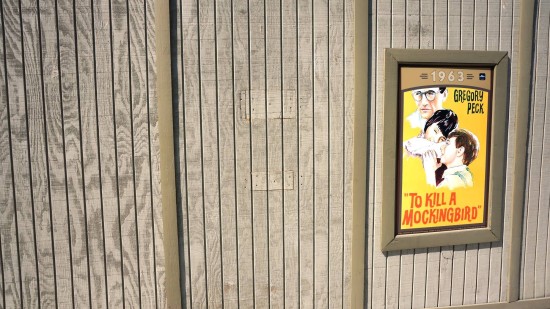 Seeing the Diagon Alley frontage across the lake from the third-floor exit of The Simpsons Ride was breathtaking and emphasizes how massive this new section of USF truly is.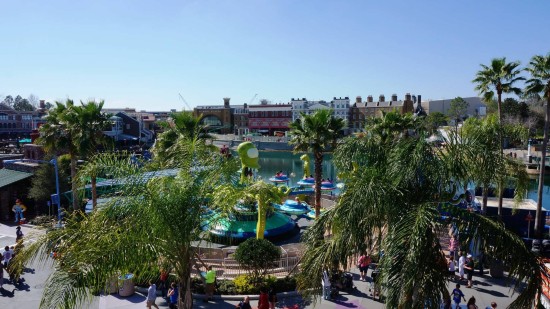 The Universal Mardi Gras celebration is going strong at USF, and Collective Soul was the band in concert that evening.
Luckily for us, the weather was very cooperative this visit, and we were able to take advantage of the photo ops with some of the stilt walkers as they mingled with guests prior to the parade. The vibrant, festive costumes look fantastic, and I especially like the costumes associated with the new "Around the World in 80 Days" floats.
My son loves seeing the parade performers and stilt walkers ambling throughout the park, and he happily poses for photos with them.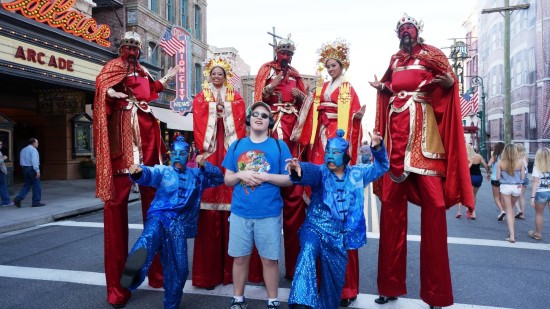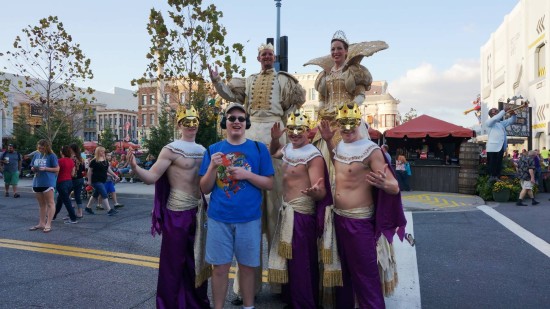 [youtube_video]brj0xUhZdT0[/youtube_video]
Also this visit, I was able to see the recently revamped "Beetlejuice's Graveyard Revue – Graveyard Mash-Up" show. For those curious, a music mash-up features two different tracks blended together, creating a new song.
The signage outside the theater still says Beetlejuice's Graveyard Revue, but the map indicates both titles of the show, and their website Universal now refers to the program as Beetlejuice's Graveyard Mash-Up.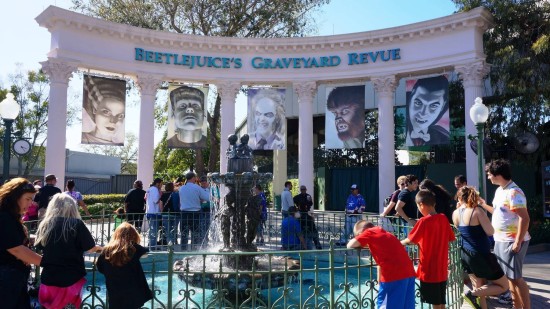 This twenty-five-minute, entertaining show encompassed singing and dancing by talented actors vividly costumed as well-known monsters, including Frankenstein, Dracula, the Werewolf, Cleopatra, and Fantasia.
Beetlejuice served as the DJ of the show.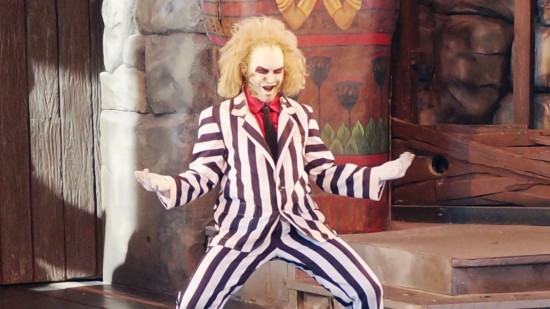 The monsters performed several mash-ups. Most of them are familiar to 1980s pop music fans, although short clips from "What Does the Fox Say" and "Royals" were played but quickly interrupted by Beetlejuice.
"Smooth Criminal"/"Sweet Dreams" was one combination; "Ballroom Blitz"/"Let's Go Crazy" was another.
[youtube_video]49nuM30RB7w[/youtube_video]
Overall, I personally feel this version of the Beetlejuice show is more family-friendly than the previous one, which had more adult innuendos in the jokes and the songs.
Another first experience this trip for me was the Horror Makeup Show. I have never seen this before, and I ended up liking it a lot.
The lobby of the show has very interesting displays of how makeup has been used since movies began, including many popular films and television shows like Jaws, Jurassic Park, and The Munsters. There is also an entire section dedicated to Universal's Halloween Horror Nights.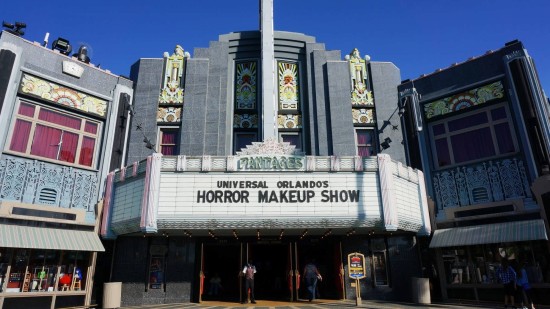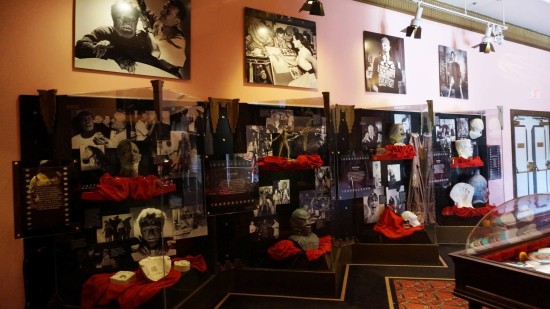 As guests walk into the theater, the stage is set up like a working movie makeup studio.
Actors using the names Alex Ross and Mark James are the hosts of the show and provide information about horror movie makeup in a humorous manner.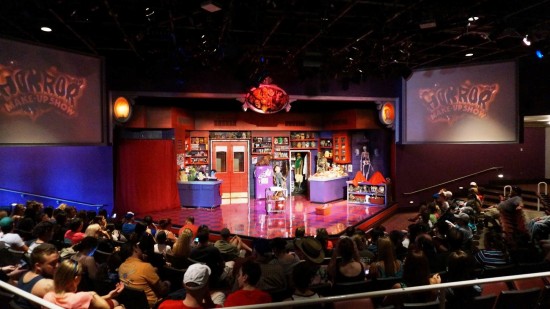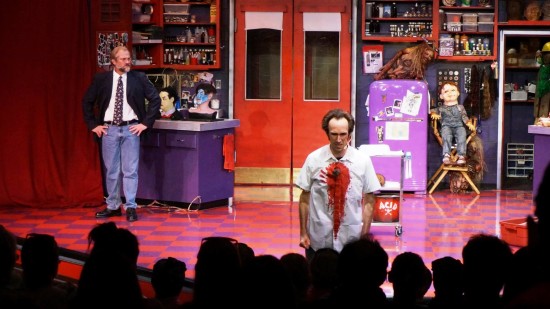 After showing clips of horror scenes from well-known movies, they selected a "volunteer" from the audience – a guest who was somewhat reluctant to be an assistant.
After bringing the volunteer onto the stage, they demonstrated a knife "cutting" through a person's arm, complete with fake blood.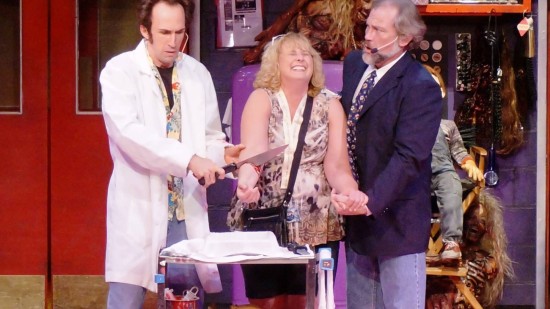 Next, Mark James talked about the history of horror movie makeup, including Lon Chaney and his secret techniques that he never revealed. John Chambers revolutionized makeup with latex in the original Planet of the Apes movie from 1968. Mechanical creature effects were pioneered in the 1980s, and the show hosts demonstrated on-stage how they work using models. Currently, most films use computer-generated imagery (CGI) and regular makeup combined.
Lastly, the volunteer was brought back up on stage to demonstrate an electronic vest connected via wires to a mechanical creature and to help "bring the creature to life."
I won't spoil the ending; just know that things don't go as allegedly planned by the hosts.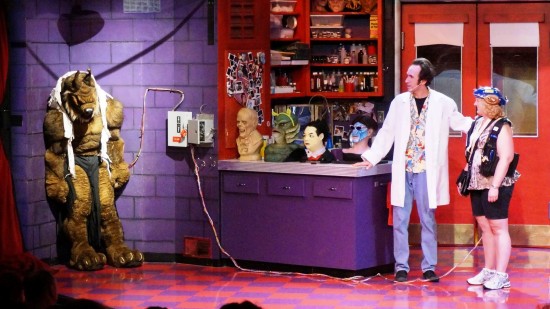 Although there are a few loud, sudden noises and some gory scenes that may not be appropriate for young children, I really recommend this show for most park guests.
The crowds at USF this visit were moderate, with wait times for Despicable Me Minion Mayhem and Transformers: The Ride – 3D at 45 minutes, Hollywood Rip Ride Rockit and Men in Black at 30 minutes, The Simpsons Ride at 25 minutes, and Revenge of the Mummy at 20 minutes.
Early March is an excellent time to visit Orlando, generally, and Universal Studios Florida, specifically. Spring Break crowds have not reached their peak. The weather is usually very comfortable, with temperatures during the day reaching the 70s and 80s. And one of the park's most popular events, Mardi Gras, is in full swing.
I hope that you will soon be able to enjoy the unique shows and experiences that USF has to offer.
To plan your next visit to Universal Studios Florida, see our full park walk-through and a Complete guide to Mardi Gras 2014 in the OI Universal Center. Or you can catch up on all our trip reports.
Universal Studios Florida trip report – photo gallery
Click any image to view it full-screen. When the full-screen image is open, click to the right or use the right arrow on your keyboard to advance through the gallery.
[sws_author_bio user="MaureenDeal" size="105″ authorposts="More OI posts by Maureen" name_format="About the author"] [/sws_author_bio]