On Saturday I visited Universal Studios Florida, and what an awesome day it was!
The crowds were surprisingly moderate for summer, but the weather was very warm. As I entered the park, I picked up a Diagon Alley Grand Opening commemorative park map (still available, although the actual Grand Opening was July 8) and decided to tour the rest of USF before enjoying this new addition.
In Production Central, Despicable Me was shut down due to technical problems but reopened later with a posted wait time of 50 minutes. Hollywood Rip Ride Rockit's posted wait was 45 minutes. In the New York backlot, a candy shop opened in place of the psychic/henna tattoo parlor near the Blues Brothers Show stage.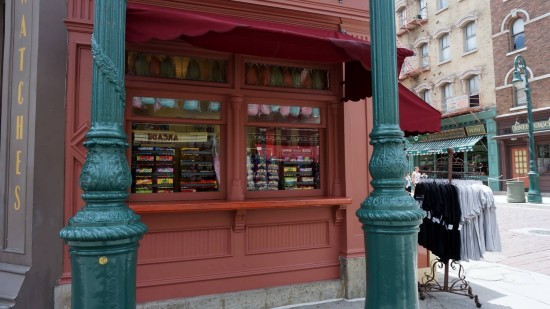 [wptouch target="non-mobile"]Remember, you can click any image to view it full-screen. And don't miss the complete photo gallery with 50 new full-screen images at the bottom of the post.
[/wptouch]
Revenge of the Mummy was only a 20-minute wait, and Transformers was 60 minutes. And over in World Expo, both MEN IN BLACK and the Simpson's Ride were at just 10 minutes.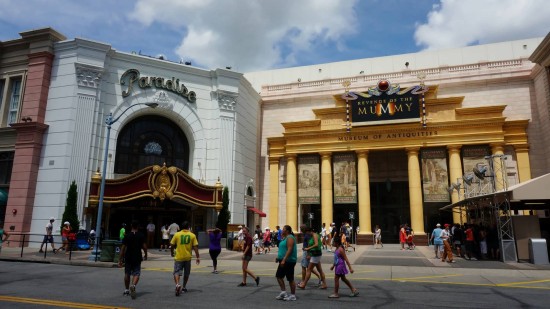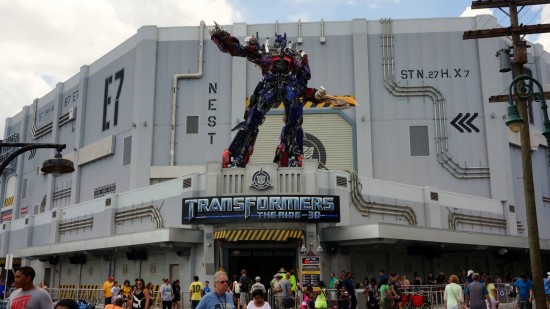 As I approached the London waterfront of the Wizarding World of Harry Potter – Diagon Alley, imagine my surprise when the queue for the new Diagon Alley was non-existent and guests could enter immediately.
First, I enjoyed all the photo opportunities on the London waterfront, including the steps of No. 12 Grimmauld Place, Eros fountain, a red London phone booth (dial 62442 for a message), and the Knight Bus, with its shrunken head and Conductor.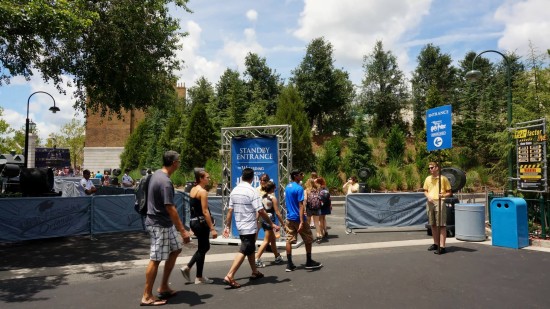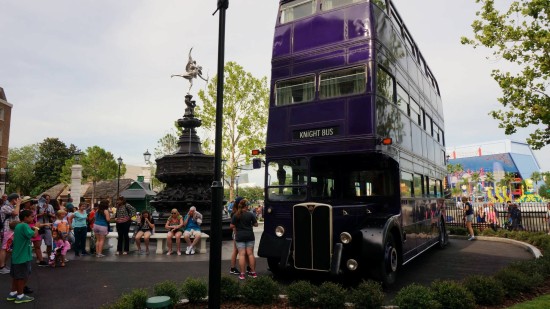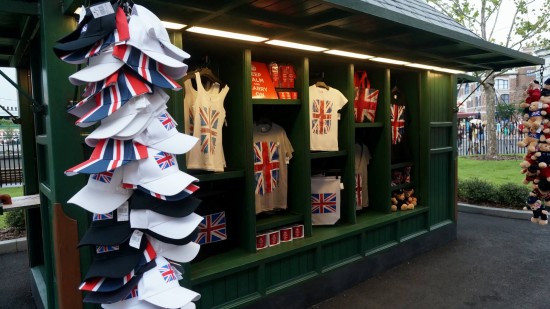 After seeing Muggle London, I walked through the brick opening (with sound effects) and emerged into Diagon Alley. I must say, it took my breath away.
All I could think to myself was, "It's real!" The cobbled streets, the crooked buildings, and the dragon on top of Gringotts bank – they were all in front of me. Diagon Alley was no longer an artist's drawing or an image seen on television or the internet. It was real!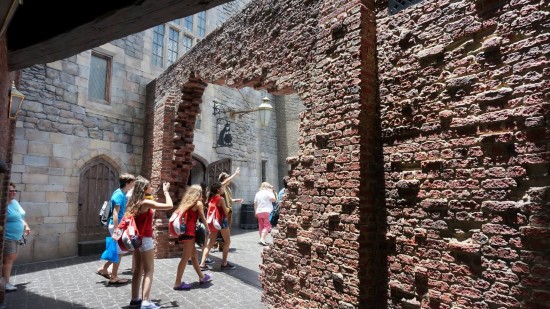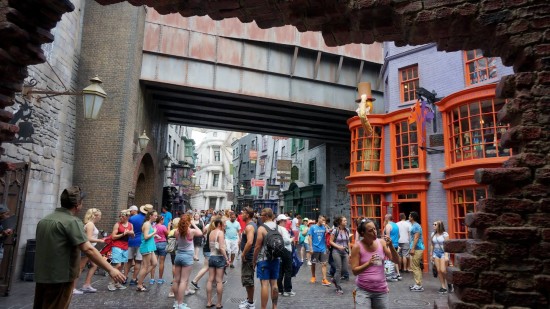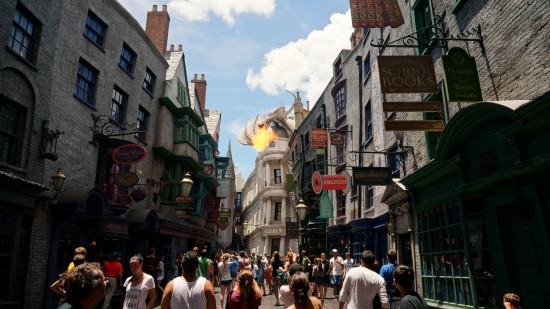 Diagon Alley is a true shopping Mecca for fans of the Harry Potter series. I explored every shop, including Quality Quidditch Supplies and Wheezley's Wizard Wheezes joke shop. Ollivander's, which only had a five-minute wait time for the wand experience, displayed an infinite number of wands.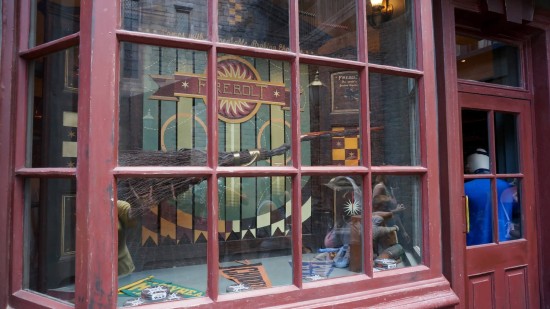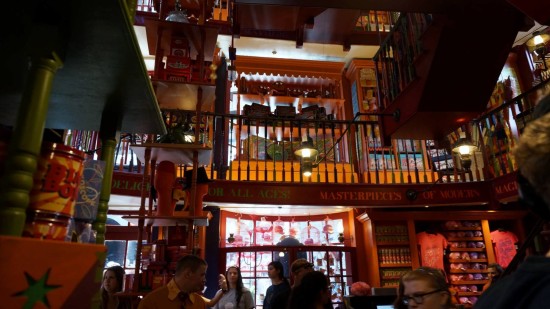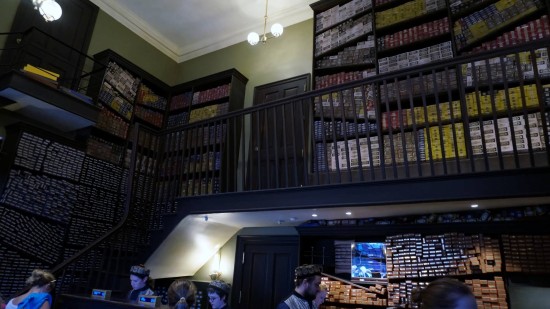 I loved the magical dresses and other costumes featured in Madam Milikin's Robes for all Occasions. And over on Horizont Alley, Magical Menagerie was a plush-toy lover's delight, with unique animals to buy, including a variety of owls. Wiseacres was a beautifully decorated shop combined with the stationery store Scribbulus, which had a tremendous variety of items available, from t-shirts to quill pens and almost everything in between.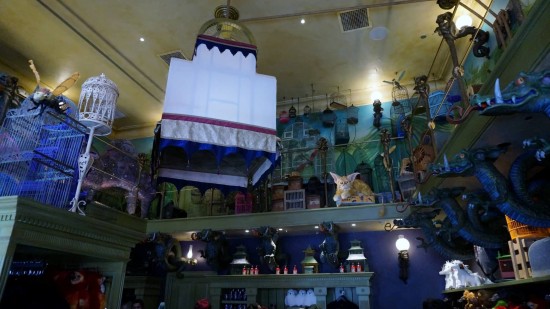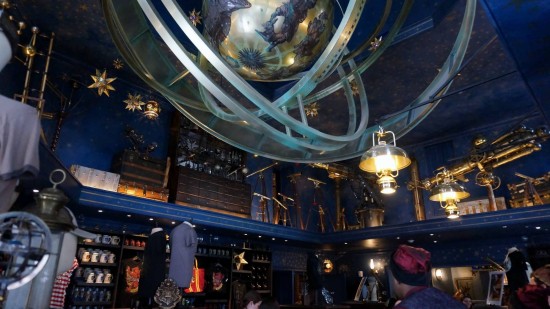 Knockturn Alley was fantastic. Cold, dark, and sinister-feeling, I walked along the alleyway and saw several interactive wand windows, a moving "wanted" poster, and even Team Members who were in character creeping along the path.
In the Borgin and Burkes store, in the dark recesses of Knockturn, I heard the canary inside the vanishing cabinet, perused the various dark wizard items for sale, and contemplated what I would see should the bogart escape its locked trunk (bogarts turn into what you fear the most).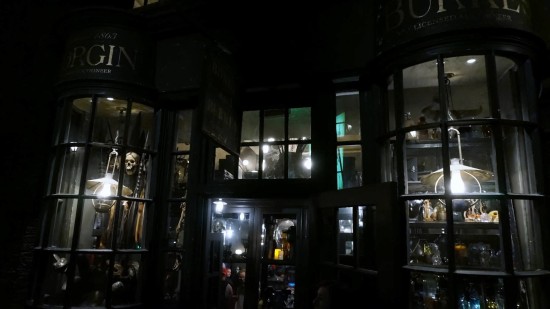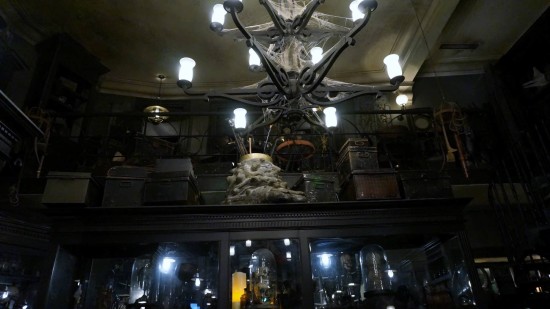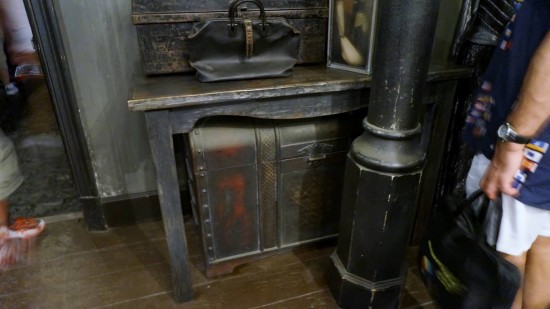 Heading back to Diagon Alley, I enjoyed Butterbeer ice cream from Florean Fortescue's Ice-Cream Parlor and had dinner in the Leaky Cauldron (the lemon squash drink is deliciously refreshing). I even tried a bottle of Gilly Water with a Draught of Peace elixir from Eternelle's Elixir of Refreshments; I enjoyed the very sweet-but-tasty potion.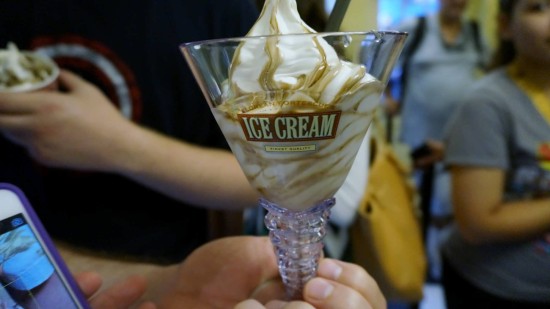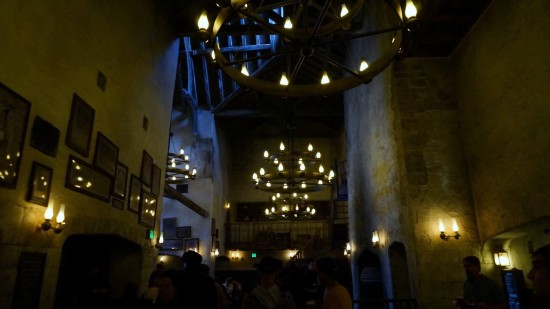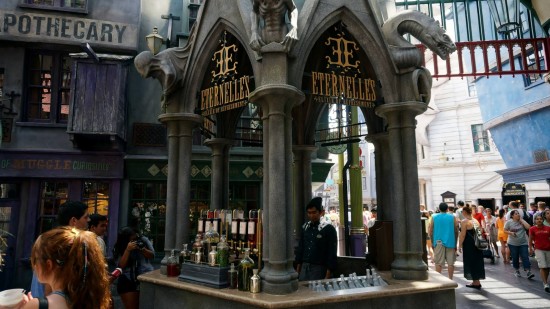 I exchanged my Muggle money for Gringotts Bank Notes so I can keep them as souvenirs. These banks notes can be used throughout Universal Orlando Resort in the place of cash money. The goblin animatronic who guards this portion of the bank was astoundingly realistic and seemed to stare directly at me as I stood in line.
[youtube_video]c42KFvbKonQ[/youtube_video]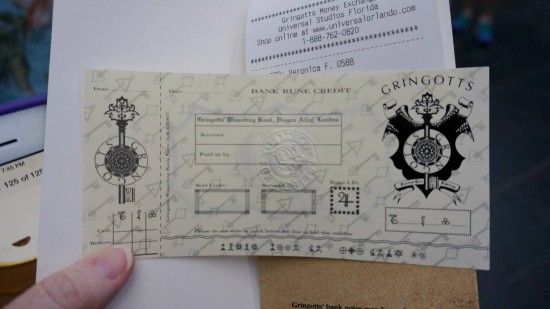 I was able to see first-hand the amazing puppetry show of the Three Brothers from The Tales of Beedle the Bard. I was also able to enjoy the very talented Celestina Warbeck and the Banshees as they performed various songs and danced on stage. (In case you didn't know, Celestina Warbeck is Molly Weasley's favorite singer.) Both performances are not to be missed when visiting Diagon Alley.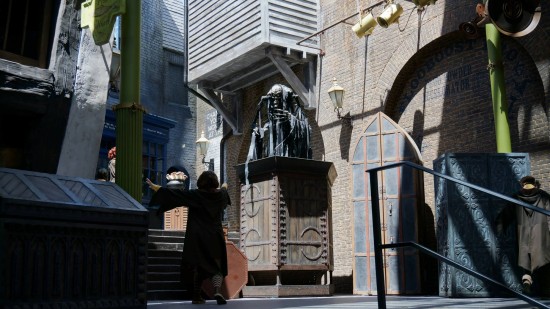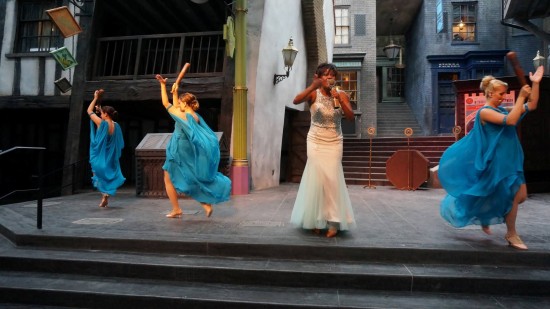 The dragon roaring and spewing fire every 10 to 15 minutes from the top of Gringotts Banks was extraordinary. I think it's one of the best "landmarks" of Central Florida.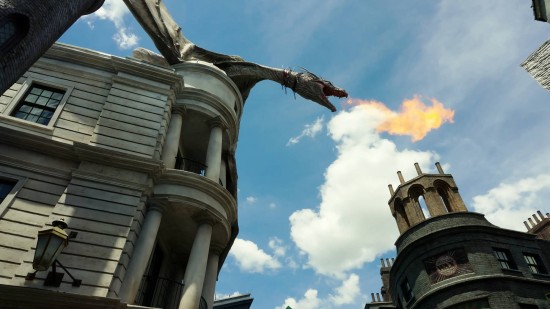 After seeing the wait time for Harry Potter and the Escape from Gringotts go past 220 minutes, I hoped the single rider line would re-open. It finally did, and I decided to ride this headliner attraction.
In choosing the single rider line, however, I missed a significant portion of the queue, including the main lobby, the vaults, walking through Bill Weasley's office, and the elevator ride down to the bottom of the bank; as a single rider, I walked down a hallway, obtained my goggles (3D glasses), and then proceeded up three flights of stairs to board the ride. This process took about one hour, as the ride temporarily shut down a few times while I was in the queue.
Escape from Gringotts is one of those attractions in which I had to remind myself that it is not a rollercoaster. I liked the ride, which I felt was a toned-down combination of Revenge of the Mummy and Transformers. I did want it to last longer, though. There are thrilling moments, and the scenes are brilliant. I also loved the fact there was no way to predict which direction the vehicle would be traveling next. I highly recommend everyone try this attraction, but for thrill-seeking guests, don't expect a coaster, because it isn't intended to be one.
After my adventures in Diagon Alley, I walked over to King's Cross Station in London and boarded the Hogwarts Express to Hogsmeade. As a huge fan of the Harry Potter series, I was in awe. Again, what I've read and seen in the movies was real! The station was remarkable, and the Hogwarts Express train was striking.
I walked through the very long queue and boarded the train after only a ten-minute wait.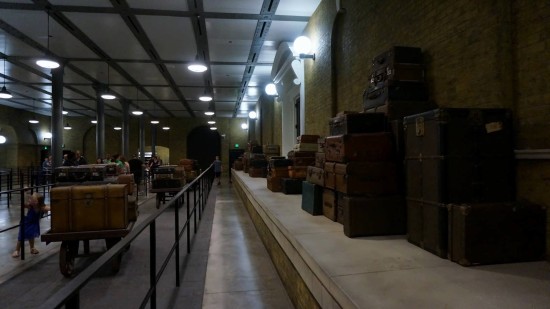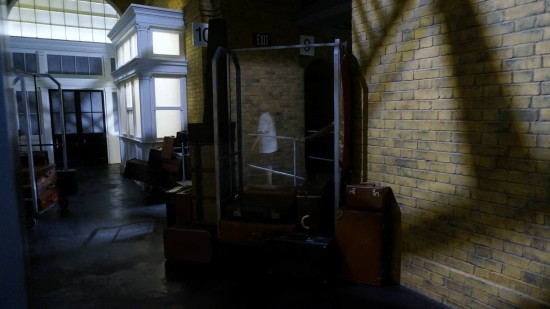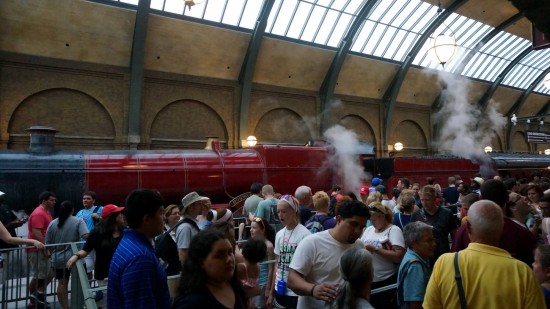 I sat in the cabin and was speechless the first time I saw the scenery pass by the window (which is really a screen) and the shadows cast on the opaque windows of the cabin door as Ron, Hermoine, and Harry walked by. After we arrived at Hogsmeade Station, I went back in line to return to King's Cross Station in London and was again mesmerized by the different scenes passing by and the shadows on the cabin doors.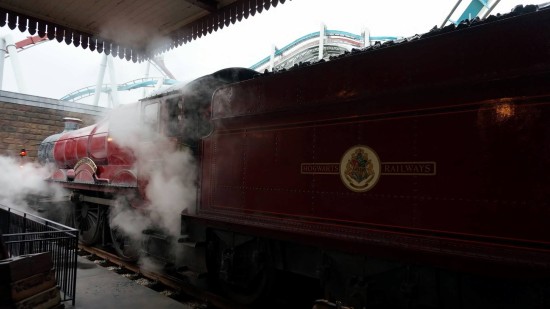 It's been almost four years of planning and construction for Diagon Alley to open. It is thrilling for a Harry Potter fan like me to partake in this awesome expansion of the Wizarding World. Universal Orlando has performed a phenomenal task of bringing the world of Harry Potter to life for the second time, and they succeeded wildly.
I can't wait to go back to Diagon Alley again and hope that you will soon experience this new section and all the entertainment available at Universal Studios Florida.
For those who may have missed it, here's one more look at Dan's walk-through of Diagon Alley from the grand opening day:
[youtube_video]iq9QSe9XKqw[/youtube_video]
We have even more to share! Dan has been working hard on getting many pages in the OI Universal Center updated now that we know the particulars about how Universal is handling crowds, Early Park Admission, etc. These pages are now fully updated:
Second round of updated pages:
By the end of this week, Dan will have new touring plans ready, too.
Finally, we are now accepting submissions for "real guest reviews" of the attractions inside Diagon Alley. You may have seen the mixed review of Escape from Gringotts – to learn more about what our readers are saying, click here.
I hope you enjoyed my tour of USF and Diagon Alley. If you'd like, you can read all of our trip reports in the OI Blog Archive, or you can engage in some pretty serious Diagon Alley vacation planing in the OI Community Forums.
Universal Studios Florida trip report – photo gallery
Click any image to view it full-screen. When the full-screen image is open, click to the right or use the right arrow on your keyboard to advance through the gallery.