Wouldn't you agree that spending a beautiful Saturday afternoon at Universal Studios Florida is a great way to spend a spring day? I just did that, and I'm delighted to pass along the latest details from USF and my trip.
Universal parking garage and CityWalk changes
Given the recent Orlando theme park price increases, it isn't that surprising that Universal Orlando has increased its parking rates. As I arrived at Universal's parking deck, I noticed that cars and motorcycles are now $17.00 per day. Keep this in mind when budgeting for your upcoming Universal vacation.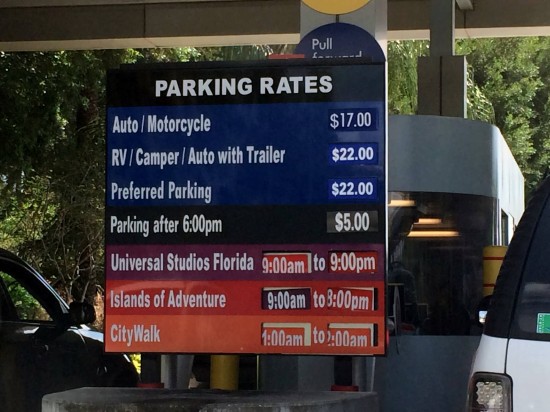 [wptouch target="non-mobile"]Remember, you can click any image to view it full-screen. And don't miss the complete photo gallery with 35 new full-screen images at the bottom of the post.
[/wptouch]
Upon entering CityWalk, I was excited to see that Starbucks and the new Cold Stone Creamery are now open for business. I took a peek inside both shops, and – wow – does that Starbucks coffee smell fabulous! The ice cream inside Cold Stone looked delicious, and I look forward to trying some soon, especially during the hot summer days.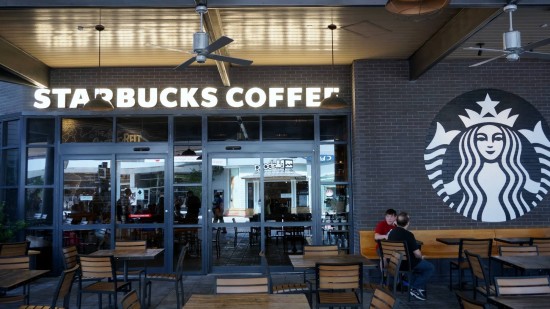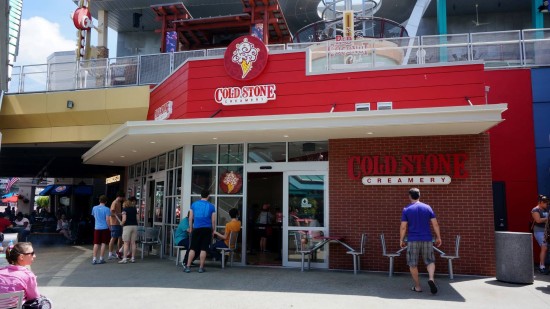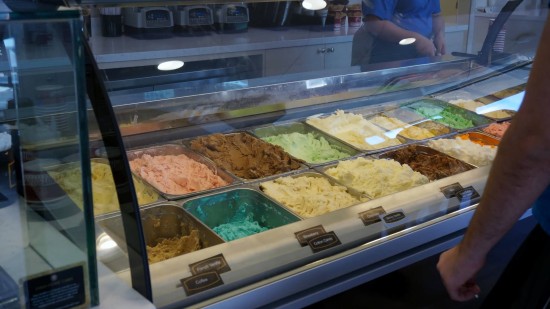 If you'd like to see videos, Dan posted some not too long ago: Starbucks and Cold Stone.
Construction continues in CityWalk on Cowfish Sushi Burger Bar and VIVO Italian Kitchen, along with the remodeling of the Universal Studios Store.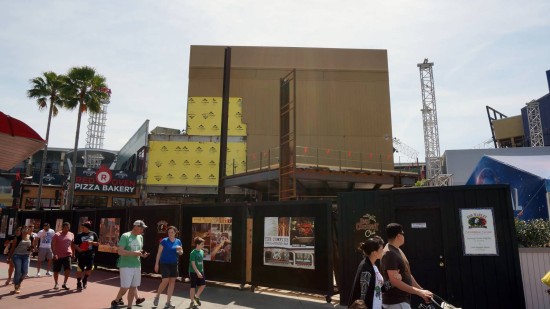 I look forward to trying all the new delicious offerings soon. Rumor has it that they'll both be open before the Wizarding World of Harry Potter – Diagon Alley this summer.
Speaking of which…
Universal Studios Florida trip report
I'm guessing you're a big Harry Potter fan, like me. One thrilling aspect of USF for Potter heads is the continued construction at Diagon Alley as it comes to completion in the next few months!
I was amazed at the changes since my visit last month. The walkway along the waterfront has widened significantly, from the King's Cross Station side past the restrooms near Fear Factor Live. So far, five large trees have been planted along the construction walls, hopefully to help provide shade from the brutal summer sun.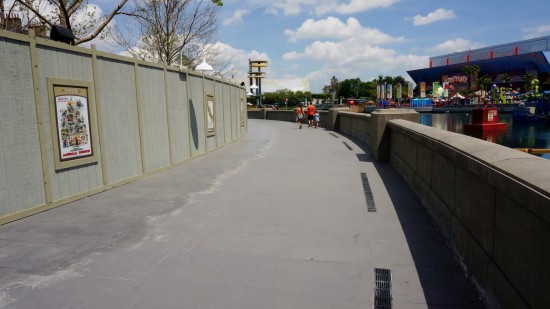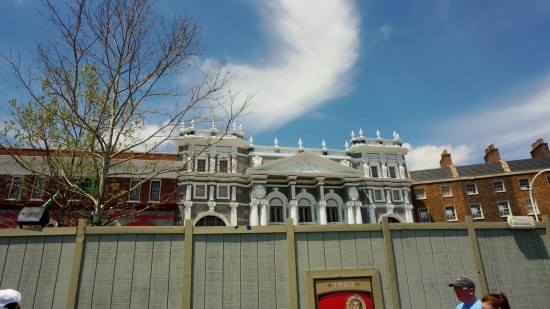 The signage for most of the buildings has now been put up, including the Charring Cross Rd sign, which will enhance the feeling of being in London. So far, my favorite building facade is Wyndham's Theatre – I just love the architecture and intricate details.
I also noticed that two concrete pillars down by the Grimmauld Place building have appeared since my last visit. As Dan has noted previously, they will form a gateway into the London waterfront from the north end, as seen in this limited-release concept art.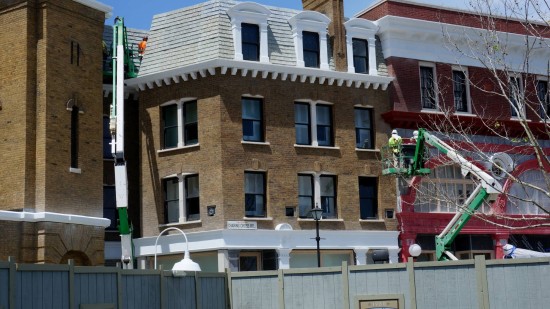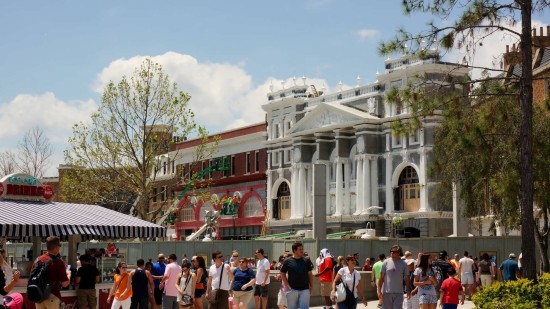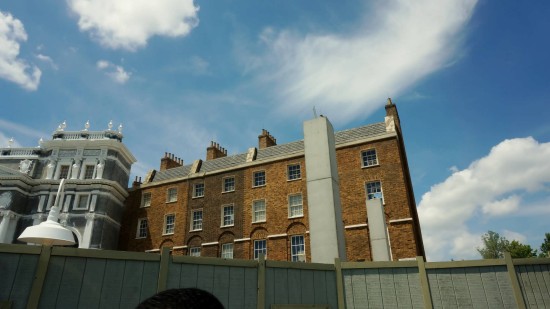 Universal always does a great job keeping their park looking clean, fresh, and well-maintained. I noticed the S.F. Beer Company building was still wrapped for refurbishment, but the food & beverage stand in front of it is still open for customers.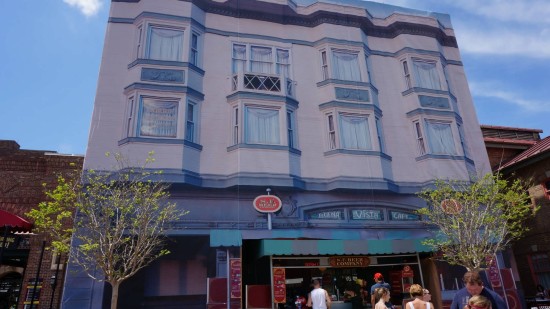 Did you know that you can wage a "war" against your family and friends at USF? If you've visited the Ball Factory behind the water play area of Curious George Goes to Town, you know what I'm talking about.
Just follow the red footprints along the front and left side of the water playground, and you won't get wet. Enter the Ball Factory through the plastic wall (which helps keep the balls from leaving the area), and let the fun begin!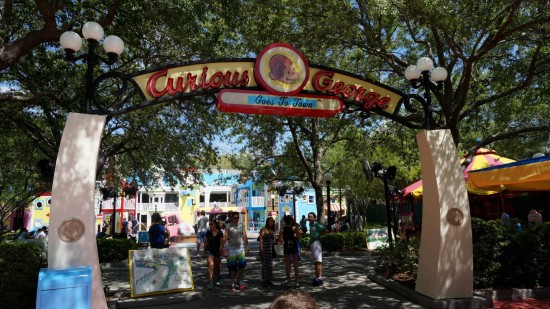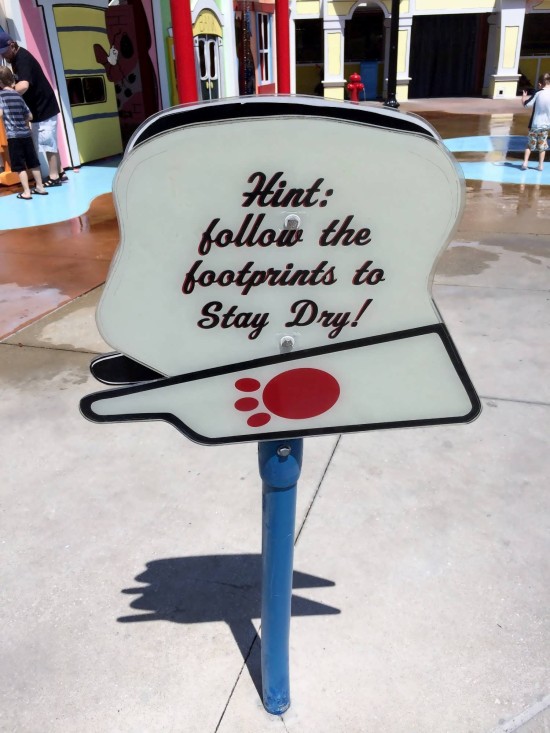 There are two levels to this playground, which adds a great element to this part of the park. Guests can shoot soft Nerf-like balls at one another through various means – launchers, vacuums, and by hand, to name a few. Although this section of the park can be a bit noisy, it also provides endless entertainment for guests of all ages.
The next time you're at USF, check it out and let us know what you think.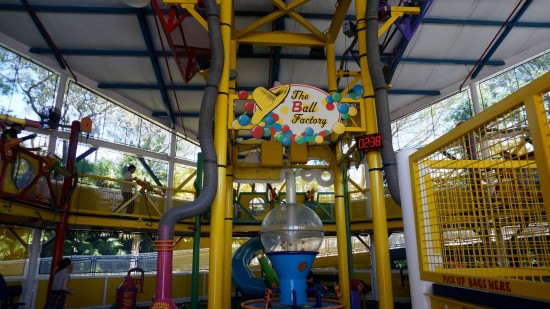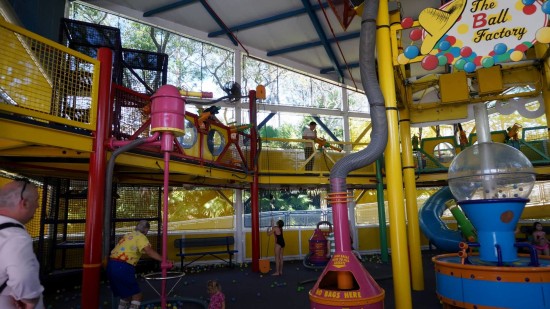 Take a warm, sunny spring day in Central Florida, add in moderate crowd levels (with wait times for most attractions less than an hour), mix in some thrills and adventures, intersperse with unique food and refreshing drinks, and you've got the ingredients for an amazing day spent at USF. I was lucky enough to partake in this epic recipe, and hope you will soon!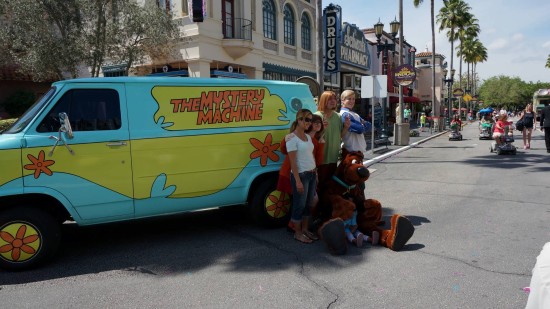 By the way, the fun times of Mardi Gras are still going on at USF. During this year's longer-than-usual celebration, you can enjoy the sights, sounds, and unique tastes of New Orleans, including the extremely entertaining parade, New Orleans bands in the French Quarter, and foods like jambalaya and red beans and rice. Each night of Mardi Gras, a well-known band performs live on-stage. Upcoming performances include Lynyrd Skynyrd, Kool & the Gang, and Nelly.
To plan your next visit to Universal Studios Florida, see our full park walk-through and a Complete guide to Mardi Gras 2014 in the OI Universal Center. Or you can catch up on all our trip reports.
Could you hear the party music from outside? We're celebrating the
OI Forums Grand Opening
, and you could win one of three $100 Universal Orlando gift cards!Just four full days after officially opening, we've already got over 500 members who have posted more than 5,600 times – join us, jump in, get your questions answered, and make vacation planning almost as fun as the vacation!Oh yeah, and get a chance to win a $100 Universal gift card too.
Start here
Universal Studios Florida trip report – photo gallery
Click any image to view it full-screen. When the full-screen image is open, click to the right or use the right arrow on your keyboard to advance through the gallery.
[sws_author_bio user="MaureenDeal" size="105″ authorposts="More OI posts by Maureen" name_format="About the author"] [/sws_author_bio]