Your vacation to Universal Orlando Resort – particularly if you're visiting the Wizarding World(s) of Harry Potter! – just got a little more expensive yesterday.
Putting it in context – the who, what, where, when, & why
For the last two years, Universal has been the company to initiate the annual round of ticket price increases, usually around Memorial Day. This time, however, Disney struck first, quietly upping its prices last weekend. The industry has been holding its breath to see whether Universal would follow suit sooner rather than later, and word leaked out last night – as Orlando Informer was first to report – that the other shoe had, in fact, dropped.
CONFIRMED: @UniversalORL raises gate tkt prices today – $92 to $96 for 1-park, $128 to $136 for 2-park. Online prices not affected… yet. — Orlando Informer (@OrlandoInformer) February 26, 2014
What makes this year's hikes so much more controversial than at any year before is – well, a whole host of factors, really. First and foremost, there's the timing of the move; this is the first time in nearly a decade that the theme park operators opted to up their prices so early in the year (which results in the unfortunate side effect of them having raised prices twice in the past 12-month period).
Then there's the reason why: although Disney patently refuses to comment on the rationale behind the early move, analysts believe it's a preemptive play for Universal's Wizarding World of Harry Potter – Diagon Alley, which, of course, opens this summer. There's due to be a great deal of spillover business from Universal Orlando to Walt Disney World in the huge deluge of guests that will descend on Central Florida, and by raising prices now, some four months early, it actually allows for Disney to increase them again come opening time. (The same is true for Universal, by the way, making this the first occurrence in a considerably long time that all the parks may see multiple increases in one calendar year.)
But most interestingly of all is the fact that Disney did this in what is essentially a sneak move: without announcing it beforehand (which is strongly atypical for the company), and doing so late on a Saturday evening, when all the press was at a media event being held at Universal Studios Florida for its annual Mardi Gras celebration. It may come across as incredibly underhanded, but it also allows for the greatest possible delay in reporting the news.
The new prices – and the high cost of visiting the boy wizard
Enough with the backstory already – what's the damage?
A one-day, one-park ticket – what Universal formally calls a Base ticket – will now cost you $96 (before taxes) at the gate, up from last year's price of $92. (Just to compare with Disney's new pricing: a similar ticket to Magic Kingdom costs $99, while its other three parks – Epcot, Hollywood Studios, and Animal Kingdom – come in at $94. This is also a four-buck increase, across the board).
Here's a rundown of all the Base ticket prices at the gate (please note these are all for adults and before tax):
One day: $96.00 (2014); $92.00 (2013)
Two days: $155.99 (2014); $145.99 (2013)
Three days: $165.99 (2014); $160.99 (2013)
Four days: $175.99 (2014); $170.99 (2013)
That's an increase of $10.00 or less – significant, but not too painful.
It's with the Park-to-Park option that things get quite drastic: a one-day, multi-park ticket at the gate comes in at $136.00 (before taxes), an eight dollar hike from last year's price, but a two-day, multi-park ticket at the gate is now a whopping $195.99 – up almost 30 dollars from 2013. That's an unbelievable 17% increase, and it's all because of that pesky Harry Potter.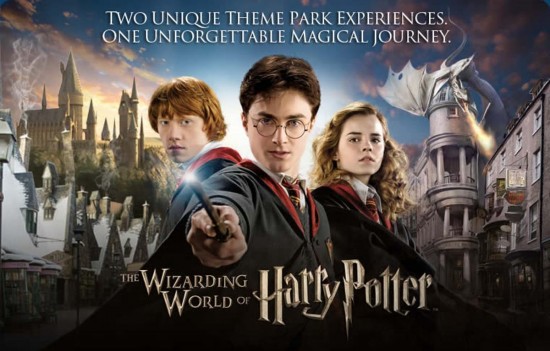 With the Hogwarts Express requiring that guests have a Park-to-Park ticket in order to leave Diagon Alley for Hogsmeade (or vice versa), it's a no-brainer for the Universal bean-counters to target this side of the ticketing column. And with the "multi-sensory," randomized train ride set to be one of the hottest and, potentially, most unique attractions in the history of the theme park industry, it's also a no-brainer that the company can essentially name its price.
Here's the full breakdown of the Park-to-Park ticket prices at the gate (again, for adults and excluding tax):
One day: $136.00 (2014); $128.00 (2013)
Two days: $195.99 (2014); $166.99 (2013)
Three days: $205.99 (2014); $179.99 (2013)
Four days: $215.99 (2014); $187.99 (2013)
At approximately $30 apiece, these prices are triple the increase of their single-park counterparts.
Our secret to you: Here's how to save a boatload of cash – for now
Universal may have already put all of 2014's new pricing into effect at the park gates, but, for now, it's failed to do so on its website and with its third-party ticket distributors. This means, if you act soon, you can still buy that covetous two-day Park-to-Park ticket for about $150.00 – saving you $50 off the current gate price for the same ticket.
Our preferred ticket distributor is UndercoverTourist.com (scroll down to the Universal section).
Otherwise, you can view and buy tickets on UniversalOrlando.com, too.
Tip: Universal Orlando's annual passes are, for the moment, an extreme value, as well. In fact, the price of a Power Pass (the basic AP, with a few blockout dates) is actually less than the new three-day Park-to-Park ticket price at the gates. Learn more.
If I buy tickets now, how long are they good for?
Let's go ahead and answer this question right here for ya! General admission tickets to Universal Orlando never expire until the first day any portion of the ticket is first used. Once that happens, any remaining days on the ticket are good for 14 days.
In plain English, this means you can buy tickets now for your vacation later this year, next year, or the year after, and none of the days will expire until you first use the ticket at the turnstiles. Then, if you have a multi-day ticket, any remaining days need to be used within 14 days.
@OrlandoInformer pleased I bought our 2day 2pk tickets last June,that's 2 price increases I've missed & we don't go until December 🙂 — Graham (@mrcoffeegeek) February 27, 2014
Very important: what I just described is for general admission tickets. If you purchase any sort of promotional ticket, like the current "buy two days, get the third day free" offer, expiration dates may apply. Just be sure to read the details before completing any purchase.
Whichever way you're leaning, you better hurry fast – God only knows when the one hand of Universal will talk to the other and rectify the situation. And remember… this may be only the first price hike for 2014. Expect to potentially see another one around the typical time frame of Memorial Day – and, if so, expect to see a one-day Base ticket tip the scales at $100 (or more).
Happy hunting.
Editor's note: saving at Universal Orlando goes far beyond just what you pay for admission. When you're finished with this article, we invite you to visit us in the OI Universal Center, where you can meticulously plan your Universal vacation entirely for free!
[sws_author_bio user="msunyata@yahoo.com" size="105″ authorposts="More OI posts by Marc" name_format="About the author"] [/sws_author_bio]