There is a Universal Orlando vacation, then there is a Universal Orlando vacation during Spring Break. While the rising temperatures and festive spirit of the holiday create an energy all its own, you definitely need to know what you're doing to harness that energy and turn it into a positive memory. The peak period of Spring Break sets up Universal Studios Florida and Islands of Adventure for some of their highest wait times and longest lines (until Diagon Alley opens!).
Let's take a look at lessons learned from previous years' spring time celebrations.
Buy your admission tickets in advance
You might think in this day and age, with online ticket sales as prominent as they are, that lines at the parks' ticket windows would be going down. This is not the case. In fact, I could argue that they're growing, since Universal has increased their capacity to handle ticket lines at both theme parks. Whatever the case may be, here's the lesson: don't buy your tickets when you get to the park. Otherwise, you will have to wait in lines like these…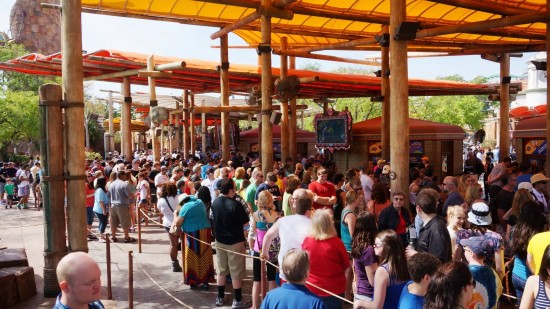 You could say that it might be worth a 60-minute wait to ride Forbidden Journey or Transformers: The Ride, but waiting over an hour just to purchase admission? That has to be the worst way to start your park visit.
But this lesson goes even further. If you purchase a multi-day ticket from Universal either online or over the phone, you actually save $20 per person over the prices offered at the gates. This means if you have a family of five, you save an hour-long wait and $100 just by purchasing your tickets in advance!
What happens if you don't know what ticket you are going to buy before you get to the park? That is no problem at all. Anytime you want – even as you are standing in the ticket line – you can call Universal's Guest Contact Center at 407-224-7840 and order your tickets over the phone. They will be ready for immediate pick-up at the Electronic Will Call Kiosks, which never have a line: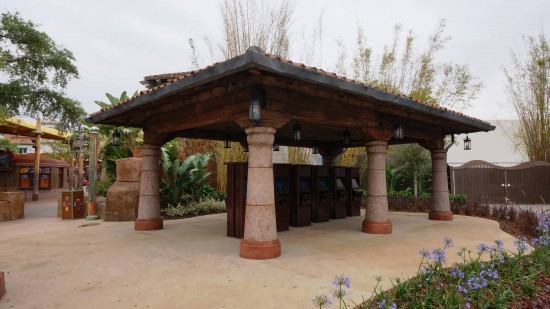 Please note that some discount or promotional tickets may not be available immediately, but general admissions tickets will be.
These tips should be enough incentive for you to plan your whole Universal Orlando vacation using our site(!), but let's continue our Spring Break lessons…
Get to the parks 45 minutes before rope drop
"Get to the parks early" is one of those theme park touring mantras basically everyone knows. Nevertheless, this is a good time to reiterate it, because the lines for the popular rides grow swiftly once the crowds start flowing in.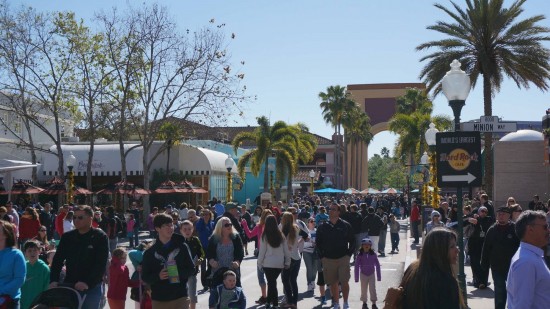 For example, during spring break last year, I entered Universal Studios Florida at 9:15am – that's 15 minutes after the published park opening time – and the standby line for Despicable Me Minion Mayhem was already 75 minutes!
And the same goes for Islands of Adventure, where the situation is actually a bit worse since, for now, on-site hotel guests and those who have purchased Universal vacation packages have access to the park an hour before the general public (read more about Early Park Admission).
Plan on staying late
It does take some endurance to have a successful Spring Break trip to the parks. That's because, to maximize the value of your vacation investment, you need to get to the parks early and stay late.
We covered the early part, but why stay late? Simply put, most theme park vacationers are families, and most families don't stay out too long after the sun goes down. Therefore, you really have the best chance of experiencing the parks with the lowest crowd levels during the last hour or two of daily operations.
What's more, exploring Universal Orlando at night is almost like exploring a different resort. Certainly the Wizarding World of Harry Potter is more magical in the late evening, but there are other experiences to enjoy as well, such as these free outdoor dance parties at CityWalk:
[youtube_video]DCarL-dEBnw[/youtube_video]
If you're wondering, the fireworks in the background of the video are from Universal's Cinematic Spectacular lagoon show.
Make dining reservations or bring your own food
Crowds will back up the lines at Universal's dining venues just as much as they will back up the lines at the attractions. You can quickly get some bad attitudes in your party if, when everyone is hungry, you run into a line like this to get food at Jurassic Park's The Burger Digs: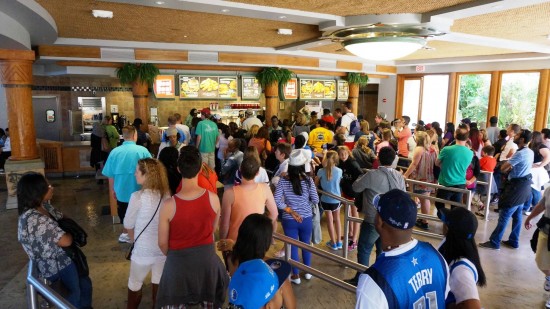 There are two easy ways to avoid this issue: first, make a reservation at one of Universal's full-service restaurants inside their parks. Our recommendations are always Finnegan's at Universal Studios Florida and Mythos at Islands of Adventure. You can get more information about these restaurants and all the dining venues on our Dining reservations page in the OI Universal Center.
The second way to avoid this is to bring your own food into the park. This is a bit of a challenge because Universal states you cannot bring "picnic food" in, implying that only the lightest of snacks are allowed through security. Well, I'm here to tell you that I've seen plenty of "picnic food" brought into the parks. I can't make any guarantees about it since the policy states what it states. All I can tell you is that I've been visiting Universal every week for over three years, and, yes, I see lots of sandwiches and bags of chips coming out of backpacks.
Whatever you do, don't bring hard-sided coolers, food that needs to be heated, or alcohol. Or glass.
Bring a backpack and utilize Universal's locker system
To tour a theme park successfully during Spring Break, you need to plan on getting to the parks early and staying late. This can present a challenge in so far as Spring Break mornings and late evenings can be quite cold. In fact, some years during Spring Break, we've had mornings as cold as 45 degrees. (Come on – that's cold for us here in Orlando!) For this reason, we recommend that most families bring a backpack and, as needed, utilize Universal's locker system.
The great thing about Universal's lockers is that there are several locations where you can rent one for the day, and for only $10. These lockers are fairly large – at least W 17″ H 16″ D 36″ – and you can enter them as much as you'd like throughout the day.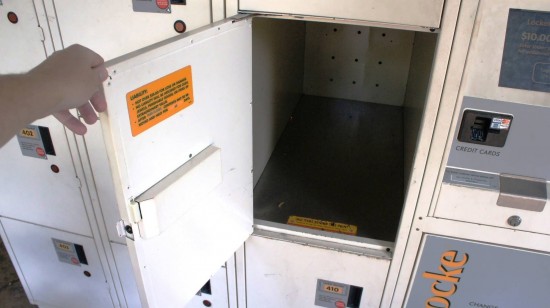 If you know you're going to need a locker first thing in the morning, we'd recommend getting one outside of the theme parks. Doing so will allow you to take care of getting it rented and stowing your gear before you get in line to enter the park – and that will ensure you won't waste valuable time acquiring a locker once you're let through the busy turnstiles first thing in the morning.
Keep in mind that, if you like water rides, you'll most likely want to pack a second pair of clothes in that backpack…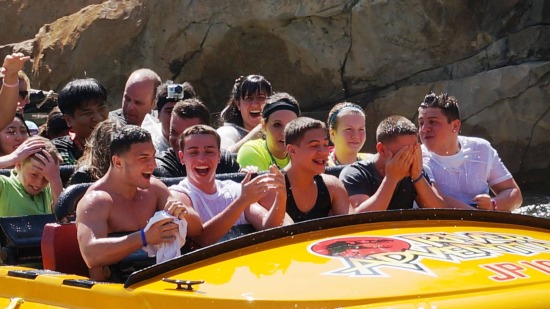 For much more information about lockers at Universal, check out our Rental lockers & ride lockers page in the OI Universal Center.
Understand what Express Passes are and that they cost money
The biggest complaint I hear about Spring Break at Universal Orlando is the long lines. That is usually followed very closely by the second biggest complaint: Express Passes cost a lot of money.
Whether or not you think it's fair, for the purposes of planning, you just need to get used to the idea that Universal offers Express Pass access at most of their attractions, and Express Pass access purchased as a standalone ticket will cost as much as one day's admission or more…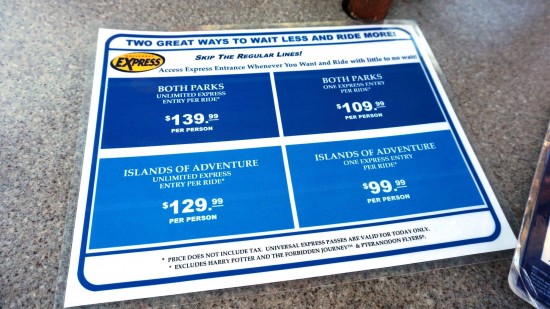 I would put forth that, if you've done your homework by studying the encyclopedia of Universal vacation planning advice we offer here on our site, you don't need Express Passes to tour the parks successfully. That being said, they are a convenience that can certainly take pressure off your day – in the sense that you don't need to follow as strict of a touring plan if you get to skip some of the lines.
There is so much to explain about Universal Express Passes that I cannot get into all of it in the middle of this blog post. Luckily, like virtually all the topics we've covered, Orlando Informer offers the world's most comprehensive and up-to-date information on this topic: Universal Express Passes – a complete guide.
Learn everything you can about the Wizarding World of Harry Potter
I can't tell you whether or not Harry Potter is a fad (okay, I can: it's not). All I can tell you is that the Wizarding World of Harry Potter – Hogsmeade at Universal's Islands of Adventure continues to be extraordinarily popular and, by far, the most crowded area of the resort. Indeed, it's the only place inside Universal's parks where you might actually have to wait in a standby line just to enter the area…
Another shot of the #WWoHP @universalorl standby queue area behind the Jurassic Park Discovery Center twitter.com/OrlandoInforme… — Orlando Informer (@OrlandoInformer) March 27, 2013
But getting into Hogsmeade is only the beginning of this adventure. Once inside, navigating through the crowds and getting onto Universal's most popular attraction for the moment, Harry Potter and the Forbidden Journey, is yet another confusing matter…
What can I say? There's so much confusion at FJ @universalorl (and I can help so much bit.ly/oihpguide) twitter.com/OrlandoInforme… — Orlando Informer (@OrlandoInformer) March 29, 2013
Like the Express Pass topic, there is just no way for me to tell you everything you need to know about WWoHP in this one blog post. However, I am very happy to let you know our site offers the definitive travel guide for guests visiting the Wizarding World. To start, we recommend you visit WWoHP crowds: You gotta see this before you go.
Choosing Universal Orlando as your Spring Break destination absolutely has its advantages. As I mentioned at the opening of this article, Spring Break has an energy all its own, and Universal Studios Florida and Islands of Adventure are two amazing theme parks that compound that energy in a thrilling way. But theme park vacations are no different than most vacations: you have to plan – and you have to have some structure in place – to make the trip successful. We encourage you to visit any of the links presented above to learn more. Or, if you want to start at the very beginning, you can learn how to use our site to plan the perfect Universal Orlando vacation.
Have questions? We have a whole community of vacation planners willing to help in the new OI Forums – and, because our forums just opened, we're celebrating by giving away a $100 Universal gift card each weekend in April.