Special needs are Universal: Rider's guide for guests with sensory issues
Welcome to the next edition of our Special Needs Are Universal column, featuring questions and answers to help those with disabilities plan their day at Orlando's theme parks. Our ultimate goal is to give families the confidence to enjoy all there is to do across this amazing vacation destination!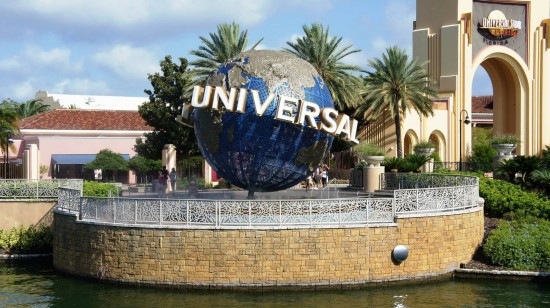 Now that Special Needs Are Universal has its own section in the new OI Forums, it has become a little easier for you to post your questions and find the answers you need to help your family make your vacation a very special one. NC Potter Fan posted the following question a couple of weeks after the OI Forums Grand Opening:
We're going to Universal for three days in June and are all very excited, expect for my 14-year-old. He has sensory issues and is thinking there won't be many rides he can enjoy. Here are his requests: 1) nothing jumping out at you; 2) nothing spraying on you; 3) no jerking motions; 4) no sudden drops (so no rollercoasters at all); and 5) no spinning. He's agreed to at least try the MIB ride, because of the videogame aspect. But, he plans to study it and be well aware of the storyline before going in. Any suggestions for shows or other rides? Are there rides with stationary seats he might enjoy? Thanks!
After I started a mental inventory of NC's request, the proverbial light bulb went off – why not develop a chart for those with sensory issues? Although I send everyone to the Universal Orlando Rider's Guide for Rider Safety & Guests with Disabilities (PDF file) for assistance, I realized that both the online version and the paper copy of this flyer are difficult to keep combing through, especially when you have someone who doesn't quite grasp the concept of "wait" and is anxious to try a new ride.
After compiling the information into chart form, I sent it off to Maureen Deal of Autism at the Parks for her insight and to fill in the blanks for the attractions my family doesn't ride. I wanted to touch on all the sensory issues that can cause distress for those with cognitive disabilities, autism, and similar disorders and knew she would be my best help in this endeavor. She also has an older son on the spectrum and, like us, loves Universal Orlando.
After two weeks of research and tweaking, I am very proud to provide our readers with the Universal Orlando Rider's Guide for Guests with Sensory Issues. We'll get to the downloads in a moment. Before we do, we just have to mention this detail: we're very happy to have compiled this information for you, but because we're not representatives of the resort, and because Universal can change aspects of their attractions at anytime without notice, we cannot make any guarantees regarding the accuracy of our information.
Now that our disclaimer is out of the way, here is the guide presented in two file formats, followed by a image of what you can expect:
PDF File – Universal Orlando Rider's Guide for Guests with Sensory Issues
Excel File – Universal Orlando Rider's Guide for Guests with Sensory Issues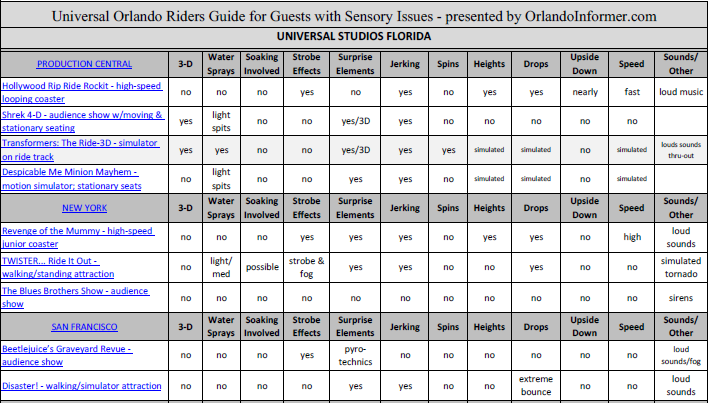 I sincerely hope that this guide will be useful even for those without special needs – those with certain kinds of motion sickness, for example. My husband doesn't do circular rides well; carousels are off-limits for him.
One more special thanks to Maureen of Autism at the Parks for helping out with this project.
Can you help us?
Our guide is fairly complete, but there are still a few holes, as it's sometimes hard to remember certain ride movements when they don't stand out for us. So I'm asking for your feedback. Please visit me at the SNAU forum and leave a comment!
DISCLAIMER: Neither the author of this post nor any of us here at Orlando Informer is an official representative of any theme park in Orlando. While we work diligently to provide you with the very best advice from our collective expertise and experience, it is still your responsibility to verify your plans with each theme park. Thanks for your understanding!
View all of our Special Needs Are Universal blog posts
Do you have a
Special Needs Are Universal
question for Debi? She is available to assist your family in the
SNAU section of the OI Forums
. Registration is free, and once you have an account, we invite you to join the conversation or ask a new question.
[sws_author_bio user="iamdollie" size="105″ authorposts="More OI posts by debi" name_format="About the author"] [/sws_author_bio]