After a month of waiting, today was finally the day: Universal held its Wizarding World of Harry Potter – Diagon Alley webcast at 10:30 this morning. The not-quite-30-minute presentation was, in all honesty, a mixed bag, featuring a few Universal personnel (Mark Woodbury and Thierry Coup, the president and senior vice president, respectively, of Universal Creative) and Harry Potter cast (James Phelps [Fred Weasley], Matthew Lewis [Neville Longbottom], and Evanna Lynch [Luna Lovegood]). Several reveals were in attendance, along with a live studio audience chosen at random from the park on the day(!), but a good portion of the expansion was left "to be announced at a later date," and most of the info at hand was mere confirmation of previously-reported tidbits.
Things look decidedly more interesting, however, when the much-touted webcast is paired with the news from a private, (general) media-only tour through Diagon Alley held yesterday (all accounts of which were embargoed until this morning) and the copious details to be gleaned from Universal's newly revamped Harry Potter website. We've compiled all the accounts into one giant telling for you here, to give you the most complete picture yet of the theme park land that will define all future attractions for years to come.
The expansive, sensory-overwhelming Diagon Alley
First a visit to where it all started
Before we get to our tour of Diagon Alley, we need to make one quick pit stop back at the first Wizarding World, over in Islands of Adventure. Universal today confirmed the news that's been rocking the rumor world for the past week: Zonko's Joke Shop, the first stop at Hogsmeade Village, will be closing down (most likely by the end of next week). The reason cited for the change is the simple fact that Zonko's mostly carries Weasley products, and with Weasleys' Wizard Wheezes coming to Diagon Alley, the inventory had to be moved over to its rightful home. The unspoken reason for the closure? Unlike all its brethren in Hogsmeade, Zonko's has had a hard time finding traction with the hordes of money-spending Muggles. Look for next-door Honeydukes to expand into the space, providing lots of room for the Wizarding World's (for now) most popular shop.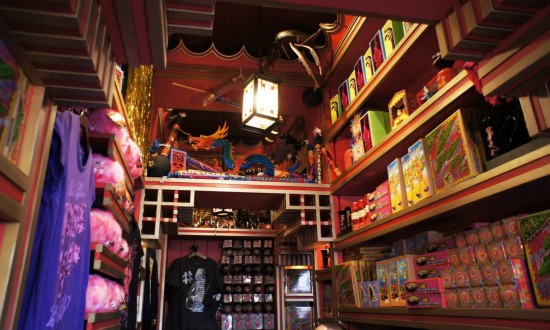 (And for all those who have been already asking: according to all available sources, both official and unofficial, the Ollivander's experience at Hogsmeade will be staying put, despite the presence of a bigger and – reportedly – better Ollivander's Wand Shop across the train tracks.)
First stop: London waterfront
We start our tour in the Muggle version of London, which completely masks Diagon Alley, Gringotts Bank, and the rest of the Wizarding World behind.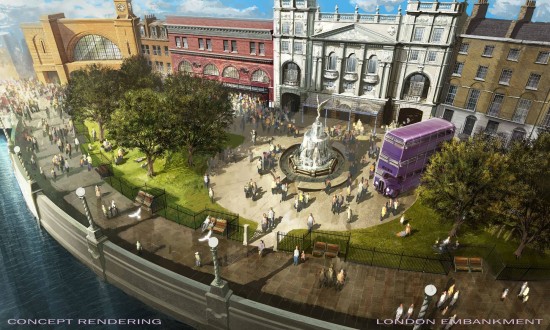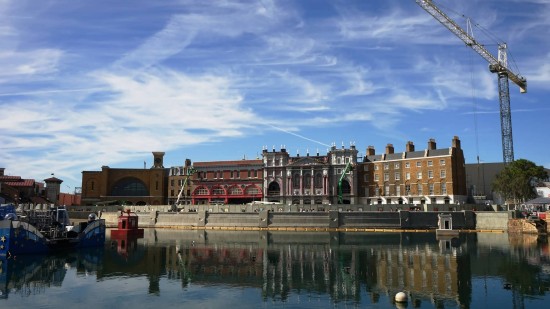 Starting on the left, the first building of the already-famous facade is King's Cross Station, which guests who have ridden the Hogwarts Express over (more on that later) will exit out of. Next door is Charing Cross Road's bookstore, where the side entrance/exit to the Leaky Cauldron is located, and right after that is Leicester Square, which houses the entrance to Diagon Alley itself. Next we have Wyndham Theatre, and the waterfront buildings end with 12 Grimauld Place, the ancestral (and fictional) home of the Black family from the Harry Potter stories. Universal Creative measured each of the real-world buildings in London to be as exact as possible – though that didn't stop them from making some "theme park" embellishments.
In front of the facade will be the Eros Fountain from Piccadilly Circus and, parked right next to it, a fully detailed Knight Bus prop. Although visitors won't be able to climb aboard the vehicle, it will feature an interactive Shrunken Head (as originally seen in Harry Potter and the Prisoner of Azkaban), which will function very much like the Mystic Fountain in Islands of Adventure's Lost Continent.
[youtube_video]7Nn4iZ6PUZY[/youtube_video]
The transition to Diagon Alley is still being highly guarded, but the presence of jagged, crooked walls to help sell the simulation of movement seems to be a part of it.
The main stretch: Diagon Alley
The main section of Diagon Alley is structured almost identically to Hogsmeade: a long stretch of road, flanked by stores both real and simulated, leads to the land's icon, Gringotts Bank.
Upon first entering the alleyway, the Leaky Cauldron, which will serve traditional English fare (such as fish & chips and bangers & mash), is on the left, while Quality Quidditch Supplies, offering sweaters, brooms, and all the Quidditch props from the films, is on the immediate right. Next to Quality Quidditch is the aforementioned Weasleys' Wizard Wheezes, an impressive three-story shop that is said to look exactly identical to the set from Harry Potter and the Half-Blood Prince and which occupies most of that particular building.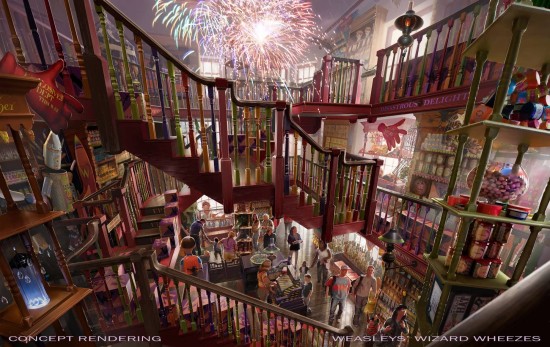 Moving down the street, the entrance to Knockturn Alley (more on that in a bit) is right next-door to Leaky Cauldron, which is, in turn, followed by Madam Malkin's Robes for All Occasions, a store dedicated to wizard wear, from Hogwarts school uniforms to robes and character costumes. Across the way, on the right-hand side of Diagon, is Ollivander's Wand Shop, a massive building that features a "better-planned queue" and, according to the latest rumors, some improved spell effects.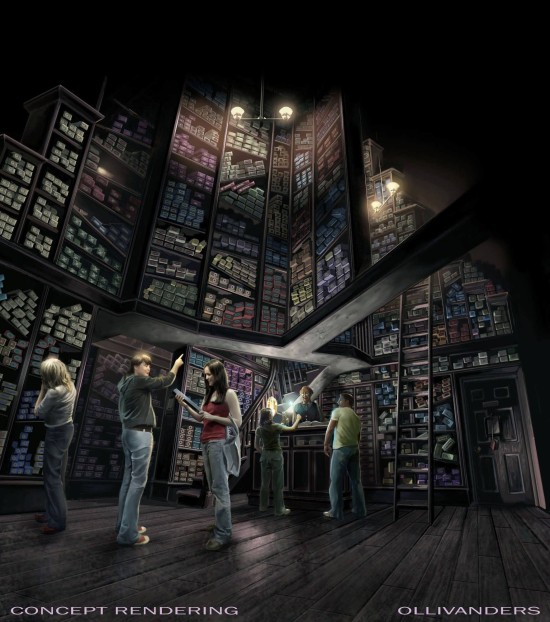 Finally, as we head to the intersection where Diagon Alley ends and Gringotts Bank sits, there's Florean Fortescue's Ice-Cream Parlor on the left, the second eatery available inside the new Wizarding World. Universal has confirmed only one of the many "unique" flavors that will be available – strawberry and peanut butter – but a sign on the shop's concept art hints at a few more: black beer and raisin, chocolate with peanut butter, and bat juice and earwig. It sounds like Universal Creative is going for an ice cream/frozen yogurt version of Bertie Bott's Every Flavor jelly beans from Hogsmeade.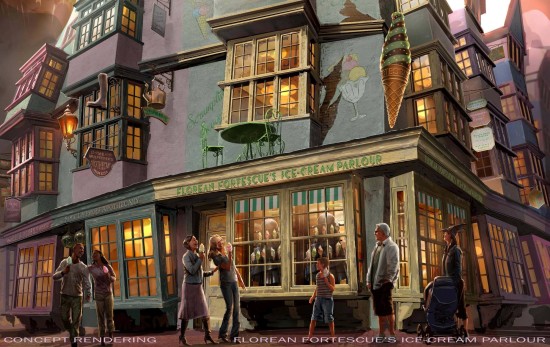 Before moving on with our tour, there's one last note to make: a number of storefront-only venues fill up the spaces in-between the real stops, and they promise to be every bit as entertaining as their counterparts over in Islands of Adventure. On the left-hand side of Diagon, heading from the entrance up to the end of the street, are Potage's Cauldron Shop, Eeylops Owl Emporium, Slug and Jiggers, and Mr. Mulpepper's Apothecary. On the right-hand side, in the same order, are Flourish and Blotts and the offices of The Daily Prophet. (Please note that there are at least two more unconfirmed spaces along this stretch, and while they are most likely further shop displays, there is the possibility of them housing real venues, as well.)
We now invite you to take a virtual tour of Diagon Alley, featuring an introduction by Hagrid, with a brief stop at Knockturn Alley (which we'll cover soon):
[youtube_video]ZxVgXbzJFpQ[/youtube_video]
When you're done with this post, you can continue Universal's virtual tour by clicking here.
The center of the (wizarding) world: Gringotts
At nearly half the size of the entire area, Gringotts Bank dominates the Wizarding World of Harry Potter – Diagon Alley, and it's easy to tell why: the ride that is housed inside the mammoth show building will feature all sorts of "brand-new" and "never-been-done-before" technology. And while Universal clearly wasn't ready to discuss the attraction in any sort of specifics, it did at least make official the name that we were the first to reveal last week: Harry Potter and the Escape from Gringotts.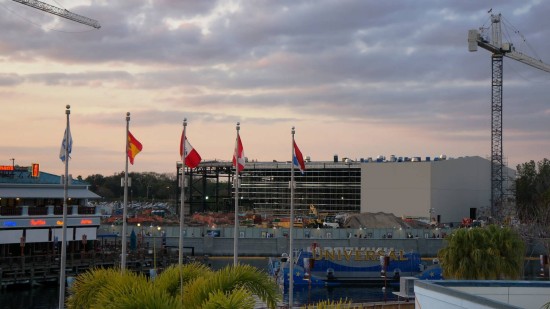 There were still some little details to be had about the great escape, however. Inside Gringotts Bank, Universal has described the state-of-the-art ride as a "multi-sensory, multi-dimensional journey" that will be "less intense" and "more family-friendly" than Harry Potter and the Forbidden Journey but will nonetheless still be "thrilling."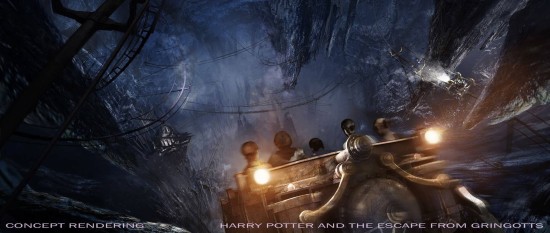 Outside, the large, fire-breathing dragon spotted in previously-released concept art will, indeed, make the final cut (despite some rumors to the contrary) – and it will, indeed, spew real fire "on a regular basis."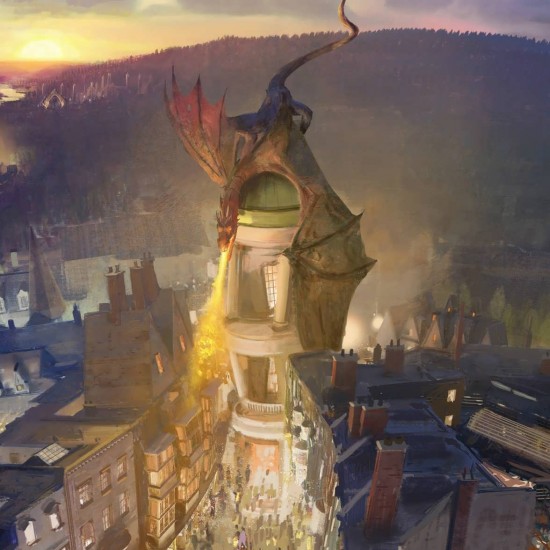 Wiseacres Wizarding Equipment, Harry Potter and the Escape from Gringotts's gift shop (that will sell telescopes, binoculars, and star charts), is cleverly disguised to look as if it's actually across the street, facing the bank.
In between is Hagrid's motorcycle, left next to a fountain (the Fountain of Fair Fortune?), parked there from his visit in Harry Potter and the Sorcerer's Stone.
Knockturn Alley, eternally in the dark
One of the more intriguing stores to be profiled in all of today's various media coverage is Borgin and Burkes, which will anchor the Knockturn Alley section of the expansion. On sale will be Death Eater masks, skulls, and other "ghastly devices." Although not much was said of either the shop or the side-street, one tidbit did sneak through: Knockturn will be covered so as to continually ensure a dark, sinister atmosphere.
Universal did not release any concept art for Knockturn Alley. However, if you scroll back up to our virtual tour of Diagon Alley, you can see a very compelling look at the darkened area at 2:53.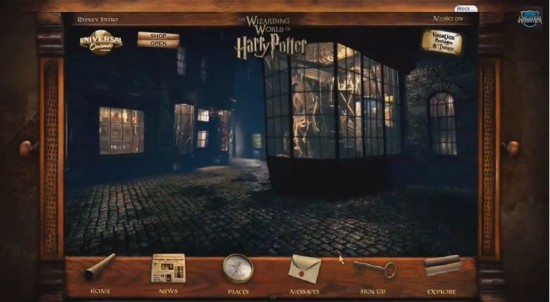 Expanding the Wizarding World: The all-new creations
Perhaps the biggest surprise coming out of today's announcements is the reveal of a brand-new street running perpendicular to Diagon Alley, which Gringotts Bank fronts and onto which Knockturn Alley opens up: Horizont Alley. And then there's Carkitt Market, a third section in the expansion, which starts at Horizont, runs parallel to Diagon, and features a shortcut past Weasleys' Wizard Wheezes. With these two original additions, the overall size of the new Wizarding World is effectively doubled.
For a visual reference, here are three aerial photos. The first is taken with the London waterfront toward the bottom of the photo, offering the perspective from which we usually view this area. The second and third images pivot 90 degrees or so, putting the London waterfront in the top-left corner.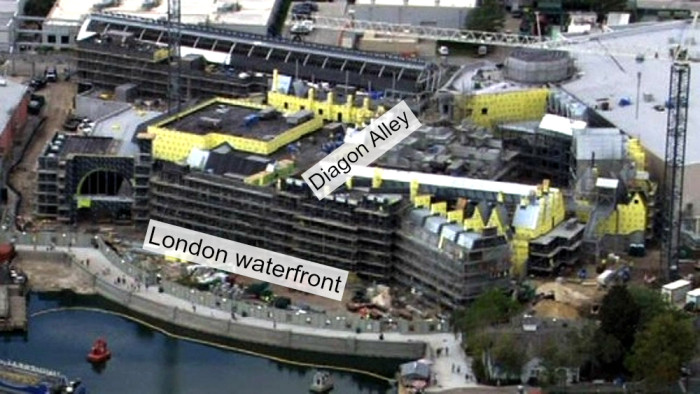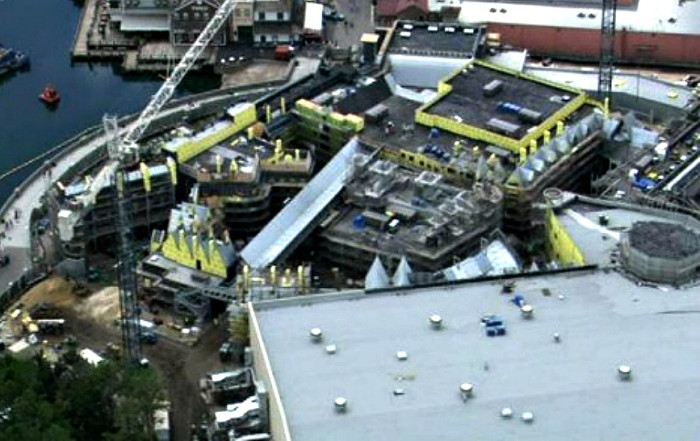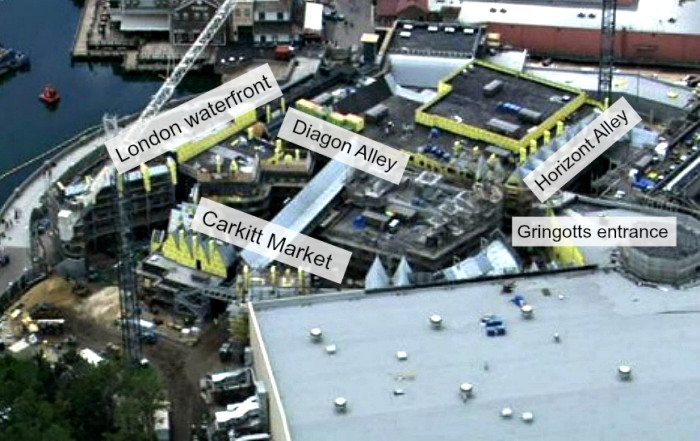 Please note, in the map above, Knockturn Alley is located in the large covered space between Diagon Alley and Horizont Alley. Also, Horizont Alley extends all the way from where it is labelled down to Carkitt Market.
Author J.K. Rowling herself has named and helped design these all-new areas, partially inspired by real-world London locations like Leadenhall Market. "We started with the books," Universal Creative Vice President Dale Mason said, "then went to the films, and then we had to make up additional shops because we are covering more space."
Just what will be in these expanded sections? Carkitt Market is described as being a huge, covered shopping space that will feature "live entertainment." There's also the last two major stores that were unveiled today, which will be located somewhere along either Horizont or Carkitt: Magical Menagerie, selling plush versions of all the magical creatures seen in the films/books, and Scribbulus, featuring quills, inkwells, and parchment paper (which isn't to mention the other possible shopping venues outlined by Universal today: Dr. Filibuster's Fabulous Wet-Start, No-Heat Fireworks, Obscurus Books, House Elf Placement, and one final top-secret shop that fans "will flip over"). Finally, there's an Easter Egg in the form of a "potential portal to the Ministry of Magic" – whatever that might mean (most likely a phone booth tucked away in one particular corner or another).
Getting there: The Hogwarts Express
Last – and, unfortunately, certainly least – among all the revelations was the Hogwarts Express ride, which will, of course, transport visitors from Hogsmeade to Diagon Alley (and vice versa). Universal patently refused to give any information whatsoever regarding the revolutionary attraction, but it did manage to reaffirm that it will require a park-to-park ticket for guests to ride, and it offered a new piece of concept art for both King's Cross Station (Universal Studios Florida) and Hogsmeade Station (Islands of Adventure).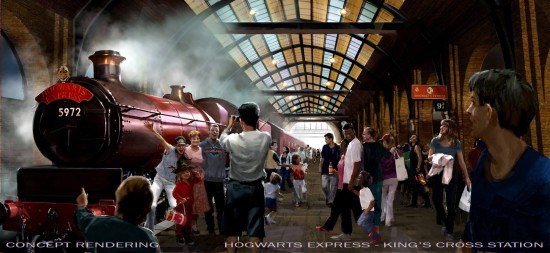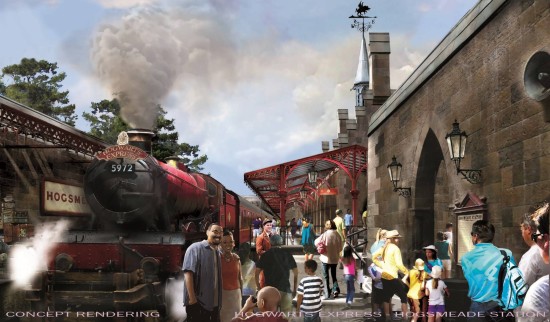 If you'd like to see any of the new concept artwork in its original resolution, check out our Flickr page.
When will Diagon Alley open?
We were really hoping to get a grand opening date today, but the topic never came up. So, for now, we're sticking with our speculation that it will happen sometime in June.
Diagon Alley webcast
Here is Universal's shorted version of the original webcast that aired this morning:
[youtube_video]bXaGF8e8-EI[/youtube_video]
Countdown to Diagon Alley
The (first) countdown may be over, but that doesn't mean you can't go back and relive all of our incredibly popular steps along the way. And, besides – there's a whole new countdown until late June that now commences…
Top five vacation planning tips for visiting Diagon Alley
Complete telling of the Gringotts Bank ride experience at Universal Orlando
Four burning questions we still have about the new Wizarding World
New details on Diagon Alley – story, food, actors, previews & the name of the Gringotts Bank attraction
How Harry Potter is defining the next-generation theme park experience
After the webcast: Six incredible Diagon Alley secrets that weren't mentioned in the webcast
And, of course, to start back at the very beginning and review everything we know about the Harry Potter expansion at Universal Orlando, visit the Diagon Alley page in the OI Universal Center.
[sws_author_bio user="msunyata@yahoo.com" size="105″ authorposts="More OI posts by Marc" name_format="About the author"] [/sws_author_bio]