CityWalk expansion
I recently visited Universal CityWalk and took note of the construction progress in many areas of this entertainment hotspot.
The new additions to the area over the past several months have taken it to the next level. Guests, as well as Orlando residents, have whole new reasons to visit and explore – the recently-opened Antojitos Mexican restaurant, Cold Stone Creamery, and Brick Oven Grill are all receiving excellent reviews.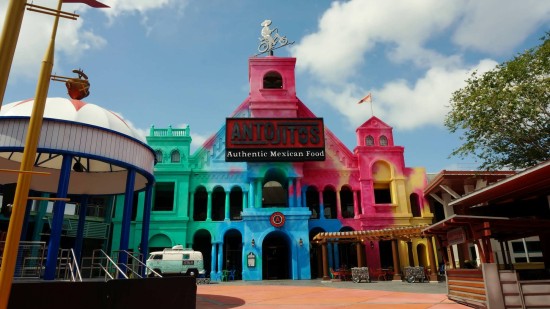 Since my trip report last month, several new venues have opened, along with the completion of the Universal Studios Store refurbishment. Dani covered Menchie's Frozen Yogurt and the Universal Studios Store in detail in her recent report, so we'll just lightly touch upon them here.
In the newly refurbished Universal Studios Store, the fascinating column video screens and the artfully arranged merchandise are a nice enhancement. Menchie's has a wide variety of flavors that change frequently; I sampled key lime pie and watermelon, which were both tasty and refreshing. And the brightly-colored umbrella tables that are set up outside look like a fun place to sit back, eat your yogurt, and relax.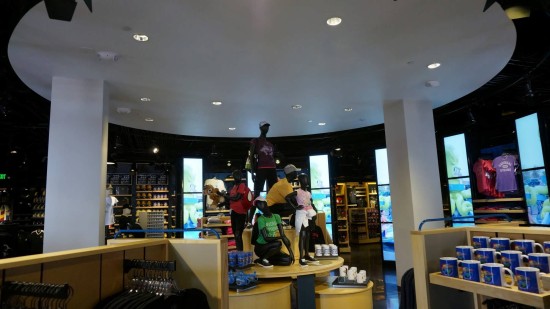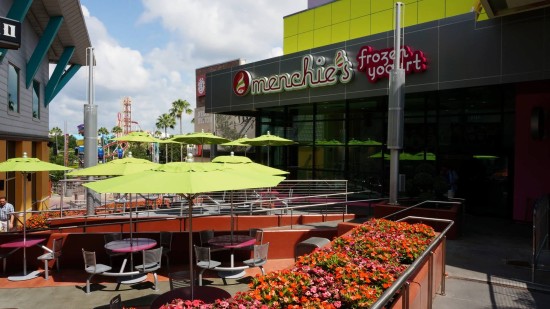 Next door to Menchie's, the Bread Box signage is now hanging outside that venue. Cowfish Sushi Burger Bar, located above Red Oven Pizza Bakery, is also showing signs of progress, including the structure for an elevator.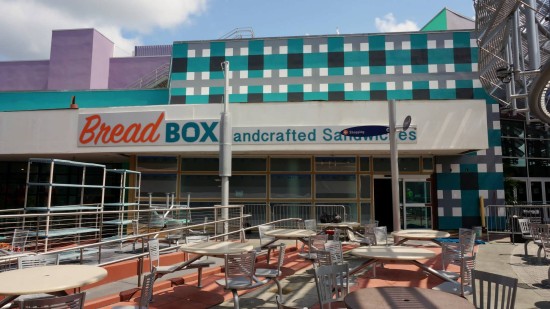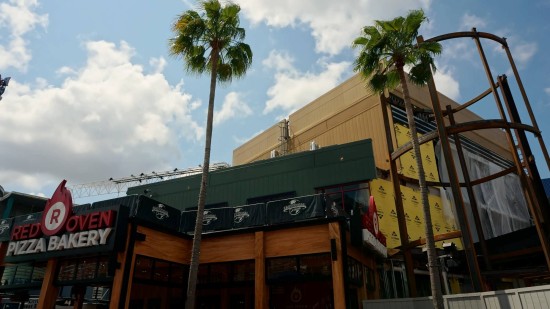 The Hot Dog Hall of Fame restaurant, meanwhile, located across from the popular Antojitos, will be opening very soon and features several stadium-style seats for guests to enjoy their meal in an entertaining, unique atmosphere.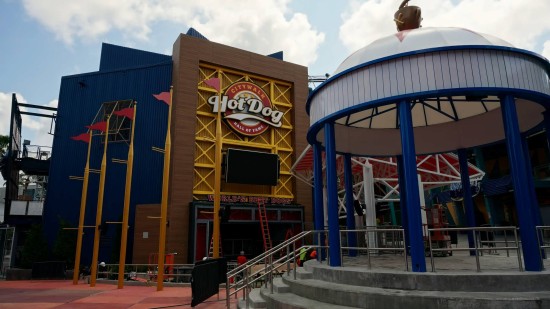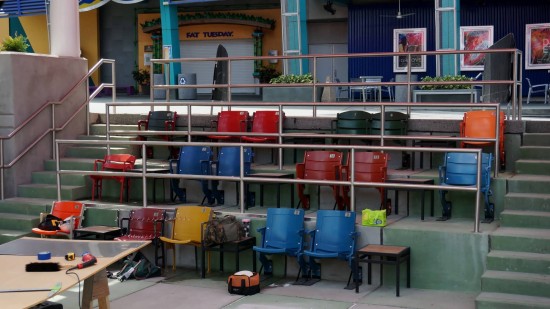 VIVO Italian Kitchen review
Get ready, all you Italian food fans – VIVO Italian Kitchen is now open, and you're going to love it. It opened on Monday, June 16, and I was lucky enough to enjoy dinner there this past weekend.
When I first walked into the restaurant, I was pleasantly surprised by how large the dining room is. The contemporary decor is lovely. There were many tables that were designed to accommodate large parties, in addition to more intimate areas, outdoor seating (with checkerboards built into the tabletops), and seating at the bar. Guests could also sit and observe the chefs working in the open kitchen, where they make fresh pasta daily.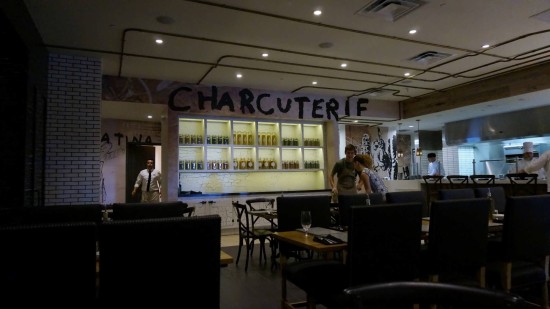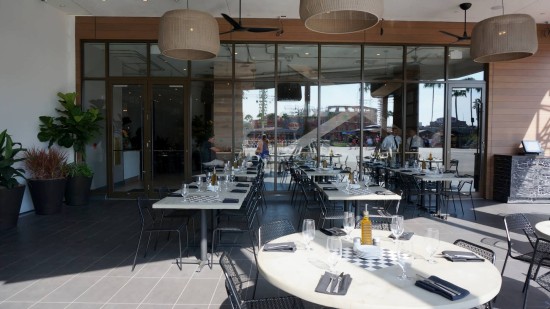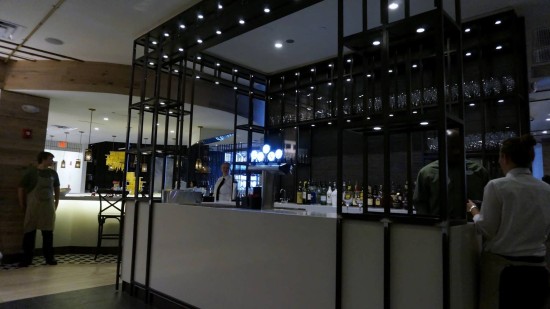 The wine and cocktail menu looked very inviting. White, red, and sparkling wines were available by the glass and bottle. Several cocktails looked interesting, including the Blackberry Fizz and the Italian Margarita. Since I was alone, I decided to wait and order something off this menu the next time I visit with my husband, so he can drive me home.
But here's a fun fact: Dan's wife Rosie was the very first customer ever to sit at the VIVO bar and order a drink (last Monday, June 16).
For my meal, Christopher, my server, presented the dinner menu and skillfully explained the dishes, including the specials. The well-planned menu had choices for appetizers, including – but not limited to – calamari, antipasto, and hand-pulled mozzarella. Various soups, pizza, and salads were also available, along with many pasta dishes, including fettuccini carbonara, lasagna, and the pasta of the day.
Main dish items – like chicken, veal, eggplant parmesan, pork loin, and grilled rib-eye, to name a few – made choosing what to order for dinner a difficult decision. I eventually chose chicken parmesan with capellini pasta for my entree and decided to forgo an appetizer to save room for dessert.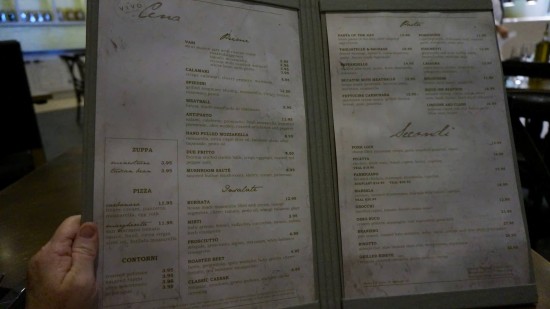 Christopher took my order and immediately brought me some fresh, warm bread, which I thoroughly enjoyed after dipping it in olive oil. It was tasty, and I could have eaten the entire plate of bread but restrained myself so I would enjoy my dinner.
Not long afterwards, my chicken parmesan arrived. It was positioned on top of the capellini pasta in an eye-catching presentation. The breading on the chicken was perfect in that it was cooked flawlessly; it didn't overpower the flavor of the chicken or the wonderful, fresh parmesan cheese melted on top. The marinara sauce allowed me to experience the flavor of the chicken to its fullest. The capellini pasta was a delicate, thin pasta that, again, enhanced the flavor of the entire dish.
To sum it up in one phrase: my dinner was delicious! The portion was more than enough for me, so I ended up taking some home.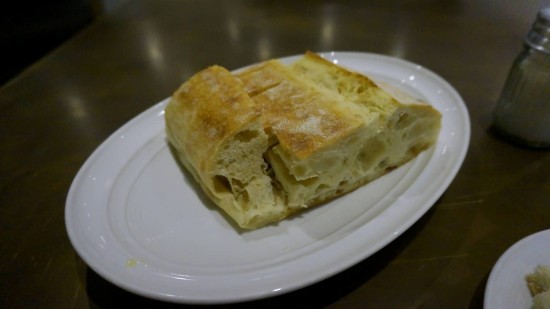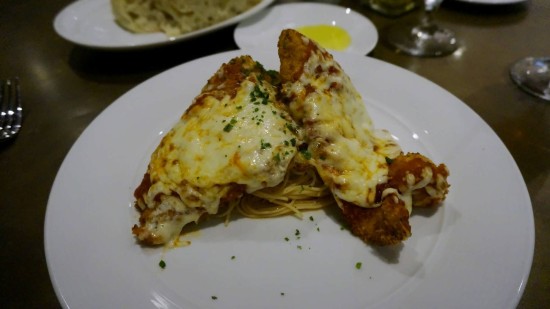 Christopher next presented me with the dessert menu and expertly explained each choice. I ordered the Nonna (Grandmother Cake) for dessert and was very thankful I did. Presented in an eye-catching way, the dessert was a warm orange walnut cake served with sour cream gelato and orange filets.
The combination of flavors may sound odd, but it was delectable. It was not too heavy of a dessert, nor was it too large a portion after eating a very filling Italian dinner.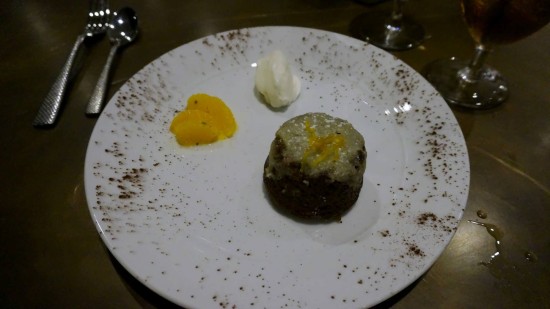 Because my husband was home with our son, I ordered him the lasagna to go. He said it was a delicious meal. The lasagna was not overloaded with meat, and the marinara sauce wasn't over-bearing, allowing the flavors of the cheese, pasta, and seasonings to stand out.
I look forward to the next time I can enjoy this awesome restaurant, and I highly recommend that you make a point to have a meal at VIVO Italian Kitchen the next time you are in CityWalk.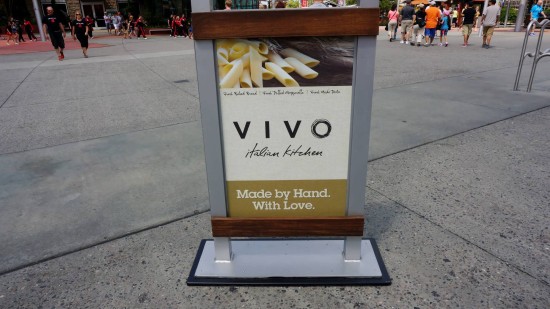 VIVO Italian Kitchen
407-224-2253
Online reservations available via UniversalOrlando.com
View the menu: PDF File
Deluxe on-site guests receive priority seating
You can read all of our trip reports in the OI Blog Archive, or you can chat about Universal CityWalk with like-minded vacationers in the OI Community Forums.