The evolution of Universal CityWalk continues.
This week marks the opening of one new treat stop, a totally revamped merchandise store, and a two-month celebration of Harry Potter. I stopped by one recent evening to check out these latest additions and was impressed with how they continue to add to the energy of Universal's shopping/dining/entertainment district.
First up, I had to get my shopping on, but, on the way, I took notice of the Vivo Italian Kitchen marquee now added to the electrifying skyline of CityWalk. Raise your hand if you love Italian food and can't wait for this place to open! I have a feeling Vivo will be popular, given its prime location.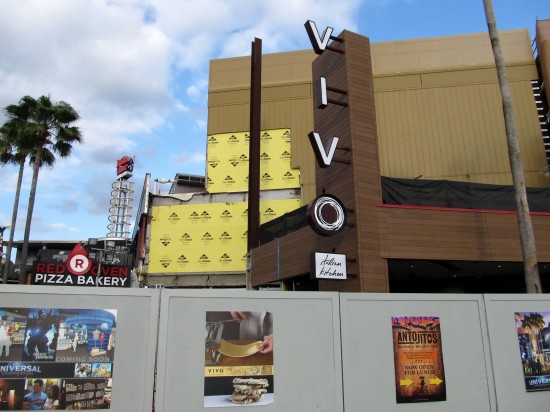 As I approached the new Universal Studios Store, I was amused by the Team Member who was standing out front of the store announcing the re-opening, carnival-barker style. And I was impressed by the new, modern, and more sophisticated entrance to this flagship store; it's flanked by short columns of video screens, which show a portion of the classic Universal film opening.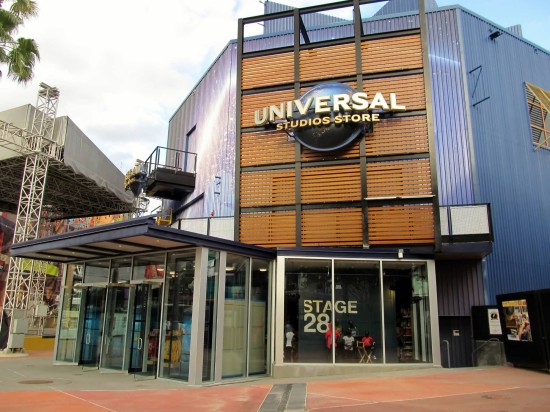 The new design of the Universal Studios Store is very well-done. There is a foyer-style entrance that is manned by a friendly Team Member, with shelves flanking either side. Maybe it was the new store smell that reminded me of when I was on the grand re-opening team of the Disney Store in the Florida Mall, but, as I explored the new digs, I couldn't help but to be reminded of the design of that Disney Store. There is a movement in retail to create curving pathways with vestibules and "story moments" rather than straight lines and grids of racks and shelves.
One of the key "moments" inside the new store is the circular center, which showcases a variety of Universal Orlando merchandise in front of a curved, sectional wall with video screens along the columns. These screens show highlights of the adventures and memories that can be enjoyed at both Universal Orlando theme parks and CityWalk.
As the background music, playing a variety of familiar themes, flowed through the air and the images of rides, shows, and characters that can be relished here at Universal Orlando accompanied it, I felt a rekindled appreciation for this destination.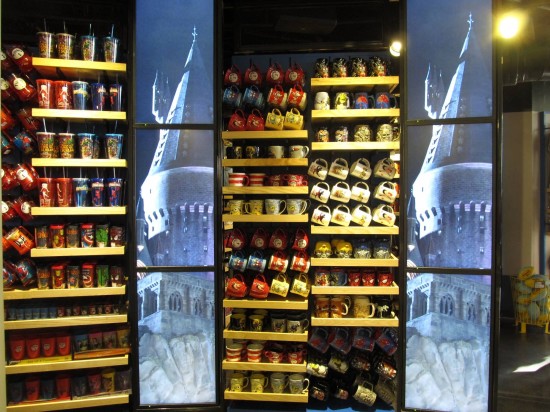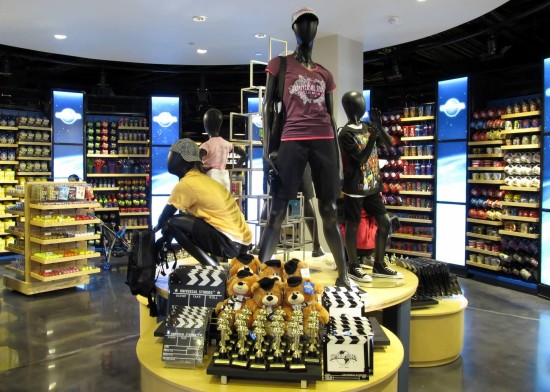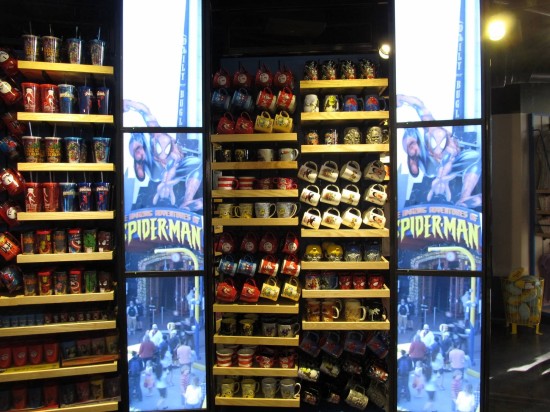 Overall, I have to say that the all-new Universal Studios Store is a big improvement over the former incarnation. It will certainly fit in with the new additions that continue to pop up throughout CityWalk.
After enjoying my shopping trip, my sweet tooth begged for attention, so off to Menchie's I went. But before I share the goodiess of Menchie's, I have to confess… I have never been to a Menchie's before! Yes, I have visited my share of new-fangled do-it-yourself frozen yogurt establishments, but I have never been to what many consider to be the king of the frozen yogurt mountain. I have to say that its bright colors and upbeat, cartoonish style add to the fun that comes with making your own frozen yogurt (or sorbet) creation.
Menchie's takes over the former TCBY frozen yogurt shop, appropriately enough. As I approached the new venue, located next to NASCAR Sports Grille and across from the Hart and Huntington Tattoo shop, I had to resist the urge to already mark it as an improvement over TCBY.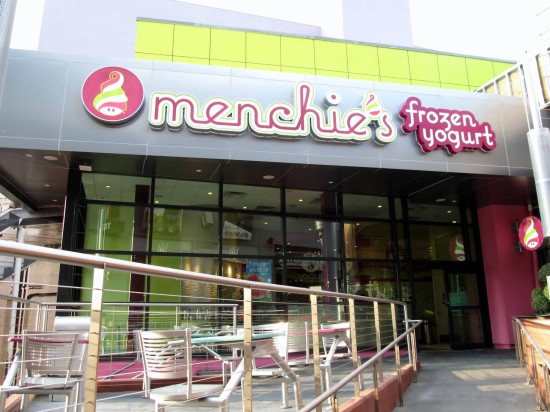 There is not much seating inside, which is in part due to the existing structure's space, but it's also because putting together your very own creation takes a little legwork.
For those that are unfamiliar, after you grab your cup or waffle bowl, you can pour yourself any flavor or combination of frozen yogurt and sorbet you'd like (I can envision the Menchie's Team Members having to fend off guests from just sticking their heads under the cold yogurt spout after a hot day in the Universal Orlando parks), and then crown it with the various toppings, which I guarantee will make your eyes grow wide.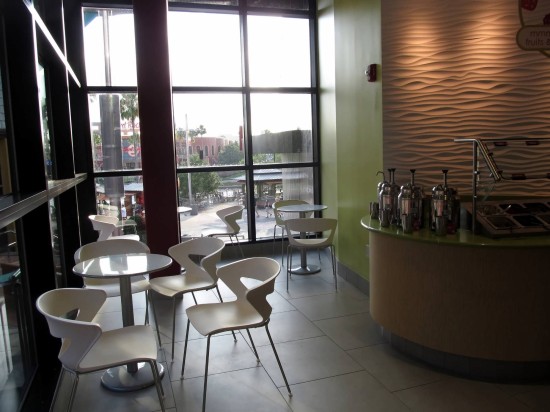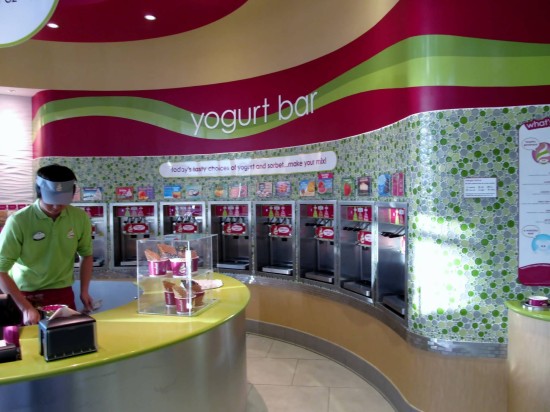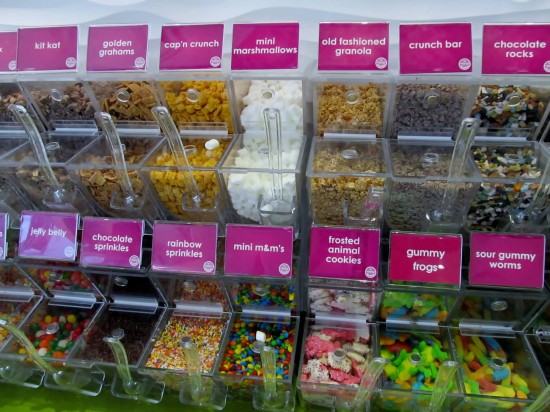 When I placed my fruity, summery concoction on the scale, it came to $3.59 (which includes my annual passholder discount and the fact that my large cup was only about one-third of the way full).
I enjoyed sitting outside and eating my yogurt; the elevated seating area gives a great view of CityWalk, the water, and Universal Studios Florida, including Hollywood Rip Ride Rockit. I savored my treat and raised my bright green spoon to toast this wonderful new addition to CityWalk. I am sure the folks at Menchie's will soon get to know me really well.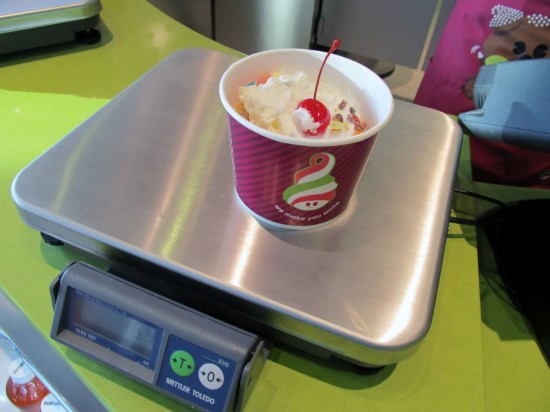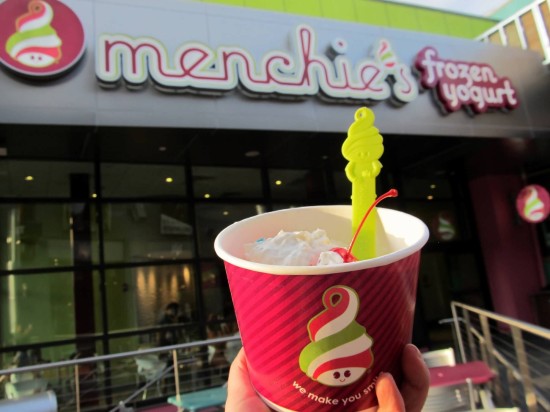 While I did not pay homage to everyone's favorite wizard on this visit, it bears mentioning that for the next two months, the AMC Cineplex at CityWalk is hosting a "Relive the Magic of Harry Potter" mini-film festival. Each day at 1pm and 7pm, one of the Harry Potter films will once again grace the big screen. The films are being shown in sequential order, starting now and running through July 24.
So far, I have attended two screenings, starting with the very first showing on May 30. It was the first time I had ever seen any Harry Potter film in a movie theater! It is amazing how many more details you can see on the big screen, and it definitely feels so much more immersive. And nothing beats the salty, buttery goodness of movie theater popcorn!
Attendance has been fairly good – not packed, not empty. I am going back at least two more times to see two more of the films. I can't wait to visit Hogsmeade – and, soon, Diagon Alley – before heading over to the theater to see one of the movies that are brought to life by these amazing theme park lands.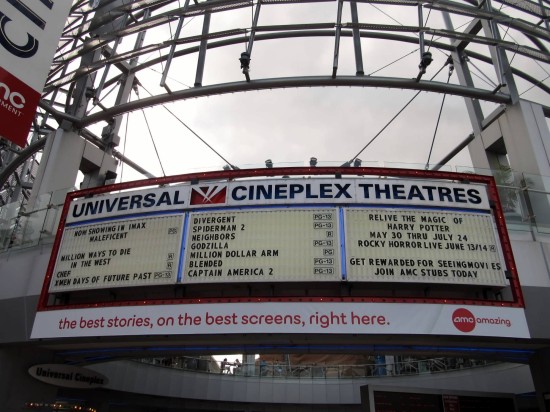 As I departed CityWalk, I took note of the increasing energy that permeates the entire area. Personally, I am a nightclub and bar kind of gal – going out to dance the night away with my husband or friends is my idea of the perfect night at CityWalk. But now, as more wonderful eateries and shops claim residence at this exciting destination, there's more to love.
And there's even more on the way, too.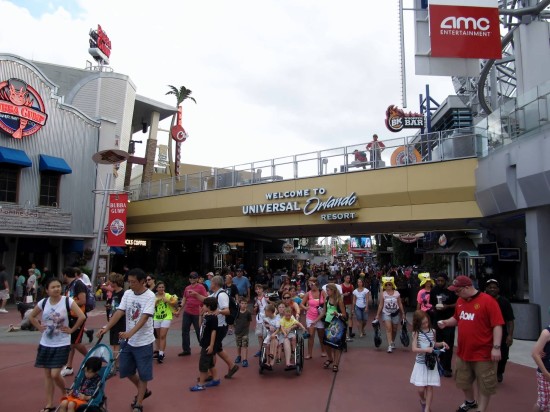 To read more about what's on the way to Universal CityWalk, check out our in-depth breakdown. Or you can read more about the shopping experiences that are available all throughout Universal Orlando in our OI Blog archive.
CityWalk: The next generation, part two – photo gallery
Click any image to view it full-screen. When the full-screen image is open, click to the right or use the right arrow on your keyboard to advance through the gallery.
[sws_author_bio user="danidennison" size="105″ authorposts="More OI posts by Dani" name_format="About the author"] [/sws_author_bio]