They've finally arrived, just in time for summer. The spectrum of dining options at Universal CityWalk continues to broaden as Bread Box and Hot Dog Hall of Fame have now officially opened. I recently visited CityWalk in order to try out both of these new casual dining options.
First up, my dining companions and I headed up to the second level of CityWalk to visit Bread Box. The hallmark of the dining experience offered here is custom, gourmet – yet approachable – sandwiches. The decor is a chic-inspired diner. It feels bright, cheerful, and upbeat inside.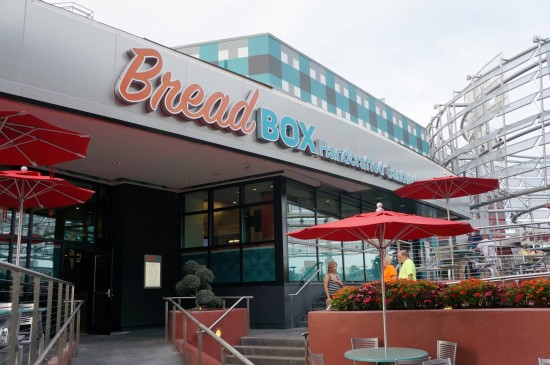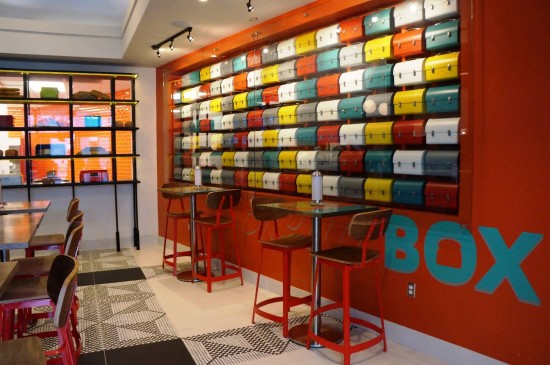 The menu consists of 14 different sandwiches (such as Chicken Salad, Egg Salad, Italian, 3-Cheese Grilled Cheese, Turkey, and Smokey Briskey), plus three salads. There are also two soups: cream of tomato and classic chicken noodle. You can also indulge your sweet tooth with a Twinkie, brownie, cookie, or two decadent shakes, including a Nutella milk shake. A variety of soft drinks are offered, as well as beer and wine.
We had a hard time deciding on which sandwiches to sample, and I was very tempted by the Chop salad ($5.95). However, we each decided to go for a different sandwich from the Grilled Cheese column on the menu. All sandwiches are $7.95 and are served on their own. Sides are additional. One of the features that really adds to the gourmet experience of each sandwich is that each one is served on a specialty bread that pairs best with the flavors.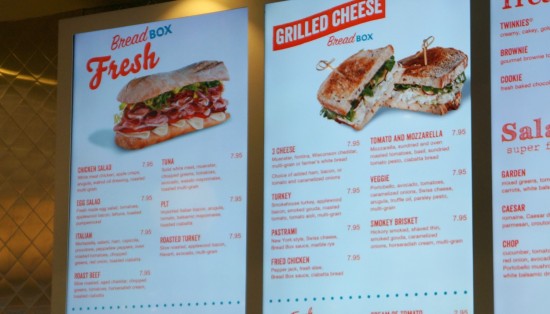 Up first is the 3-Cheese Grilled Cheese. Our bad on this one – we totally forgot to add in our choice of one of the following: ham, bacon, or tomato with caramelized onion. So ours was plain, and although full of ooey-gooey yummy-melty cheese, any of the offered add-ins would have definitely made a difference. Still, the combination of Muenster, fontina, and Wisconsin cheddar is a nice blend of sweet, sharp tang and slightly smoky flavors. The buttered, toasted white bread makes this sandwich true comfort food. It certainly would pair perfectly with the cream of tomato soup.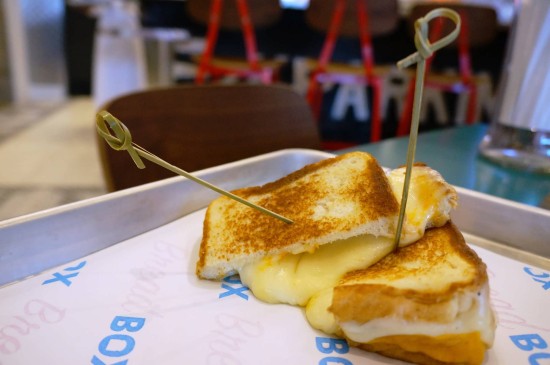 The sandwich that immediately caught my eye was the Fried Chicken. A warm, crispy fried chicken breast is served atop melted pepper jack cheese. Then cool, creamy coleslaw and yummy, tangy Bread Box sauce is layered on top. The Bread Box sauce is similar to Thousand Island or Russian dressing, adding a nice flavorful tang. We each sampled a bite of this warm sandwich and really enjoyed the flavors. The chicken breast is crispy and not too thick, making it easy to eat.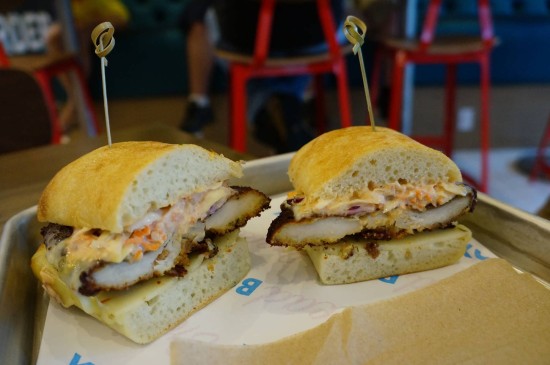 We each all agreed on our favorite sandwich, and it is one that we normally would not have been drawn to. However, upon placing our order, I asked the cashier what her recommendation would be, and she enthusiastically exclaimed, "the warm turkey!" There are two turkey sandwiches from which to choose, with the first listed under the "Bread Box Fresh" section, which are cold sandwiches. It is served with slow-roasted turkey, bacon, Havarti cheese, avocado, and on whole grain bread. However, we went with the warm turkey sandwich listed under the Grilled Cheese section. The turkey is smoked, sliced, and piled nicely and layered with smoked Gouda, bacon, roasted tomatoes (which are juicy, sweet, and a little smoky), and finished with tomato aioli, served on toasted multigrain bread. This sandwich is very flavorful and produced lots of "mmmmms" and "yums" as we each tried a bite.
I also decided to try their potato salad. Served in a deli container, this potato salad ($1.95) is amply sized for sharing. Diced red-skin potatoes are tossed with bits of celery and onion and, of course, covered in mayonnaise. To match with the deli feel of Bread Box, this salad is New York-style.
Overall, I am very impressed with Bread Box. I think it is a welcome addition to CityWalk and a great option for a more affordable, quick, and casual dining experience. While dining inside is a nice experience, you can also take your order to go, which is a great option for anyone staying at one of the on-site hotels or, even, the neighboring properties, as well. I will definitely be back and can see myself stopping here before or after catching a movie at the Universal Cineplex theater, since it is conveniently located right next-door.
It was difficult to save room for Hot Dog Hall of Fame, but we made the sacrifice. The atmosphere here is decidedly more casual. This quick and casual dining location is all outdoors with a variety of seating options, including the fun and visually appealing baseball stadium seats.
The main section of the menu is "Starting Line-Up 9," which consists of nine different specialty hot dogs priced at $6.99, with each representing a different regional flavor. From the classic New York-style to the Southwestern spin of the Arizona dog, each one offers a unique style. What's more is that each hot dog uses the brand and style of hot dog that is particular to the destination that the dog represents. For example,the New York dog uses a Sabrett all-beef hot dog, whereas the Chicago one uses a Vienna all-beef dog.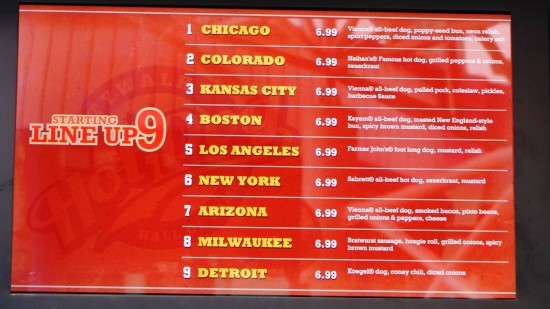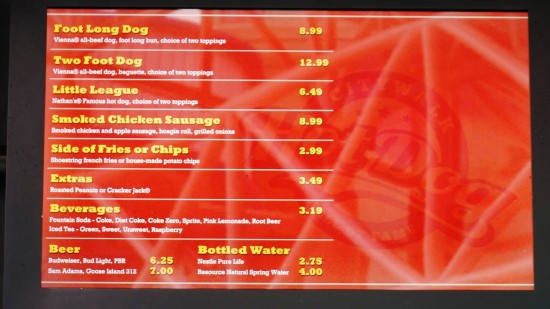 My favorite type of regional dog is Chicago-style, even though I have never been to Chicago. I have always enjoyed the amount of toppings that top this type of dog. A Vienna all-beef dog is placed on poppy-seed bun, then the toppings pile begin – bright green pickle relish, sport peppers, diced onions, and sliced tomatoes are all piled on, and then my favorite component, celery salt, finishes it off. This particular Chicago-style dog was definitely on par with some of the best I have had.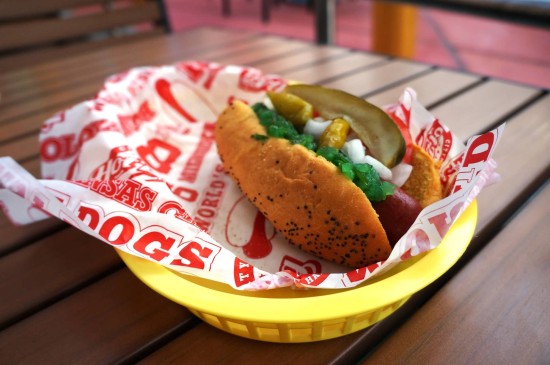 We had heard lots of buzz about the Arizona dog, so we decided to give this Southwestern version a go. A Vienna all-beef dog is topped with smoked bacon, pinto beans, grilled onions and peppers, and shredded cheese. Although this dog is very unique, this one did not rank as high as some of the others we tried. It is definitely on the messier side and is worth a try if you want some Southwestern flavor.
A movement within the world of hot dogs that has been growing in popularity is the BBQ dog. This style is represented in the Kansas City selection, which we all thoroughly enjoyed. The ever-popular Vienna all-beef dog gets the BBQ treatment with pulled pork, coleslaw, pickles, and sweet BBQ sauce. Although very messy, this one ranked pretty high on our list.
Beside the "Starting Line-Up 9," there are also a couple options on the other side of the menu, including a two-foot-long dog! If any of the regional-inspired dogs are a little too over the top for you, you can order a Little League dog, which is a basic hot dog with your two choice of toppings ($6.99), or a foot-long dog with two toppings ($8.99). I decided to change it up and try the Smoked Chicken Sausage, which is served on a soft hoagie roll topped with grilled onions. I rather enjoyed the savory-yet-sweet flavors and think this is a great choice for anyone who may want something other than a hot dog.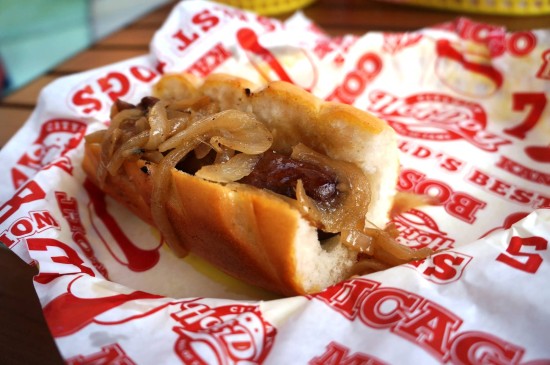 None of the hot dogs or sausages are served with mustard or ketchup. There are a variety of specialty mustards and ketchups to enjoy at the condiment bar, a great way to further customize your choice. Make sure to grab plenty of napkins while you are at the condiment bar, 'cause you're bound to get a little messy.
Overall, both Bread Box and Hot Dog Hall of Fame are great additions to CityWalk. They bring a much-needed variety of quick and easy dining options for those not wanting a full sit-down meal. I would recommend both establishments for a quick lunch or dinner. In fact, I could totally see myself stopping by Bread Box when I am going from one park to the other. Perhaps I should try the tempting Nutella shake – it sounds like the perfect indulgence to raise high into the air and toast the almost-complete enhancements of Universal CityWalk.
To learn more about the 2014 Universal CityWalk expansion, view these posts:
Universal CityWalk trip report – June 2014 (VIVO Italian Kitchen review, Hot Dog Hall of Fame update, more construction)
CityWalk's next generation, wave two: Menchie's, Harry Potter, and the all-new Universal Studios Store
RRU Special Edition: Universal announces largest expansion in CityWalk history
When you're done with our reviews, you can check out all of our CityWalk blog archive or join us in the CityWalk section of the OI Forums.
Bread Box & Hot Dog Hall of Fame – photo gallery
Click any image to view it full-screen. When the full-screen image is open, click to the right or use the right arrow on your keyboard to advance through the gallery.