What phrase do you immediately hear after the Super Bowl has just completed? Why, "I'm going to Disney World" of course!
On special occasions, a triumphant athlete, sports team, or celebrity is often invited to parade through Walt Disney World's Magic Kingdom. This past weekend it finally time for Orlando's hometown heroes, the University of Central Florida Knights — 2014 Fiesta Bowl Champions — to take their victory lap at the most magical place on Earth.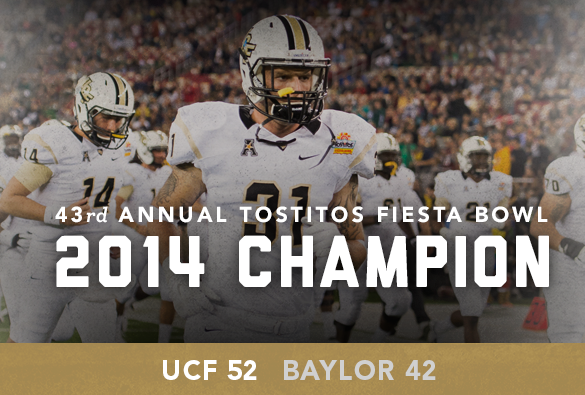 (Over the years, there have been many special moments celebrated at the Magic Kingdom. In fact, every year the Super Bowl MVP, and sometimes the whole team, celebrate in a parade at the Magic Kingdom just days after the Super Bowl, so stay tuned for tips on how to claim your spot and get some great shots during parade time.)
Preparation & the UCF Knights Parade
There was something palpable in the air on UCF's special day at the Magic Kingdom. No other team in the country can claim Walt Disney World as their own backyard. In fact, I am sure that all of Orlando's wondrous attractions and exciting atmosphere are one of the reasons the University of Central Florida is the nation's second largest university. This wasn't just any big shot sports team or celebrity getting their moment in the Disney sun, this was our team in our Magic Kingdom!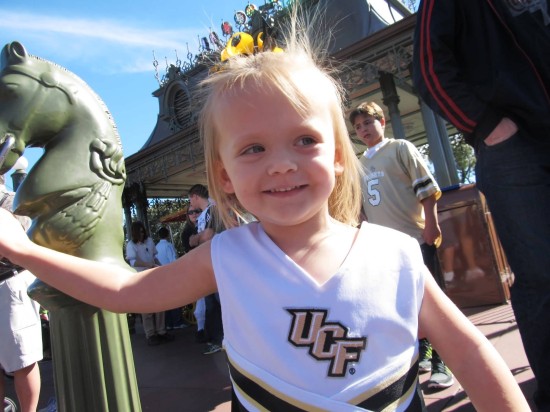 I claimed my territory on Main Street / the Castle Hub a good two hours before UCF's 2:00pm parade time. But I didn't mind the wait because I was prepared and had fantastic company at my side.
My husband and stepson grabbed some snacks, sat down with me, and waited while a former high school classmate and fellow UCF grad soon found their way to our "camp". Though my boys decided to enjoy Magic Kingdom's attractions, my fellow school mate and her family joined me.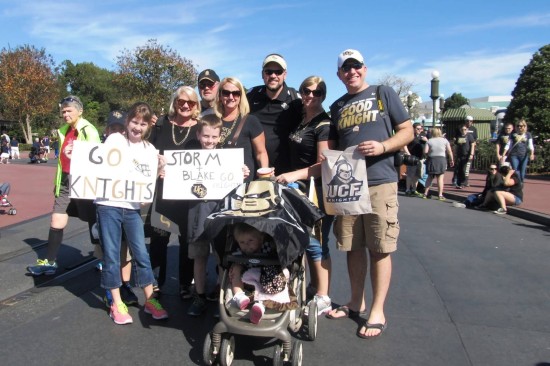 The time passed quickly. We reveled in the excitement of seeing our hometown college, an institution that is only a mere 50 years old, being celebrated. In fact, I am sure that most of you reading this had probably never heard of the University of Central Florida until this football season. That is a shame really because, although it was a long and grueling road to get our school on the map through our football team, our academics are invaluable.
As a UCF Rosen College of Hospitality Management graduate, I am most proud of this particular portion of my university. A separate, state-of-the-art campus is dedicated to creating the future leaders of the hospitality industry, located right on Universal Boulevard, minutes from Universal Orlando and International Drive. My hospitality career would not be what it is without the UCF Rosen College, so I proudly wore my UCF Rosen School of Hospitality Management (which is considered old school because the name changed to Rosen College shortly after the glorious separate campus opened).
Waiting two hours may seem long, but there was plenty to keep us occupied. By being on Main Street, we watched "Dream Along with Mickey" at Cinderella Castle, caught the "trolley show" along Main Street, and best of all, shook our tail feathers with Donald Duck and friends during the highly energetic "Move It! Shake It! Celebrate It!" dance party at the Castle Hub.
As parade time drew near, our attention turned to people watching. Anytime a big sports team or athlete is honored at Magic Kingdom, part of the fun is seeing your fellow fans decked out in fan gear. Fans exchange friendly greetings while cheers and chants fill the air. On our special day, the parade route became a sea of black and gold. The phrases "Good Knight" and "Charge On" became as common as "have a magical day."
Soon we could hear the drumline in the distance and then, leading the parade, was University of Central Florida President, John Hitt, accompanied by Head Coach George O'Leary in the stunning Grand Marshall vehicle. I was beaming. The excitement kept flowing as UCF cheerleaders, dancers, the Marching Knights, and then the 2014 Fiesta Bowl Champions themselves, the UCF football team paraded through the streets. Proof of how much this team truly is our hometown heroes, every so often a UCF football player would step off the parade route to hug or greet friends and family members. It went by fast, but my smile could not be contained.
Here are a few photos of the parade, followed by a YouTube video posted by another UCF Knights fan.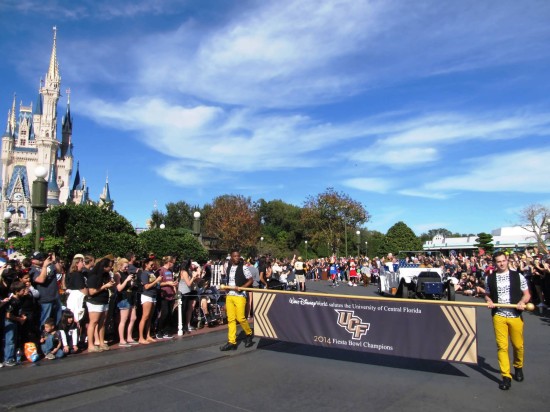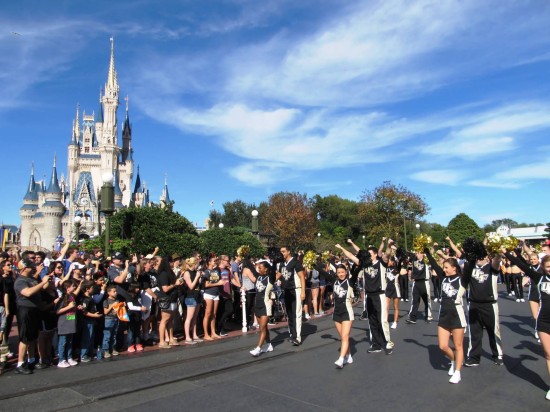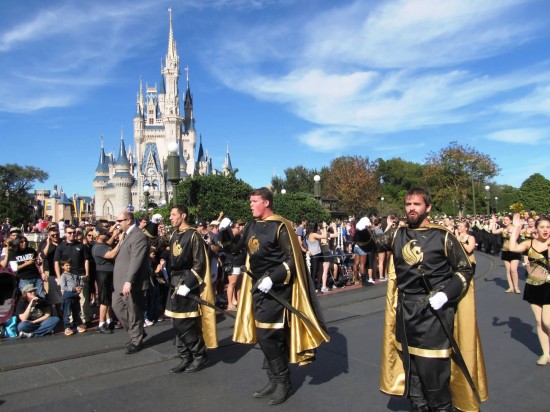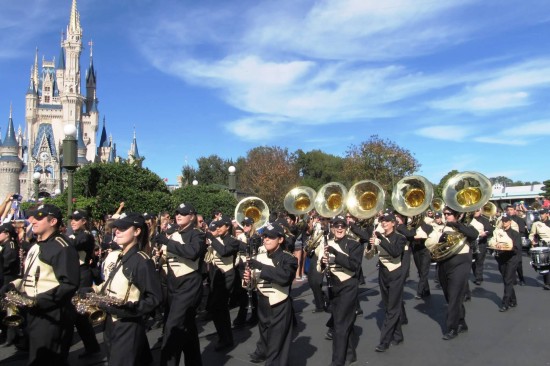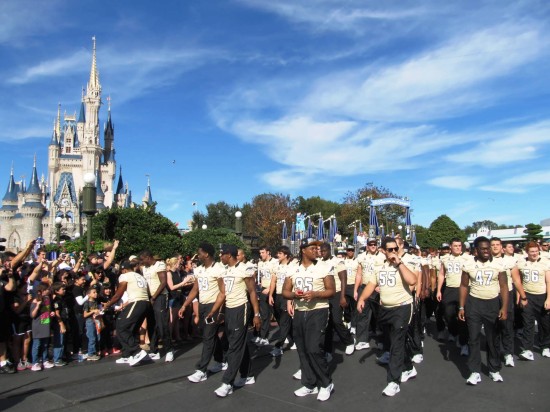 [youtube_video]e0ksi1RIWQY[/youtube_video]
I bid farewell to my school mate and her family and waited for my husband and stepson to reunite with me. And then it happened. About ten minutes after the parade had concluded, Coach O'Leary was escorted back down Main Street and toward Tomorrowland, followed by a handful of UCF Football players. And so I did what any reasonable UCF Knight and fan would do, I followed them.
They headed to the rose garden in front of Tomorrowland and beside Cinderella Castle, then they entered the protected lawn. It was media time! This is a common occurrence after many celebratory parades in the Magic Kingdom, so if you ever attend one, stick around the rose garden just in case.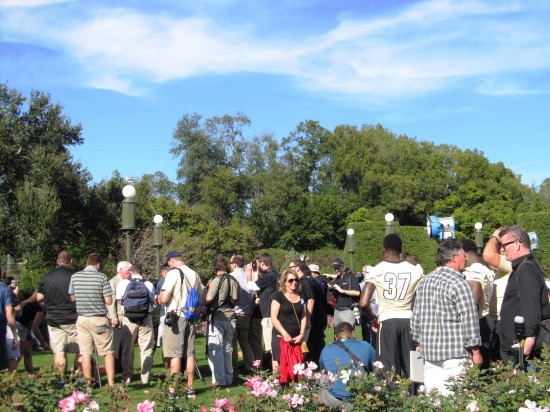 I ended the glorious UCF celebration with a very memorable moment.
After the media circus, Coach O'Leary proceeded back up Main Street. I whipped my UCF baseball cap off my head as to not shield my face, thrust the camera into my husband's hands, and politely asked coach for a picture with him. With wind whipping through my hat hair, I flashed a grin and the rest is history.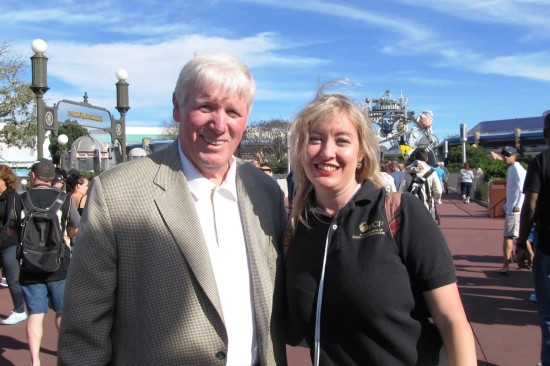 I may not look my best in the photo, but it is a very cherished photo. In fact, the entire celebration was glorious, and it is now one of my favorite memories of Magic Kingdom.
Parade Viewing Tips
If you ever have the opportunity to see your favorite sports team, athlete, celebrity, or even your local marching band perform in Magic Kingdom, you must take advantage of it. And to help you make the most of your visit, I have shared some tips with you:
Lay out a big blanket or towel to claim your spot and keep you comfy.
Make sure your phone is fully charged for picture taking, amusement, and to stay in touch with your party.
Have extra batteries for the camera.
Pack or grab some snacks and water.
Slab on some sunscreen.
In case your party splits up while you wait, have a book or other reading material with you.
Be aware of crosswalks because no one can sit there (anything that is a ramp or a break in the sidewalk will be a crosswalk).
But use the crosswalks to your advantage and sit next to one, with it to the side, behind you as you face the parade.
Sitting next to objects like trashcans creates a perimeter making it less crowded around you.
Be prepared for waiting and politely defending your spot as parade time nears.
Enjoy the moment because it goes by fast.
When the parade is done, head to the Rose Garden for the chance to see even more.
Thank you for letting me share this special moment with you. If you'd like to learn more about Magic Kindom, check out all the Walt Disney World posts on the OI Blog.
UCF Knights march into Magic Kingdom – photo gallery
Click any image to view it full-screen. When the full-screen image is open, click to the right or use the right arrow on your keyboard to advance through the gallery.
[sws_author_bio user="danidennison" size="105″ authorposts="More OI posts by Dani" name_format="About the author"] [/sws_author_bio]