The background
It's been a few months since Uber first appeared on my radar, thanks to some of my friends who have been using it on business trips. They raved about the app's sleek style, ease of use, and how much cheaper the service is than the average taxi.
As a huge fan of new apps, I immediately downloaded it and agreed it was a massively incredible concept – one that I could easily see myself using in the likes of New York or Chicago, where cabs are king but will leave you bankrupt.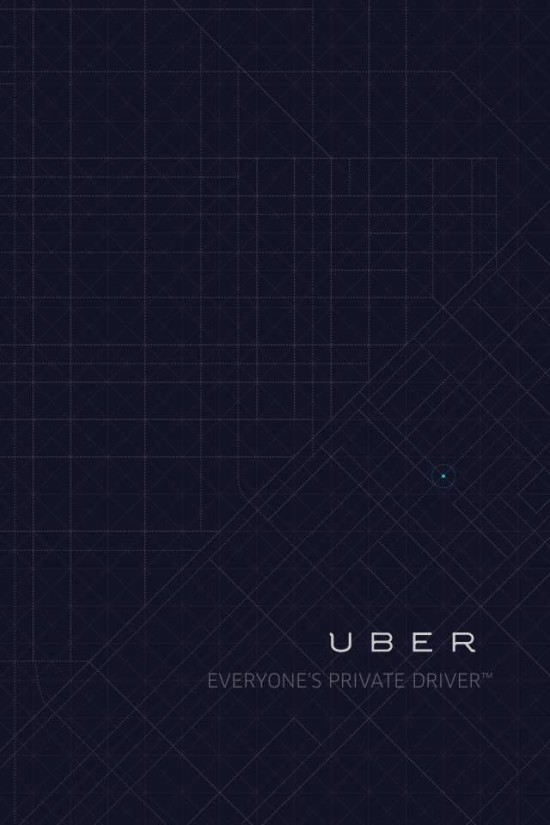 Uber is a revolutionary travel app that connects riders to drivers directly through the app. Everything is literally done on your phone, from searching for, connecting with, contacting, and even paying an Uber driver. After downloading the app, I noted that Uber was sadly not in Orlando – yet.
Miraculously, on June 4, Uber took to the streets of Orlando! I must admit that I am seriously in love with innovations that help to grow our continuously-expanding city. For years, I've defined Orlando as a "big city" with a "general store" approach – but look around you! Very recently, our little Orlando has grown up and is on the verge of a major explosion that goes far beyond theme parks to include a Major League Soccer team, the Dr. Phillips Center for Performing Arts (opening later this fall), and Sunrail, a commuter train that will eventually connect DeLand to Poinciana by 2016.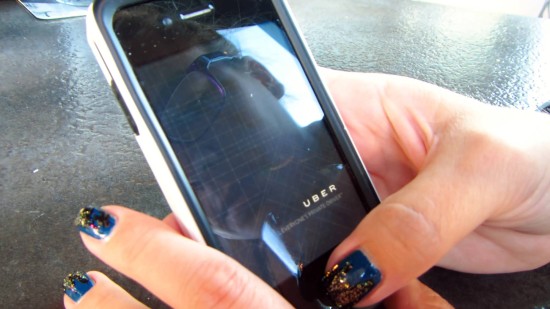 Uber only adds to this excitement by connecting all of these areas and the in-between. Locals can use Uber for a ride to the airport or Port Canaveral, and for evenings out on the town. Guests in the Orlando area can obviously use Uber for these same exact trips, and also – of course – when traveling between the theme parks and various tourist attractions.
How it works
My boyfriend Sean and I decided to give Uber a try as locals, to see how this might help us as well as our visiting friends. We parked our car at Universal CityWalk, as we knew we'd be returning there for the evening, but we wanted to try Yard House at I-Drive 360 for dinner. It's a touristy route, Universal to I-Drive – so perfect for our experiment!
As we parked, I pulled up the Uber app, which immediately picked up our current location and provided a list of Uber vehicles and drivers in the area, along with a time frame for pick-up. I selected the pick-up and our drop-off location before tapping on "Request uberX," which gave me an estimate for the ride. This particular trip between CityWalk and Yard House was approximately $9.00 – 13.00.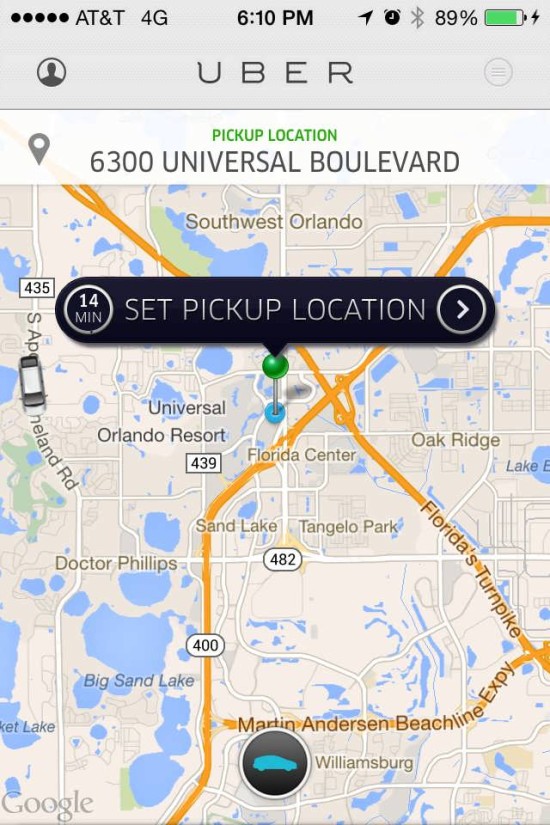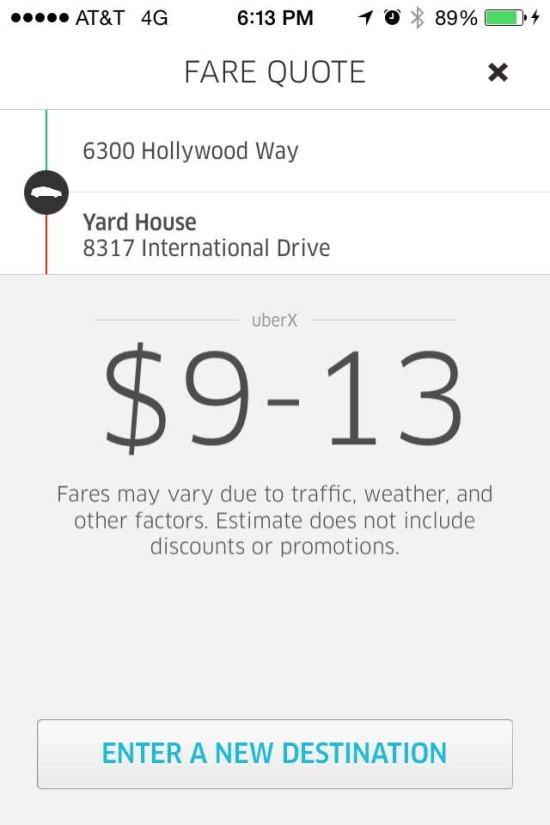 Trip fares will vary pending original distance, traffic, weather, and other factors, but they are typically 36% cheaper than a taxi.
After hitting "Request," a driver named Mauricio was confirmed and en route. Uber also provides a photo of the driver and his vehicle information.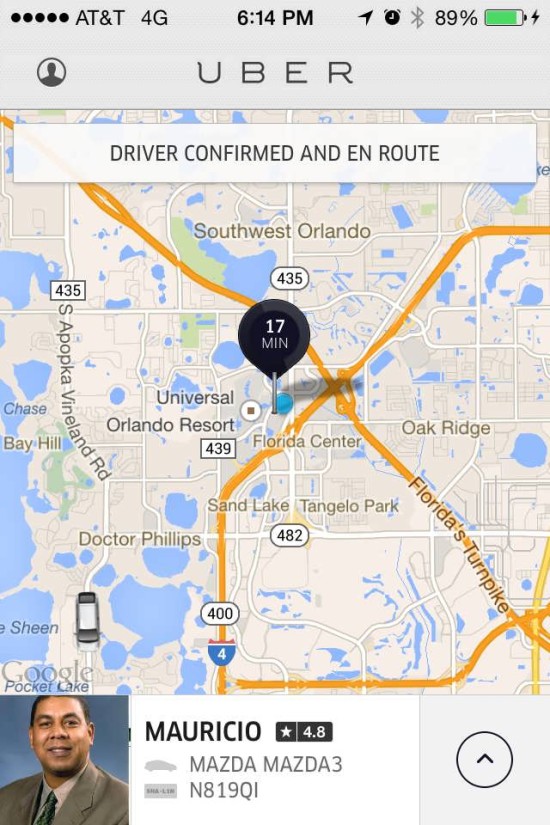 We quickly realized that our chosen pick-up spot was the exact location of my car in the parking lot and not where we wanted to be picked up, so I found the "Contact Driver" section of the app, where I could communicate with our driver directly by way of phone call or message. I messaged Mauricio quickly to let him know that we would be at the Universal Orlando guest pick-up/drop-off area.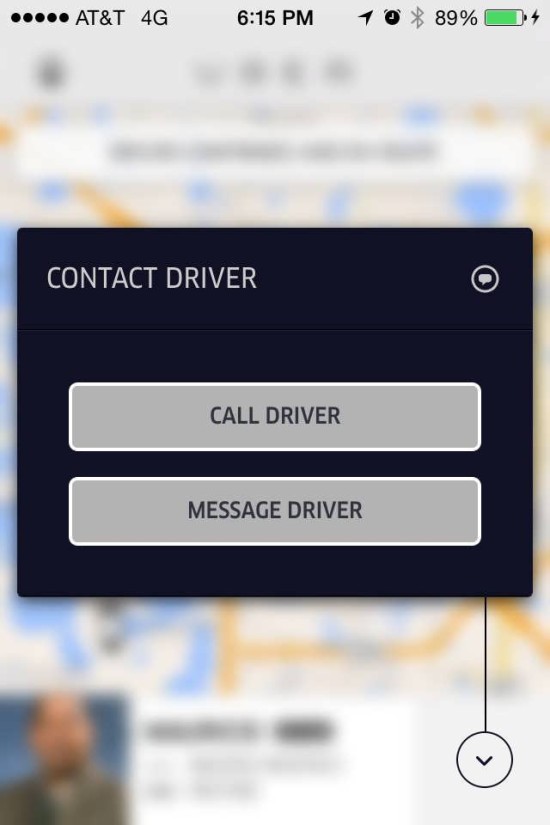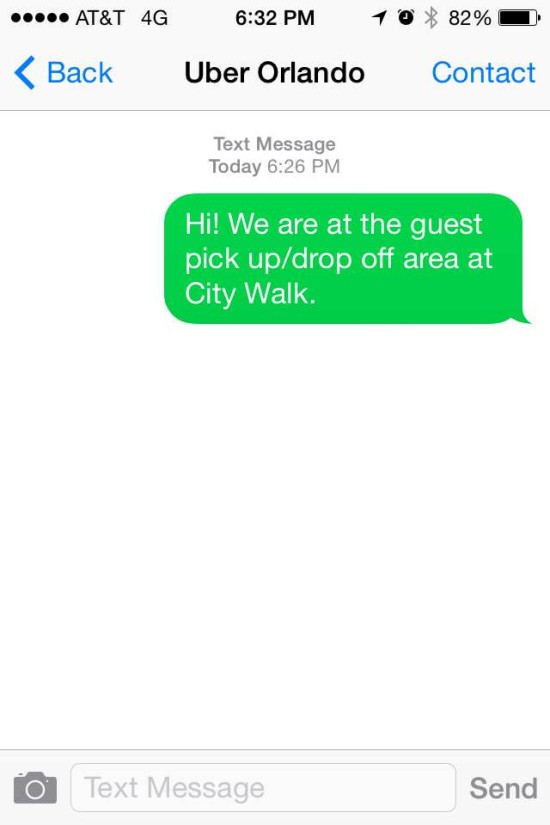 The Uber app also shows you the driver's progress in real time, so I could see Mauricio's vehicle approach our area but begin to circle a bit. Almost immediately, he called to let me know that he was in the area but had missed a turn and would meet us in two minutes. This was a valuable lesson in using the app as close to the exact pick-up location as possible when I don't have a specific address.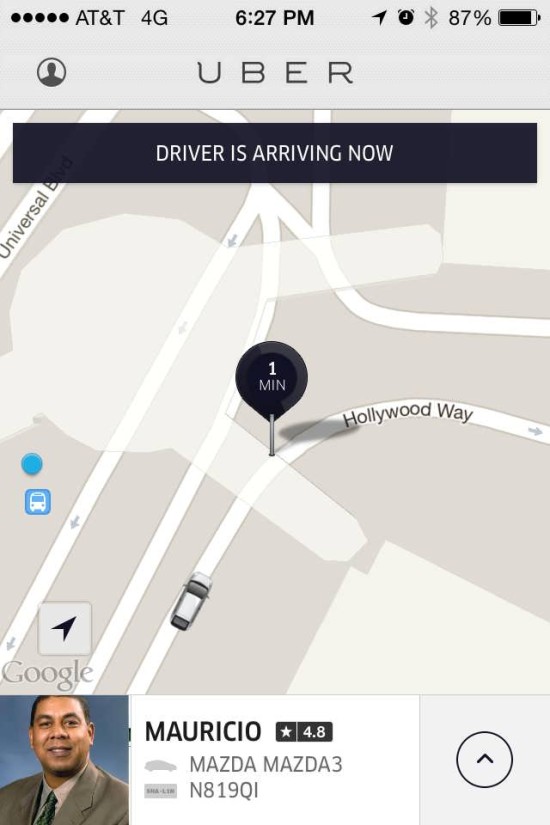 Mauricio was polite and friendly, and he chatted with us for the duration of our ride. He was extremely excited about Uber and told us that though we were some of his first locals to use the app, the out-of-town guests over the past few weeks had really taken to Uber and loved it.
As Mauricio dropped us off, via the app I was able to pay for the journey (no tip required, seriously) and leave a positive rating and feedback. The app also provided a summary of my trip and emailed me a receipt.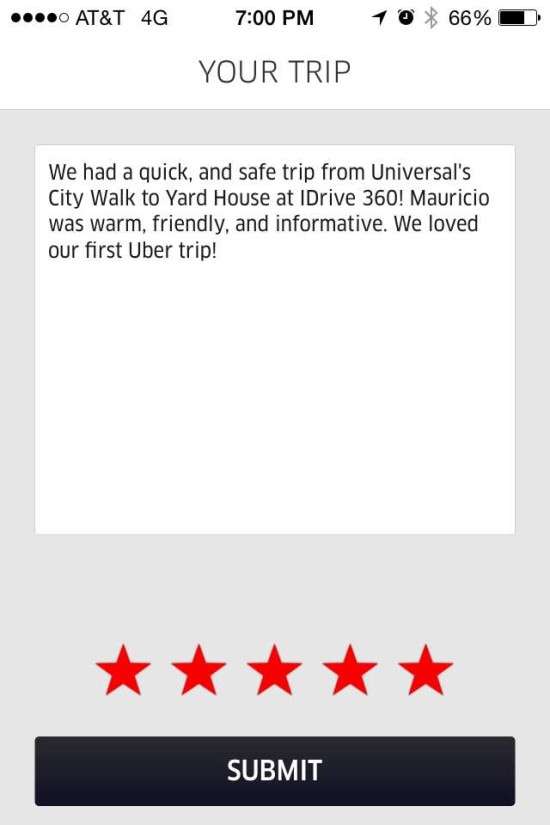 Our return trip to CityWalk was also quite easy, though the driver was quieter (but sometimes that is nice after a long day, when you just want to get back to the hotel). He was still very cordial, and the ride was a safe, quick trip.
Uber also has some other fantastic features, like the ability to split your fare. From my understanding, so long as everyone has an active Uber account, you can select your friends, and the payment is split evenly to each account and billed accordingly. I loved that it is an entirely cashless transaction, as well. Everything is done directly through the Uber app, which reduces the stress and fuss of carrying cash.
You can also "Share My ETA," which sends out a text message with a link to your route so your friends can track your progress. This is nice just in terms of safety and letting your friends and family know where you are.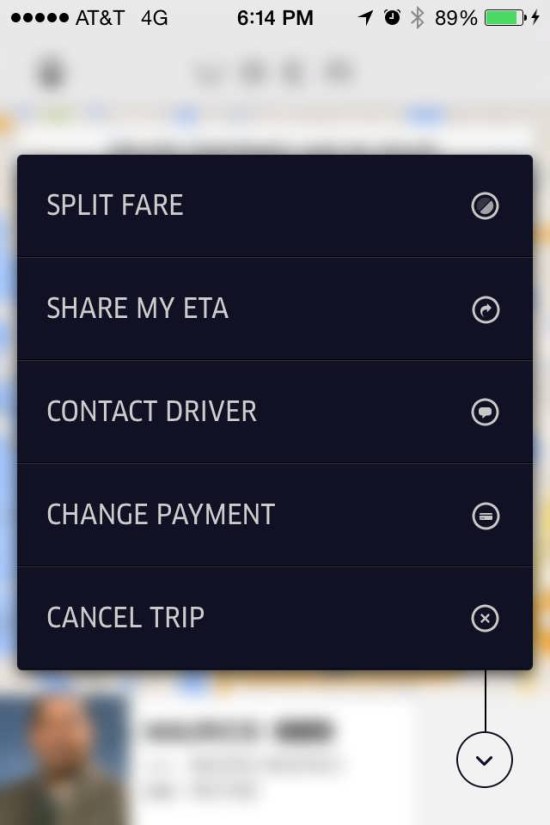 I should mention that all Uber drivers use their personal vehicles. These vehicles must meet strict guidelines and seat at least four people. Safety and satisfaction are high-priority for Uber, and all US drivers therefore must meet all local regulations and pass a three-round background check, as well as ongoing reviews of the driver's motor vehicle records throughout their time with Uber. The personal reviews left for each driver also help other users pick and choose which driver(s) they want. In addition, each ride is covered from curb to curb by Uber's commercial liability insurance.
Each city's fares and rates change based on demand and location; the typical rates for Orlando, however, can be found on their site, and you can always get instant quotes both online and through the app. Below are a few sample rates between popular Orlando destinations. Keep in mind that these are just estimates and are subject to change.
Downtown Disney to Universal CityWalk: $20
Orlando International Airport to Universal CityWalk: $30 – 40
Orlando International Airport to Downtown Disney: $35 – 46
Universal CityWalk to Downtown Orlando: $18 – 24
Universal CityWalk to Orlando Premium Outlets: $7 – 10
Downtown Disney to Orlando Premium Outlets: $23 – 30
UCF to MCO Airport: $36
UCF to Downtown Orlando: $26 – 35
All in all, I really loved our first Uber experience, and we've already determined a time or two in the future to use it again. I am sure that this will be an incredible asset to those visiting Orlando as they explore our beautiful city.
Please keep in mind that as Uber is expanding; vehicles are only available in certain areas at this time. We were told, however, that the tourist areas are usually covered consistently.
You can get the app by clicking here.
A second opinion
Howdy, folks. This is Dan. I'm going to end Casie's great writeup covering Uber to quickly share my experience, which I can do in two tweets:
Mears taxi to downtown: $45 and had to be dispatched twice bc the first driver bailed. @Uber_Orlando back home: $25 and perfect service.

— Orlando Informer (@OrlandoInformer) June 22, 2014
It was our first ride with @Uber_Orlando and it was great. Sign up using this link and get $10.00 off your first ride http://t.co/ps3geCB3kG

— Orlando Informer (@OrlandoInformer) June 22, 2014
So, yes, I definitely recommend Uber!
By the way, are you wondering what the difference is between Uber and uberX? That confused me too, but it's a simple explanation. Uber originally started as a company that provided its own drivers, then later expanded to include drivers who are not employees, but rather, participate as a home business (not unlike, for example, the sellers on eBay or Etsy). This newer server wa called uberX, and it's what we've been talking about in this article. So, for the purposes of Orlando, where only uberX is available, you don't have to worry about distinguishing between what's Uber and what's uberX.
Update
Apparently the City of Orlando isn't happy with Uber, so we'll leave this review up for now, but if you're interested in the service, you might want to follow this story as it develops.
Sorry about the bad news. We literally didn't discover this until moments after this review was published, and the "crackdown" itself just happened last night.
You can read more about vacation planning in the OI Blog Archive, or discuss your experiences with Uber in the OI Community Forums.