On Thursday, January 23, Universal is going to finally blow open its most-anticipated attraction yet, the Wizarding World of Harry Potter – Diagon Alley, in a webcast announcement. To mark the occasion, we here at Orlando Informer are throwing a countdown to the two-years-in-the-making event with this new blog post series, exploring – and celebrating – all things Wizarding World.
Ever since Universal announced that it was going to somehow expand Harry's presence at Universal Orlando, we've been provided with a steady stream of unofficial information, analysis, and, even, revelations about the new Wizarding World's contents – months and months before the company officially conceded that, yes, Diagon Alley was indeed coming to the former Amity area at Universal Studios Florida.
Even with all this intel, however, there have been several blank spots left in our ever-growing map – both figurative and literal – of the area, empty zones that prevent us from connecting all the wizarding dots. Some of these lingering questions are huge and monumental and potentially earth-shattering, while some are small and nitpicky and products of over-obsessive minds – but all are somehow vital to the perfect experience that Diagon Alley might/should deliver come this summer.
Number four: The stores
Universal Creative would have you believe that, after the original Wizarding World of Harry Potter's three rides, its array of stores constitute a fourth attraction. There's no denying that they're right; from Filch's Emporium of Confiscated Goods's "working" copy of the Marauder's Map to Honeydukes's unique lineup of sweets to Zonko's hidden jokes, all are highly detailed and fully immersive locations that extend the guest's experience well beyond the confines of a traditional theme park land.
What will Diagon Alley have on tap for us? We know that Weasleys' Wizard Wheezes, Florean Fortescue's Ice Cream Parlor, and Madam Malkin's Robes for All Occasions will be present, that Wiseacres Wizarding Equipment will double as the Gringotts Bank coaster's gift shop, and that a much bigger, more in-depth version of Ollivander's will be present. We also know that most, if not all, of these shops will have in-door, fully themed (and air-conditioned!) queues; Universal seems to have learned its lesson from Hogsmeade, where it's still common to see 10- to 15-minute lines outside of the shopping venues during peak times of the year.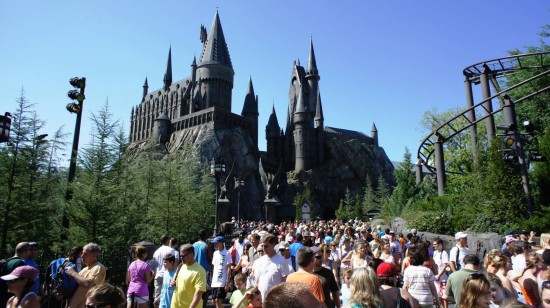 What we don't know, however, is just how detailed these stores will be. Whispers from insiders promise that Weasleys' will be a multi-story affair, replete with fully animated props, but will this extend to the others? Will they offer the same type of merchandise as does the first Wizarding World, or will there be brand-new exclusives on-hand, including the next generation of butterbeer?
And, finally, just how many shops are there going to be? The rumor world was shocked over the weekend when word started making the rounds that Flourish and Blotts, long considered to be a shoe-in for Diagon Alley (just imagine the possibilities of a Harry Potter book store on Universal property!), was actually just a highly detailed storefront instead of a walk-in venue.
Surely, something will make up for the loss… right?
Number three: Gringotts Bank
Of all the new attractions, be they rides or stores, easily the most talked-about and most-fully-fleshed-out is Gringotts Bank, home to what many are already calling the best theme park ride in the world. And although we already know what its queue and ride experience will entail, there are still two small-but-integral questions left to ponder:
What, exactly, is Gringotts's story? While we here at Orlando Informer feel pretty confident about our write-up's stab at the premise, it's still just a (highly educated) guess. Will guests truly be riding alongside our wizarding heroes in an attempt to steal away one of Voldemort's precious Horcruxes, even though this would technically be rewriting the story of Harry Potter and the Deathly Hallows, Part II? And, as a corollary, will Daniel Radcliffe really be reprising his role as Harry, despite his repeated statements over the past year that he wouldn't be coming back?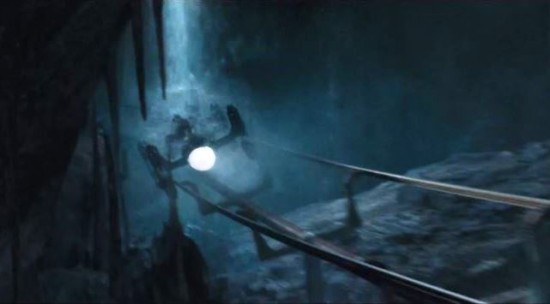 And, secondly, while we all know that a revolutionary, never-been-done-before merchandising opportunity will be offered in the ride's queue (more specifically, in its Security Office), we actually are left clueless as to what, exactly, the souvenir will be. A moving "wanted" poster, like the one featuring Harry? A key to our very own vault at Gringotts? Your guess is as good as ours – for now.
Number two: Hogwarts Express
The ability to ride from one theme park to the next in one seamless, fully-integrated experience is easily the highlight of Diagon Alley for many the world over, but it's one still riddled with a number of blanks. We know (a) that Dementors will feature on the way over to Hogsmeade, and that (b) there will be some sort of event that happens on the return trip to Diagon Alley – even though no book or film ever depicts the journey back – but that's about it.
Rumor suggests that there will be multiple experiences to be had on both legs of the train ride, and that they will be heightened by randomization, such as in Disney's Star Tours: The Adventures Continue, but how much truth is actually in this account? And, perhaps more importantly, just what is going into these variable scenarios? Jo Rowling is reportedly contributing original content to the expansion, and the Hogwarts Express seems to be the prime candidate for her storytelling additions. If not, guests might have to settle for the completely scattershot approach employed by Harry Potter and the Forbidden Journey, which sacrificed narrative cohesion for a "greatest hits" mentality.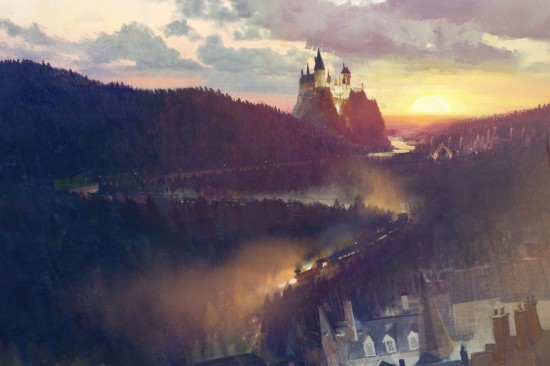 The biggest unknown, however, lies in Universal's approach to ticketing guests for the privilege to hop from one park to the next. All of the company's marketing materials to date explain that, indeed, a park-to-park ticket will be required to even set foot on the fabled train, and the blueprints that have been leaked over the past week seem to include a spot for a ticket booth – but such an approach has "PR nightmare" written all over it. (It's been suggested that Universal might remove its one-park ticket option and start selling only park-to-park tickets once Diagon Alley opens. We're not convinced this is feasible because such a move would be tantamount to a 30% price increase for its "starting at" price to enter one park.)
Number one: Knockturn Alley
"There is a small, 500-square-foot 'walk-through attraction' listed [on the blueprints] on a spur street to the left of the Gringotts entry, a spur that leads to the entrance to the second attraction."
So began the investigation into the final of Diagon Alley's (major) attractions, instigated by Theme Park Insider in its very first reveal of the new Wizarding World, a little over two years ago. It wouldn't take long for insiders to pin this as none other than Knockturn Alley, the dark-wizard version of Diagon Alley, but the question of what precisely will be on-hand has remained (largely) unanswered.
Part of this more than likely stems from the simple fact that none of the source material, from the novels to the movies, ever goes into much detail of Knockturn Alley's contents; Harry manages a quick trip once in Chamber of Secrets (the second volume) and again in Half-Blood Prince (the sixth), but his time there never amounts to anything beyond a brief stop at Borgin and Burkes, the main shop on the strip. Since background storefronts and advertisements are the best that we ever get of any other Knockturn destination, it makes sense that Universal would focus almost exclusively on the fine purveyors of "unusual and ancient wizarding artifacts."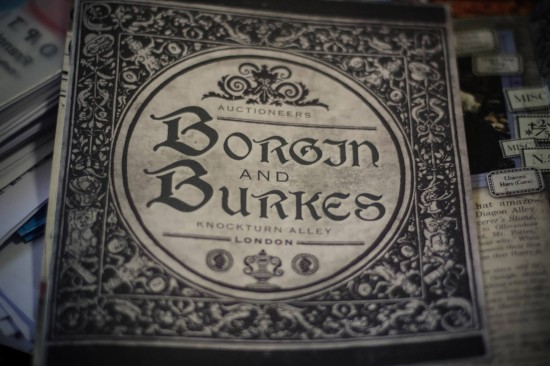 So if one store is the entirety of Universal's Knockturn Alley, what can we expect out of it? Well, for starters, it may not even be a real store – it may be like Flourish and Blotts, offering interactive props and sounds (albeit in a real, walk-through venue, as opposed to being a glorified window decoration), which may or may not require a tour guide to go through. Given its central, dominating location within the spur street, however, it seems more likely that we'll be getting a second Weasleys' Wizard Wheezes – a multi-floor, multi-sensory venue that'll also feature loads of (possibly) exclusive merchandise.
Maybe Universal will grace the inner Slytherin in all of us by staging a Triwizard Spirit Rally-esque show in front of Borgin and Burkes, just to add more value to what will undoubtedly be one of the most popular sections of the new Wizarding World.
Don't hold your breath, though.
We already have so much knowledge about Diagon Alley, yet, as you see, many questions remain. Let's just hope that January 23's big reveal will bring some much-needed answers, both to these burning questions, specifically, and to how Harry's wondrous new world will be dominating our vacations and occupying our thoughts for years to come, generally.
If not… well, our wait will become even more unbearable than it already is.
Reminder: To view the January 23 webcast, Universal is asking that you sign up in advance.
Countdown to Diagon Alley
Can you believe we have just over a week before Universal will officially spill all the beans on the new Wizarding World of Harry Potter? Stay tuned for our next Countdown to Diagon Alley article, which will help you while away the hours until the big announcement. In the meantime, you can always check out our other installments in the series:
Top five vacation planning tips for Diagon Alley
Complete telling of the Gringotts Bank ride experience
New details on Diagon Alley – story, food, actors, previews & the name of the Gringotts Bank attraction
How Harry Potter is defining the next-generation theme park experience
After the webcast: Step-by-step guide to EVERYTHING we now know about Diagon Alley
After the webcast: Six incredible Diagon Alley secrets that weren't mentioned in the webcast
And, of course, to start back at the very beginning and review everything we know about the Harry Potter expansion at Universal Orlando, visit the Diagon Alley page in the OI Universal Center.
[sws_author_bio user="msunyata@yahoo.com" size="105″ authorposts="More OI posts by Marc" name_format="About the author"] [/sws_author_bio]