­­­My journey to see Jimmy Fallon started as most journeys begin these days – with a Facebook post. "Did you know Jimmy Fallon is coming to Orlando?" I did not. The second it was on my radar, however, I – along with most of Orlando – went into full social-media stalk mode.
Somehow, by an intensely fierce stroke of luck and perfect timing, I was able to obtain tickets on the afternoon that they were released. They sold out within five minutes, and what I had soon learned was that they were some of the most difficult tickets to come by in Central Florida. Friends who I thought would surely be there, as they are often the faces involved in many of the city's biggest events, were left empty-handed.
On the morning of Tuesday, June 17, my mom, sister, boyfriend, and I arrived in front of the Blue Man Group Theater at around 11:30am. We waited briefly before we were called over to receive our official Tonight Show tickets.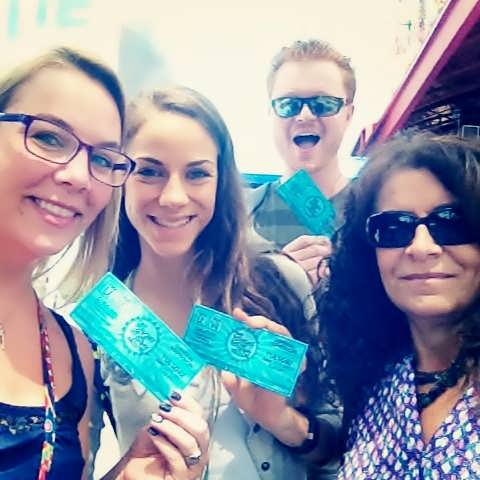 For those who are attending a Tonight taping in Orlando from here on out, tickets are first-come, first-serve, so those who arrive earlier get seated closer to the stage. These seats are pretty coveted for a variety of reasons – closer to the action, more possibilities of appearing on television, etc. – and as there are over 800 seats at the Tonight Show Universal Studios Florida stage, it's not a bad idea to be as close as possible.
I believe registration is held 10am-2pm on the remaining days, but of course please confirm and follow the directions you were given by Tonight staff, as each day of taping may vary.
With three or four hours to roam before going through security, we all did our own thing for a while. During this time, I posted a few photos to my Instagram and Twitter feeds as the excitement for our taping grew, one of which was directly picked up by the Tonight Show social media team! They shared it with their IG following, and things all but exploded from there. It made for a really entertaining afternoon, and I even enjoyed getting to know a few new friends, too!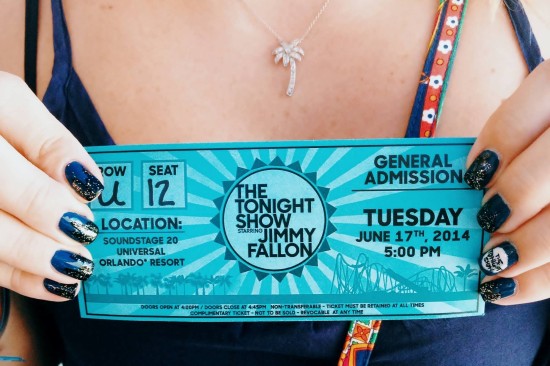 After we all met back up, we headed through security and were filed into a line. This process was quick and seamless; they even got us into the theater before the Florida skies opened up!
In the backstage area, and also in the Tonight Show soundstage, there is a strict no cellphone or camera rule. They remind you repeatedly as you enter and even through the jokes of the warm-up process. There is definitely no mistaking the warning to turn it off, put it away, and keep it there.
We finally filed into the soundstage, where I could hear audience laughter surround us. As we made it to the top of the stairway, I could see that there were about 20 large flat-screen TVs playing some "Best of Tonight Show" moments. Once we found our seats, our attention was immediately captivated by the televisions, which allowed us to relive some of our favorite moments, such as the infamous Brian Williams raps and various games that Jimmy plays with celebrities who appear on the show. No matter how many times I've seen these clips, they only seem to get funnier.
A few more minutes went by before Fallon's opener, Seth Herzog, came out to warm up the crowd. He did a fabulous job and kept it interactive and funny. He even had a few of the crowd's birthday guests take turns dancing to Beyonce's "Single Ladies." Without missing a beat, the audience warmly welcomed The Tonight Show's house band, the Roots, to the stage, taking us all to an entirely new level of "pumped up!"
Steve Higgins, the Tonight announcer, was next, and he only infused us with even more energy before the opening credits began to play and Jimmy Fallon took on Universal Studios Orlando. Higgins's voice introduced the evening's acts: Kevin Hart, Jimmy Buffet, and our host – Jiiiiiiiiimmmy Faaaalloooooon! The crowd roared, as the set's blue curtains gracefully swept open and out walked Jimmy.
As a kid, I grew up watching The Tonight Show Starring Johnny Carson with my dad, and I became enamored with Letterman, Conan, and the entire late-night comedy world. So, in that moment when those curtains swept open and one of the greatest, most talented entertainers of our generation came out on the stage, I was enraptured.
The monologue was, of course, hilarious. I loved how this entire production really captures the essence and personality of Orlando, Florida – our humor, our lifestyle, and all things Universal. The jokes and conversations are riddled with theme park humor – right through the pros and cons of doing the Tonight Show from Universal Studios Florida.
[youtube_video]dRl_4KRFnGQ[/youtube_video]
I didn't even need to pay attention to the "applause" signs above me because I was consistently laughing and clapping along to every joke. After the monologue, Jimmy shared a segment that had been taped the night before, featuring Orlando locals and Tonight Show staff doing a dance routine, and then welcomed comedian Kevin Hart to the stage.
Hart was every bit as funny as you would want him to be. He and Jimmy shared some really great moments, and then discussed his new movie, Think Like A Man 2, which will be in theaters this Friday. We also got to share in a "terrifying" rollercoaster adventure with Jimmy and Kevin as they rode Rip Ride Rockit, which I have since cry-laughed to nearly every time I've watched it.
[youtube_video]OPdbdjctx2I[/youtube_video]
Following Hart, Jimmy Fallon brought Florida staple Jimmy Buffet to the stage for a brief conversation, as Buffet was the evening's music act. Buffet gifted Fallon a pair of his very own flip-flops (our state shoe, no doubt!).
After Buffet left the stage, Fallon wrapped fairly quickly and set us loose on Universal Studios Florida, where we could explore the park for a bit as the taping for Buffet's performance wouldn't begin until 8:45pm. Shortly thereafter, we were able to catch Buffet during his sound check.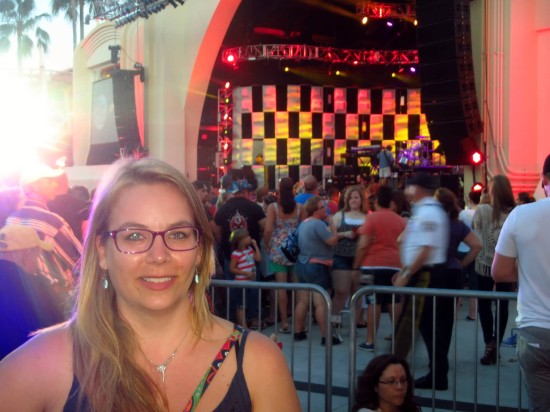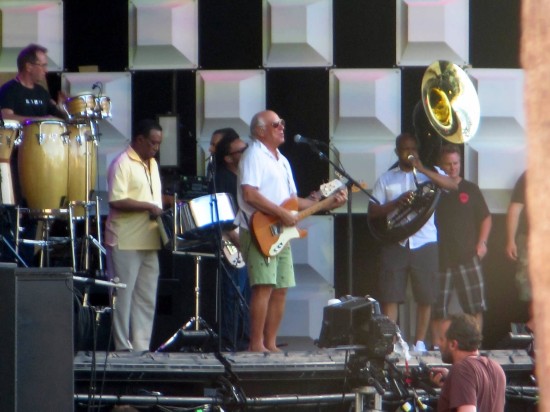 After the sun set for the evening, the crowd gathered again at the stage just under Rip Ride Rock It, and within minutes we were being re-introduced to Buffet and the Roots. Jimmy spoke with the audience briefly, this time saying that it was okay to quickly grab a few photos – but then to please put the phones and cameras away so that we could all just "enjoy the moment together." I really dig moves like this in a high-tech world because, let's face it, with a camera to your face – it really does take you out of that experience.
Buffet performed three songs and was joined by Fallon during the last, who thanked everyone, genuinely, for coming out and spending the day with The Tonight Show.
[youtube_video]eji7wBbFldY[/youtube_video]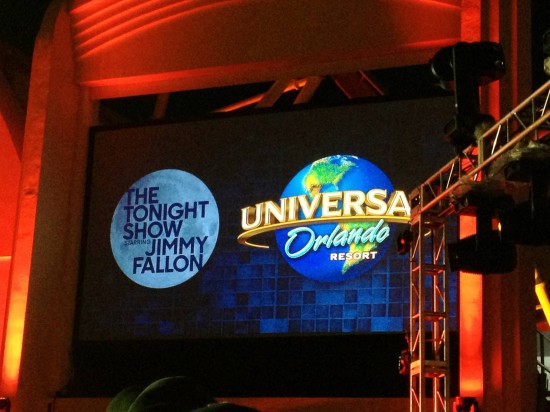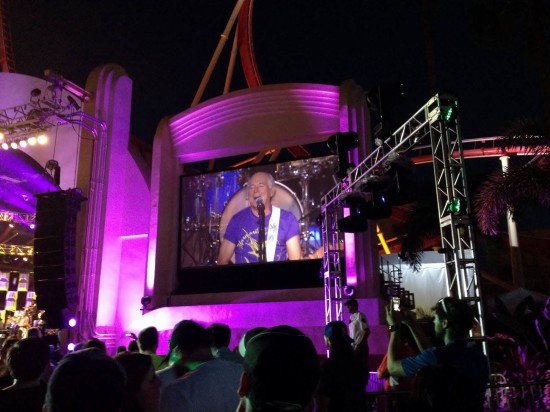 All in all, I was really impressed with how quickly and efficiently everything appeared to run during the Tonight taping. I've been to other tapings before that have had many takes and a great deal of repetition, but there was none of that during The Tonight Show. Everything was easy, exciting, and entertaining.
I also really love hearing stories from those who've had the opportunity to meet Fallon while he's here in Orlando where they tell me how truly awesome he is. Jimmy seems humble that he's been gifted this opportunity to lead an iconic American program. He has reinvigorated this legendary show and brought new life and charisma that's reminiscent of the late, great Johnny Carson.
And, most of all, I love that The Tonight Show came to Orlando! It was such a wild experience – one I would gladly and openly do again in a heart beat.
You can view the entire episode by clicking here. To chat with our community about everything that's happening this week at Universal, join us in the OI Forums.