As the world prepares to see the Wizarding World of Harry Potter – Diagon Alley, it's time to remind ourselves of the true magic that is created at Universal Orlando. We are on the brink of what will be sheer fandemonium, just like four years ago, when Hogsmeade first came into the world.
There is someone in my life – the biggest Potterhead I know – who had yet to see the original Wizarding World. Every time I visit Hogsmeade Village, I think of her and her extreme enthusiasm for all things Harry Potter. She recently visited Hogsmeade for the very first time, and I was fortunate enough to not only be with her, but to also witness the magic of the Wizarding World of Harry Potter all over again.
The morning of our visit, I arrived early to procure a few Harry Potter-themed gifts to celebrate the special occasion. When my pal, Carmen, and her friend, Sarah, arrived, we could barely contain our excitement as we headed into Islands of Adventure. Carmen and I even showed some house pride and wore a few articles of clothing depicting our Hogwarts house colors.
I knew the moment the top spires of Hogwarts Castle came into view, Carmen would be elated. Sure enough, I was right. I directed our group to the Port of Entry plaza to get a view of the lovely lagoon and the captivating castle. Carmen was beaming.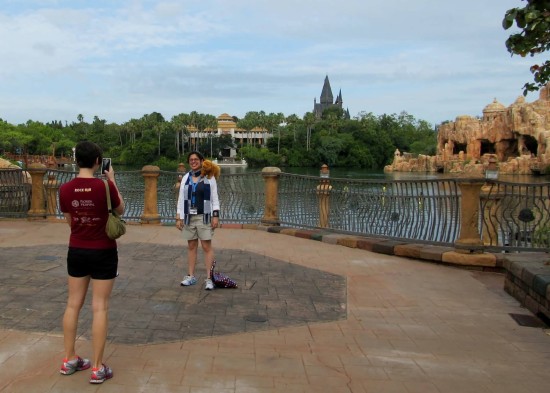 Before we continue on our journey, let me explain a little something about Carmen and myself. We met in high school. I had a tough time then because I had one part of myself in the nerd universe and another part in the fun, outgoing world (as I still am to this day). Carmen is a fellow nerd, and she will proudly proclaim just how nerdy she is. Needless to say, we've always gotten along famously. Want proof of our nerdy friendship? We've both been "sorted" using Pottermore – I'm a Hufflepuff; she's a Ravenclaw.
After taking the Sneech Beach shortcut, we had barely made it past the final bend to fully see Hogsmeade when Carmen became nearly overcome with glee. The look of delight of her face nearly brought tears to my eyes. Breathlessly she whispered, "I knew it was real." It was precious to behold.
We paused at the newly-unveiled Hogsmeade Station for pictures and to allow Carmen to catch her breath.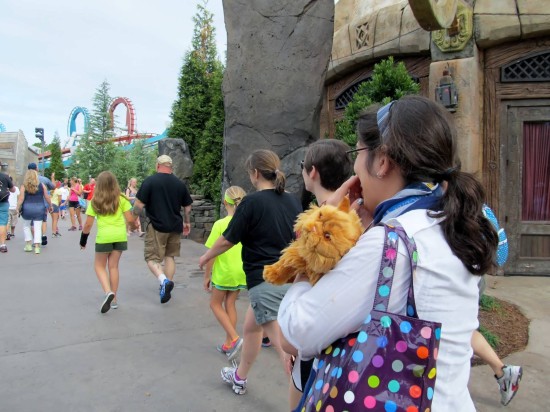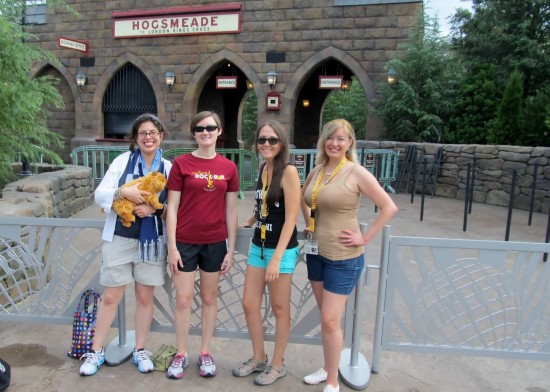 Then the magic cast by the wonderful "residents" of Hogsmeade Village began.
We stopped to chat with the Hogwarts Express conductor, and he delighted us all with his friendly banter, which was perfectly in character. In fact, the entire time we were in the Wizarding World, we received unbelievable service from all of Universal's Team Members, who played their parts extremely well. The moment we told any Hogsmeade Team Member that it was Carmen's first visit, they paid extra special attention to us and really brought the magic to life.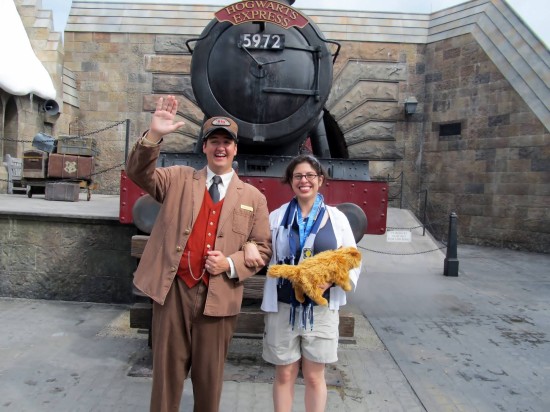 After taking it all in, we caught the Triwizard Spirit Rally. I just finished reading Harry Potter and the Goblet of Fire (the fourth installment, which features the Triwizard Tournament), and it is my favorite film (mostly in part to being a Hufflepuff), but, to be honest, this was my first time in two years watching the entire pep rally show. I enjoyed it – but not as much as Carmen, of course.
Afterwards, we took a group photo and were again ecstatic at the interaction with the show's cast members.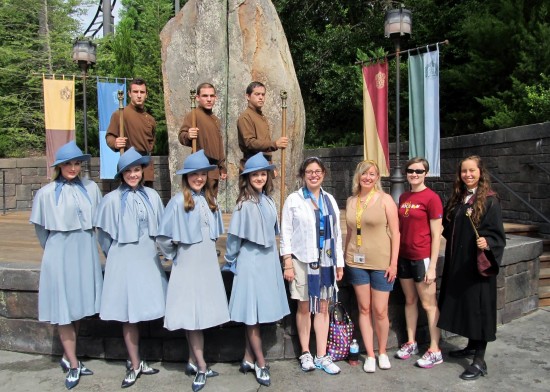 We turned our sights to Harry Potter and the Forbidden Journey, but the 60-minute wait time made Carmen hesitate. Thankfully, I exercised my theme park nerdiness and taught Sarah and Carmen about the Hogwarts Castle tour.
As we entered the Hogwarts founders' portrait room, all three of us allowed ourselves to escape into the story and spent a good solid five minutes just in this room, in awe of the detail and effects. In fact, as we entered each room along the castle tour, we savored each minute. We took our time and allowed ourselves to be in awe of how beautiful and detailed this ride queue really is.
All told, we spent a good 20 to 30 minutes on this self-guided tour, and my park companions were so thankful that I knew about it.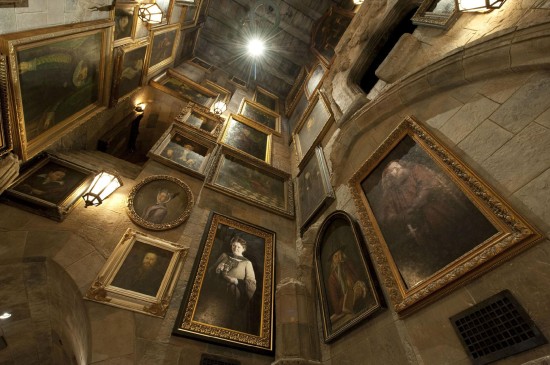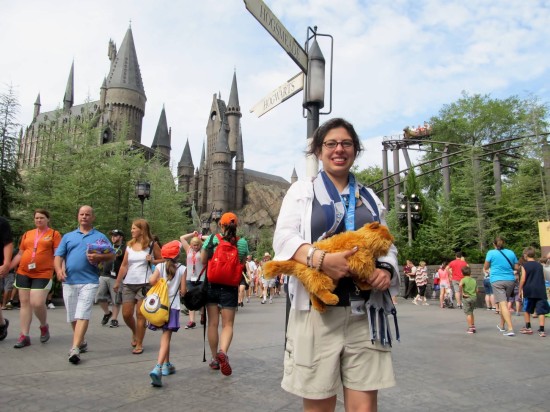 I continued to exercise my theme park knowledge and shared other details and tidbits throughout our morning in Hogsmeade. I felt thankful for my passion about theme parks and the hours I have spent online learning and sharing all the wonderful things there is to know about them.
Lunch was spent at Three Broomsticks, of course. We got there right at 11am, just in time to beat the lunch rush. Carmen ordered frozen Butterbeer while I ordered regular, cold Butterbeer so she could try both. Frozen won her over, and we now have yet another Butterbeer fanatic on our hands.
As our trio gathered around the table to dine, we each gazed at and adored the atmosphere. With the signature Harry Potter theme playing over the air and multiple visual delights surrounding us, smiles easily appeared on our faces. Families and other groups of friends gathered around tables, laughing and exchanging stories. It is such a cheerful place to be.
After browsing the sensational sweets of Honeydukes, with plenty of remarks about all the unique treats found within, we wrapped up our visit with a stroll through the Dragon Challenge queue. There are so many photo opportunities in this queue alone!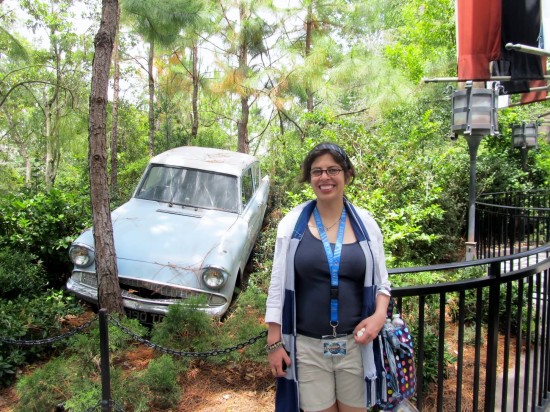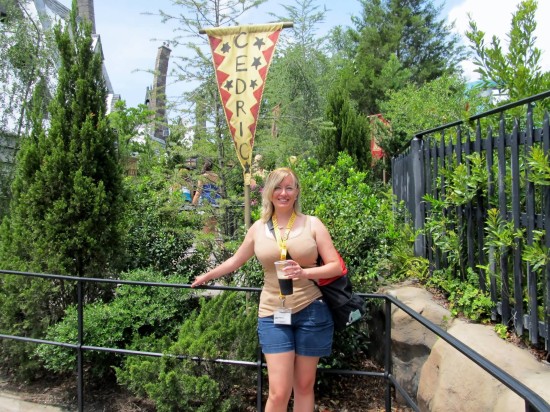 In total, we spent nearly four hours in Hogsmeade Village – the most I have ever spent in one visit. I loved every minute of it! Seeing Islands of Adventure's Wizarding World of Harry Potter through the ultimate Potterhead's eyes was like experiencing Christmas as a child.
Later in the day, we made it over to Universal Studios Florida. I had to step away for a few hours, but I later caught back up with Sarah and Carmen. They said they had been asking around to find out how they could see the newly-unveiled Gringotts dragon from inside the park. I was proud that I knew exactly where to take them: right to Central Park, my favorite green space in all of Universal Orlando.
Sure enough, as we came around the curve along the lagoon, we spotted the awesome, astounding dragon. After taking in the impressive sight for a few moments, we also caught a glimpse of the Hogwarts Express chugging down the track to Hogsmeade Village.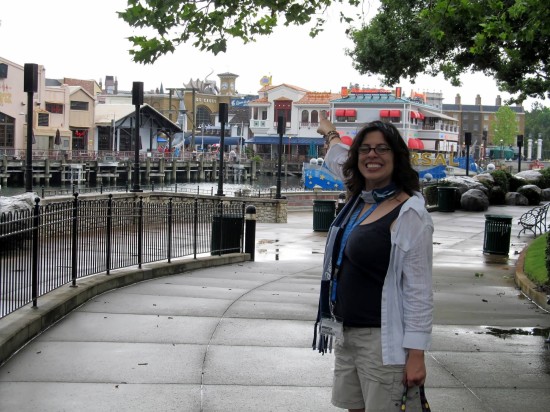 I am thankful for my recent visit with the biggest Potterhead I know. It reminded me how magical this place is and made me all the more excited for the unveiling of Diagon Alley.
So as we prepare ourselves for what is sure to be a chaotic and slammed opening of the new Wizarding World, let us not forget the magic that the old Wizarding World continues to create on a daily basis.
To read up on another recent first-ever tour of the Wizarding Worlds, be sure to check out our write-up of the Weasleys visiting Diagon Alley. You can also see what the top five Escape from Gringotts elements for Potter fans are, or geek out over it all with fellow fans in the OI Community Forums.