As we get closer and closer to the grand opening, and as Universal continues to reveal more and more of the new land's contents, we can now, for the first time, start to get a very real sense of just what the new Wizarding World of Harry Potter – Diagon Alley will be like.
And while most of this produces only tingles of excitement, it can also elicit some gnashing of teeth. Why? The huge deluge of crowds is a very real concern – the first Wizarding World had lines that lasted some eight or nine hours, and that was just to get into the area – but there's also the growing realization of just what Universal's limitations are.
Today, we set aside our admiration for the Harry Potter expansion and share our predictions for the biggest complaints guests will have about Diagon Alley.
Too many stores, not enough rides
While Harry Potter and the Escape from Gringotts and the Hogwarts Express will undoubtedly be two of the most immersive, amazing rides in the history of the theme park industry – they're certainly already among the most expensive – they are, at the end of the day, just two rides.
Yes, a new (and expanded) Ollivander's will be on hand, and there's going to be at least one new show at the Carkitt Market area, but will that be enough to satiate the rabid fans?
There are two additional issues that may make this an even stickier problem for Universal than it might otherwise seem. Firstly, the roughly 15 stores – that's three times the number over at Hogsmeade – are being billed by the company as another attraction, providing a slew of unique experiences and merchandise that should, in theory, extend the guest's level of immersion (and line of credit, but of course). Secondly, the RFID-equipped magic wands that will allow Muggles to interact with store displays all throughout Diagon Alley (and, according to rumor, Hogsmeade, as well) have gotten delayed, possibly until next summer.
As such, the vast majority of an individual's time in Diagon Alley will consist of looking at, being in, or waiting in line at shops. And while this is already largely the case at Hogsmeade, it may end up feeling more deliberate or manipulative in this instance, as if the occasional ride or theater show is there to merely help propel you from one store to the next, creating an overwhelming expectation – especially for young fans – that spending money beyond the purchase of theme park admission is an absolute requirement to enjoy the Wizarding World.
Express Passes & Early Park Admission are worthless
While our readers are likely to be better educated in this matter, it goes without saying that thousands of less-prepared guests will unwittingly pay upwards of $129 per person, per day for Express Pass access this summer or pay a large premium to stay on-site to get Express Passes and Early Park Admission benefits.
However, just as with Harry Potter and the Forbidden Journey over in Hogsmeade, neither Escape from Gringotts nor the Hogwarts Express are expected to feature Express Pass access (though they might at some distant point in the future). Those ill-prepared guests who paid more for daily Express Passes than they did for daily admission will be furious – and, despite Universal's efforts to communicate EP restrictions, their numbers are likely to be in the tens of thousands by the end of the expansion's first year.
Similarly, if Diagon Alley implements return time tickets as Hogsmeade does during peak times, this is yet another wall that Express Passes will not get you through.
And what about Early Park Admission? To the disappointment of everyone, it is quite possible that this benefit is going to be almost completely mitigated, as well: with the opening of Cabana Bay Beach Resort this summer, an additional 1,800 rooms will be filled with individuals who are all also guaranteed early-hours access.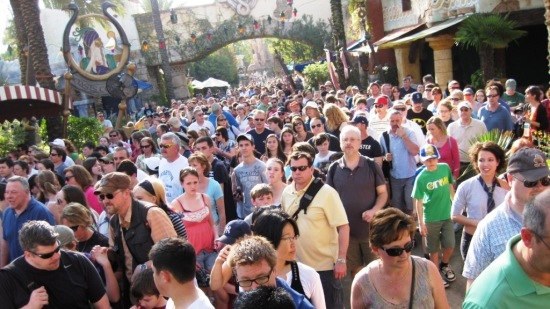 That means there will be at least another 5,000 people crawling all over the Wizarding World before rope-drop – and that's not even including Universal's 20 partner hotels, which are afforded the same benefits (or the rumored fifth on-site resort, for that matter, which might open as early as next year).
The only faint glimmer of hope here is the rumor that Universal will somehow stagger the huge number of guests staying at Cabana Bay (and, eventually, the fifth hotel) during early park admission, although we have absolutely no idea how this could be instituted in practice.
Hogwarts Express = a $176 pass to wait in line
The Hogwarts Express attraction will actually consist of two trains, each seating roughly 200 passengers. Given a six-minute ride time and another approximate four minutes for loading/unloading, that's 400 people being processed every 10 minutes – not bad, but nowhere near the level necessary to handle the crowds that will swamp the Express for the foreseeable future.
If we should expect a consistent wait of two to three hours at any time throughout the day at both King's Cross Station in Universal Studios Florida and Hogsmeade Station at Islands of Adventure, then that means an intrepid traveler attempting to experience both legs of the journey will spend a mind-numbing six hours in line (for 12 minutes of ride-time).
Given that a two-day park-to-park ticket, which Universal is already positioning to be the de facto ticketing option, now costs $175.99 (if you purchase it online), you can see how the single biggest complaint about Diagon Alley will be paying a premium to wait more in line.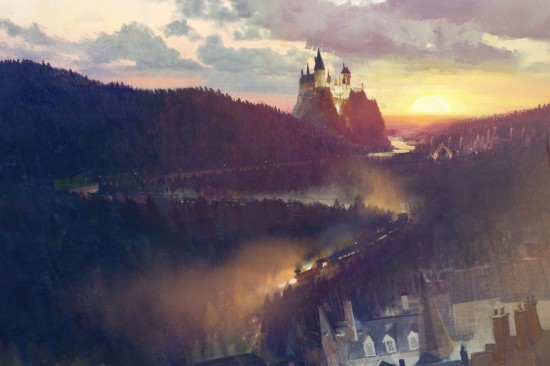 This will also more than likely be the biggest source of frustration for Universal itself, given that this is the option that is most out of its hands; it can always attempt to throw more man-hours at finishing the construction or have altered its plans to reduce the number of storefronts and increase the number of attractions, but the Hogwarts Express, by its very definition, is precisely what it is: a train that can only carry so many guests at any given time between two points. If it had even tried to alter it, author J.K. Rowling and license holder Warner Bros. would have pulled the plug instantly.
Not knowing when the Wizarding World will open
This may be something of a short-lived problem – visitors this time next year won't have to worry about Diagon Alley's exact opening date – but it's certainly the number one complaint of vacation planners everywhere at the moment, and its ramifications can possibly continue to wreak havoc on travel plans for a good while to come.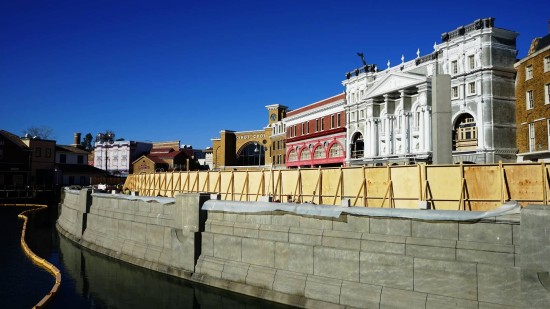 It's been widely expected that Diagon Alley will open in June, just as Transformers: The Ride 3D did last year and the first Wizarding World did four years ago, but the closer we get to that time frame, the more widely-divergent information keeps popping up. Theme Park Insider, for instance, recently published a report that they had received "credible" word that soft openings will begin on May 14, meaning that June is certainly still in play.
But we here at Orlando Informer have heard back from one of our trusted sources that, given the amount of cycling time that is required on Escape from Gringotts before it can open (that's 3,000 hours, in case you're wondering), Universal may be looking at a September debut.
For now, all we can do is what we have been doing for two years already: speculate what the grand opening date will be. While it was fun for the first year or so, it's starting to get tiresome for us – and we're not even trying to plan a $5,000 summer vacation.
Despite the inevitable complaints, can there ultimately be any doubt that the Wizarding World of Harry Potter – Diagon Alley will be one of the most magical experiences to be had at any theme park the entire world over? After almost exactly four years of incessant crowds and raised ticket prices, guests still flock to Hogsmeade, happily riding the same attractions and dropping loads of Muggle cash on the likes of chocolate frogs and non-interactive wands.
And this is precisely what all of us will do all over again starting this summer. To learn more, visit our Complete guide to Diagon Alley in the OI Universal Center.
Now you've heard our predictions. What are yours?
[sws_author_bio user="msunyata@yahoo.com" size="105″ authorposts="More OI posts by Marc" name_format="About the author"] [/sws_author_bio]