One of the many joys of visiting theme parks is indulging in sweet treats you might otherwise resist. In this edition of THE BIG 5, I take your sweet tooth on a journey through Universal Orlando's best desserts.
And please note: for this countdown, I stuck with desserts that can be found in the two theme parks and CityWalk.
#5 – Chocolate trifle & ice cream at Three Broomsticks
The trifle is a traditional, layered dessert hailing from the UK. The chocolate trifle found at Three Broomsticks is layers of moist chocolate cake, chocolate mouse, and fresh strawberries. Each time I felt like I was having too much chocolate, a spoonful of fresh and sweet strawberries would change up the taste. And the serving size is just enough to get your sweet fix without feeling weighed down.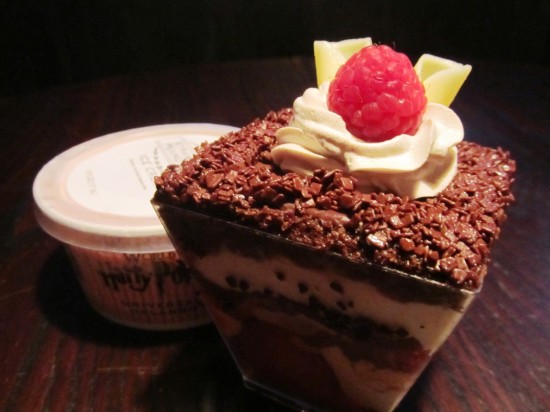 Three Broomsticks is also home to Florean Fortescue's ice cream, which is available in vanilla, chocolate, and, my personal favorite, strawberry peanut butter. I am a peanut butter fanatic!
Soon we will be able to enjoy Florean Fortescue's Ice-Cream Parlor at Diagon Alley. I hope that the ice cream there is hand-scooped; the current variety is prepacked and frozen pretty solid. I suggest letting it sit to soften it up.
#4 – The "King" Carrot Cake at NASCAR Sports Grille
You don't have to be a NASCAR fan – or even a sports fan – to appreciate the great food and generous portions at NASCAR Sports Grille. It is difficult to choose a dish from the impressive dessert menu (which consists of seven choices!), but the "King" Carrot Cake would have to be it.
The sweet sugar-and-spice cake is made fresh, in-house, and definitely with love. And at nearly a pound, it is massive! Nothing prepared me for how big it is.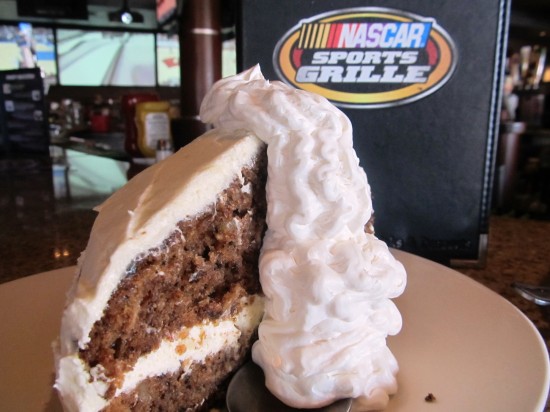 This dessert is a homemade classic and is very comforting. Just make sure you have a few folks with which to share.
A very close second to the massive carrot cake is the Chocolate Tire Blowout. Not only is it a cute name, it is a chocolate lover's bliss. Who doesn't love molten lava cake? NASCAR Sports Grille serves theirs warm and melty with cold vanilla ice cream.
#3 – Chocolate Hurricane at Jimmy Buffett's Margaritaville
Get ready to be blown away! You will absolutely have to have a crew with you to defeat this bad boy.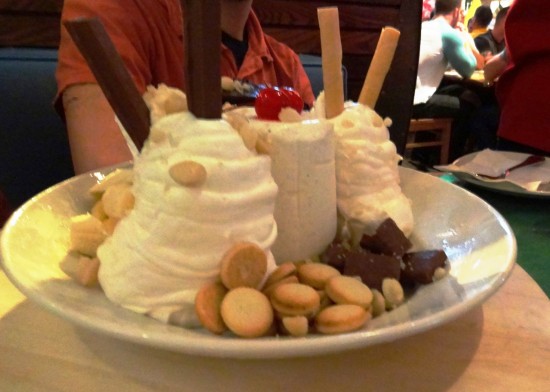 A whole pint of vanilla ice cream is accompanied by brownies, Kit Kat and Heath bars, mini-cookies, sliced bananas, chopped macadamia nuts, and a crazy amount of whipped cream. Chocolate and caramel sauces are swirled at your table in a hypnotic spinning turn on a Lazy Susan. It is one of those "I can't believe we're doing this" epic desserts.
#2 – Fresh Apple Cobbler at Hard Rock Cafe
Who knew rock stars had such a sweet side? This Fresh Apple Cobbler is almost worthy of a standing ovation. The apples are crisp, tart, and surrounded by a luxurious, caramelized brown sugar filling. The crumble topping is buttery and not too crisp, and a few raisins add a subtle juicy sweetness.
Of course, what apple dessert would be complete without a scoop of creamy, sweet vanilla ice cream topped with caramel sauce? This comforting dessert is sure to make you feel warm and toasty inside.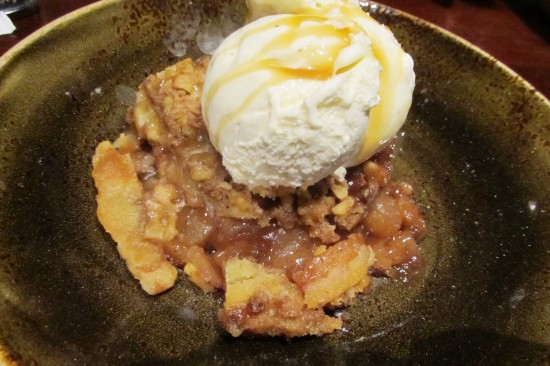 I have also tried the Twisted Shakes at Hard Rock. There are four flavors of these adult-oriented, alcoholic milkshakes, and I've had two: the Twist & Shout Shake and the VooDoo Brew.
The Twist & Shout is a blend of Guinness Stout, Barcardi Oakheart spiced rum, dark crème de cacao, chocolate syrup, and vanilla ice cream. Supposedly, there is also salted caramel syrup, which I could not taste, and it is topped with whipped cream and bacon pieces. Overall, this shake tasted very watered-down and left me underwhelmed.
The VooDoo Brew has much stronger flavors, and I was very pleased. This fruity, creamy shake is made with vanilla ice cream, Smirnoff Blueberry vodka, Monin Desert Pear, and Shock Top Belgian white ale.
#1 – Chocolate Banana Gooey Cake at Mythos
Overlooking the beautiful Islands of Adventure lagoon, Mythos is an iconic theme park restaurant. It is beautiful inside and offers a panoramic view of the park.
When it's time for dessert, the Chocolate Banana Gooey Cake takes the ever-popular chocolate molten lava cake to a new level.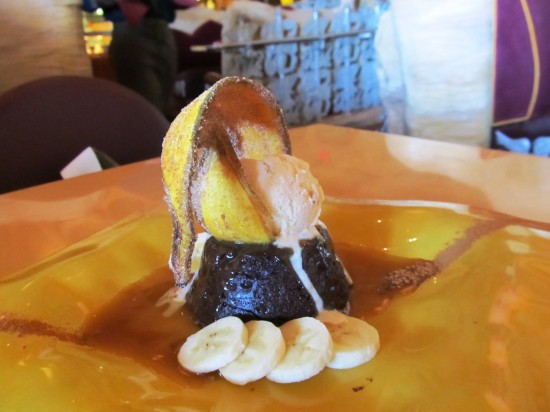 The warm, flourless chocolate cake melts in your mouth. The fresh-sliced bananas are sinful when dipped in the gooey chocolate flowing over the plate. But the best part, for me, is the peanut butter ice cream (told you I am a peanut butter fanatic!) – both it and the caramel sauce heighten the indulgent flavors of this delectable dessert.
Honorable mention: Mini Dessert Shots
I am a big fan of this concept, as I love to end a meal with something sweet but am also trying to eat better and manage my weight. Luckily for me, these mini-desserts fit the bill perfectly.
There are four flavors from which to choose: crème brulee, Oreo, key lime, and raspberry cheesecake.
The raspberry cheesecake is my favorite of the four; the cheesecake would have been too plain without the raspberry topping, but, together, the layers are sweet and satisfying.
Being on vacation means doing all sorts of wonderful things you can't normally do at home. So while you may think twice about ordering dessert when you're out to eat back at home, don't give it a second thought when you're having a blast at Universal Orlando – there's just way too many terrific treats to resist. Besides, you're bound to burn off those calories with all those extra steps you'll be taking as you walk throughout the parks.
If you enjoyed this article, you can check out all of the BIG 5 blog posts on Orlando Informer!
[sws_author_bio user="danidennison" size="105″ authorposts="More OI posts by Dani" name_format="About the author"] [/sws_author_bio]