The first phase of Cabana Bay Beach Resort opens next Monday, and to celebrate, we're throwing a party, BIG 5-style!
Read what gets us the most excited about Universal's first-ever budget hotel, and then tell us what you're most looking forward to in the comments below.
#5 – Family suites
One half of Cabana Bay's 1,800 rooms will be family suites, which are 430 square feet in size and which sleep up to six. Universal is very obviously attempting to compete against Disney's recent Art of Animation Resort suites, since the amenities are comparable (though a bit smaller): two flat-screen TVs, a kitchenette area, sliding partition for privacy, and an "extra-large" bathroom that can fit three at a time. Prices range from $174 to $209 per night, which is cheaper than their Disney counterparts.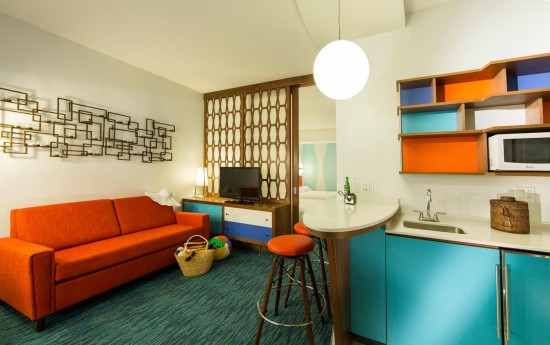 Having the ability to easily (and cheaply!) stay with one group is nice, and the rooms themselves look nothing but inviting. And since these family suites open up first (the standard rooms bow on July 1, alongside the hotel's "grand opening"), we'll have plenty of time to break them in before the Wizarding World of Harry Potter – Diagon Alley debuts this summer.
#4 – The theme
Though, at first blush, the retro 1950s/'60s vibe doesn't seem to be quite as intriguing as, say, Springfield USA, there's no denying that Universal Creative's designers have gone above and beyond the call of detailing duty. Utilizing a bold color palette and perhaps the most extensive application of a hotel theme yet, Cabana Bay is a sight to behold, from the rooms to the Bayliner Diner food court to, even, the Jack LaLanne Fitness Center (which is complimentary, unlike at the other on-site hotels).
Everything screams "hip and vintage," as the company itself describes it, resulting in a property that truly looks nothing like anything else on either Universal's or Disney's lot. Don't be surprised if this instantly tops the list of the most visually appealing and classically fun hotels anywhere in Orlando.
#3 – The extras
An enjoyable theme demands fun activities, and Cabana Bay has them in spades. In addition to the standard recreational offerings at the other on-site hotels, such as dive-in movies and a game room, Cabana will also feature volleyball, ping pong, bingo, and, most befitting the vibe, poolside hula hoop contests.
The true star here, though, is easily Galaxy Bowl, a 10-lane bowling alley that looks positively '60s but offers a modern array of food and drink, including beer, wine, and churros. Oh, there's also going to be pool tables on hand, along with "music and video screens," but of course.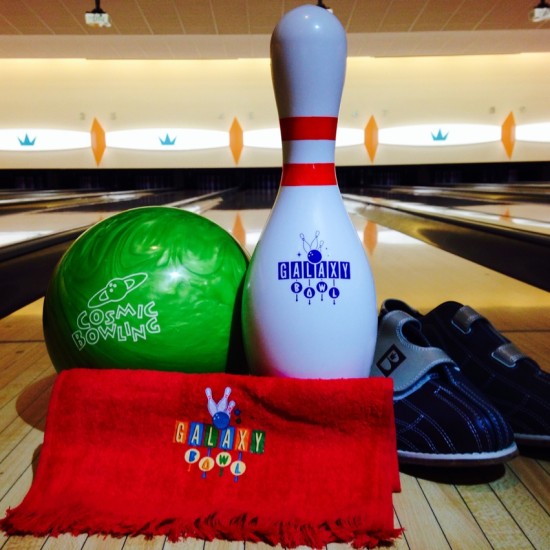 The most impressive part of this lineup, aside from its sheer versatility – which Universal absolutely needs in order to accommodate the 5,000 to 7,000 guests it'll have on-hand at any given time – is how it fully complements the family-road-trip-of-yore feel. We weren't kidding when we said this might be the most extensive usage of theming in a resort ever seen.
#2 – Pool areas
Cabana Bay Beach Resort will offer two pools, making it the only property other than Portofino Bay Hotel – Universal Orlando's flagship venue – to do so. Both are zero-entry and feature a sand beach, but the additional amenities differ quite a bit from there.
The pool in the North Courtyard, where most of the family suites are located, is 10,000 square feet and features not only a fully retro-looking water tower, but also a 100-foot waterslide that just so happens to run right through it. And while the South Courtyard's pool may only be 6,000 square feet, it features Universal's first-ever lazy river – more on that in just a moment.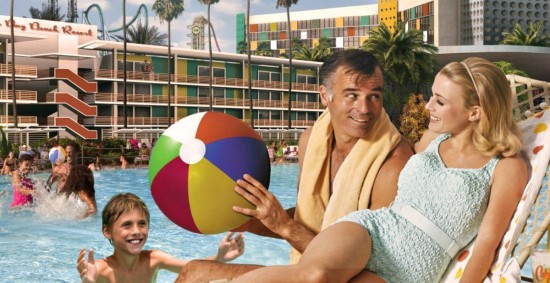 And what pool area would be complete without a bar/snack counter? Up north, the Atomic Tonic will serve up exotic alcoholic concoctions, while the Hideaway Bar and Grill down south will feature – you guessed it – grilled offerings.
"Honorable mention" – the dark side of Cabana
We typically reserve our honorable mention entries for exactly that – an honorable mention – but this time we thought we'd turn the format on its head and address some of the drawbacks of Universal's first value-/moderate-priced resort.
Although most of the deluxe hotels' benefits will be extended to Cabana Bay guests – early park admission, the delivery of souvenirs right to your room, free transportation to Wet 'n Wild and the SeaWorld parks – there are a number that, unfortunately, will be denied. Chief among these is the lack of complimentary unlimited Express Passes, which is Universal's (expensive) skipping-the-regular-line option, but there are others that also must be taken into account: the inability to bring pets into the hotel, Cabana's distance from the rest of Universal Orlando, and the lack of water taxi service to and from CityWalk. This means that if you want to get to the theme parks, you'll need to wait for a shuttle or just walk.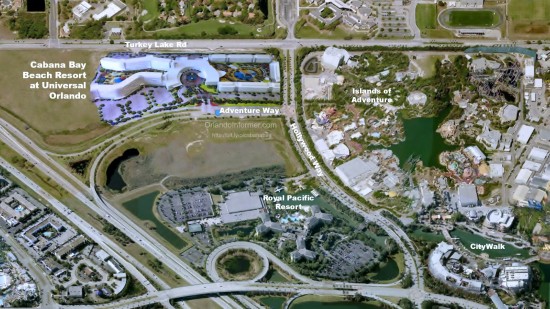 And, finally, as if all this weren't enough, there's also the rumor of Universal somehow staggering Cabana Bay guests' early park admission in an attempt to stem the flow of the several thousand more people into the Wizarding Worlds of Harry Potter every morning. We really don't see how this could actually be put into practice, but it's worth mentioning, at the very least. (For more on all this, please see our recent blog post.)
#1 – Lazy river
The single biggest item we're absurdly giddy over is the venerable lazy river, which already sounded like a lot of fun before Universal announced that it was going to be throwing a number of little twists into the formula. How does the addition of waterfalls that you'll be passing under, water cannon that other guests will shoot at you, and a stronger-than-normal current to propel you along sound? Like the perfect end to a busy day at the parks, if you ask us (which you must've).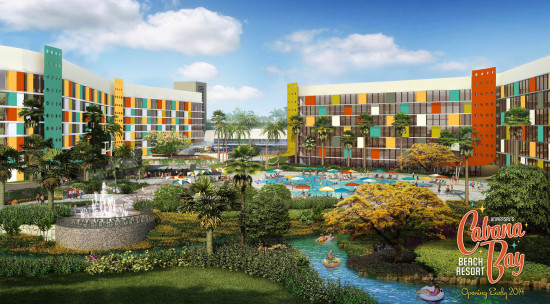 Taken with everything else that Cabana Bay Beach Resort has to offer, it makes for an undeniably attractive stop on your next vacation – even if you're staying somewhere else.
Want to learn still more about Cabana Bay? Be sure to check out our overview of the new resort. Or you can read all of our BIG 5 blog posts.
UPDATE: Orlando Informer will be spending the night at Cabana Bay Beach Resort on March 31. Be sure to follow us on Twitter for live photo updates all evening!
[sws_author_bio user="msunyata@yahoo.com" size="105″ authorposts="More OI posts by Marc" name_format="About the author"] [/sws_author_bio]