Welcome to the next edition of our Special Needs Are Universal column, featuring questions and answers to help those with disabilities plan their day at Orlando's theme parks. Our ultimate goal is to give families the confidence to enjoy all there is to do across this amazing vacation destination!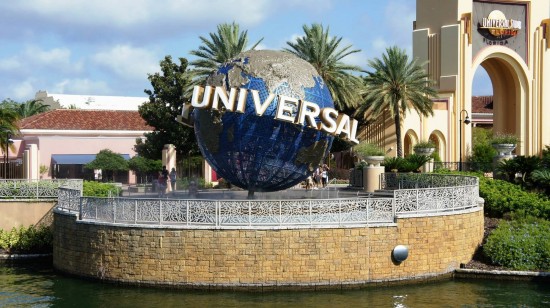 Punxsutawney Phil has decreed that there will certainly be six more weeks of winter, but people are already making their plans to visit Universal Orlando Resort this year. Those with disabled family are no exception, and I've received more questions in the last couple of weeks than ever before! I'm hoping that this little blog really is helpful to those of you who are disabled or have special-needs family.
"Horror stories" about disabled guests visiting Universal Orlando
As usual, many of our Universal guests will be coming from the United Kingdom this year. Thanks to Lee and Tracey, hosts of the UK Unofficial Universal Orlando Podcast, I have my first request from across the pond.
One of our listeners, Maddy, has a daughter with a condition called PFFD. Because she will be having extensive surgery following their August visit, which will require a restrictive apparatus, she would love her daughter to have a perfect trip, if possible. They will be staying in a villa, but will spend five days at Universal Orlando, with one night at Hard Rock Hotel.  Unfortunately, Maddy said that she had heard horror stories about the parks, and we wanted to know if I could calm her fears.
I researched PFFD (because I am not a medical professional) and found an easy to understand version at Wikipedia. Proximal Femoral Focal Deficiency is a rare condition that affects the pelvis, usually the hip bone, including the proximal femur.
Maddy, I have heard you are a little concerned about visiting the Universal's theme parks, and I hope that I will be able to allay those doubts. When your child has a disability, it makes it even more important to know what they may or may not be able to ride before visiting.
First of all, please download and review this pamphlet, Universal Orlando Rider's Guide for Rider Safety & Guests with Disabilities – PDF file. I don't recommend printing it because you can pick up a copy at the park once you arrive. It provides a list of all the attractions and their height and other special requirements for riders. Make sure you read the paragraph on Guests Using Manual Wheelchairs.
Secondly, please visit our Attraction Assistance Passes page in the OI Universal Center. This is our information on the disability pass that you should request at Guest Services when you first arrive at the parks. It is good for both Universal Studios Florida and Islands of Adventure, and it will be written to accommodate your entire vacation. In the past, I have recommended taking a doctor's note even though the Team Members who staff Guest Services cannot read them. However, it has been helpful, for other reasons, to have a copy with me just in case there is a medical emergency of some kind, especially when you are far from home. In a pinch, if I have worked with a staff person who was not very understanding, I'd just say, "I have a doctor's prescription" and place it on the counter.  For some reason it seems to grab their attention. I really don't think you will have a problem, but if you do, ask to speak to a supervisor. If that person is resistant, ask for the ADA supervisor. And most importantly, don't get angry – just advocate for your daughter's needs and smile. We visited the park recently, and while waiting for our turn to request our pass, the person in front of us received his with absolutely no difficulty.
I was really concerned when you said you had heard "horror stories" about going to Universal, as it really is our family's favorite Orlando theme park. I wish I knew what you had heard. Honestly, 98% of the staff at both Universal Studios Florida and Islands of Adventure has been super-wonderful to our daughter. They have offered free food and drinks, and they have let her ride a second time on several rides over the years, even though she doesn't have the need to "re-ride" like several with autism do. When we've been there on her birthday and mentioned it to the ride attendants, it's announced over the loud speakers. And if you've read my story about Flight of the Hat, you will see just how accommodating Team Members at Universal have been. Usually the negative stories are from those who don't advocate for their families' needs, which is necessary from time to time at any theme park, nor do they address their problems with the appropriate staff members.
Now that I've shared the basics about visiting Universal Orlando with a disabled family members, let me get into a few more details…
Universal Orlando attractions for kids
Almost all the rides designed for children have a height requirement between 36" and 48", but it is important that you check the Rider's Guide for the listed height. I will tell you that our granddaughter has been riding rides since she was quite young.
It sounds, from your description of your daughter, that she may be able to ride most of the smaller rides as long as they are not too forceful for her. I don't know just how much bumping or spinning your daughter can take, but I can recommend most of the shows and attractions. I think the best thing for you to do is read Orlando Informer's ride descriptions, so please the free guide for  Visiting USF with kids and Visiting IOA with kids.
As for play areas, USF has Woody Woodpecker's KidZone; I've heard rumors that this may be in for a makeover, so it may be good to experience the area before it disappears! And in IOA don't miss Me Ship the Olive at Toon Lagon, it's completely wheelchair accessible with an elevator inside, and Camp Jurassic at Jurassic Park, also accessible. Our daughter loves to go through a stroll here, searching for dinosaur imprints on the walkways. And if your daughter loves the teacup-like rides, she'll also enjoy Storm Force Accelatron – it's the same thing, just a different theme!
Team Members are key to a successful visit
As I mentioned earlier, we recently visited Universal Orlando for the day. From the time we walked through the gates at Universal Studios Florida until we left Islands of Adventure, we had one of the most remarkable days ever! I talked to many Team Members that day, thanking them for the kindness they showed as we disembarked the rides or entered the parks. One TM with a "trainer" badge took one look at our daughter's face and just KNEW we were having fun! I told her how we felt about the people who work there, and she said she'd be sure and pass it along to her supervisors.
But the largest display of Universal's commitment to disabled riders that day came when we walked up to the gates at Harry Potter and the Forbidden Journey and spoke to the ride attendant, asking to be shown to the secondary platform. He informed us the platform was under repair, so they could not board us via that entry. My heart sank because we LOVE this ride! He asked if we had a return time ticket, and finding we didn't, handed us a small piece of paper.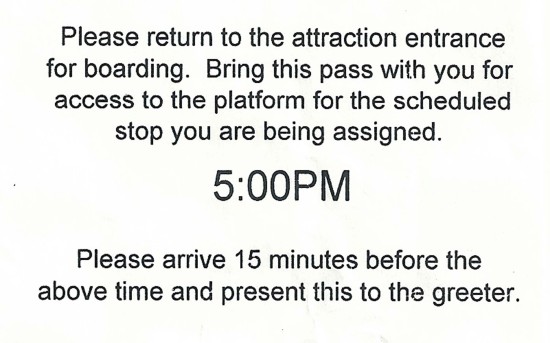 Because there was only 20 minutes left before our return time, they allowed us to enter the attraction, where we waited near the Child Swap room watching the main platform. Now I understand why there is a secondary loading station – there is no way our daughter or I could ever hop in the "enchanted bench" as quickly as those fly past on a moving walkway.
[youtube_video]W1j7ZusjdHI[/youtube_video]
At the appointed time, the ride stopped loading new passengers and TMs began showing disembarking guests to the exit. Then, after a few moments, the ride came completely to a halt. As the lights came on, the TMS loaded approximately 10 waiting benches, allowing all of us with disabilities to get seated and harnessed. We were not rushed to do so, but led to our benches carefully.
Suddenly we were flying! We usually miss about 15 seconds of the ride using the secondary platform, so for the first time, we were able to witness those missing parts. Best of all, the TMs just seemed to be really happy that they could assist us so we didn't have to miss the ride with the secondary platform closed for repairs! There have been times at another theme park resort where the lift that moves the wheelchair to where the ride disembarks has been inoperable, so we've had to forego riding. Universal Team Members made sure we didn't have to miss Forbidden Journey!
This example is just another reason why Universal Orlando has become our parks of choice. The look on our daughter's face while riding is a thrill for me, and I spend most of my time just watching her overwhelmed expressions of joy! I hope Universal can offer this same happiness to your daughter and your family, and you all will be in my heart and prayers.
DISCLAIMER: Neither the author of this post nor any of us here at Orlando Informer is an official representative of any theme park in Orlando. While we work diligently to provide you with the very best advice from our collective expertise and experience, it is still your responsibility to verify your plans with each theme park. Thanks for your understanding!
View all of our Special Needs Are Universal posts
Do you have a
Special Needs Are Universal
question for Debi? She is available to assist your family in the
SNAU section of the OI Forums
. Registration is free, and once you have an account, we invite you to join the conversation or ask a new question.
[sws_author_bio user="iamdollie" size="105″ authorposts="More OI posts by debi" name_format="About the author"] [/sws_author_bio]