Welcome to the first edition of Special Needs Are Universal for 2014.  To start out the year, I'd like to remind our readers that Orlando Informer already has a considerable amount of information to help disabled families plan their visit to Orlando's theme parks – including over 20 of our SNAU blog posts and the only page we know of that provides complete details for Universal's Attraction Assistance Pass – and I am very happy that I have been able to play an important role in this effort.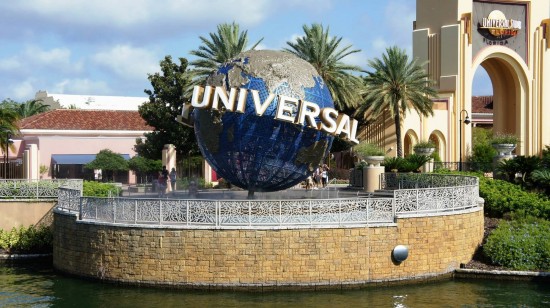 My family has found so much joy and entertainment at Universal Orlando, and for years I shared with everyone I met with disabilities that this was THE theme park that really does understand the needs of its disabled guests. I recently was asked to talk to a family who had heard horror stories about going to Universal, as they hoped I could allay their fears.
You can have an incredible vacation – and we can help!
I'm not going to deny that there have been a few difficulties over the years, but it is important that, if something does occur that just doesn't seem right, each guest should immediately report the problem to either the ride supervisor or to Guest Services. To use my favorite axiom, "you can't fix what you don't know is broken!"  When reporting to a Team Member, don't get angry – just state what the problem was plainly and calmly. Usually it has just been a miscommunication. I've had the same thing happen at Disney World, and often the problem comes down to a new hire who took it upon him/herself to use their new-found power to become a gatekeeper.
I can tell you that each and every concern we've brought to Universal has led to a positive outcome. And I feel that Universal didn't do something just to appease us; they did it because they really did and do care. The team that oversees Universal's ADA requirements is accessible to all guests to answer questions and take care of concerns. That cannot be said of some of the other parks. The positive commitment Universal has made to making sure those with disabilities have a great time has far outweighed the negative. So, those of you who have felt your family member just can't "do" a theme park, well, I'm here to assure you that, with planning and by using some of the tools we have collected on this site, every disabled individual can have a wonder-filled experience.
Planning for a vacation, or even just a day trip, can be more challenging when there is a family member who has a disability, be it physical or developmental. My family has spent 15 years navigating the Universal Orlando's theme parks, learning the ins and outs literally by the seat of our pants – there wasn't a lot online when we first started our visits. I have found the staff at Universal Studios Florida and Islands of Adventure to be helpful and caring, and their dealings with our daughter's needs sold us on returning year after year.  It is in this spirit of compassion that I was pleased to help Orlando Informer put together the information we feel is of service to our readers. I hope you will continue to send me your questions in the coming year! I will do my best to find the information you request, and if it's something I have already covered, I will link you to the articles that contain the material you seek.
Visiting Universal Orlando with cystic fibrosis
I have been working on several questions recently, and in the near future I will report on how the DAS (Disabled Access System) has really been working at Disney World. But for now, I'd like to focus on these questions I recently received:
Mick sent me his concerns about his upcoming stay at the Hard Rock Hotel. His daughter has cystic fibrosis and, to help her maneuver the parks, they use a wheelchair to transport her. He wanted to know how far the hotel is from the parks, and he also asked about the rides and park hours – he didn't want to rush his family's visit. Having this information would help him should his daughter have difficulty breathing during their visit.
As the closest of the on-site hotels to Universal's parks, Hard Rock Hotel is just a hop, skip and jump away from the main entrance to Universal Studios Florida. In fact, OI already has a page in the OI Universal Center about this very question. Viewed using Google Maps, the walk from the Hard Rock is a fifth of a mile and takes you right to the USF gate. If you are heading to IOA first, take the same path, but instead of turning into USF, you just continue another 1/5 of a mile to the IOA turnstiles. Orlando Informer has information covering all the Universal on-site hotels, plus the newest addition, Cabana Bay Beach Resort, opening this spring!
Universal is one of the BEST when it comes to accommodations for those in wheelchairs — this is one reason why July will begin our 16th year as Annual Passholders. Everything is well marked, elevators are where they are needed, and walkways and ramps are more than accessible. I don't think you will have a problem maneuvering around the parks using a wheelchair because we never have. If you have noticed something in particular that you think might be difficult, by all means let me know.
A freshly updated Guide for Rider Safety & Guests with Disabilities (PDF file) is now online. It's always a good publication to have available.  You can view it from the link above, but I wouldn't recommend trying to print it. Instead, view it online as needed, then pick up a hard copy at Guest Services when you arrive.
I thought it would also be helpful for you to know where to find the First Aid facilities at the parks. They are staffed with professional paramedics and registered nurses. In Universal Studios Florida, First Aid is located in the New York backlot next to Louie's Italian Restaurant (across from Beetlejuice's Graveyard Revue), and there is a Family & Health Services satellite facility next to Lost & Found near Guest Services at the front of the park. In Islands of Adventure, the primary First Aid Station is next to The Eighth Voyage of Sindbad in Lost Continent, with a satellite in Guest Services at the front of the park.
In the images below, the plus sign marks the facilities' locations.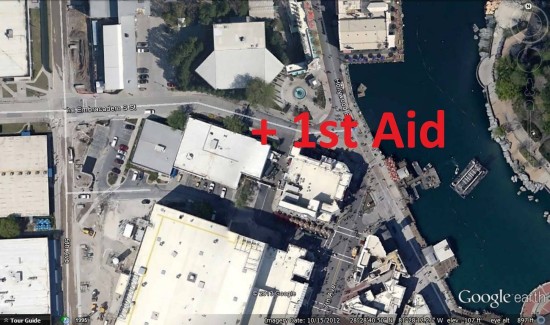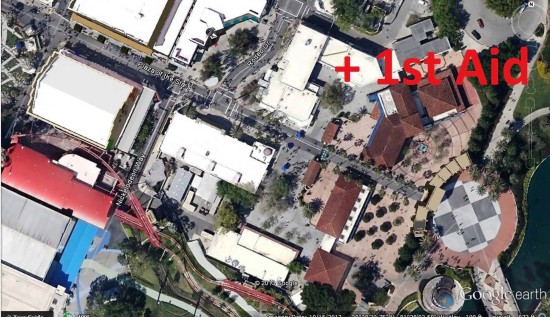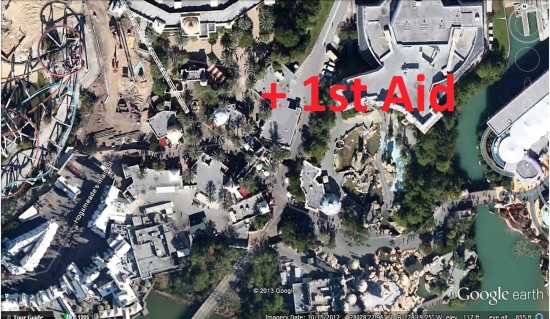 The other question Mick asked was about park hours. OI also has the most useful park calendar I've seen that provides both hours of operation of the parks, special events, and what the crowds are estimated to be on any given day. A lot of work has gone into this calendar, and I've found it to be extremely accurate.
I'm also giving you the link about Universal's attraction Assistance Passes. This pass can be issued to your daughter at Guest Services, and it allows your family (up to 6 members) to receive a time to return to rides when the wait is longer than 30 minutes. It is good inside both Universal Studios Florida and Islands of Adventure. When you have a child with a special need like your daughter's, getting caught in a long twisting and turning line could be a problem if she has a medical emergency. I, for one, appreciate the help Universal has given our daughter due to her cognitive and mobility disabilities.
Contact me if you have questions
I hope that Mick, his daughter and his entire family will have a wonderfully delightful time visiting the Universal Orlando Resort.  If I can be of help to anyone with disability questions, please do not hesitate to contact me at the SNAU forum, and I will do the best I can to point you in the right direction for the answers you seek. Happy New Year!
DISCLAIMER: Neither the author of this post nor any of us here at Orlando Informer is an official representative of any theme park in Orlando. While we work diligently to provide you with the very best advice from our collective expertise and experience, it is still your responsibility to verify your plans with each theme park. Thanks for your understanding!
View all of our Special Needs Are Universal posts
Do you have a
Special Needs Are Universal
question for Debi? She is available to assist your family in the
SNAU section of the OI Forums
. Registration is free, and once you have an account, we invite you to join the conversation or ask a new question.
[sws_author_bio user="iamdollie" size="105″ authorposts="More OI posts by debi" name_format="About the author"] [/sws_author_bio]