Yes, it's only been a few days since last Thursday's webcast officially announcing many of Diagon Alley's key features, but that hasn't stopped a whole slew of further tidbits, clues, and, even, bombshells from falling our way. Thanks to delayed reports, glitching websites (we're looking at you, Universal Orlando), or some great detective work done by journalists and fans alike, here are the six biggest secrets we've uncovered, ranging from Harry's presence in the expansion, to the (sudden) addition of warm butterbeer, to our very first glimpses of just what will be on the Hogwarts Express train ride.
More stops on your shopping spree
While we tried to be as thorough as possible in our first After the webcast blog post, particularly in our rundown of the shops lining Diagon Alley proper, information is a fickle beast, and she likes to come at us in spurts (usually when we're not looking!). We now have a few more store names and locations to add to our comprehensive list, making this the most accurate Diagon map yet:
Magical Menagerie is located to the immediate left of Gringotts Bank.
Scribbulus Writing Implements is to the right of Wiseacres Wizarding Equipment (Harry Potter and the Escape from Gringotts's gift shop).
New fake storefronts: in addition to Flourish and Blotts and The Daily Prophet, we can now add Wands by Gregorovitch and Broomstix, in that order, to the right-hand side of Diagon Alley.
We also managed to get some information – and some intriguing visuals – on the brand-new products that will grace the walls of Weasleys' Wizard Wheezes: the Decoy Detonator, Umbridge on Unicycle, Nose-biting Teacups, and Skiving Snackboxes.
An ever-expanding wizarding menu
During a discussion of the Diagon Alley media tour from last Wednesday, we now know that Steve Jayson, Universal Orlando Resort's executive chef, is attempting to lock down the Leaky Cauldron's menu before flying (again!) over to Scotland to get author Jo Rowling's tacit approval of everything in April (which is kind of cutting everything a bit close, no?). Universal won't be able to give any definitive descriptions of what'll be on tap until then.
Except for one key piece of its culinary lineup, that is: warm butterbeer, which was only recently rumored to be in the R&D stages, has already been released "in the wild" during the Harry Potter Celebration this past weekend. In the books, butterbeer is either served cold in a glass or warm in foaming tankards, but Florida's all-too-present climate, of course, helped persuade Chef Jayson and the others to switch out hot for frozen. Although there's no official word on when the warm variety will be made permanently available at the parks, expect it to be on tap at Hogsmeade before June's grand opening and, of course, at Diagon Alley thereafter.
Warm #butterbeer. I was hesitant, but it is so delicious. Think the best cup of hot chocolate but w/ butterscotch. pic.twitter.com/70DJDVgo4r— Orlando Informer (@OrlandoInformer) January 25, 2014
In addition to all this, it has come to our attention that there will be a free-standing beverage cart called "O'Corke's Cooling Beverages" in the middle of Carkitt Market, which will, more than likely, be selling butterbeer, presumably in all its varieties.
Putting the Harry in "Harry Potter and the Escape from Gringotts"
A little over two weeks ago, we turned a few heads when we published our (then-) complete telling of Harry Potter and the Escape from Gringotts, the ride that will be housed in Gringotts Wizarding Bank – but not necessarily for our walk-through of the queue or our rendition of the ride experience. Rather, it was our decision to include Harry as one of the characters in the attraction that got tongues wagging, due to actor Daniel Radcliffe's continual reticence to pick up his broom and Invisibility Cloak once again.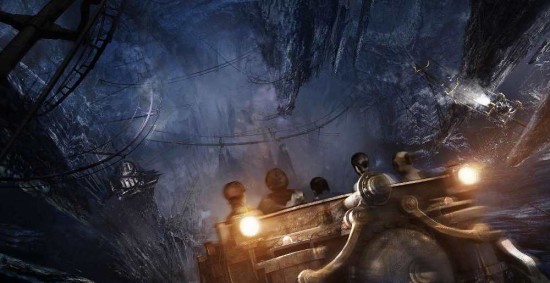 While we have to admit that including him in Escape from Gringotts's narrative was mostly a hunch, it's since been confirmed by several off-the-record sources – and, now, by Universal itself, which managed to sneak this little nugget into its official description of the ride on its revamped Harry Potter site:
"This incredibly immersive ride puts you right in the middle of the action as you navigate your way through the perils of the Gringotts vaults – encountering Harry, Ron, and Hermione along the way!"
Why save this little gem for after the webcast? Your guess is as good as ours.
Filling in the Hogwarts Express blanks
While Universal itself might have refused to provide any information on the fabled Hogwarts Express train ride between Universal Studios Florida and Islands of Adventure, that didn't stop the company from letting a few tidbits slip during the private press tour last week. According to Jim Hill, after a rather intense round of questioning from one particularly devout Harry Potter fan, a PR representative inadvertently confirmed that randomized elements will, indeed, play a large part in the attraction: while the transition from famous London landmarks to the Scottish countryside will (largely) remain the same, the characters that guests will encounter along the way will switch out, providing a whopping 400 possible unique ride experiences.
First ever look inside the real #HogwartsExpress at #DiagonAllley with @Evy_Lynch pic.twitter.com/UW80GsQuIe— Orlando Informer (@OrlandoInformer) January 23, 2014
What, exactly, will these various "characters and incidents" entail? Details are, of course, extremely scarce, but it sounds like passengers can expect to see a wide variety of Harry Potter denizens flying over the countryside as they get closer and closer to Hogwarts Castle: Harry and Ron in the magically-augmented Ford Anglia, Hagrid on his motorcycle, Mad-Eye Moody on his broom, or the Death Eaters in their "flight mode" are all distinct possibilities. On the way back, the various characters will come by, bid you farewell, and ask you to stop by again sometime soon.
Same Wizarding Worlds, different experiences
The biggest news, by far, to come out after the Diagon Alley webcast actually has absolutely nothing to do with Universal Orlando Resort at all.
Although it has been known for quite some time that a (smaller) clone of the Wizarding World of Harry Potter – Hogsmeade has been heading to both Hollywood and Osaka (my former stomping grounds), what we didn't realize is that Universal is trying its hardest to make sure Harry Potter enthusiasts have a very good reason to visit all of them in turn: each version will have its own unique attraction or feature that won't be available at any of the others. For Universal Studios Hollywood (which should have its Wizarding World up and running in 2016), that seems more and more likely to be the Great Hall restaurant we first reported last summer, given the location of Hogwarts Castle in relation to CityWalk (expect to see a dining-only admission option for those non-park-goers who nonetheless want a bite out of Harry).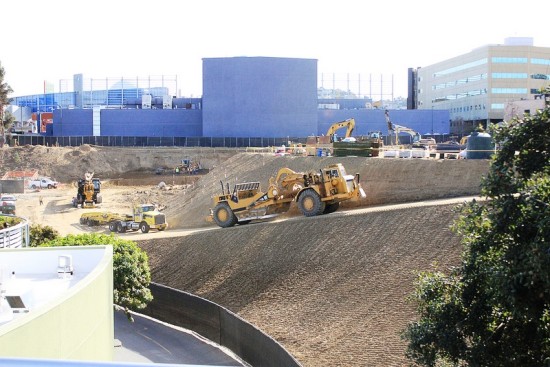 And although we don't have any solid intel as of yet on what to expect from the Japanese Hogsmeade (which should actually open sometime this year), don't be too surprised if it's a brand-new addition to Harry Potter and the Forbidden Journey – such as the inclusion of actual fire from the audio-animatronic dragon, which was an effect Universal Creative originally wanted to implement in the Islands of Adventure version. (What about Universal Orlando, you ask? Its exclusive experience will be Diagon Alley, of course.)
You better start saving up for those plane tickets.
Virtual tour of the Wizarding World
After last Thursday's webcast, Dan was quick to post this proclamation:
Gotta check out the new #DiagonAlley @UniversalORL website – might be better than the webcast https://t.co/iJAcKygpW1 pic.twitter.com/6gcyO8OEiG — Orlando Informer (@OrlandoInformer) January 23, 2014
And we still think it's true because, while the webcast had its special moments with Harry Potter cast members, as far as showing us Diagon Alley, we just got more glimpses at concept artwork.
The new Harry Potter mini-site goes far beyond what we saw during the webcast, providing a thrilling animated opener and a detailed "virtual tour" of Diagon Alley, which brings Universal's new land to life really for the very first time. You can, of course, check out the mini-site yourself, but in case you encounter any technical issues, we're happy to provide this video:
[youtube_video]ZxVgXbzJFpQ[/youtube_video]
Not only does the virtual tour provide such a strong sense of what the immersive experience will feel like (by the way, Diagon Alley's structures are not built to scale – they're all built full size), the video also provides our best explanation yet of the shop and attraction locations (Horizont Alley and Carkitt Market excluded, unfortunately).
Had enough of the virtual? Here's what the London waterfront of Diagon Alley looked like as of this past weekend, courtesy of the new "telephone portals" Universal has provided:
[youtube_video]ygDA_9V6OWg[/youtube_video]
Do you think we'll be walking through Diagon Alley in about five months? The latest rumor we've got suggests a team member preview on Memorial Day weekend, which would put technical rehearsals open to the public in the first part of June. (Please note: this is a rumor, not a confirmation of an opening date.)
Finally, if you liked the map featured in the video tour on Universal's mini-site, here is an image version:

To download the full-resolution file, right-click here (PNG file). To see this map and all the other new Diagon Alley concept artwork in their original resolutions, check out our Flickr page.
Countdown to Diagon Alley
The (first) countdown may be over, but that doesn't mean you can't go back and relive all of our incredibly popular steps along the way. And, besides – there's a whole new countdown until late June that now commences…
Top five vacation planning tips for visiting Diagon Alley
Complete telling of the Gringotts Bank ride experience at Universal Orlando
Four burning questions we still have about the new Wizarding World
New details on Diagon Alley – story, food, actors, previews & the name of the Gringotts Bank attraction
How Harry Potter is defining the next-generation theme park experience
After the webcast: Step-by-step guide to EVERYTHING we now know about Diagon Alley
And, of course, to start back at the very beginning and review everything we know about the Harry Potter expansion at Universal Orlando, visit the Diagon Alley page in the OI Universal Center.
[sws_author_bio user="msunyata@yahoo.com" size="105″ authorposts="More OI posts by Marc" name_format="About the author"] [/sws_author_bio]