The lighthouse has been repainted and the Sky Tower has been redecorated for SeaWorld's Sea of Surprises celebration of its 50th birthday.
Terry Prather, president of SeaWorld Orlando Parks, kicked off the festivities last Friday, March 21 with promises of all-new experiences and surprises in store for everyone – for 18 months, SeaWorld will be celebrating in lots of new ways.  (One of the best surprises was the announcement that Shamu Stadium will reopen on April 11!)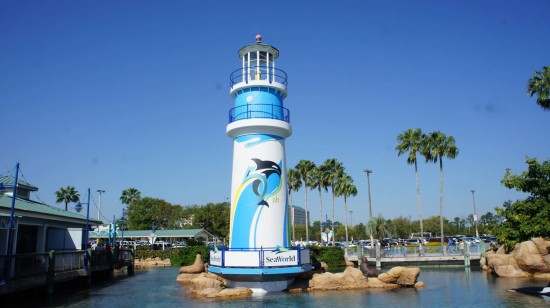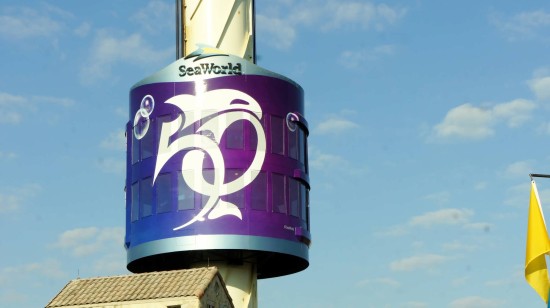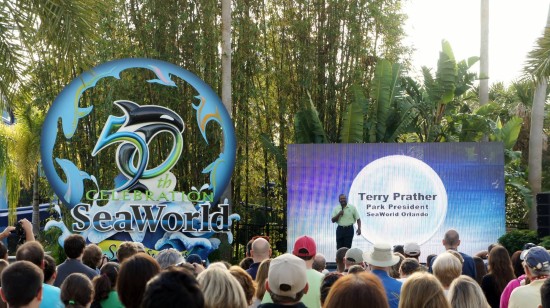 SeaWorld has opened the all-new SEA Garden next to Nautilus Theater, which is where you can learn more about – and get close to – various animals, most of them rescued, including eagles, spoonbills, flamingos, and more. During the Just for Kids event, animal ambassadors will greet guests in this new section of the park (which is fully shaded!) and hold story time for children, as well.
This is also the area where SeaWorld is showcasing its commitment to the environment with four giant sea-life sculptures from the Washed Ashore Project. These sculptures were created from garbage that has wound up in the oceans, with some weighing more than half a ton – and all being incredibly impressive.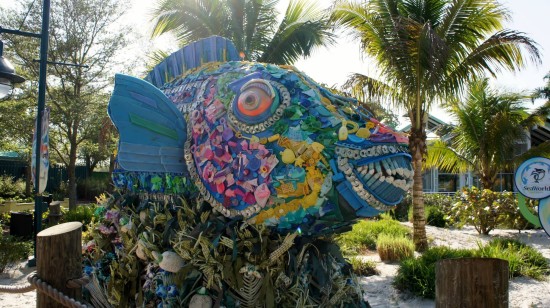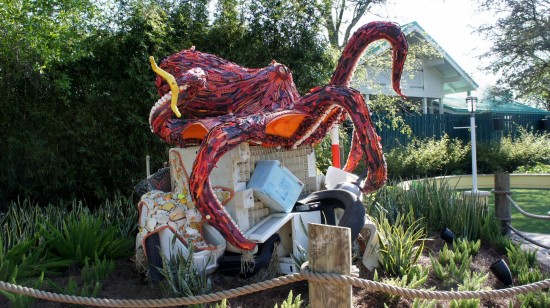 Not only have banners celebrating its 50th anniversary been added to lampposts throughout the park, but signs have also been placed that highlight some of the most memorable moments in SeaWorld's history, such as the first dolphin rescue in 1974 and the first birth of a killer whale at the SeaWorld parks in 1985.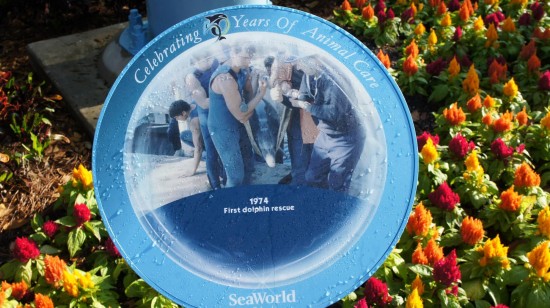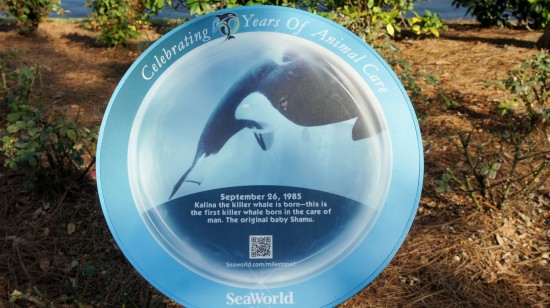 SeaWorld has also added more spontaneous performances. If you've enjoyed watching the antics of the Longshoremen, you'll truly enjoy the newest addition, Splash Dance. They are a local landscaping team that loses control of their hoses and sprayers and, before long, are soaked from head to toe. This show turns the entire area into a splash zone.
One of the biggest surprises they are offering comes courtesy of the SeaWorld Surprise Squad. This group will be roaming the park and, at random intervals, will select various guests to receive prizes. They'll be giving away special gifts, including exclusive access to rides, behind-the-scenes experiences, food, park tickets, and much more. There is no way to plan to experience this surprise, though – it'll simply be a very lucky day for the people in the right place at the right time.
Merchandise celebrating SeaWorld's 50th is found in almost every store now. There is even a shop at the entrance of the park that was renamed the Official SeaWorld's 50th Store. A large selection of special merchandise can be found in any of these stops, including shirts, pins, bags, and iPod covers.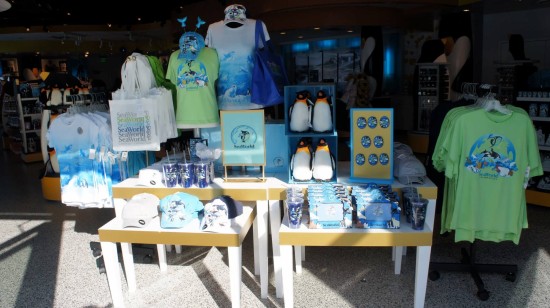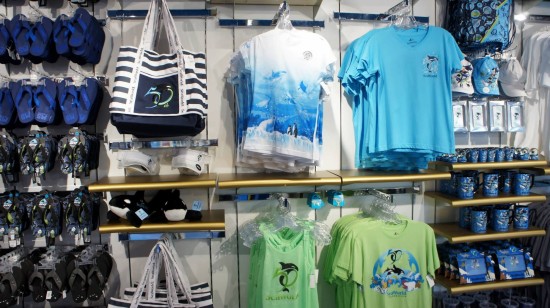 A new nighttime Shamu show will debut on June 21, called "Shamu's Celebration: Light up the Night." This show, which is similar in energy to the "Shamu Rocks" show that was held in past summers, will include new, original music, as well as new killer whale behaviors. While not yet officially announced, I was told by an employee that "Clyde and Seamore Take Pirate Island" will close next year and will reopen with an entirely new show in 2015.
SeaWorld's Sea of Surprises is sure to surprise many people – the entire park feels remade, and the energy of the celebration is contagious!
For more information, here is SeaWorld's official press release on the start of the event:
SeaWorld's 50th celebration is a Sea of Surprises
SeaWorld Parks & Entertainment has launched a multi-park celebration to commemorate a key event in the company's history: the opening of the original SeaWorld in March 1964 on Mission Bay in San Diego.
SeaWorld Orlando opened nine years later, on December 15, 1973.
SeaWorld's 50th celebration features a Sea of Surprises throughout an 18-month celebration highlighting the most memorable SeaWorld experiences in San Diego, Orlando, and San Antonio.
[youtube_video]T2PFcg2p8iM[/youtube_video]
For nearly five decades, SeaWorld has surprised and amazed guests with unique entertainment, thrilling rides, and up-close encounters with animals. During SeaWorld's 50th celebration, visitors will be invited to take part in the excitement through new interactive experiences, shows and pathway performances, even more up-close animal encounters throughout the park, and the SeaWorld Surprise Squad, which treats guests with prizes every day.
SeaWorld Orlando's 50th Celebration "Sea of Surprises" Highlights:
Park pathways come to life with spontaneous entertainment. Bubble Blowout is sure to be a guest favorite, with a fantastical vehicle creating bubbles of all sizes and shapes throughout Shamu's Happy Harbor. Engaging performances with sea-inspired costumes and props will pop up at unexpected moments to surprise guests throughout the day, like Splash Dance, near Nautilus Theater.
On June 21, a new nighttime Shamu show, "Shamu's Celebration: Light up the Night," debuts. The high-energy show will include new, original music and production elements, as well as new killer whale behaviors.
The SeaWorld Surprise Squad will roam SeaWorld Orlando on a daily basis, giving away, at random, prizes and special gifts, including exclusive access to rides, behind-the-scenes experiences, Shamu-themed merchandise, reserved show seating, and more.
SeaWorld guests are often greeted by an animal ambassador, many of whom were orphaned or injured in the wild and given a second chance thanks to the SeaWorld Animal Rescue Team. As part of SeaWorld's 50th celebration, there will be more surprise encounters with animal ambassadors throughout the day.
Share the wonder of close-up encounters with amazing animal friends and learn how SeaWorld cares for the natural world at the all-new SEA Garden. Completely re-designed, the SEA Garden is where guests can learn more about SeaWorld's animals, many of them rescued, including eagles, spoonbills, opossums, and more.
To showcase SeaWorld's commitment to the environment and passion for protecting the ocean, four giant sea-life sculptures will be displayed at the SEA Garden. SeaWorld commissioned environmental art group the Washed Ashore Project for a collection of larger-than-life sea-themed sculptures – many weighing more than half a ton. The material used to create these pieces comes from the billions of pounds of garbage – mostly plastics – that wind up in our oceans. These amazing works of art point to the urgent need to protect marine animals from such dangers and preserve their ocean habitats. On display at SeaWorld Orlando are a parrot fish, sea horse, sea anemone reef, and octopus.
As part of its continuing commitment to new technology that enhances the guest experience, SeaWorld's 50th celebration will include new ways for fans to connect to the parks and each other though digital devices. The parks will be launching a variety of enhancements, from interactive apps that provide fun new ways to experience the park to new games and video content.
To keep learning more, you can check out everything in our SeaWorld blog archive, including monthly trip reports!
Sea of Surprises – photo gallery
Click any image to view it full-screen. When the full-screen image is open, click to the right or use the right arrow on your keyboard to advance through the gallery.
[sws_author_bio user="SalinaBristor" size="105″ authorposts="More OI posts by Salina" name_format="About the author"] [/sws_author_bio]