As we arrived at SeaWorld this past weekend, we could tell they had done a lot of renovations for the 50th anniversary celebration that starts Friday, March 21 (we'll have a separate report on the opening next week!). The statue welcoming guests into the parking area has a new banner around the bottom, and once we arrived at the gate, the improvements continued.
The signature lighthouse at the entrance was covered in a thin wrapping. While it doesn't show in pictures, in person you could see through it enough to know they were adding in some details for the celebration. The top half of a statue commemorating the anniversary could be seen behind construction walls as you entered the park. Even the construction walls themselves were redone and now highlighted memorable moments in SeaWorld's 50-year history.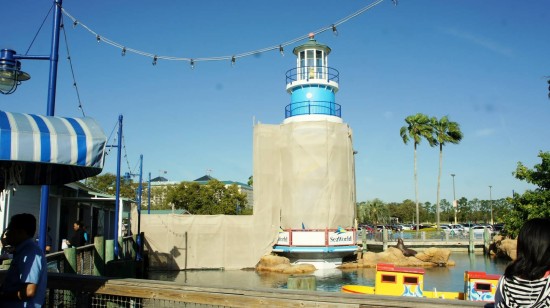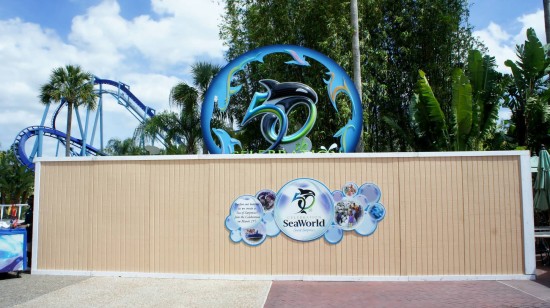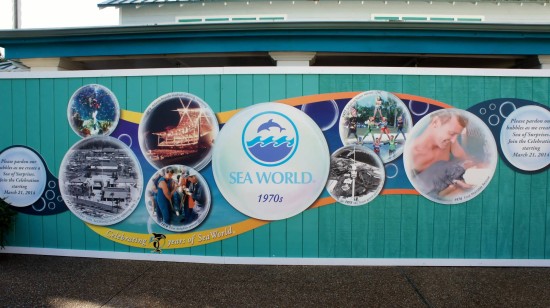 [wptouch target="non-mobile"]Remember, you can click any image to view it full-screen. And don't miss the complete photo gallery with 36 new full-screen images at the bottom of the post.
[/wptouch]
Since we had left the house quickly in the morning, we decided to make our first stop in the park a quick breakfast at the Seafire Inn Cafe. We were pleasantly surprised to find large portions for a very low price (the four of us had breakfast for under $20), and the chocolate chip muffin was absolutely delicious!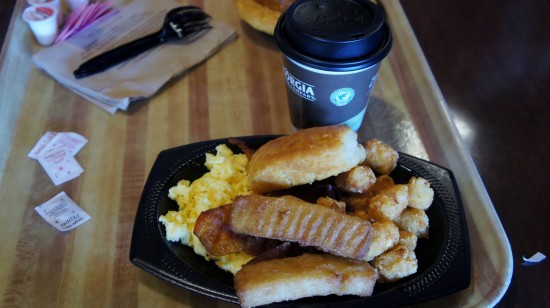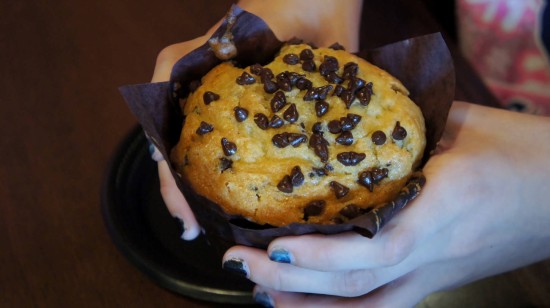 After breakfast, we walked over to Shamu Up Close, thinking we'd get better views before the afternoon crowds arrived. We had guessed correctly – while there was a large group of kids from a group trip, there was no one else over there.
We got to watch up-close as the whales sunned themselves in the warm weather and swam around, showing off just how graceful they really are. As we moved to the underwater viewing area, we received quite the treat – we got to watch the mini-show from underwater. While we couldn't see the flips and splashes, it was fascinating to watch the three whales move in sync under the water.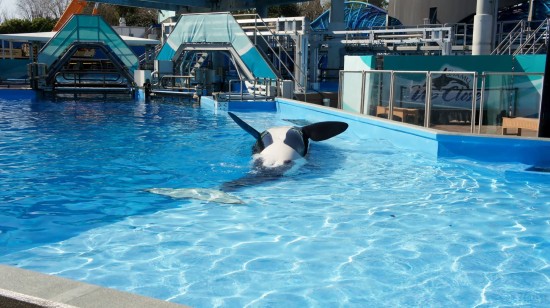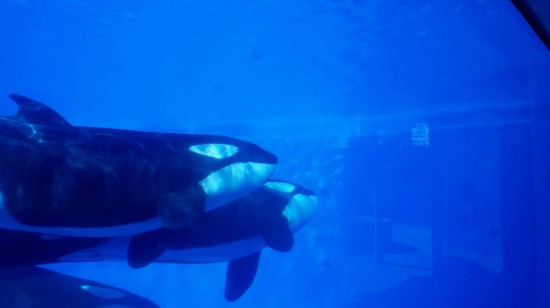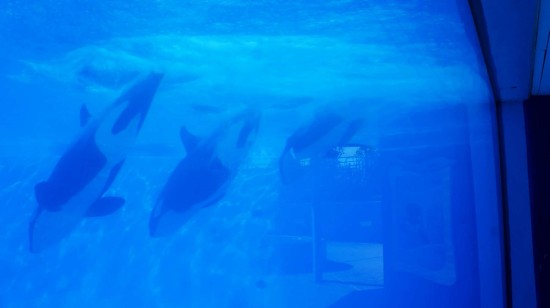 Shamu Up Close is only open through April during which time Shamu Stadium is going through a refurbishment on the show pool. We were told by a Team Member from the education department that, despite the rumors, it truly is just a refurbishment, and when the stadium reopens in April, it will still be the same One Ocean Shamu show. There will be a new nighttime show this summer, but the regular daytime show will remain the same.
The crane is still on-site at the stadium, indicating construction is continuing, but we didn't see any other signs of activity on this Sunday. Even after finding a gate that had been left open, we still couldn't see inside the stadium at all – just some construction equipment sitting idly.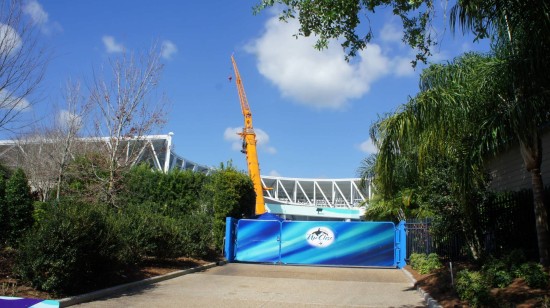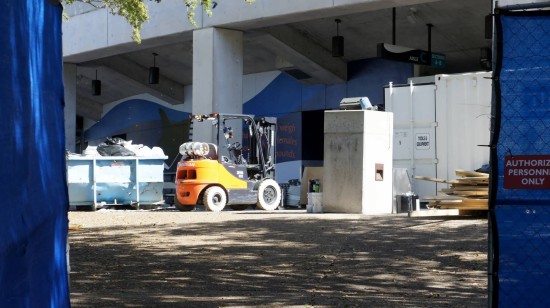 We also found the construction walls near the Garden Terrace Buffet were still in place.
We were able to get a peak over the wall and found workers assembling a wooden fence, but what will be the final result of this construction is still a mystery.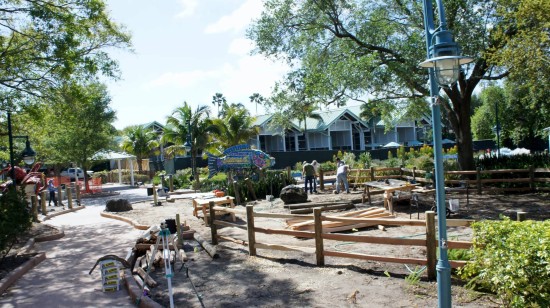 At Pacific Point Preserve, we listened to the Animal Ambassador explain that the sea lions were in their breeding season, and that's why the male was so vocal and active.
They have two alpha-male sea lions, but during breeding season, only one is on display, to prevent fighting. The females didn't seem to notice him, though, and were instead lined up on the rocks at the edge of the pool, hoping to catch the fish thrown by guests.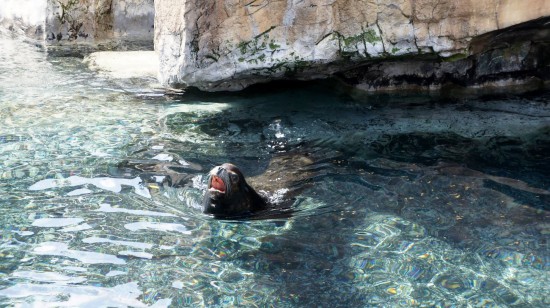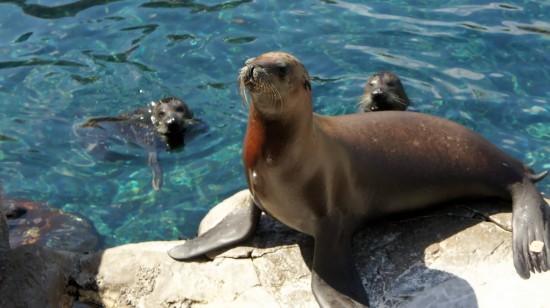 We continued our tour with a ride on Kraken (no wait at all), cooled off on Journey into Atlantis (the recent maintenance fixed the animatronics that weren't working), and then headed off to find lunch.
We decided to try the Terrace Garden Buffet. The signs promoting the all-you-can-eat-pizza-and-salad bar drew us in, and we paid our $15 a person to eat. The area is very clean and well set-up – and the unlimited (non-alcoholic) beverages are really nice after walking the park for so long.
There were several different pastas to choose from, along with many different sauces to put on them… but there were only four pizza choices, and the salad bar consisted of one tray of premade tossed salad, one tray of coleslaw, and one tray of sliced oranges. We were disappointed in the selections, and we all agreed the pizza tasted a little too much like cardboard. This will be our one and only time eating at this buffet.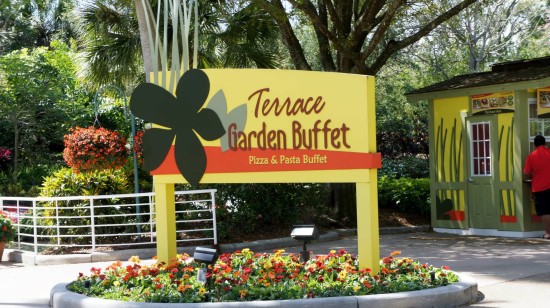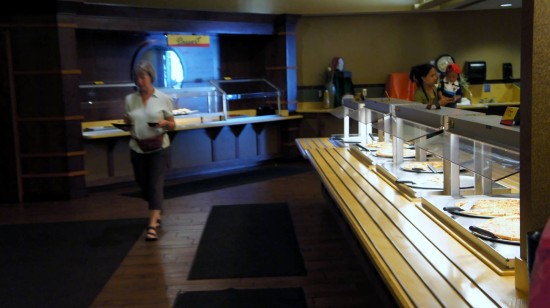 Trying to kill time, we walked over to the Dolphin Nursery. The three babies were very cute, but they weren't overly active today and, therefore, didn't hold my children's interest.
So with still more time to kill, my family rode Manta (no wait) while I checked out the aquarium (the octopus was really active and drew quite a crowd).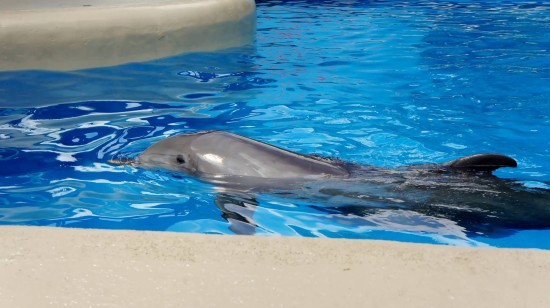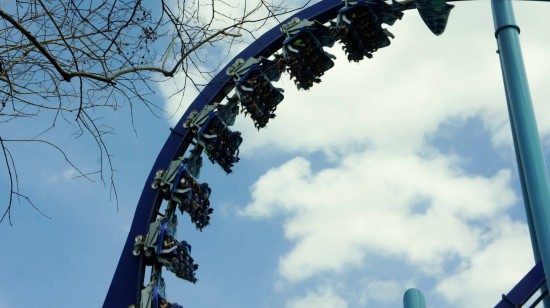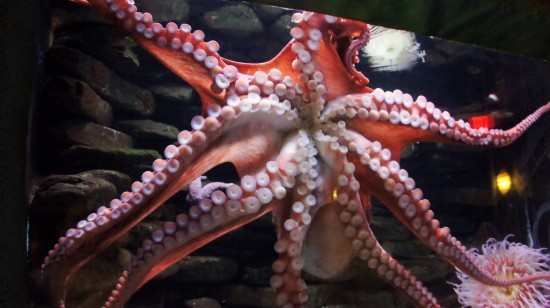 Finally, with only 20 minutes until show time, we headed over to see Pets Ahoy.
We had never stopped to see the Pets Ahoy show before, and we were pleasantly surprised at how good it was! While one amusingly misguided cat stole the show at the beginning by deciding to explore rather than perform the behavior she was supposed to, the rest of the animals performed wonderfully. Dogs jumped rope, cats balanced on high platforms, and one dog won over his girlfriend with flowers and a nice car. They even had trained rats and skunks performing.
The show delighted us, and, as we left, we discussed how we'll have to make that a stop more often.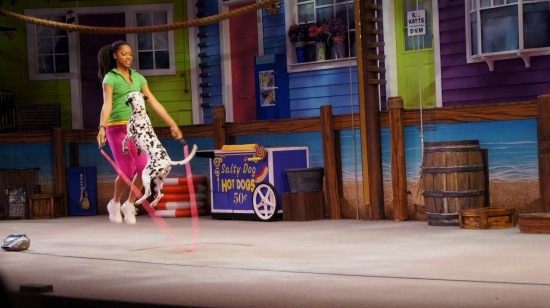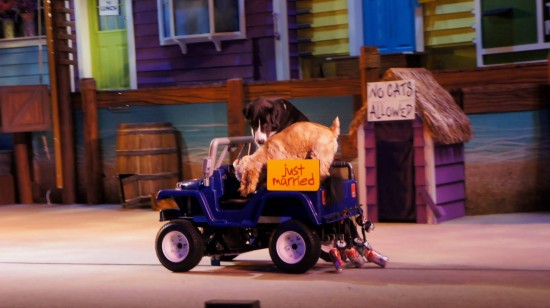 As we headed out of the park, we saw the Longshoremen amusing everyone with their tactics to deliver a package onto a boat in the harbor (they were planning to catapult themselves onto the boat).
But the best part of the performance was the ad-lib shouting contest they had with a small child who just kept yelling bye at them.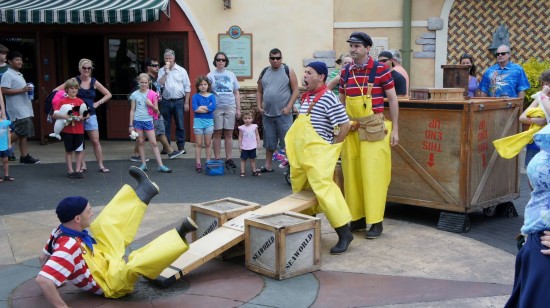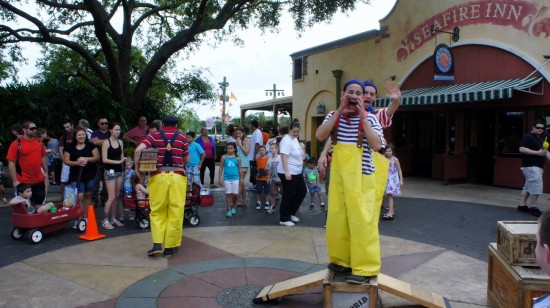 As we walked to the car, occasionally screaming "bye" at each other and laughing, we all discussed how much fun we'd had, and how we can't wait to see what SeaWorld has in store for its 50th anniversary Sea of Surprises celebration. (Remember, we'll have a special post about the celebration early next week!)
Now for some news…
Behind the Falls: Ihu's Breakaway Falls dropping at Aquatica May 9
Are you ready to drop? Follow Aquatica Orlando's Vice President Bryan Nadeau Behind the Falls for an insider's look into Ihu's Breakaway Falls – the tallest, steepest, and only multi-drop tower slide of its kind in Orlando and all of the southern United States – dropping only at Aquatica Orlando on May 9.
[youtube_video]iTJO7ZsooMQ[/youtube_video]
At nearly 80 feet tall, Ihu's Breakaway Falls is where you'll face your fears and each other. Offering four unique slide paths, you'll step into one of three "breakaway boxes" and watch each other fall one-by-one or test your bravery on a fourth open slide for a different, but just as thrilling, experience. You'll never know who's going to breakaway first – and the anticipation of who drops next is part of the wild ride!
Just for Kids: SeaWorld's kids' festival is back and better than ever
Shamu and Crew invites families to experience SeaWorld's 50th Celebration through the eyes of a child. Sing, dance, and play the day away Saturdays at SeaWorld Orlando's Just for Kids Festival, which runs from March 22 to April 12 and is included with park admission.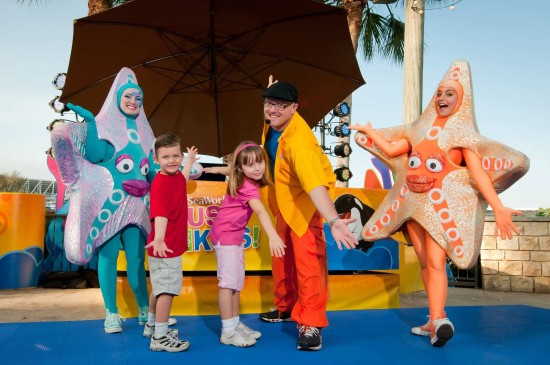 Families can experience warm-hearted, whimsical fun and make lasting memories as they dance along to jammin' DJs at the new Rockin' Rockhopper Party in Antarctica: Empire of the Penguin, get up close with adorable animal friends at the all-new SEA Garden, and meet some of their favorite children's television stars. Additionally, kids can go on an educational treasure hunt as they look for the Sea Star icons throughout the park, where they'll discover fun, educational activities. At each location, they will collect a stamp and a limited edition Explorer's card. After visiting all four locations, they'll receive a coupon to redeem for a special SeaWorld prize at select gift shops.
Then end the night with Shamu and Crew at the Shamu Dance Party at the Village Square, located at the front of the park. The party begins one hour prior to park closing with a stilt walker emcee who fills the square with music that the whole family can dance to, including popular line-dancing songs and party favorites. The Shamu Dance Party continues until 30 minutes after park closing. Visit SeaWorldOrlando.com for complete details.
I hope you enjoyed this trip report! To keep learning more, you can view our SeaWorld blog archive, or you can catch up on all of our trip reports.
SeaWorld Orlando trip report – photo gallery
Click any image to view it full-screen. When the full-screen image is open, click to the right or use the right arrow on your keyboard to advance through the gallery.
[sws_author_bio user="SalinaBristor" size="105″ authorposts="More OI posts by Salina" name_format="About the author"] [/sws_author_bio]