With the arrival of summer comes the exciting addition of SeaWorld Orlando's new summertime shows as part of Summer Nights 2014, running June 21 through August 10. Orlando Informer was invited to a special sneak preview last Friday, and Dan asked me to check it out for us.
Generation Nature LIVE
The first show they previewed for us was a new weekend daytime show called "Generation Nature LIVE." Different leaders in animal training, rescue, and preservation will present specific stories of rescue and survival of animals they've cared for. This show is all about inspiring kids to be "game changers" for nature, and showing just a few simple ways they can do that.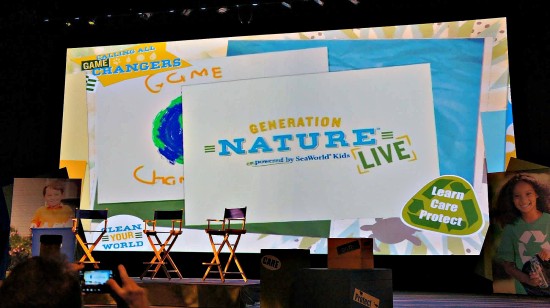 In our preview show, they talked about how simple plastic bags, such as the ones from grocery stores, are causing lots of harm to sea turtles. When these plastic bags get into the water, they look just like a jellyfish to the sea turtle and they eat them… then, obviously, can't digest them.
Each show will be different – different speakers, different animals presented, and different stories, so you can see it many times and never get the same exact experience.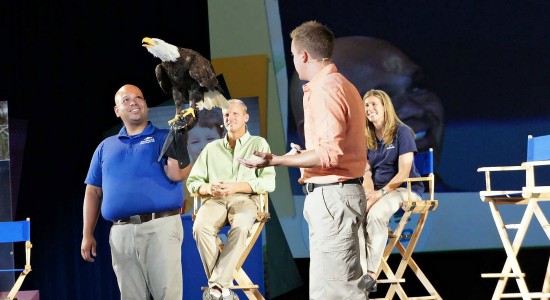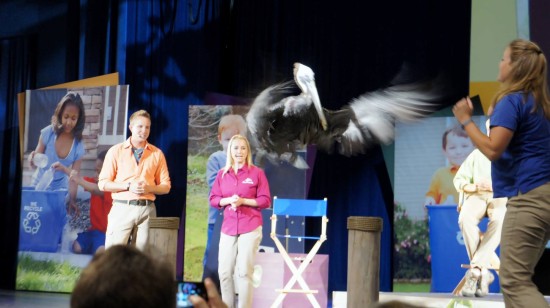 After each "Generation Nation LIVE" show, multiple animal ambassadors will be outside in the Sea Garden. We got the pleasure of seeing an otter, an opossum, a tawny frogmouth, a cockatoo, Maddie the bald eagle, and two of the most adorable miniature horses I've ever seen. Once again, the animals will be different each time to give everyone an opportunity to meet their favorite at some point.
(And for those collecting them, yes, they have the trading cards for each of the animals that are there.)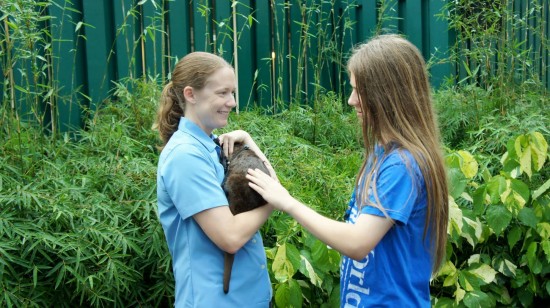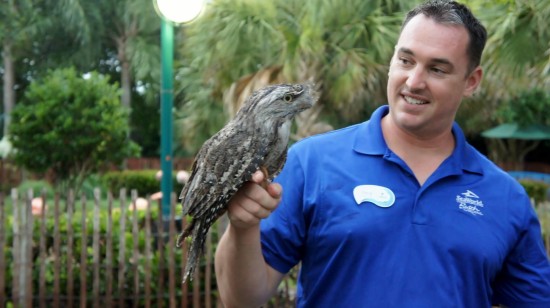 Shamu's Celebration: Light up the Night
After seven years of the "Shamu Rocks" nighttime show appearing each summer, SeaWorld has a brand-new nighttime Shamu show: "Shamu's Celebration: Light up the Night." This incredible high-energy show, complete with an all-new original soundtrack, will blow you away!
There is a DJ that provides the music and MCing (and an awesome pre-show that will have everyone up and dancing), new lighting in the stadium to spotlight the whales, and even some new whale behaviors to see (our favorite was the youngest whale shimming down the edge of the slide-out area – it was just adorable!) At the end of each show – which came as a surprise to us – they even have a short fireworks display to enhance the finale.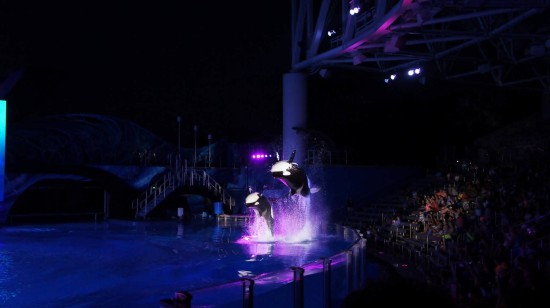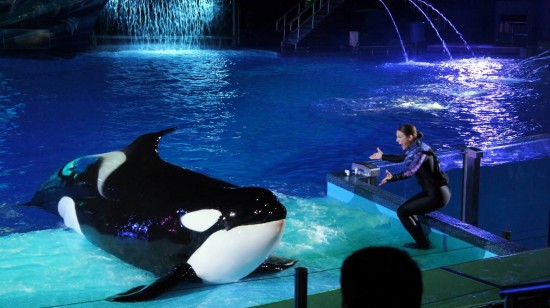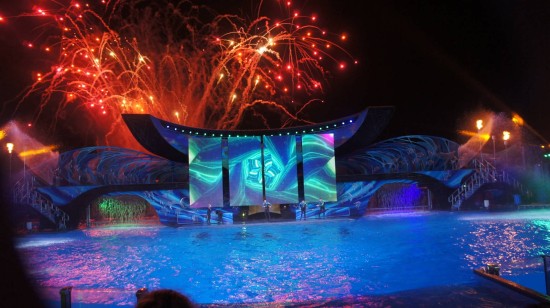 With "Shamu's Celebration" being the last show at SeaWorld each evening, the remainder of the park has already closed. Unfortunately, that means they funnel everyone from Shamu Stadium down the exact same path and over the bridge. To say it's crowded and hot is an understatement – and we only experienced this at a preview event with the stadium only half full.
If you go to the Shamu show, I highly recommend just staying in your seats until the majority of the stadium has cleared before you venture outside. If you wait for the crush of people to clear, it's actually a pleasant walk with beautiful sights, as the waterway is lit up at night.
At the end of the shuffling, crowded journey, you'll find Shamu's Dance Party in full swing in the Village Square at the front of the park (the same place they have the Christmas tree each year). This party will start every night one hour prior to park closing and will rock on until 30 minutes after the park closes. They have party favorites pumping over the PA system, quite a lot of room for dancers to strut their stuff, countless bubbles from multiple machines on the rooftops, and even some characters dancing in the crowd (to clarify here, I'm referring to SeaWorld characters, and not any of the other guests).
We got to see Pete and Penny the Penguins doing the "Cupid Shuffle" and "YMCA," and a very talented performer on stilts doing the electric slide. I practically had to drag my daughter out of there, she was having so much fun!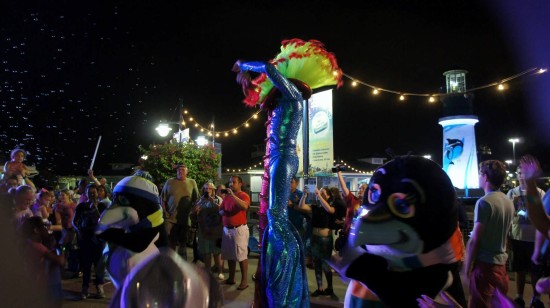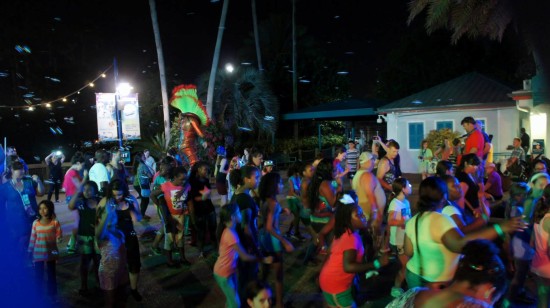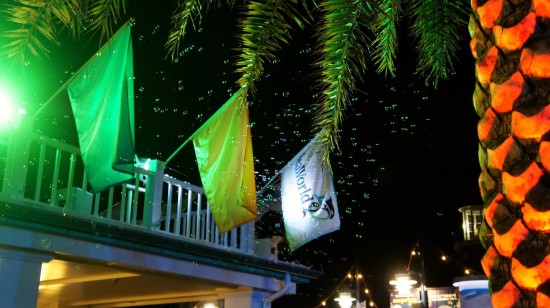 I was so grateful for the chance to preview these shows, and my family will be back many times this summer to see them again.
If you only see one show at SeaWorld this summer, you have to make it "Shamu's Celebration: Light up the Night." Even with the crowd control issues afterwards, it is absolutely the most amazing show, and my new favorite at SeaWorld!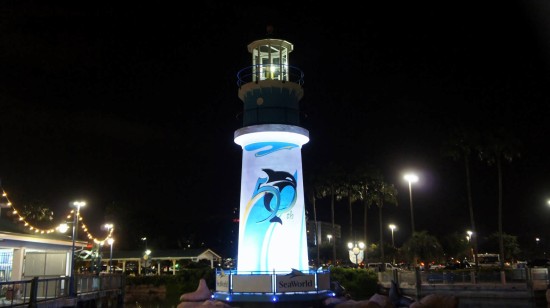 To read more about SeaWorld Orlando, please see our OI Blog Archive, or you can keep the conversation going in the OI Community Forums.
Universal Orlando Resort trip report – photo gallery
Click any image to view it full-screen. When the full-screen image is open, click to the right or use the right arrow on your keyboard to advance through the gallery.