In case you missed the news last week, we've recently been hearing that Universal owner Comcast might want to buy SeaWorld Parks & Entertainment (which includes Busch Gardens and other parks across the U.S.).
It isn't nearly as farfetched as it might seem on first blush; Comcast, as noted in last week's Rumor Round-Up, has suddenly found itself inebriated with the themed industry, more than willing to drop half a billion dollars a year on upgrades and expansions for its American properties while also currently in the process of constructing locations in Beijing and Moscow and, just possibly, Dubai, South Korea, and India. It's on a single-minded crusade to topple industry leader (and creator) Disney from its high horse and drag it into a knock-down, drag-out fight in the mud.
And for SeaWorld owner Blackstone Group, an investment firm whose sole interest and purpose in theme parks is to turn a tidy profit, the only question isn't whether they would sell one of the biggest chains in the country, it's for how much. It's hard to imagine a more perfect alignment of the stars for such a transaction to happen, despite the fact that NBCUniversal was already at this particular juncture once before (some six years previously, when SeaWorld Entertainment was being auctioned off and before Blackstone ended up being the highest bidder).
Let's say Comcast is successful and all of SeaWorld's holdings get folded into the growing Universal Studios empire. Would the theme park industry look drastically different the very next day? In a word, yes. Beyond SeaWorld Orlando, Aquatica Orlando, and Discovery Cove being immediately rendered part of Universal Orlando Resort, there's actually quite a few ramifications that would play out around the world, as well.
Just what does SeaWorld own, anyway?
Before our imaginations can run away with us, it's important to first stop and take stock of the situation.
Many are probably not aware of the full extent of SeaWorld's locations nationwide – the company actually owns more than twice as many parks as Universal does globally, with plans to move into the international market itself. In fact, there are more SeaWorld locations in the US than Disney and Universal possessions combined, running the gamut from marine to amusement to water to kiddie parks – in short, just as wide a spectrum as Disney's continental portfolio.
Main parks:
Busch Gardens Tampa (opened in 1959)
SeaWorld San Diego (1964)
SeaWorld Orlando (1973)
Busch Gardens Williamsburg (1975)
SeaWorld San Antonio (1988)
Water parks:
Adventure Island (sister park to Busch Gardens Tampa) (1980)
Water Country USA (sister park to Busch Gardens Williamsburg) (1984)
Aquatica Orlando (sister park to SeaWorld Orlando) (2008)
Aquatica San Antonio (sister park to SeaWorld San Antonio) (2012)
Aquatica San Diego (sister park to SeaWorld San Diego) (2013)
Miscellaneous parks:
Discovery Cove (based upon animal interactions) (2000)
Sesame Place (based upon Sesame Street) (1980)
Orlando = Universal's turf
Right away, without having to lift a single finger (well, after writing that initial check, of course), Universal would own six parks within Orlando: Universal Studios Florida, Islands of Adventure, Wet 'n Wild Orlando, SeaWorld Orlando, Discovery Cove, and Aquatica Orlando (with a seventh, Busch Gardens, just a stop or two over in Tampa).
This instantly puts the company at a numerical parity with Walt Disney World's four theme and two water parks, and, what's more, gives it nearly the same exact spread of properties, from a fake film backlot to a park featuring zoological elements. One of the few remaining strengths that Disney would enjoy would be the convenience of having all of its parks situated in one location.
But, even here, there are ways for Universal to countermand its rival's supremacy. Word has already leaked of a possible monorail that would connect all of Universal Orlando's hotels and theme parks with the "second site" that is Wet 'n Wild, emulating Disney World's world-renowned transportation system (as much as it can, of course). And while having the theoretical monorail swing all the way down to include SeaWorld Orlando on its route may be borderline impossible – imagine trying to negotiate that deal with all those myriad land owners – there is still the standard shuttle solution that Wet 'n Wild currently employs, with, perhaps, the added possibility of going all-out in theming and design (triple-decker Knight Busses would be my ideal ride, but mobile Frankenstein's labs would probably have to suffice, given J.K. Rowling's infamous rigidity).
The future
Most interesting of all in this hypothetical scenario is how it makes Universal come full circle with its original plans for Orlando.
Back in the '90s, as the company was putting the finishing touches on its Universal Orlando Resort, it was so taken with the idea of becoming a multi-day vacation destination, it not only was eyeing a huge swath of land near the Orange County Convention Center (a huge market that I-Drive 360 is now looking to tap), it had already started to purchase it, reaching some 2,000 acres – over twice the size of Universal Orlando proper. Initial plans called for a third and a fourth theme park to be situated here, along with a second, bigger CityWalk shopping/dining/entertainment complex, loads of hotels and/or time-share units, and, even, two 18-hole golf courses.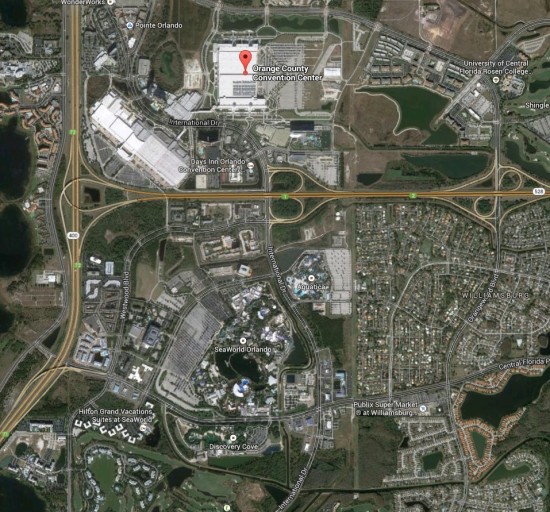 This third site, of course, wasn't meant to be; it turns out that before Harry Potter arrived on the scene, neither Islands of Adventure nor CityWalk was anywhere near as popular or profitable as the company had initially hoped, forcing it to first sit on and then ultimately sell all of its additional land.
Before word broke of Comcast looking to purchase SeaWorld, the vaguest of rumors were starting to swirl that the company was tinkering with the notion of resurrecting the old Universal plans and building a third gate, at the very least, somewhere off-property. It very well could be that SeaWorld's Orlando holdings would be enough to stand in for this long-lost business plan – or it just might be that this wouldn't be enough to scratch Comcast's construction itch, and it would still proceed with both the third theme park and that new water park we keep hearing about.
If this, indeed, would be the case, it's hard to see how the scale wouldn't tilt in Universal's favor.
A resurgent presence overseas
While both Universal Studios Japan and Singapore have footprints that are too small to accommodate any SeaWorld-fueled expansions (both parks sit on plots of land that are only about 50 acres in size), there certainly is the possibility to incorporate Shamu and friends in new attractions or, possibly, new theme park lands. This is particularly true for Singapore, which still has a Madagascar-themed area, even after Universal and DreamWorks have broken off their contract and the latter is looking to make its own standalone parks around the world.
The most exciting prospect, then, lies with the two locations that have been indefinitely delayed since the Great Recession hit in 2008 and defeated many a business venture. Universal Studios South Korea was originally conceived of as the only full-fledged resort outside of Orlando, with a theme and water park situated side-by-side – how hard is it to imagine that water park becoming another Aquatica?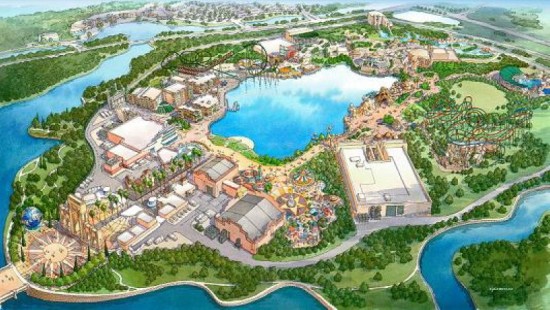 And in Dubai, both Universal and SeaWorld had originally inked deals before being forced to pull the plug, and both companies have expressed renewed interest in picking construction back up. SeaWorld, in particular, had quite the impressive plan, with four parks being situated in a Disney World-esque lineup: SeaWorld, Aquatica, Busch Gardens, and the world's first Discovery Cove clone. All that's missing is an Universal Studios park.
Disney's own holdings in Europe and China have had rocky beginnings, at the very least, and continued underwhelming performances, at the very most, leaving the door wide open for real competition in giant swaths of the planet – which would, in turn, crank up the heat here in Orlando for the best rides, biggest attractions, and, now, the most complete array of possible experiences.
It would be one of the best conceivable scenarios that the themed industry has ever seen in its entire history.
We're moving to Tuesdays
Greetings, rumor fans. Dan here, stopping by to let you know that our weekly rumor articles are moving to a new day and time: Tuesday afternoons. I know, today is Wednesday, so this article is coming up one day off – but it's helping us make the transition from Fridays to Tuesdays. Next week, look for our latest rumor post on Tuesday!
View all of our rumor articles
Get your questions answered in the OI Forums