In case there was any doubt that 2014 will be the most important year yet for the theme park industry (here in Central Florida, at least), news keeps trickling in from both official and unofficial sources that only serves to bludgeon us over the head with the irrefutable fact. It's simultaneously thrilling and painful.
What is transpiring is nothing short of an ever-broadening war between Disney and Universal, with maneuvers, counter-moves, and the deploying of nuclear submarines rapidly increasing (note: one of these three items is just hyperbole). Price increases are one highly visible front in this battle, and the lining up of future weapons is another, but it turns out that the real heavy-hitters may be arriving sooner than we ever before thought.
Fixing FastPass+
Earlier this week, Disney pulled off the (Mickey Mouse) gloves and announced what everyone has been asking for for a good while now: the company is backsliding a bit on its FastPass+ restrictions, easing them to reintroduce some of the features of the legacy FastPass system.
The first of these improvements is a "service enhancement" allowing guests to use their FP+ reservations at more than one theme park – yes, the park-hopping option on your tickets will once again be a value-filled addition. But the bigger and far more important development is the addition of extra reservation slots once the original three have been used up. And, much like the paper FastPass system, once this extra one has been utilized, yet another becomes available, and so on and so forth, with no announced cap. This means that all those touring-plan pros who used to be able to nab six or seven FastPasses in a day will be able to do so once again.
Least you get too excited, however, there are still some lingering limitations being imposed. Firstly, all of these additional reservations – that is to say, everything past the original three that can be booked online up to two months in advance – must be made in-park, at one of the infamous FP+ kiosks.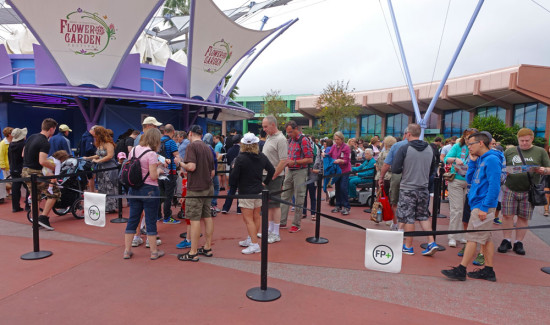 Secondly, and this one is easy to overlook in the initial excitement of the announcement, it's important to keep in mind that these unlimited reservations only open up once all three of the original bookings have been used; if you have FastPassed, say, an evening fireworks show, you won't be eligible for a fourth FP+, let alone a seventh or eighth. This means that there will still be trade-offs to be considered and made (not too surprising, given the huge crush of people that descend on Walt Disney World every day of the year) – use all three slots up for the morning and hope that you can secure that character meet-n-greet for later on that night, or just play it safe? And is it even worth it to wait in line at the kiosk just to avoid waiting in line at Soarin'?
Lastly, the timing of these new expansions is, at this point, unknown. My guess is that Disney's nebulous "sometime in the future" wording is to afford the greatest amount of flexibility on its part – should the Wizarding World of Harry Potter – Diagon Alley prove to be even bigger of a threat than it was anticipating this summer, you better believe that the company will be berating its engineers and technicians to speed up the implementation process to sometime in July.
Now that the system is being drastically improved – and might even end up being better than Universal's Express Passes – it looks like we might have to revisit our reader poll, won't we?
Harry Potter: The next generation
Yes, it's true: just as Universal was talking to Warner Bros. and J.K. Rowling about Diagon Alley while finishing up Hogsmeade, discussions have been well underway about Harry's inevitable third phase at Universal Orlando Resort. We mentioned off-handedly last week that Fear Factor Live might be taken over for this eventual (extra) expansion, with our current best guess being a recreation of the Ministry of Magic (which would make sense, given its location to the London waterfront right next-door). Now we have a few more morsels to add to the mix, and they are juicy, indeed.
A source unconnected to the previous one has come calling this past week, dropping off the rather startling revelation that – well, maybe we should back up first. As we've pointed out before, some may be a tad disappointed that only two rides will be on hand once Diagon Alley opens this summer: the Hogwarts Express and Harry Potter and the Escape from Gringotts. Apparently, Universal already has had this criticism in mind, for it's currently hard at work on a third, fourth, and, even, a fifth attraction, which all look to be deployed in and around both Diagon Alley and the supposed Ministry of Magic. Just what these new rides will be, exactly, is entirely unknown, although our source has said that not only have they been fully planned, their blueprints have already been sent off to various contractors.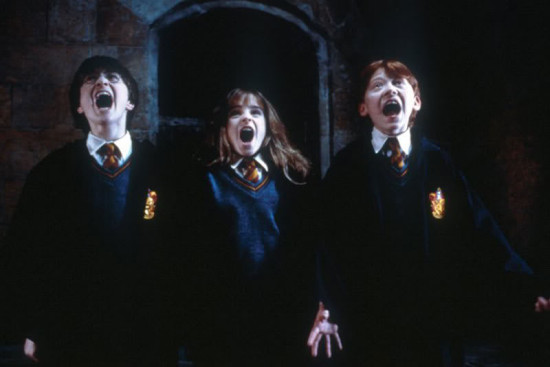 This is interesting in the extreme. If one or two of these additional rides really do end up going inside Diagon Alley (say, in Carkitt Market, which suspiciously seems to have some extra room to spare), Universal won't be tied down to the two-plus years of widespread construction that mired both Hogsmeade and Diagon; it can simply order them up at will, conceivably putting them on the accelerated time frame of either Transformers or Springfield USA. What better way to fend off the much more user-friendly FastPass+ experience, which might finally find the success that Disney has long been hoping for? The chess pieces here are becoming more and more flexible.
If, however, your mind is still stuck on the craziness that will be this summer's Diagon Alley opening and can't possibly process what three years from now might look like, our wizarding buddy has other goodies for you to chew on, as well. Regarding the Hogwarts Express, he claims that the train itself is all but ready and is "truly amazing" – yes, he's been on it – and that, best of all, its capacity will actually be better than most think it will be, meaning that you'll have a shorter wait in line.
In addition, the scary rumors we heard about Escape from Gringotts not being ready until August seem to be fading fast, replaced with much better intel that the kinks are getting worked out and the ride is likely to open with the rest of Diagon Alley – in June. (This, as with all rumors, is no guarantee until Universal makes the announcement.)
2015 – and beyond
So, Disney is counter-attacking Diagon Alley by rescinding much of its FastPass+ restrictions, opening up the possibility of a more enjoyable vacation for its millions of guests. And Universal is betting on a third Wizarding World sometime by the end of the decade to help keep all those people out of Disney's parks, fixes or no. One can't help but get the impression that Disney's hand was forced to move much more quickly than it wanted on the MyMagic+ front, and it seems almost inevitable that Universal will, in turn, feel obligated to speed up its (wizarding) schedule, as well.
And the real kicker here is that we haven't even gotten into all of the other developments that are lined up for the next handful of years – Avatar, Jurassic Park & King Kong, Star Wars. At this rate, don't be surprised if all of their deployments are bumped up, as well.
By the time both theme park armies have finally been fully mobilized, the only thing missing really will be those nuclear subs.
Keep the conversation going!
Agree or disagree with the latest intel? Think we forgot something juicy? Want to offer your own take on the wildest rumors?
Well, then, join us at the brand-new Orlando Informer Forums and tell us!
What's more, we're celebrating our grand opening – meet our community and enter for your chance to win a Photo Connect Star Card package or one of three $100 Universal gift cards! Here's the grand opening announcement.
NOTE FROM THE EDITOR
Orlando Informer will be viewed over 10 million times in 2014, and, believe it or not, among those viewers are some folks with pretty strong connections to Universal Orlando. As they contact us with insider intel, we collect their information and combine it with our own research to produce our weekly Rumor Round-Up. When information comes to us directly, we cite "our sources"; when information comes from outside our network, we always cite it as such and provide links to the original source. This is our 106th rumor post, and we're proud to have provided our readers with compelling stories as we share our thoughts and actively promote dozens of other websites.
Despite the excitement that can come with covering rumors, we ask our readers to be ever-mindful that, unless explicitly stated as fact, everything we cover here must be considered a rumor and unofficial. If you're ever confused by what is what, we invite you to join us for free in the OI Forums, where you can ask our vacation planning community for clarification and seek advice for anything else regarding your plans to visit Orlando.
Get your questions answered in the OI Forums
View all of our Rumor Round-Ups
[sws_author_bio user="msunyata@yahoo.com" size="105″ authorposts="More OI posts by Marc" name_format="About the author"] [/sws_author_bio]