At the beginning of this week, Universal teased that it was going to be sharing some new details today about the Hogwarts Express train ride that connects Diagon Alley at Universal Studios Florida to Hogsmeade at Islands of Adventure. The company has certainly lived up to that promise, inviting several Harry Potter fansites to New York City last night to chat with Vice President of Corporate Communications Tom Schroder, Senior Show Producer Michael DoQui, and, of course, the ubiquitous Oliver Phelps, who portrayed George Weasley in the film series.
In order to file this report for you, we've compiled a number of different sources, most notably Mugglenet, Snitchseeker, Disney Dish podcast, and the freshly-updated Universal Orlando website. We also, of course, continue to draw heavily from our very own Complete Guide to Diagon Alley, which is regularly updated with the latest information and exclusive vacation planning advice.
What we already knew: The basics
Sadly, a good amount of the "revelations" coming out of last night's press event are merely reconfirmations of previously-announced information, such as the fact that guests will need a park-to-park ticket in order to ride the Hogwarts Express, and that a ticket upgrade desk will be located at both King's Cross and Hogsmeade Stations.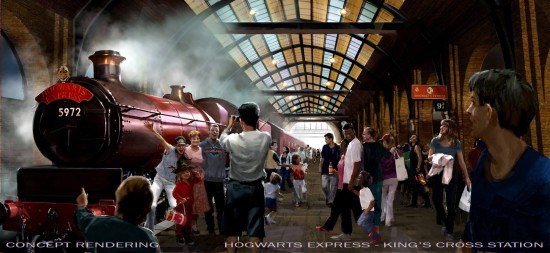 In addition, it's been reaffirmed that all queuing for the Express will take place directly at the stations themselves, which are (strategically) placed outside of the Wizarding Worlds proper. While this will help considerably with crowd flow, it also means that, after you've done your shopping and riding at either Diagon Alley or Hogsmeade, you'll then have to exit the area, loop over to the train station, and wait in that line.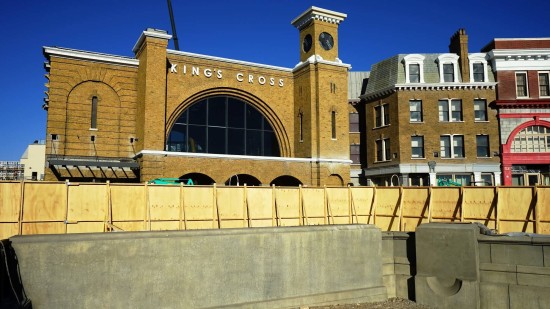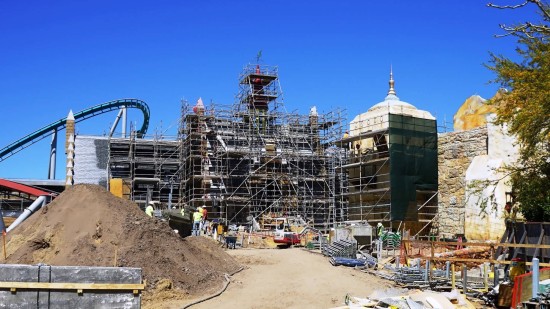 Let's just slip in an extra piece of brand-new information right here: once the train arrives at its destination, you have to disembark; if you'd like to make a round trip, you'll just have to queue all over again.
What we didn't know: The queue experience
While new information was handed out, most of this, again, simply officially confirms what has been turning about the rumor mill for the past several months – meaning no news on an opening date or what the "story" of the attraction will be. As such, Universal fans expecting a cavalcade of new announcements will be disappointed, but those who are content with reveling in the immaculately-themed details will find much and more to be happy about, starting with the queue.
Author J.K. Rowling was adamant that every guest have the opportunity to experience the transition from the Muggle King's Cross to the magical Platform 9 3/4 for him- or herself (unlike the entrance to Diagon Alley, due to the sheer amount of people passing through it every minute of every hour of every day).
In order to accommodate this, Universal will pulse small groups of individuals at the famous brick column, which – yes – you most certainly will have to run at, just as in the books and movies. All those guests still waiting in line will actually see the people in front of them disappear by means of some sort of optical illusion, which Universal wasn't too keen on divulging just yet.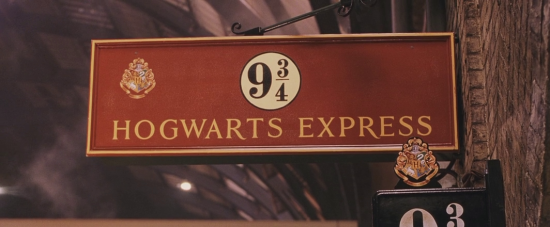 Once on Platform 9 3/4, luggage carts and animatronic animals, such as owls in their cages, will greet you. And the Hogwarts Express itself, of course, will billow steam and sound her whistle – special effects that Universal Creative took extremely seriously, as it dispatched a team of designers to the United Kingdom for a month to ride the trains, record the sounds, and, even, track down the manufacturer of the cloth that was used to create the pillows onboard. Even the bolts seen on the Express's movie sets were replicated exactly, which Universal hopes will help to make this one of the most immersive rides available at any theme park around the world.
Eight people will be seated per cabin, with each train holding roughly 200 passengers total (remember, as one train is busy being loaded at Hogsmeade, another is doing the same at King's Cross). And each cabin is separated from all the others by closing doors.
What we didn't know: The ride experience
Let's get the two biggest pieces of news out of the way up front. On the positive side, there will be no height restriction for the Hogwarts Express; Universal promised a ride "for the whole family," and it's delivering on that promise.
On the negative side, however, it looks like all those rumors of randomized ride experiences, as seen on such attractions as Star Tours: The Adventures Continue, are completely false. Only two experiences will be on hand for passengers: one on the way to Hogsmeade, and the other on the way back to Diagon Alley.
But what guests encounter in these two variations looks to be extremely promising. Universal worked very closely with a number of production and visual effects personnel from the films in order to render the Express's approach to Hogwarts; the view of the castle from the train as it makes its way around the Black Lake is an entirely new one, never before seen in any media – which should be something of a thrill for diehard Harry Potter fans. On the way there, Mad-Eye Moody, Hedwig, the Centaurs in the Forbidden Forest, and Hagrid on his flying motorcycle will be spotted, and Universal has finally confirmed what is sure to be the show-stealing scene of the entire ride: a Dementor attack, replete with ice-cold air being pumped into the cabin.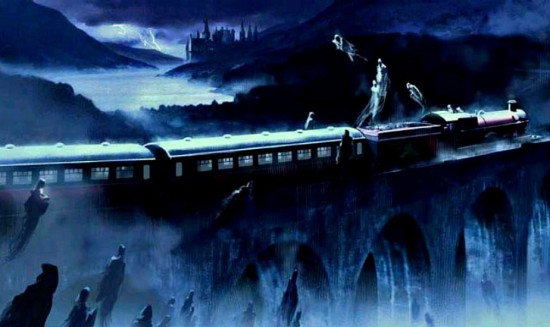 Departing Hogsmeade for London, passengers will first see Hagrid walking alongside the train, waving goodbye (as seen in Harry Potter and the Sorcerer's Stone). Then, as you pass the Black Lake, Buckbeak the hippogriff will soar down and graze the water (as in Prisoner of Azkaban), and as you head past the Forbidden Forest, George and Fred Weasley will arrive on their broomsticks and barrage you with an impromptu display of fireworks (Order of the Phoenix). Finally, upon entering downtown London, the Knight Bus will be seen zipping and squeezing through traffic (Prisoner of Azkaban).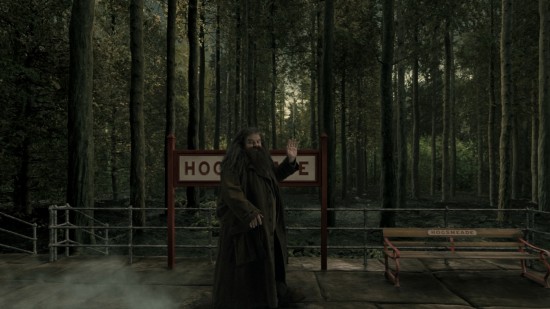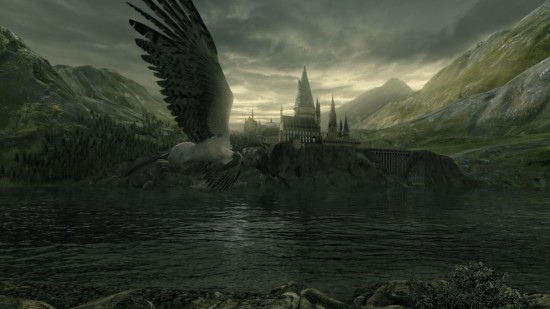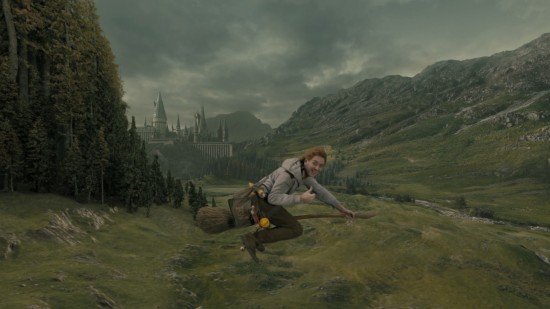 Universal also announced a small number of additional details: the ride will last approximately six minutes, apparently offer a slightly different perspective depending upon where on the train you sit, and will not feature seasonal changes to the ride film – meaning it'll be perpetually summer, as it is in Florida itself. Oliver and James Phelps recorded new footage for their part of the story, and all their new dialogue was personally approved by Rowling herself. Lastly, as expected, the existing Hogwarts Express locomotive in Hogsmeade will remain as a photo-op.
Oh – there's one final tidbit: Universal Creative has come out and said that the fabled trio of Harry, Ron, and Hermione will certainly be on the train with you, and it coyly hinted that you'd see or otherwise notice their presence somewhere along the way.
Odds & ends
That may be it for the official information coming out of Universal's press event, but there's so much that has been unofficially conveyed.
The most pertinent piece of info for vacation planners is that, unfortunately, it looks more possible that the Wizarding World of Harry Potter – Diagon Alley will miss its intended June opening date by as much as a month; given the huge amount of money and customer expectation that is riding on the expansion, Universal is being more cautious than ever in ensuring that all its ducks are in a row and that everything goes off without a hitch.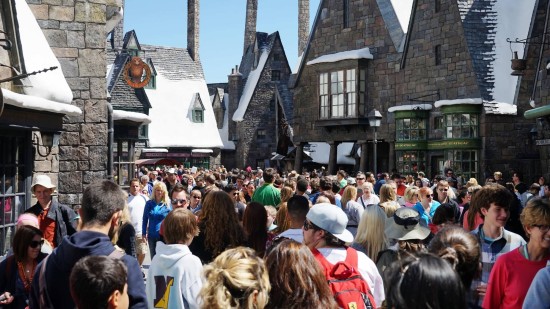 Want an idea of how much is at stake? The original Wizarding World cost the company somewhere around $250 million and was expected to bring in roughly $50 million a year – making the expansion a five-year investment, which is no small gamble. Thanks to the unforeseen popularity of butterbeer (and all the other heaps of exclusive merchandise) and the unexpected boom in attendance, that figure was actually recouped in just four months.
And Diagon Alley is expected to outperform its predecessor handily.
Official Hogwarts Express press release
One of the most memorable and exciting experiences from the Harry Potter series will come to life at Universal Orlando Resort this summer. Imagine:
Being transported from the Muggle world to the Wizarding World as you pass through the brick wall at King's Cross Station to arrive at Platform 9 3/4
Watching in amazement as the Hogwarts Express pulls into the station – its billowing steam and authentic whistle beckoning you to hop aboard
Sitting in one of the train's cabins with your family and friends and actually riding the Hogwarts Express – just as your favorite characters did in the Harry Potter films
Looking outside your cabin window and enjoying a scenic, breathtaking journey through the British countryside as you encounter magical creatures, some of your favorite Harry Potter characters… and even Dementors
Since the very first Harry Potter film, every fan has dreamed of taking the same classic journey Harry Potter did aboard the Hogwarts Express. And this summer – they will get to live it.
[youtube_video]5gmSf4R2Ac4[/youtube_video]
Today, Universal Orlando revealed never-before-released details about the Hogwarts Express experience that will debut as part of the Wizarding World of Harry Potter – Diagon Alley – the all-new, magnificently themed land opening this summer. The train will connect the new land in Universal Studios Florida with the Wizarding World of Harry Potter – Hogsmeade in Islands of Adventure – allowing guests with park-to-park admission to enjoy a real journey aboard the iconic locomotive.
Never before has this been done – creating an actual train ride experience to connect two spectacularly themed environments. The Hogwarts Express experience combines powerful storytelling, live special effects, lifelike animation, and state-of-the-art technology to take riders on the journey of a lifetime. Guests will enjoy two completely different experiences depending on whether they're traveling to Hogsmeade or London.
Once seated in the cabin, guests will be able to look out their windows as an incredibly authentic and magical adventure unfolds before them. They'll see Hagrid come alongside the train on his flying motorbike, Buckbeak the hippogriff swoop gracefully over the Black Lake, the Weasley twins on brooms and up to their usual antics, the Knight Bus swerving through London traffic – and other special moments and surprises.
Universal's Creative team has been working closely with Warner Bros., Stuart Craig, and the production team from the Harry Potter films to create a sensational Hogwarts Express experience that the entire family can enjoy. The Creative team has gone to great lengths to ensure the experience is true to the books and films. Everything about the train is authentic – from the paint and the materials used to build it… all the way down to the whistle.
View all of our Rumor Round-Ups, learn more about the Harry Potter expansion by studying our Complete guide to Diagon Alley, or see all our latest Universal photos by visiting our Flickr page (we just uploaded 149 photos shot yesterday!).
[sws_author_bio user="msunyata@yahoo.com" size="105″ authorposts="More OI posts by Marc" name_format="About the author"] [/sws_author_bio]