Exponentially increasing construction? Eh – business as usual
Last month, word broke on Orlando United that a fifth hotel would start construction later this year; once all the work finishes up on the impending Cabana Bay Beach Resort – which has its soft opening in just a few weeks' time – all the construction crews would essentially move over to the plot of land that sits in between Royal Pacific Resort and Cabana to break ground.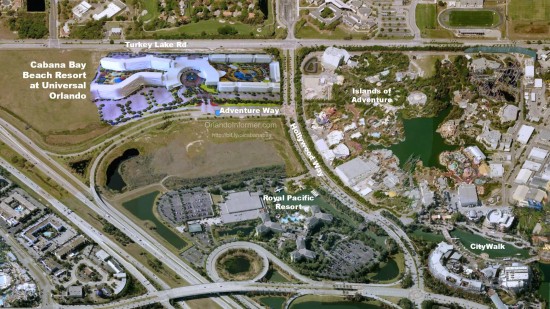 On the one hand, this is pretty much standard operating procedure for Universal these days – we've already heard stories of the construction companies currently heading into the home stretch on Diagon Alley being told to pivot overnight to Islands of Adventure, to work on either the Jurassic Park or King Kong expansion, after all. And when Universal's parent company, Comcast, proudly proclaims that it's going to be spending half a billion dollars each and every year for the foreseeable future on its American theme park locations, one can only expect such a string of back-to-back projects.
On the other hand, though, this is nothing short of a breathtaking development. Universal originally thought it would've had enough business on-hand to erect hotels on all five of its plots shortly after the 1999 expansion to the full Universal Orlando Resort, but it had to make do with just three (Royal Pacific Resort opened in 2002) until just this year, when the hand-over-fist business of the Wizarding World of Harry Potter finally accumulated enough capital and consumer demand. That the fabled fifth (and final?) hotel would open just 12 or 18 months after Cabana – which contains, in and of itself, nearly as many rooms as the first three properties combined – is the biggest indicator yet of Universal's finally having "made it."
But it does leave one incredibly fascinating question: just what, exactly, would this new hotel be?
The guessing game begins: Luxurious or ultra-budget?
All three of the original resorts – Portofino Bay, Hard Rock, and Royal Pacific – are what is called in theme park parlance deluxe resorts. The name comes directly from Disney, and so, too, do its constituent parts: bigger rooms, more robust theming, direct (and free) transportation to the parks. There's also the little matter of Universal making unlimited Express Passes free to all deluxe resort guests, which is nearly enough to justify the hotels' otherwise exorbitant room rates.
For Cabana Bay, of course, Universal is heading into the value and moderate resort territories, with smaller rooms, no direct access to the parks, and, most (in)famously, no complimentary Express Passes. This now covers three of Walt Disney World's six(!) resort categories, which means that a fifth hotel could conceivably go in any of the remaining directions: deluxe villas (which are, essentially, "vacation club" timeshares), camping/RV/cabin grounds, or a traditional value resort (Cabana, with its larger family suites, would technically fit Disney's "value plus" designation).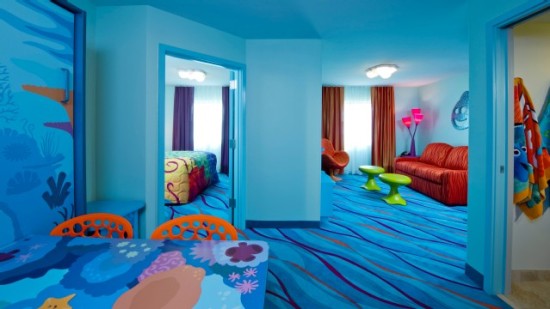 It's somewhat difficult (and utterly depressing, given the effect it's had on Disney World) to imagine timeshares going into Universal Orlando, however, and there really isn't enough land to warrant campgrounds. This would ordinarily leave a value resort as the sole remainder, but that's not taking into consideration the fact that Universal could just as easily build a second moderate hotel – or a fourth deluxe, for that matter. Given just how many families will be flocking to Diagon Alley (and eating at CityWalk's newer, family-friendlier venues), adding another moderate would make much sense, as well as putting – theoretically, at least – more money in Universal's pockets.
Here's the thing, though: the company has shown a keen interest in blurring the demarcation lines that Disney has so fastidiously erected over the past 40 years. Cabana still features an overall level of theming that is nearly impossible to find on the lower-tier Disney properties (with the possible exception of New Orleans – Riverside), along with a host of amenities that is definitely reserved for its deluxe resorts: a 10-lane bowling alley, lazy river, 100-foot waterslide, and a couple of other fun extras. Even if this mysterious fifth hotel were to be placed in either the moderate or value level, the sky would still truly be the limit.
The guessing game continues: Minions, monsters & wizards
While the pricing level is important to consider, it's much more interesting, of course, to contemplate what the theming will be. Portofino Bay, Hard Rock, Royal Pacific, and Cabana Bay all hew to original – that is to say, non-intellectual-property-based – themes, with more of an emphasis on real-world destinations. Universal certainly could hit this well again, reaching for another luxurious European vacation spot or another exotic island paradise. If the company were truly interested in netting as big a swath of the park-going audience as possible, however, smart money would have to go on an altogether different subject – a Egyptian pyramid, say, or a medieval fortress.
Even here, though, it's hard to go by past experience to make any sort of educated guess – Universal's just proving to be so "disruptive" to the industry across the board, from multiple-park-single-ride experiences (the Hogwarts Express) to hotel accommodations. It's just as likely, given the amount of capital it has to invest and the size of the financial prize it's going after, that the company will go for an IP.
And this is where things get really interesting.
Imagine staying at Super Silly Fun Land, with a (small) number of amusement park rides in your backyard, or having your room be part of Dr. Frankenstein's lab, or the lobby doubling as Jurassic Park's Visitor Center. There are a number of in-house properties that contain the appropriate level of atmosphere, architectural detail, and envelope-pushing possibilities, and each would almost automatically guarantee the most popular hotel at all of Universal Orlando, regardless of its resort classification.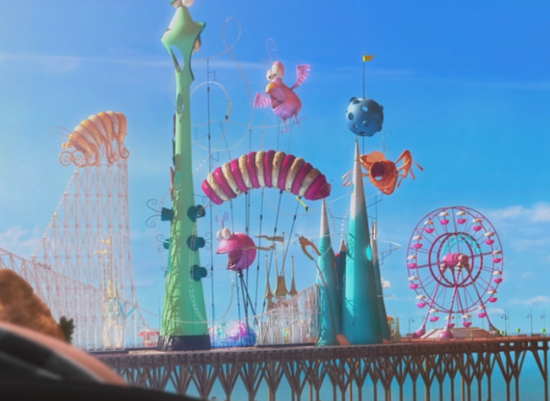 Even better – though certainly less likely, given the contractual stipulations that would be imposed – would be an outside license. A Transformers resort, replete with "transforming" courtyards, has a great deal of enticement, as does The Walking Dead (though having a permanent number of zombies patrolling the grounds may provide certain logistical difficulties, not to mention a questionable pool).
Though, of course, the undisputed winner here would be a certain boy wizard who already has a presence in both of the parks and who would provide a nearly infinite number of possible venues or locations to utilize. If Universal would go with Harry Potter one final(?) time, it would instantly have a slam-dunk in both the Imagineering and consumer demand arenas.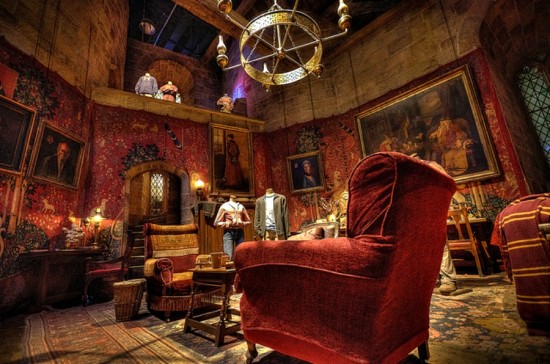 Unlikely? We'll find out by the end of the year, when ground breaks.
NOTE FROM THE EDITOR
The propose of our weekly rumor column is to provide a window into what might be happening by collecting the latest speculation from sources across the internet (which we always link to). We take that speculation and condense it into one weekly post as a service to our readers, so you don't have to spend hours tracking down all the stories yourself.
We rarely claim to be the source for our stories. In reality, anyone can do what we do: Google "Orlando theme park rumors" and see what the darker corners of the theme park community are chatting about. But we know you don't have hours of free time to seek out this stuff — plus, Marc is really good at analyzing it — so we do the heavy lifting for you. Overall, this is a simple premise, and we're happy to have been executing it every week for almost two years (this is our 99th rumor post).
View all of our Rumor Round-Ups
[sws_author_bio user="msunyata@yahoo.com" size="105″ authorposts="More OI posts by Marc" name_format="About the author"] [/sws_author_bio]