Note from the editor: it's the 100th installment(!) of our popular series, Rumor Round-Up, and, to celebrate, we've got some very special news regarding the Wizarding World of Harry Potter – Diagon Alley to go over with you all. So sit back, relax, and prepare to take in the culmination of nearly two years' worth of rumor reporting and fan speculation.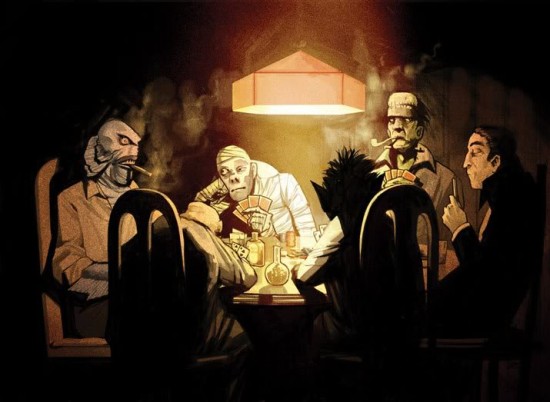 We've enjoyed the ride so far, and we hope you have, too.
Here's to the next 100 columns!
Harry Potter and the Escape from Construction Hell
Even though it's been only one month since Universal's big webcast that revealed the first official tidbits of Diagon Alley, a lot has developed on the rumor front – so much, in fact, that we decided to do another full-fledged Wizarding World roundup for your reading pleasure.
Or should that be for your displeasure? It turns out that Universal is facing the very real possibility of delaying Diagon Alley's grand opening, pushing it back anywhere from a matter of days (making it late- instead of mid-June) to, even, a few months (hello, August).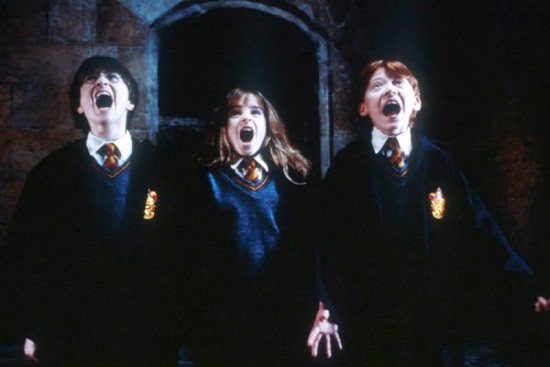 Just how did this come to pass? It's an interesting story, as Orlando United reports, and it revolves mostly around the bane of every theme and amusement park the world over: construction difficulties.
The main culprits: Hogwarts Express and Escape from Gringotts
The new Wizarding World may only have two rides, but they're both causing Universal more headaches than it bargained for.
First and foremost, there's the Hogwarts Express. Although the train itself is actually a bit ahead of schedule, its two stops are woefully behind; Hogsmeade Station at Islands of Adventure, which has shown a worryingly consistent habit of trailing behind all the rest of the construction, is still mostly empty inside.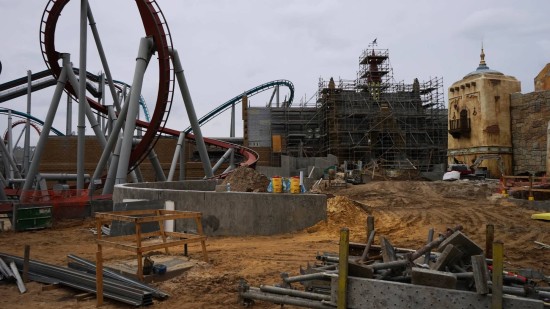 And although King's Cross Station at Universal Studios Florida was much further along, it suffered a huge setback a month or two ago: one of the contractors accidentally installed the wrong brickwork, making development halt as a significantly large swath of the building was essentially gutted and then redone. It's been a slow, painful process that has cost the operation hours and hours of work.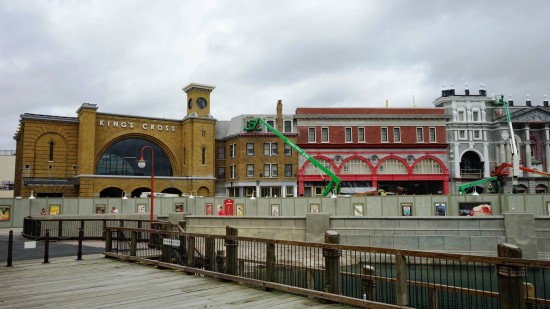 And then there's Harry Potter and the Escape from Gringotts, which has had all of the programming glitches and operational setbacks that its sibling, Harry Potter and the Forbidden Journey, suffered over at Hogsmeade. This comparison is both reassuring and terrifying: Forbidden Journey may have still managed to make its opening date (June 18, 2010, in case you're curious), but it did so only at the expense of tearing out a number of its effects, ranging from the Dementors' arms reaching out to grab you to the ride being in 3D.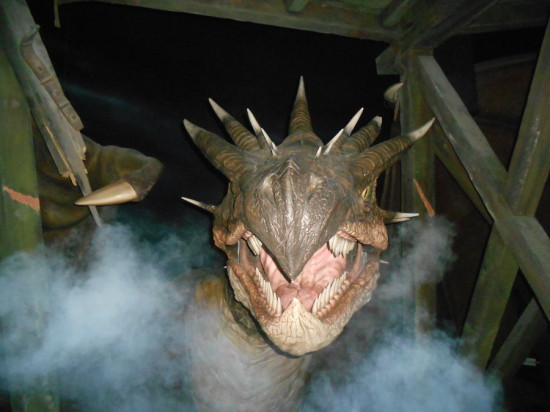 Given everything we know about Escape from Gringotts's story, it'd be a shame to lose any of those wonderful, magical details.
We're getting ahead of ourselves, though – just what, exactly, is going on within Gringotts Bank? It seems the execution of the ride's programming and the installation of its busbars is where the main hold-ups are. The cherry on top is that Intamin, the main vendor responsible for the attraction, has proven to be slow to respond to Universal's concerns or requests for fixes – to the point that, according to scuttlebut, Universal may look to another company to install all future clones of Escape from Gringotts (such as the inevitable versions that will pop up at Universal Studios Hollywood and, possibly, Japan, some five or six years down the road).
The bright side of the (Hogwarts Express) tracks
Not all the news these past four weeks has been gloomy, however. We've now heard from several employees that beta testing for the Hogwarts Express has been in full swing since early February, meaning that progress is being made. Just don't expect to be part of the testing (it's limited to Universal employees only for the time being – sorry, Harry fanatics) or to even see it happen (it's being done at night, since the company doesn't want the average guest to see the trains making an emergency stop or sitting dead in the water for hours at a time while the inevitable wrinkles are ironed out).
And within Gringotts, the simulator/coaster's sets are nearly complete, its show lighting is already finalized, and work on getting the media projectors set up and fully in focus is moving briskly along.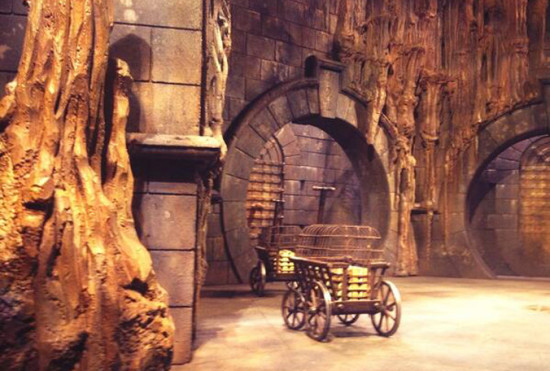 All of which underscores one simple point: these types of setbacks – whether from erring vendors or misfiring electrical systems – do happen to every attraction for every company at every park around the world. (And, furthermore, most of these leaks about the possibility of delays come from employees or contractors who are swept up in the heat of the moment, angry that they'll have to work yet another extra-long shift in order to play catch-up. What is blowing off steam on the one end can translate to an end-of-the-world scenario on the other.)
Universal went into Diagon Alley with its eyes wide open, and the odds are still extremely good that we'll still be strolling down Knockturn Alley and shopping at Carkitt Market on or right around June 14.
Assuming that no further mishaps occur, of course.
Prepare to be wowed all over again
But let's end on a positive note, shall we?
We have much more to say about what the new Wizarding World will have in store for us beyond the possibility of delays, and the details, as fleeting as they may be, have us falling in love with Diagon Alley all over again.
Window shopping – there could be as many as 30 window displays in the new land, roughly doubling what's on hand in Hogsmeade. And, regardless of whether these front real stores or not, a number of these will be interactive – once Universal starts selling its next-generation, RFID-equipped wands. Best of all? Word from multiple sources all across the net has these interactive elements being retrofitted into Hosgmeade, as well (maybe we can finally make that damn Mandrake be silent for just a moment or two).
Knocking Knockturn Alley around – easily the most elaborate of these interactive window displays will be the storefront sitting caddy-corner to Borgin and Burkes within Knockturn Alley.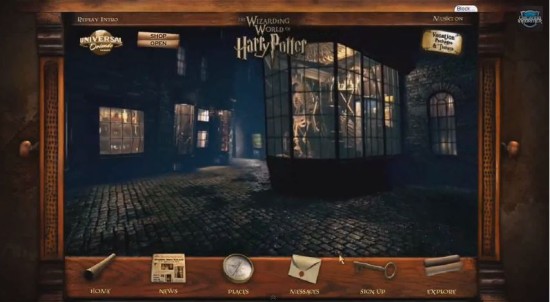 Guests will be able to make the full-size human skeletons contained therein fall completely apart, and then reassemble them piece by piece by further swishes of the wand.
Entering Diagon Alley – we've long been wondering just how the transition from the London waterfront to the Wizarding World beyond will be handled, and now we have one more piece of the puzzle: although the opening to Diagon Alley will be permanently open, the bricks on the very edges of that opening will mechanically spin around in place, making it look as if you've just arrived in time to see the end of the transformation.
Parking it at Carkitt Market – thanks to the Harry Potter Wiki, which has collected some odds and ends from the reports of the various Potter fansites that were invited to the webcast media event last month, we now have a fairly good idea of what the remaining stores will be in Carkitt Market: Jellied Eel Shop, Shutterbuttons Photo Studio, and the Fambus Station Wagon broom shop.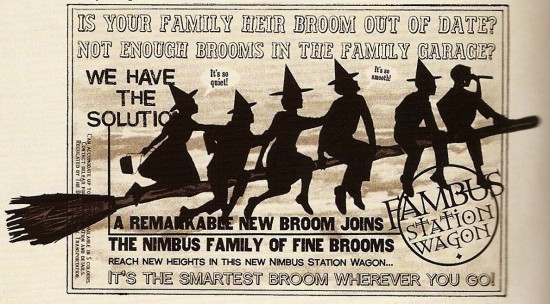 While we don't know which are real venues and which are simply storefronts, we do know that a broomstick photo op is in the works, and that the Fambus seems to be the perfect fit…
That's it for our 100th rumor article. And remember: if you'd like to learn more about Diagon Alley, we have a complete guide in the OI Universal Center with every detail you want to know!
NOTE FROM THE EDITOR
The propose of our weekly rumor column is to provide a window into what might be happening by collecting the latest speculation from sources across the internet (which we always link to). We take that speculation and condense it into one weekly post as a service to our readers, so you don't have to spend hours tracking down all the stories yourself.
We rarely claim to be the source for our stories. In reality, anyone can do what we do: Google "Orlando theme park rumors" and see what the darker corners of the theme park community are chatting about. But we know you don't have hours of free time to seek out this stuff — plus, Marc is really good at analyzing it — so we do the heavy lifting for you. Overall, this is a simple premise, and we're happy to have been executing it every week for almost two years (this is our 100th rumor post).
View all of our Rumor Round-Ups
[sws_author_bio user="msunyata@yahoo.com" size="105″ authorposts="More OI posts by Marc" name_format="About the author"] [/sws_author_bio]