Pulling its own version of a rumor round-up, Central Florida Top 5 has managed to combine all previously-leaked information with some insider intel of its own to give us our most tantalizing glimpse yet of the new RFID-equipped wands that will be flooding the Wizarding Worlds starting (possibly) this summer.
The information is impressive, compelling, and – perhaps ironically – magical, so be sure to be sitting down when reading this, preferably with a cup of butterbeer (frozen, of course) in hand.
Harry Potter, interactive wands, and you
While there is no word on what Universal will end up calling these new interactive wands, we do know that, as of right now, there are 13 different types planned – about a third of the selection of the older wands. They will be sold alongside the traditional ones and will only be offered within the Wizarding Worlds themselves, meaning that the gift shops at the front of the parks, within CityWalk, at the Orlando International Airport, and on Universal's online store will all be exempt. The current thinking in terms of price is somewhere around twice as much as the non-interactive wands, but it could be as much as three times.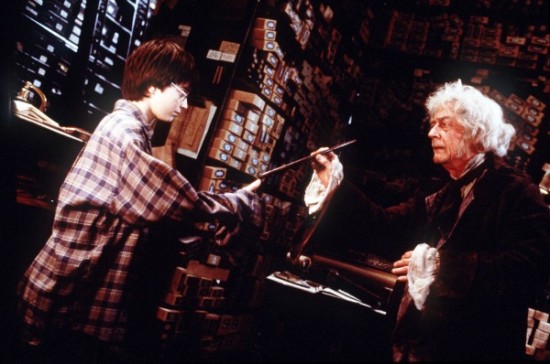 How do the wands work? They will be equipped with RFID sensors – not unlike Disney's MagicBands – and will also have a gyroscope, similar to the one found in the iPhone, built in. When combined with hidden Microsoft Kinect sensors that will be scattered throughout the parks, these wands will allow guests to flick, swoosh, and swipe to cast spells, just as the characters in the books and films do.
And you better start memorizing them all, because current scuttlebutt has a whopping 19 spells being used at various stops all throughout Harry's wondrous world.
The method to the madness
Although it seems as if the plan right now doesn't call for each of the interactive displays in the Wizarding Worlds to be expressly marked on guidemaps – having them be "discovered" by guests not only increases the overall sense of magical immersion, it may also serve as a method of crowd control – there will be a medallion on the ground at each of the stops, serving as a marker for the sensors to track you and also hinting at which spell(s) can be used. Eagle-eyed visitors, as such, will be able to pick out the locations relatively quickly.
It sounds like Universal's current game plan is to give each would-be wizard just one attempt to cast a spell; whether it's successful or a failure, she would then have to go back to the end of the line to try it all over again. (Don't ask how Universal plans on enforcing this rule, as we simply have no idea just yet. Will there be Team Members stationed at each of the interactive displays? This would make the most sense, but it would also help to give away their "secret" locations.)
Diagon Alley's spell-casting locations
Approximately 18 different interactive displays, most of them (fake) storefronts, will be on-hand at or shortly after the Wizarding World of Harry Potter – Diagon Alley's grand opening. These include:
Bowman E. Wright, Blacksmith (Carkitt Market) – features a suit of house-elf armor that collapses, which gives guests the chance to put it back together, piece by piece. In addition, the coal on a hearth will glow once activated
Dystyl Phaeleanges, Purveyor of Fine Bones and Tusks (Knockturn Alley) – a troll skeleton that is brought to life by a Victorian-style slide projector can be made to mimic your movements
Florean Fortescue's Ice-Cream Parlor (Diagon Alley) – a "fun" window display of a man and woman with ice cream hair will somehow animate, though it's rumored this won't be one of the first wave of interactive displays
Mermaid water fountain (Carkitt Market) – when the Agumenti spell is cast, water will shoot out at guests
Noggin and Bonce (Knockturn Alley) – with the right spell, a group of "very rude" shrunken heads can be silenced – and a counter-spell can release them from their silence
Pilliwinkle's Playthings (Knockturn Alley) – this Dark Arts storefront features trolls in tutus that appear
Public conveniences (Carkitt Market) – an umbrella-shaped light fixture can be made to rain (while the WWN radio station can be heard coming from an open window nearby)
Scribbulus (Horizont Alley) – a large piece of parchment will reveal a randomized list of messages, which may include some "secrets," when Aparecuim is cast. If a guest instead uses Wingardium Leviosa, a quill will rise from its display and hover in midair
Tallow and Hemp Toxic Tapers (Knockturn Alley) – guests can inflict one of three jinxes on a canary in the window
Trackleshanks (Knockturn Alley) – the shop's door will chuckle at you if you use the wrong spell
Weasleys' Wizard Wheezes (Diagon Alley) – a U-No-Poo sign, once triggered, will display a scene from Harry Potter and the Half-Blood Prince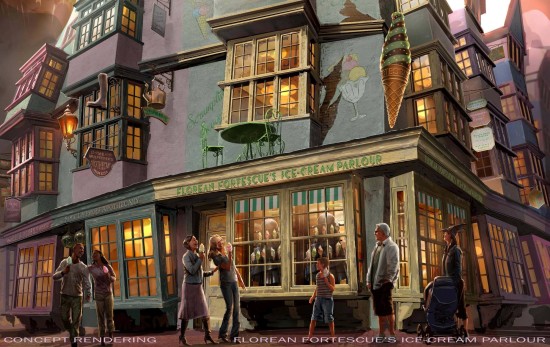 It should be noted that another interactive element mentioned in the article was also in Knockturn Alley – this little stretch of land will be packed with such experiences, which should hopefully make up for its lack of shops and attractions – located above guests, presumably taking advantage of the alley's ceiling. Whatever it is, it's exciting to know that Universal and Warner Bros. are attempting to incorporate the interactive wands in a whole host of different ways.
Hogsmeade's spell-casting locations
Yes, it's true – the first Wizarding World of Harry Potter will be receiving something of a facelift, making the more immersive magical experiences from Diagon Alley carry over. Roughly ten new interactive elements will be installed, with some coming in the shape of brand-new storefronts – such as Madam Puddifoot's, which just recently replaced Wiseacres (since the latter is moving off and becoming a full-fledged store of its very own at Diagon Alley) – and others being upgrades to older displays.
Dervish and Banges – the golden automata of Harry Potter being chased by a dragon will respond differently to a number of spells
Honeydukes – chocolate frogs will be revealed – and possibly come to life – when activated
Madam Puddifoot's – one spell will animate cakes sitting on display, while another will make them go prone again
Pippin's Potions – guests can cast Arresto Momento to stop a water-filled cauldron from overflowing onto them (with pixies watching gleefully from above)
Spintwitches – Wingardium Leviosa makes a return appearance here, causing a Quaffle to float up out of its box
Tomes and Scrolls – a secret never-ending page of The Tales of Beedle the Bard will be revealed when magically prodded
Zonko's Joke Shop – reduced to just a tiny fake storefront, Zonko's will feature an "impressive" display of fireworks when triggered by the correct spell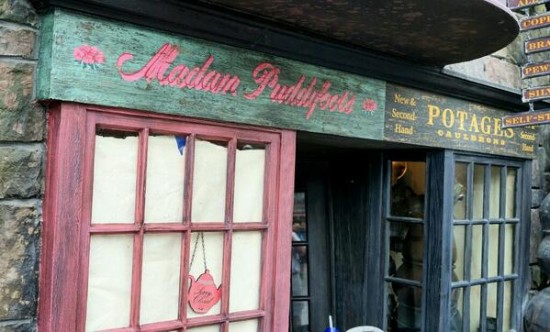 Ceridwen's Cauldrons, Gladrags, and McHavelock's are the remaining three interactive spots, but there's been no word as of yet what their magical elements will be.
Expect all this to make Hogsmeade nearly as busy as it was when it first opened four years ago – good news for crowd control at Universal Studios Florida, but bad news for those Muggles who want to take in all the new additions at Islands of Adventure.
The dark side of the magic
Excited to try your hand at these interactive experiences? Don't get your hopes up too much just yet – everything is still waiting approval from that most demanding of mistresses, Jo Rowling, and given the topsy-turvy way that construction has been unfolding regardless, it's still 50-50, at best, that we'll be seeing the RFID wands on opening day. This may even be something that gets held up until next summer before being fully deployed, particularly since it seems that the tips of the new wands are extremely fragile and break rather easily.
Still, it sounds as if Universal is aiming to have at least a handful of the spell-casting stops be online right from day one, with all the others being slowly phased in over the course of the following months.
Keep the conversation going!
Agree or disagree with the latest intel? Think we forgot something juicy? Want to offer your own take on the wildest rumors?
Well, then, join us at the brand-new Orlando Informer Forums and tell us!
What's more, we're celebrating our grand opening all throughout the month of April – meet our community and enter for your chance to win one of three $100 Universal gift cards! Here's the grand opening announcement.
NOTE FROM THE EDITOR
Orlando Informer will be viewed over 10 million times in 2014, and among those viewers are some folks with pretty strong connections to Universal Orlando. As they contact us with insider intel, we collect their information and combine it with our own research to produce our weekly Rumor Round-Up. When information comes to us directly, we cite "our sources"; when information comes from outside our network, we always cite it as such and provide links to the original source. This is our 108th rumor post, and we're proud to have provided our readers with compelling stories as we share our thoughts and actively promote dozens of other websites.
Despite the excitement that can come with covering rumors, we ask our readers to be ever-mindful that, unless explicitly stated as fact, everything we cover here must be considered a rumor and unofficial. If you're ever confused by what is what, we invite you to join us for free in the OI Forums, where you can ask our vacation planning community for clarification and seek advice for anything else regarding your plans to visit Orlando.
Get your questions answered in the OI Forums
View all of our Rumor Round-Ups
[sws_author_bio user="msunyata@yahoo.com" size="105″ authorposts="More OI posts by Marc" name_format="About the author"] [/sws_author_bio]