Harry Potter and the Escape from Gringotts: The good
Just recently, the wonderful Bob Wadd posted some pics and video of his latest helicopter fly-by of the Wizarding World of Harry Potter – Diagon Alley (done while the dragon was being installed last weekend) at his equally wonderful Pixels at the Parks site, and one detail in particular jumped immediately out to us.
While we've known all about Harry Potter and the Escape from Gringotts for quite a while now, there's still a few surprises left in store for us, such as this hitherto unknown feature of the ride's line: the overflow queue, which is used when the (massive) main queue is completely full and all those throngs of people still waiting to get inside have to be put somewhere.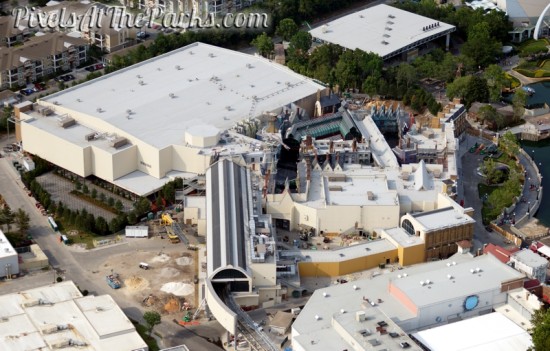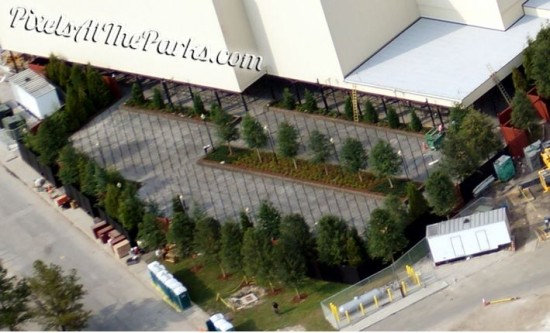 What's so special about this nondescript track of land? Well, despite the fact that so many of us will be spending at least an hour here during the ride's first year of operation, it's precisely its nondescript nature that caught our eye here at RRU HQ. Given the immaculate marble Entry Hall with its lifelike goblin audio-animatronics or the immersive office of Bill Weasley with its state-of-the-art Musion effects, this overflow area seems remarkably, mind-numbingly bare. And when coupled with the endless rows of switchbacks (hello, every ride at Cedar Point!), one has the prime ingredients for Waiting Hell.
There's one last consideration to take into account, as well, and this one is potentially more ruinous for the overarching experience: if guests have to enter Gringotts Wizarding Bank first, make their way through at least one or two of its impressive environments, and then head out to the rather lackluster overflow area – think, essentially, Harry Potter and the Forbidden Journey's greenhouse here – then it goes a long way to significantly undermining not only one's sense of immersion, but also the ride's narrative, as well.
This little development piqued our curiosity enough to reach out to several of our most trustworthy sources for any sort of clarification on the issue. Luckily for us – and you! – they did, indeed, have some insight on the matter.
First and foremost, the overflow queue will be the first area that riders will be deposited into; after walking in through the front door, saying hello to the greeter, and getting just a split-second glimpse of the Entry Hall, they will have to take a left and then continue around to the back of the building. Getting just a tease of the wonders that await inside the bank may be a tad on the frustrating side – particularly on heavy-traffic days – but it certainly doesn't spoil the logical flow of the attraction's story.
Furthermore, for all those who do have to do their time in Waiting Hell, Universal has attempted to make the experience at least a little on the bearable side: located under the cover of the overhang is an exact replica of the mine car used in Harry Potter and the Deathly Hallows, Part 2.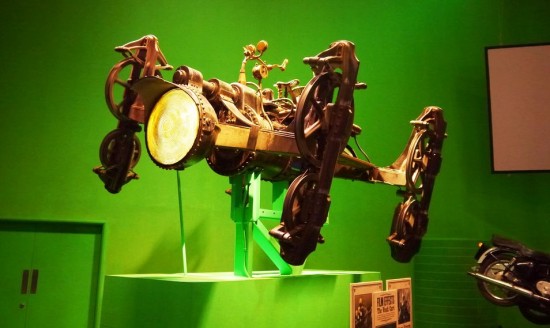 Bare in mind this isn't a replica of the ride vehicle guests will use in the ride itself, but rather a replica of what you see in the films. Hopefully, because this is literally the only time you'll be able to see this particular prop anywhere in Diagon Alley, it will make entrance into the the overflow queue a little less disappointing.
Harry Potter and the Escape from Gringotts: The bad
Have you been hearing all those rumors about Escape from Gringotts falling further and further behind? We hate to be the ones to break it to you, but it turns out they're true.
At least a few of the house-elves that managed to apparate into our backyard have expressed their private beliefs that Universal could conceivably have to break one of its (and, presumably, J.K. Rowling's) cardinal rules and pull a Disney: Diagon Alley will need to open in phases, with Gringotts being the absolutely last element to go online. It seems likely, at the very least, that Team Members won't be able to ride it for their preview, which has apparently been postponed yet again in recent days. (But at least they can fill up the overflow queue once they're there!)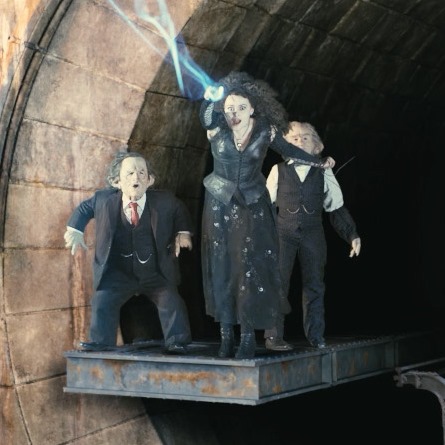 What specifically is going on? What our sources tell is us is that rigorous testing that Universal is putting Gringotts through was initially slated to start tomorrow but has now been similarly postponed.
Here's a breakdown of the new process:
Day one – the Operations team tries to stop the ride, causing downtime. The Team Members assigned to the attraction then have to call in the technicians and time them to see how long it takes for everything to get back up and running again. During the process, they have to decide whether or not to clear out the ride and/or the queue.
Day two – the techs try to stop the ride using various worst-case scenarios, such as a power outage, and attempt to get it back online as fast as they can.
Day three – the endurance test. The ride needs to be able to operate normally and continuously, without any stops whatsoever, for 12 or 13 hours straight. Once this has been accomplished, the green light is officially given for opening.
Just to end on a note of optimism, the opening-in-phases possibility is strictly being treated as a last resort – meaning there is still some light at the end of the Gringotts tunnel that all will be available to the very first visitors to the new Wizarding World in June.
And how's this for a cherry on top? Word has reached us via owl that the Hogwarts Express has passed its testing this week!
Wizarding odds and ends
Okay, I have to admit it – I'm a bit on the obsessive-compulsive side, and having the odd item stick up out of place can really be grating, even if it's just mentally (or is that epistemologically?) out of sorts.
Such is the case with the following Diagon Alley venues, which are smack dab in the middle of areas that we've already learned so much about. Eager to learn just as much about these as we recently have with Escape from Gringotts and the Hogwarts Express, I decided to ask our friends, the house-elves.
Here's what they had to say:
Horizont Alley's mystery shop – ever notice that giant building at the end of the street, next to the entrance to Knockturn Alley and right behind King's Cross Station? Ever wonder what it was? Well, wonder no more: it's one of several drink/street vendors, which, in this particular case, will be selling Butterbeer and possibly other concoctions. Our elven friend compared it to Moose Juice, Goose Juice over in Seuss Landing.
Ollivander's Wand Shop/Wands by Gregorovitch – when asked why there's going to be two wand stores in Diagon Alley, our sources explained that both locations will be selling both the standard-issue and interactive wands (so there goes that theory). With Universal Creative being so tight-lipped on the new interactive experiences – probably because they haven't even been completed yet – it's tough to get anything else out of our poor fantastic beasts. But we do know where to find them…
Carkitt Market's shops – in Universal's new behind-the-scenes video released this week, we got our very first official confirmation of Shutterbutton's photography studio, which we've all assumed is in Carkitt Market for quite some time. Excited by the prospect of getting more real stores in that section of the Wizarding World, we excitedly sent some owls out – but were disappointed to learn that since no one's seen the wardrobe for any venues from that particular area, we're forced to conclude that they're all just fake storefronts. Bummer!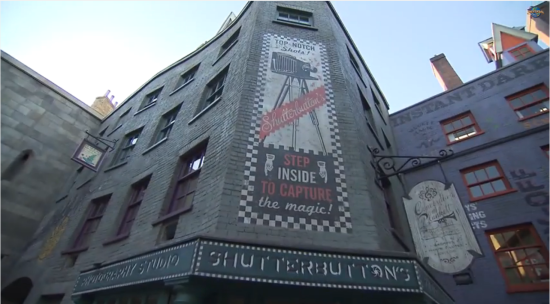 Care for an alternate theory on just what that big Red Barn in Horizont Alley may be? How 'bout this: just today, Universal released a new blog post detailing some of the culinary options available in Diagon Alley. Among them was this little nugget:
Another must-stop during your trip to Diagon Alley will be Eternelle's Elixir of Refreshment, a cart located in Horizont Alley, where you can enjoy unique elixirs. Here's how it works: you select from a variety of elixirs like Draught of Peace, Babbling Beverage, Elixir to Induce Euphoria, and Fire Protection Potion, and then add the elixir to Gillywater. By mixing them, you'll see your drink transform before your eyes and experience a delightful flavor surprise. Too cool!
Too cool, indeed.
Limiting your time on the Hogwarts Express
Just a quick in-case-you-missed-it: earlier this week, one of our most well-connected forum members posted this little nugget: "in peak times, guests will be restricted to only one ride per day on the Hogwarts Express." And, no, it doesn't matter which way you're going (either to Diagon Alley in Universal Studios Florida or to Hogsmeade in Islands of Adventure) – you're still limited to just the one jaunt.
Although it sounds too restrictive to be true, the fine print on Universal's official site backs it up.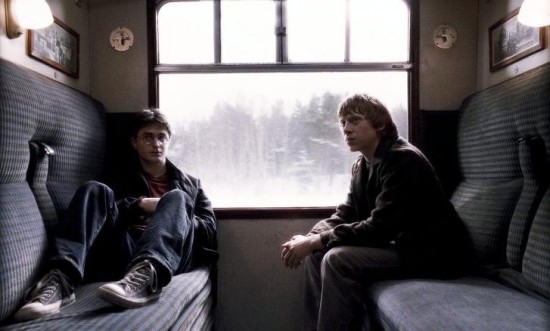 Too heavy-handed or a stroke of crowd-controlling brilliance? Help debate it with us in the forums!
You can also check out all the information Universal released today about Diagon Alley food and beverage options in the OI Forums. Finally, if you'd like to start back at the beginning, visit our Complete guide to Diagon Alley.
NOTE FROM THE EDITOR
Orlando Informer will be viewed over 10 million times in 2014, and among those viewers are some folks with pretty strong connections to Universal Orlando. As they contact us with insider intel, we collect their information and combine it with our own research to produce our weekly Rumor Round-Up. When information comes to us directly, we cite "our sources"; when information comes from outside our network, we always cite it as such and provide links to the original source. This is our 112th rumor post, and we're proud to have provided our readers with compelling stories as we share our thoughts and actively promote dozens of other websites.
Despite the excitement that can come with covering rumors, we ask our readers to be ever-mindful that, unless explicitly stated as fact, everything we cover here must be considered a rumor and unofficial. If you're ever confused by what is what, we invite you to join us for free in the OI Forums, where you can ask our vacation planning community for clarification and seek advice for anything else regarding your plans to visit Orlando.
Get your questions answered in the OI Forums
View all of our Rumor Round-Ups
[sws_author_bio user="msunyata@yahoo.com" size="105″ authorposts="More OI posts by Marc" name_format="About the author"] [/sws_author_bio]