Eating, drinking & buying your way around Diagon Alley
It's already May, which means that (more than likely) the Wizarding World of Harry Potter – Diagon Alley will be open next month.
So it should come as no surprise that Universal employees got a special sneak peek at future culinary and merchandise offerings this past week inside the Garden of Allah building in USF's Hollywood backlot. And although these were only snippets – relayed from the Team Members to Seth Kubersky and Derek Burgan (a name which should be familiar to long-time Rumor Round-Up readers), who were nice enough to post them on their Twitter accounts – they do provide a very compelling look at just how fundamentally Universal Creative is expanding upon the theming possibilities of this second phase.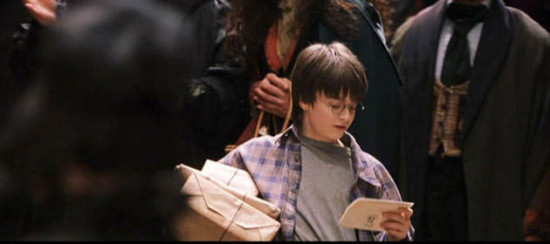 Let's get to it, shall we?
Borgin and Burkes – the latest in Dark Arts fashion to be sold here includes dark mark scarves, bone candlesticks, crystal skulls, Death Eater cloaks, and Malfoy and Karkaroff character wardrobes.
Florean Fortescue's Ice-Cream Parlor – one of those roughly two dozen unique flavors we've been yammering on about has now been revealed: chocolate chili ice cream, which will be available in a collectible sundae bowl, but of course.
Gringotts Bank – a whole slew of tchotchkes – not surprisingly – will be themed to the famous wizarding bank, including wallets, coin bags, gold bars, coins, and goblin t-shirts. What isn't known is where, exactly, these wares will be on sale; some might end up in the queue to Harry Potter and the Escape from Gringotts, but others will undoubtedly go to the rumored goblin bank teller's window, where guests can "exchange" their Muggle money for the wizarding equivalent.
The Hopping Pot – a brand-new venue (oddly) based off of one of the tales of Beedle the Bard, the Hopping Pot will apparently be a bar serving eight different beers, Wizard Ale, Dragon Porter, and a steaming, non-alcoholic train-themed drink similar to a Flaming Moe.
King's Cross Station – for one of the very first times, Universal will be offering refreshments in the queue to one of its attractions.  Expect to see "prepackaged food items," not unlike those currently on-hand at Lisa's Teahouse of Horror, in the Muggle section of the train station.
The Leaky Cauldron – pumpkin juice will be on tap at Diagon Alley's main eatery. It's no big surprise, but it's still good news. Also, despite Universal Orlando's website saying otherwise, it seems that the Cauldron will be open for breakfast from 8:00 to 10:30am.
London waterfront – one of the two cabman's shelters will be dedicated to (sausage-focused?) food, while the other will be given over to merchandise. Although we don't have any word on what kind of wares will be peddled, it's very likely that they'll be geared towards British Muggles.
Magical Menagerie – plush pixies, snakes, and even Dobby have officially been added to the likes of Hedwig, Scabbers, and Buckbeak.
Ollivander's/Gregorovitch's Wand Shops – in addition to the standard and interactive wands for sale, we can now also expect to see toy wands with lighted tips for children.
Quality Quidditch Supplies – complete Quidditch sets, replete with gloves and pads, will be on hand, along with banners and pins for all the various wizarding teams.
Wiseacre's Wizarding Equipment – a watch with Hermione's Time Turner on it will be on the shelves of this very cool-looking shop.
Just in case all of these tantalizing first-looks weren't enough for you, we got a few other random bits and pieces of merchandising heaven. It sounds as if the drinking options inside of Diagon Alley will be greatly expanded and will include a number of teas, such as boba mint tea with blueberry tapioca, as well as flavored, fresh-squeezed lemonades. And if it's more collectibles you're looking for, how do iPhone and iPad cases, luggage bag straps, and baby outfits all sound?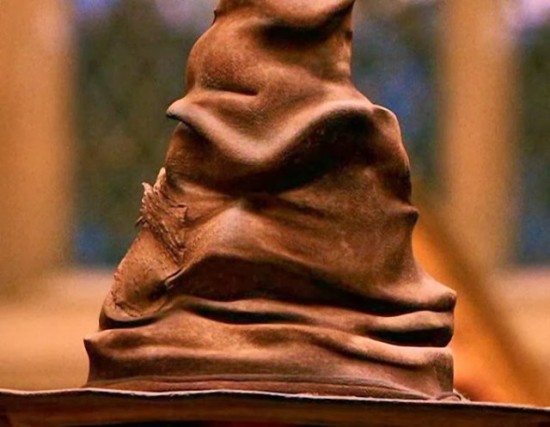 It would sound cool, we think, if it weren't for our two personal favorites here at RRU headquarters: a talking sorting hat and a Howler, which you can record your very own 15-second message onto. Now that's what we're talking about!
The mystery of Early Park Admission – solved?
For months, ever since January's first Diagon Alley press event, when Universal's PR representatives refused to be pinned down on specifics, rumors have been swirling that perhaps Early Park Admission (EPA) would somehow be limited once Diagon and, more importantly, Cabana Bay Beach Resort open. This is no small matter – with 1,800 rooms that can hold anywhere from 5,000 to 7,000 people at any given time, Cabana Bay promises to significantly disrupt the early traffic flow and touring patterns of the two Wizarding Worlds.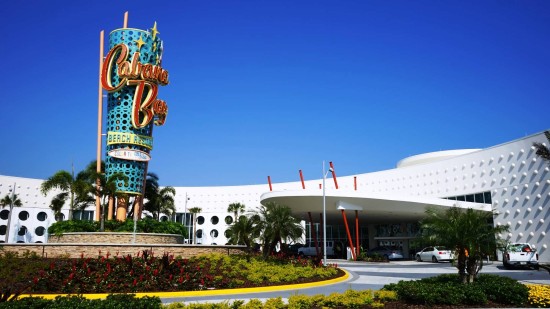 Now it seems that Universal is confirming the rumors and assuaging the looming problems in one fell stroke.
On Diagon Alley's official site, this enigmatic fine print can now be found:
Early Park Admission begins one (1) hour prior to regular scheduled park opening to one (1) Universal Orlando theme park as determined by Universal Orlando. Valid at select attractions at each park. Additional restrictions may apply.
Only one park will be open for early entry? While that is certainly a possibility, the far more likely scenario is Universal dividing up its on-site guests between the two Wizarding Worlds; all the visitors at, say, the three deluxe hotels – Royal Pacific Resort, Hard Rock Hotel, and Portofino Bay Hotel – will be admitted to Diagon Alley, while everyone at Cabana Bay will be routed to Hogsmeade. This would not only help with crowd control, it would also result in yet another reward for those willing to spend the extra money to stay at the more expensive resorts.
There is still one work-around regarding the class barrier, though: the Hogwarts Express, which, of course, allows patrons to hop from one park to the other. It'll be interesting to see how – or if – Universal deals with this. We also await word on exactly how the company will handle guests who book Universal Orlando vacation packages with off-site accommodations, as these guests have been promised access to Early Park Admission, as well.
Finally, on a somewhat related note, the "Terms and Conditions" on Universal's on-site hotel page have been updated to confirm that neither Escape from Gringotts nor the Hogwarts Express will have Express Pass access.
Quick hits from all over the Wizarding Worlds
What? You're still hungry for more Harry Potter morsels? We can't blame you, given the just-around-the-corner opening date. Chew over these little nuggets, then, to help while away the time:
Our friends at Theme Park Insite report that the Team Member training dates for the Hogwarts Express will be on May 5, 6, 10, and 17. We can expect to see soft openings (for the train, at least) as soon as May 18.
Local news station WESH has some gorgeous aerial shots of Diagon Alley, showing the progress of construction (Gringotts Bank's dragon should be installed any day now) as well as some great advertisements/signs, such as the Society for the Reformation of Hags and the Black Carp Co. taxi service.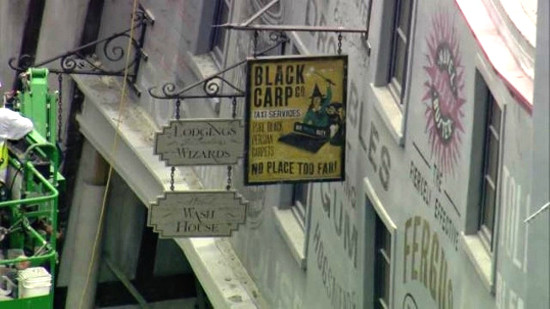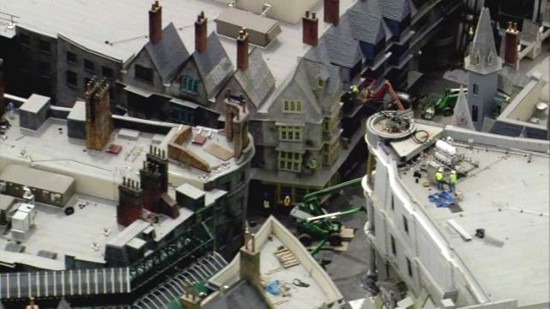 WESH posted a total of 40, but they use a small file size, so we reposted our favorite 19 – enlarged and enhanced – right here in the OI Forums.
Last but not least, another week of Today Show broadcasts has passed, and there's still no word about a Diagon Alley grand opening date. (If you're just joining us, Today was supposed to appear live at Universal last Friday, but the broadcast was canceled. Then came rumors that a pre-recorded segment would air this week, but that never materialized.) It's back to the drawing board as we wonder when an announcement will come, and, more importantly, if the announcement delay is a sign of construction delays.
One way or another, as long as Universal can get Diagon Alley built and opened in less than four years, two months, and 25 days, they'll have beaten the pace set by Disney and the Seven Dwarfs Mine Train. (Come on, we're just having some fun on a Friday afternoon… although it's true.)
Learn more on our Diagon Alley page, or discuss it all with us in the OI Forums.
NOTE FROM THE EDITOR
Orlando Informer will be viewed over 10 million times in 2014, and among those viewers are some folks with pretty strong connections to Universal Orlando. As they contact us with insider intel, we collect their information and combine it with our own research to produce our weekly Rumor Round-Up. When information comes to us directly, we cite "our sources"; when information comes from outside our network, we always cite it as such and provide links to the original source. This is our 111th rumor post, and we're proud to have provided our readers with compelling stories as we share our thoughts and actively promote dozens of other websites.
Despite the excitement that can come with covering rumors, we ask our readers to be ever-mindful that, unless explicitly stated as fact, everything we cover here must be considered a rumor and unofficial. If you're ever confused by what is what, we invite you to join us for free in the OI Forums, where you can ask our vacation planning community for clarification and seek advice for anything else regarding your plans to visit Orlando.
Get your questions answered in the OI Forums
View all of our Rumor Round-Ups
[sws_author_bio user="msunyata@yahoo.com" size="105″ authorposts="More OI posts by Marc" name_format="About the author"] [/sws_author_bio]