The first proof of an Islands of Adventure expansion
The goodly folks over at Parkscope have uncovered yet another permit, filed by Universal just yesterday. An engineering permit, it calls for "site work for project 340, to include demolition of existing site area, mass grading, asphalt modification, and utility improvements."
Just what is project 340, you ask? Well, the short answer is we don't fully know yet, but long-time readers will remember that a new King Kong ride is supposedly headed to Islands of Adventure (squeezed in between Jurassic Park River Adventure and Toon Lagoon).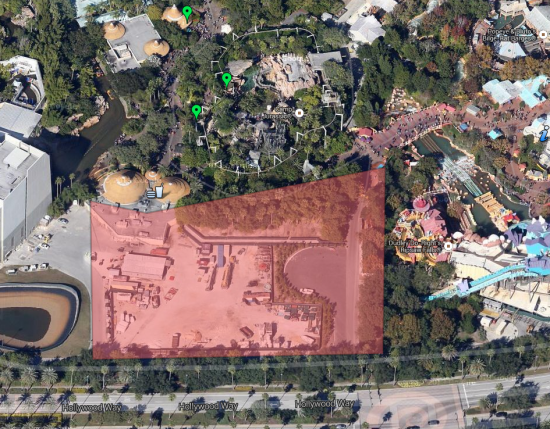 It's been expected that Kong, no matter his final destination at the resort, would open in 2016, which has made the lack of construction work over these last several months incredibly conspicuous. This permit, then, is not only our first official confirmation of some sort of expansion work going on at the park, but also a life-saving jolt for the project.
Parkscope notes that "engineering permits are filed to do site preparations and related work," with permits for demolition and construction typically following shortly thereafter. Perhaps we can finally piece together what is really going on in that little back corner of Jurassic Park within the next several weeks – maybe even before Diagon Alley opens.
The Orlando Eye sees a more expansive future
We've been keeping close tabs on the Orlando Eye, the new dining/shopping/entertainment complex situated at International Drive, here at Orlando Informer thanks to its potential for being a possible game-changer in the Orlando landscape.
And we now might have a far bigger reason to get excited.
The Orlando Sentinel reported yesterday that Merlin Entertainments, the company behind both the Orlando Eye and LEGOLAND Florida, has just signed a deal with DreamWorks to do Shrek's Far Far Away Adventure, a 20,000-square-foot "live, interactive" experience based off of the (once) popular animated franchise.
The idea is to do a total of six such attractions by 2023, with London's South Bank (home to the London Eye observation wheel, Sea Life Aquarium, and the London Dungeon) being first, and Orlando (where the Orlando Eye observation wheel, Sea Life Aquarium, and Madam Tussaud's Wax Museum are currently under construction) possibly coming in next.
The interest in such a possible development is two-fold. First and foremost, such a move – regardless of its subject matter or license – is a far cry from the standard tourist traps of giant Ferris wheels or aquariums, and it is within striking distance of Disney's and Universal's theming territory.
The more that Merlin can push its multi-million dollar district down this path, the more compelling the Orlando Eye will become to guests – and the more competitive it will force Universal CityWalk and the still-under-construction Disney Springs to become.
Secondly, however, it'll be interesting to see how Universal, in specific, will react. Although its licensing agreement with DreamWorks ended some eight years ago, the company continues to use Shrek characters at all four of its worldwide parks, with Universal Studios Singapore even basing one of its seven lands on the franchise (Far Far Away).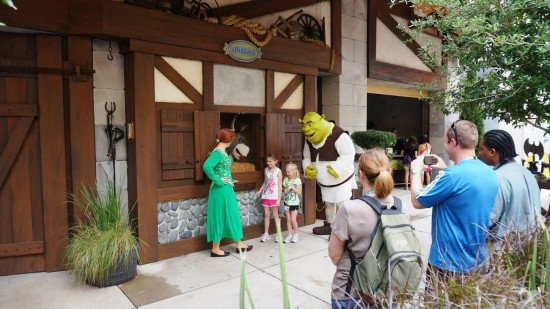 This may ultimately force Universal to dump the property more quickly than it otherwise would, resulting in a brand-new replacement for the desperately-aging Shrek 4D in both Florida and Hollywood and a whole new land in Singapore, which, many analysts believe, may very well end up being the Wizarding World of Harry Potter (Singapore, it should be noted, is the only Universal park to not feature the boy wizard, due to its extremely small size).
More unique attractions at multiple theme park sites? It's hard to imagine a better scenario for consumers.
Cabana Bay goes really old-school
In addition to filing new permits yesterday, Universal also unveiled the fitness center for its new Cabana Bay Beach Resort, which (soft) opens in just a few short weeks.
While exercise rooms aren't typically the first item to come to mind when thinking of exciting theme park developments – or just thinking of hotels, generally – this one, much like the rest of Cabana Bay, has an intriguing spin.
Jack LaLanne, called the godfather of fitness due to his pioneering The Jack LaLanne Show (which ran from the 1950s on through to the '70s), will be the overriding theme for the center: guests will watch televisions replaying old episodes of his show while being surrounded by photos, trophies, artifacts, and even a full-size statue of LaLanne himself.
It certainly continues the retro vibe of the rest of the hotel, and it creates an interesting visual contrast with the modern exercise equipment.
[youtube_video]fIVfe-crHDs[/youtube_video]
Oh – and in case the appropriately-named Jack LaLanne Fitness Center just doesn't do it for you, Universal also snuck into its press release the little tidbit that Cabana's lazy river will feature waterfalls and water cannon, which makes for yet another fun little twist.
Why Universal Studios Florida is losing themed food and drink
When Transformers: The Ride opened at Universal Studios Singapore at the end of 2011, it debuted with an attached quick-service restaurant called the Starbot Cafe (which has the coolest subtitle of any theme park eatery in the entire world: Human Refueling Center). Universal Studios Hollywood received both of these components the following summer, which made Starbot's ultimate arrival at Orlando a no-brainer once Transformers was finally announced to be arriving at Universal Studios Florida, as well.
Except, of course, that it's never arrived, despite many rumors – both old and current – to the contrary.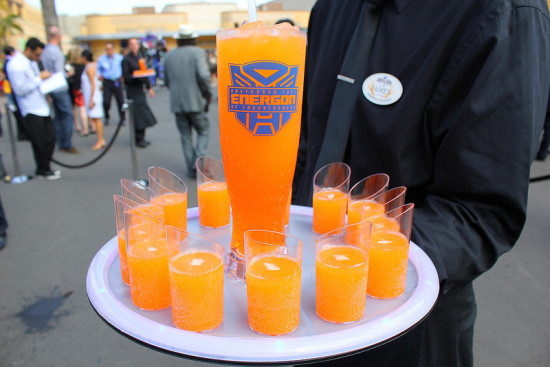 Now we think we may know why. Screamscape reports that Energon, the signature Transformers drink (remember that, after Harry Potter, all new theme park entries have to have some sort of corresponding, exclusive food or beverage option), has suddenly disappeared from USH. According to inside sources, the robotic drink's formula is actually the same as Universal Studios Florida's Flaming Moe over in Springfield, minus the dry-ice ingredient, of course.
(Though we should note that Dan disagrees with this assessment. He says that "Energon tastes exactly like a melted orange creamsicle, whereas a Flaming Moe tastes like an orange soda – that's like saying butterbeer is identical to root beer." Point taken, Mr. Informer.)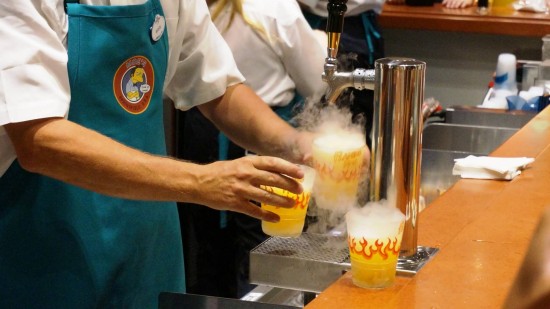 Rumor holds that Fast Food Blvd, a money-making machine second only to the Wizarding World, is set to arrive at Hollywood shortly, which would mean that the same park would have supposedly-exclusive-but-really-identical drinks. If Universal is loath to pull that stunt on the west coast, you better believe it won't do it here on the east coast, either.
So, sorry, all those Starbot-is-going-to-replace-the-Monsters-Cafe rumors – you're deader than the Back to the Future ride.
NOTE FROM THE EDITOR
The propose of our weekly rumor column is to provide a window into what might be happening by collecting the latest speculation from sources across the internet (which we always link to). We take that speculation and condense it into one weekly post as a service to our readers, so you don't have to spend hours tracking down all the stories yourself.
We rarely claim to be the source for our stories. In reality, anyone can do what we do: Google "Orlando theme park rumors" and see what the darker corners of the theme park community are chatting about. But we know you don't have hours of free time to seek out this stuff – plus, Marc is really good at analyzing it – so we do the heavy lifting for you. Overall, this is a simple premise, and we're happy to have been executing it every week for almost two years (this is our 102nd rumor post).
View all of our Rumor Round-Ups
[sws_author_bio user="msunyata@yahoo.com" size="105″ authorposts="More OI posts by Marc" name_format="About the author"] [/sws_author_bio]