At last! The most exact(ing) layout of Diagon Alley yet
If you'll recall from last week, we were on something of a tear to find out all we could about the specific shops and their various locations all along Diagon Alley's four(!) streets. After getting our preliminary batch of intel, we're excited about getting an even newer, more in-depth deluge of information, providing our most complete look at the new Wizarding World.
Since so much of Diagon Alley has already been meticulously covered, let's concentrate on the lesser-known locations, particularly in those alleys beyond Diagon Alley proper, shall we?
Horizont Alley:
Pilliwinkle's Playthings – the first store on the left past Florean Fortescue's Ice-Cream Parlor, likely a facade only.
The Fountain of Fair Fortune – also located on the left towards the very end of Horizont Alley, just before Knockturn Alley's exit, the Fountain does, indeed, seem to be home to either a street vendor or a mini-eatery, just as the rumors have suggested. (A bit of Harry Potter trivia: "The Fountain of Fair Fortune" is one of five tales contained in The Talest of Beedle the Bard.)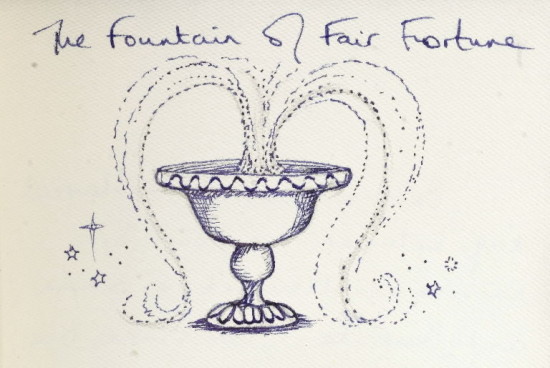 Flimflam's Lanterns – the giant red-roofed building at one end of Horizont Alley now has a name – maybe. Our sources weren't certain if this were truly the name of the structure or if it were describing an interactive wand experience located there (more on that in a moment).
Eternelle's Elixir of Refreshment – as just officially announced last week, Eternelle's is a drink vendor that allows guests to mix their own drinks. What we were surprised to learn is (a) its location (right across from Scribbulus Writing Implements) and (b) the fact that it's actually this piece of concept art that has been floating around for the past several months: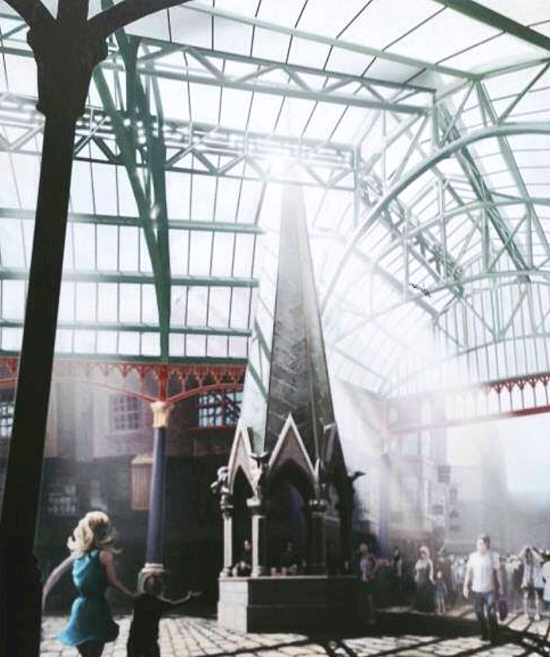 Carkitt Market:
Bowman E. Wright, Blacksmith – anchoring the far corner of Carkitt Market (just behind the Grimmauld Place facade) is the imposing structure of this blacksmith's shop. Despite its detail, it is, unfortunately, just a faux storefront. (What, Universal? You're missing your chance to sell real horseshoes?)
The Hopping Pot – yet another drink stand named after The Tales of Beedle the Bard, the Hopping Pot is located next-door to Bowman E. Wright. Yet again, we're not entirely certain, at this particular juncture, what exactly will be sold here.
Breaking down the interactive wand experiences
Remember our giant blow-out of Central Florida Top 5's in-depth listing of the interactive wand experiences from a month-and-a-half ago? Thanks to our incessant bribing of our house-elves with wands of their very own, we have much and more to add now.
For starters, guests will absolutely have to follow the correct motions with their wands and recite the correct word – not to mention face in the right direction, which the bronze medallions on the ground will indicate. If all three of these requirements aren't met, nothing will happen.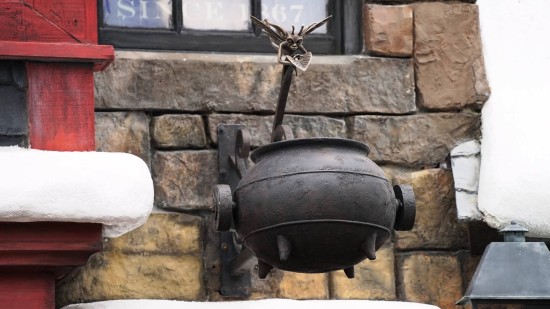 There are going to be nine interactive locations in Hogsmeade, with another 20 available in Diagon Alley. For the former, all nine will be located in Hogsmeade Village (meaning both Hogwarts Castle and Hagrid's hut will be exempt); for the latter, they are scattered amongst Diagon's various sections:
Diagon Alley – 6
Horizont Alley – 10
Carkitt Market – 4
What about Knockturn Alley, we hear you ask? Well, the simple truth is, we just don't know. Rumors have been suggesting that Knockturn will have the biggest number of experiences available – just as Central Florida Top 5 reported – but our sources either have no idea what's going on in that dark corner of the Wizarding World or just aren't telling us. Maybe the Malfoys have gotten to them already…
Finally, are you curious as to just how much this is going to cost you? Well, fear not – despite our initial speculation that the new RFID-equipped wands would be as much as double the price of the current wands, we now know that some Team Members have been told the wands will only be $10 more than their non-interactive counterparts, or $45.
So breathe easy, friends – until you see just how long those lines at those bronze magical medallions are…
Tell us more about the wand locations/spells!
Well, all right, fine – since you're twisting our arm, we've gone ahead and twisted our elves' arms, as well. We specifically asked them to vouch for Central Florida Top 5's previous listing, and these were the ones they could 100% verify (with a few corrections):
Bowman E. Wright, Blacksmith (Carkitt Market) – features a suit of house-elf armor that collapses, which gives guests the chance to put it back together, piece by piece. In addition, the coal on a hearth will glow once activated.
Mermaid Fountain (Carkitt Market) – when the Agumenti spell is cast, water will shoot out at guests.
Pilliwinkle's Playthings (Horizont Alley) – this toy store's display features trolls in tutus that appear.
Public conveniences (Horizont Alley) – an umbrella-shaped light fixture can be made to rain (while the WWN radio station can be heard coming from an open window nearby).
Weasleys' Wizard Wheezes (Diagon Alley) – a U-No-Poo sign, once triggered, will display a scene from Harry Potter and the Half-Blood Prince.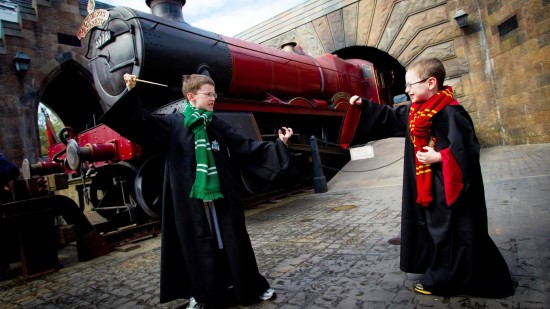 Our hats off to Ken Storey and the rest of the Central Florida Top 5 team for being so spot-on with their reporting all the way back in the dark ages of this past April.
"Excuse me, Mr. Goblin, sir… Um, hullo?
Are you utterly blown away by the audio-animatronic goblins in the queue for Harry Potter and the Escape from Gringotts? We are, too – particularly once we heard that they will have sensors in their eyes and will, from time to time, look up from their record-keeping to stare you down.
[youtube_video]1tz4xNRRR4M[/youtube_video]
The only problem with this set-up is that, even though they are so life-like, you won't be able to actually talk to them.
Well, except for one, that is.
Universal has just this week confirmed what we've been hearing for over a year now. From its official blog:
Before you do your shopping for all the wizarding essentials in Diagon Alley, make sure to stop by Gringotts Money Exchange. Here you'll be able to exchange your Muggle currency for Wizarding Bank Notes, which can be used within both Diagon Alley and Hogsmeade (as well as the rest of our two theme parks) to purchase snacks and items from the shops. And there will be a Gringotts goblin who will be overseeing your transaction…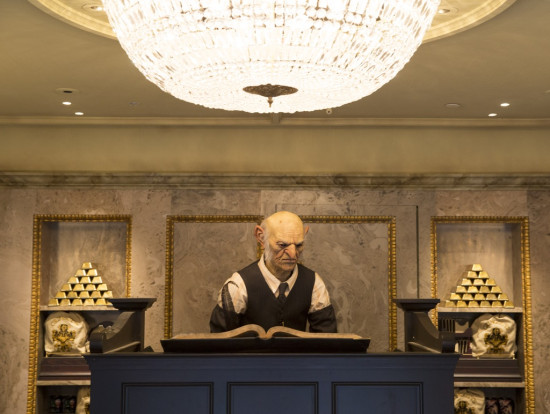 That money exchanger certainly looks like an audio-animatronic figure, just like his brethren inside the bank, so that got us to wondering: just how interactive will he be? We sent out a few owls, and the response we got back was: very. Expect an experience like the Knight Bus's Shrunken Head in the London waterfront or the Mystic Fountain in Lost Continent – which is to say a Team Member will be backstage talking into a microphone that will make the goblin's mouth move.
Expect this to be lightyears ahead of either of those two experiences, however…
Thanks for checking out this week's rumor round-up. In case you missed any of the excitement from yesterday's Diagon Alley action (when the Weasleys we're on-site at Universal), see our full recap. Then, to learn more about Diagon Alley, visit our complete guide. Finally, continue the discussion with your friends in the OI community forums.
NOTE FROM THE EDITOR
Orlando Informer will be viewed over 10 million times in 2014, and among those viewers are some folks with pretty strong connections to Universal Orlando. As they contact us with insider intel, we collect their information and combine it with our own research to produce our weekly Rumor Round-Up. When information comes to us directly, we cite "our sources"; when information comes from outside our network, we always cite it as such and provide links to the original source. This is our 113th rumor post, and we're proud to have provided our readers with compelling stories as we share our thoughts and actively promote dozens of other websites.
Despite the excitement that can come with covering rumors, we ask our readers to be ever-mindful that, unless explicitly stated as fact, everything we cover here must be considered a rumor and unofficial. If you're ever confused by what is what, we invite you to join us for free in the OI Forums, where you can ask our vacation planning community for clarification and seek advice for anything else regarding your plans to visit Orlando.
Get your questions answered in the OI Forums
View all of our Rumor Round-Ups
[sws_author_bio user="msunyata@yahoo.com" size="105″ authorposts="More OI posts by Marc" name_format="About the author"] [/sws_author_bio]