Blowing out Halloween Horror Nights 24
There are times here at RRU HQ where we go back and forth quite a bit with our sources over what exactly we can and cannot say – we want to reveal as much as possible to you, our dear readers, but we also, of course, don't want to get anyone fired.
Yesterday just so happened to be one of those times, with us trying to push the envelope as much as humanly possible over just how many houses and scare zones from this year's upcoming Halloween Horror Nights we could publish today. Literally in the middle of backroom conversations with various sordid folks dressed as the classic Universal monsters, this little bombshell dropped: the on-and-off website HHNRumors leaked all the houses – or, at least, their codenames.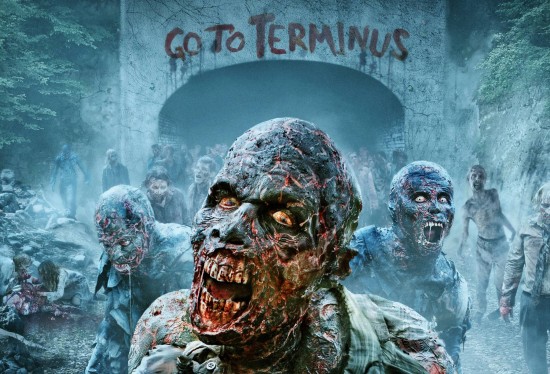 Here's a direct quote from the site:
Evac – not just for Transformers anymore. This codename is rumored to be an Alien vs. Predator-themed maze. Take with a grain of salt. (Soundstage 24)
The Walking Dead – no real need for a codename when you announce the house in June. The largest HHN house to date. (Soundstage 25)
Charlie – living dolls roam this house. (Tent 1)
Halloween – Universal Hollywood has done this before, and I know Orlando has been itching to tackle the project. Michael Myers in Orlando! (Tent 2)
Crows – this haunted house ventures into a reverse Thanksgiving scenario. Thankskilling, rather. (Parade building)
Ritual – nothing screams Legendary Truth like a ritual gone bad. Bad things happened here; something awful lives under the bed. (Soundstage 22)
Synergy – Dracula's untold story in the form of a haunted maze. This could be good. (Soundstage 24)
Smile – clowns aren't born – they're made. Expect to see a Jack cameo in this house [as we originally reported back in December]. (Disaster queue)
There is much about this list, actually, that we can't comment on, as we just don't know – particularly when it comes to the original haunts as opposed to the intellectual property-based ones. However, there are a few nuggets that we can absolutely verify, thanks to the inhibitions of our snazzily-dressed sources quickly being lifted:
The ratio of four original to four IP houses is correct.
We can confirm that The Walking Dead, Alien vs. Predator, Halloween, and Dracula are all coming this year.
Finally, of the above mazes, all but Halloween will be in soundstages.
Oh, all right – if that just isn't enough for you, how about these last two little gems?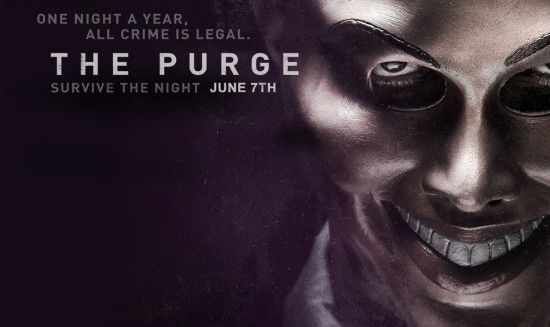 The first scare zone will be based off of the 2013 film The Purge, which was originally brought to life at last year's HHN at Universal Studios Hollywood.
Worried about too many IPs invading the scare zones, like last year's Walking Dead-athon? Don't be – most of the streets will be original this year.
If that's enough to whet your whistle, you can already buy your tickets to Halloween Horror Nights 24 – but be sure to check out our complete guide to the event first.
Casting your way through the Wizarding Worlds of Harry Potter
Okay – this is major spoiler time.
In keeping with this week's theme of trying to strike the appropriate balance of discretion for our sources with information for our readers, the outside world once again intervened, allowing our house-elves deep within the bowels of Universal to feel much more comfortable with tipping their hands than they ever otherwise would.
This time, it has to do with that ever-popular little something called Harry Potter:
First interactive wand medallion I've seen: marks the spot, spell & motion (h/t @mattagins for the pic!) #PotterWatch pic.twitter.com/YLqW1l0FQO — Orlando Informer (@OrlandoInformer) June 12, 2014
Just yesterday (again!), people started noticing the just-installed spell-casting medallions all throughout the Wizarding World of Harry Potter – Hogsmeade, which indicate where an interactive experience will be available for those who have purchased the new RFID-equipped wands (for much more on this, please see our recent breakdown of the spell-casting process/locations).
Since these medallions indicate the spell name that must be spoken and wand motions that must be executed, we have finally gotten the go-ahead to publish a little something that we've had in our grubby little hands here at RRU HQ for a little while now: the actual map that will be included with the purchase of each brand-new, next-generation wand.
Prepare to have your mind blown.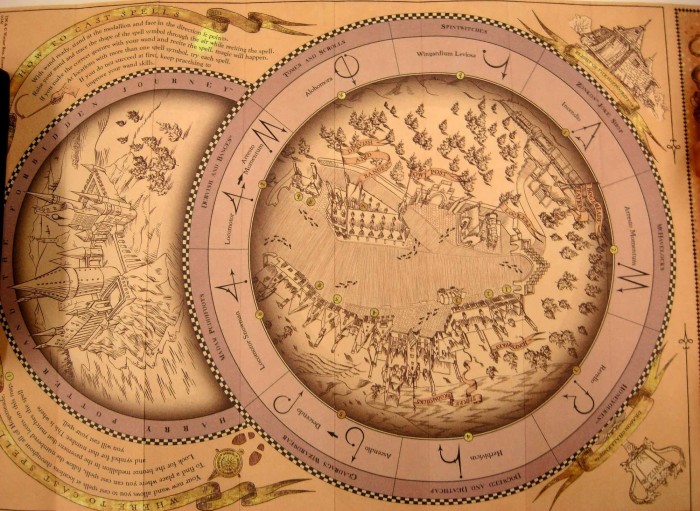 You can click to view a larger version, or, when viewing the smaller version, right-click and "Save link as" to save the full version to your computer.
And as cool as that one is, it doesn't even compare to the magical wonders that await in the Wizarding World of Harry Potter – Diagon Alley…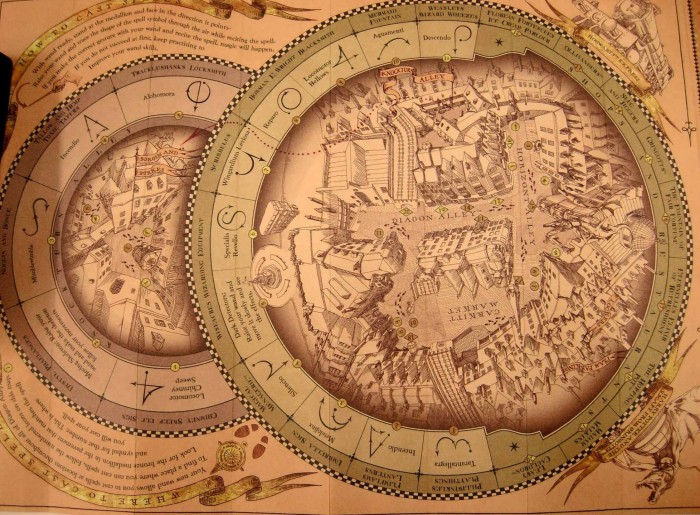 Printed on the map:
Where to cast spells

Your new wand allows you to cast spells at locations throughout all of Diagon Alley. To find a place where you can cast spells, follow the numbered icons on this map. Look for the bronze medallion in the pavement that matches the spell and symbol for that number. This is where you will cast your spell.

How to cast spells

With wand ready, stand at the medallion and face in the direction it points. Raise your wand and trace the shape of the spell symbol through the air while reciting the spell. If you make the correct gesture with your wand and recite the spell, magic will happen. If you do not succeed at first, keep practicing to improve your wand skills.
And just because we care, we're also including a picture of what the map looks like once it's first taken out of your new wand box: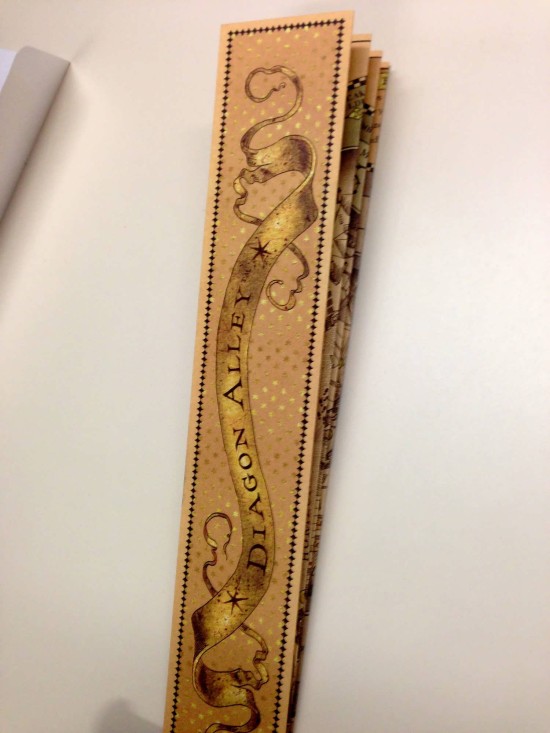 What's more, the Knockturn Alley area on the map is embossed with a florescent material, which is normally invisible but which reveals its secrets when held under certain types of light. For instance, when we held a black light over the mysterious area, the wording and certain blue shapes magically appeared. Other light frequencies may reveal other colors – we're not telling. Hey – we have to leave something for your first visit, right?
If this doesn't provide your best glimpse yet at just how deep the immersive experience is going to be at the new Wizarding World, we quite honestly don't know what will.
NOTE FROM THE EDITOR
Orlando Informer will be viewed over 10 million times in 2014, and among those viewers are some folks with pretty strong connections to Universal Orlando. As they contact us with insider intel, we collect their information and combine it with our own research to produce our weekly Rumor Round-Up. When information comes to us directly, we cite "our sources"; when information comes from outside our network, we always cite it as such and provide links to the original source. This is our 114th rumor post, and we're proud to have provided our readers with compelling stories as we share our thoughts and actively promote dozens of other websites.
Despite the excitement that can come with covering rumors, we ask our readers to be ever-mindful that, unless explicitly stated as fact, everything we cover here must be considered a rumor and unofficial. If you're ever confused by what is what, we invite you to join us for free in the OI Forums, where you can ask our vacation planning community for clarification and seek advice for anything else regarding your plans to visit Orlando.
Get your questions answered in the OI Forums
View all of our Rumor Round-Ups
[sws_author_bio user="msunyata@yahoo.com" size="105″ authorposts="More OI posts by Marc" name_format="About the author"] [/sws_author_bio]