Volcano Bay, the future, and you
Three years ago, HHNRumors, of all sites, came across a trademark filling for a new water park called, oddly enough, WonderSea Island. Nothing ever came of the request – until last week, that is, when Parkscope noticed a new filling for something called Volcano Bay, which has to do with water attractions at Universal Orlando. It left the site guessing that it was either the new, updated name for WonderSea or simply one of the new park's areas.

When checking in with our sources, word came back to us that Volcano Bay is a strong candidate for the name of the water park – at least, for the time being – and that it is rumored to be going into the little plot of land south of Cabana Bay Beach Resort. What we weren't able to confirm is the existence of the park's central icon, which has long rumored to be a "massive, 200-foot erupting volcano," but we have no reason to doubt the veracity of the claim, particularly considering the park's name (and also considering that, if true, it would be quite a sight to behold, giving the two Disney World water parks a run for their money).
What else have we heard about Volcano Bay? It is, perhaps obviously, going to be on the smaller side, coming in somewhere around Universal's Wet 'n Wild Orlando's 30 acres – which is roughly half the size of Disney's Typhoon Lagoon and Blizzard Beach and SeaWorld's Aquatica Orlando – but it's going to be impeccably themed and will feature "top-notch" attractions. Furthermore, Volcano Bay is expected to exist side-by-side (metaphorically speaking) with Wet 'n Wild for at least the first few years; after that, however, the 50 or so acres that Universal purchased just recently on International Drive will be fair game. What exactly for? Your guess is as good as ours.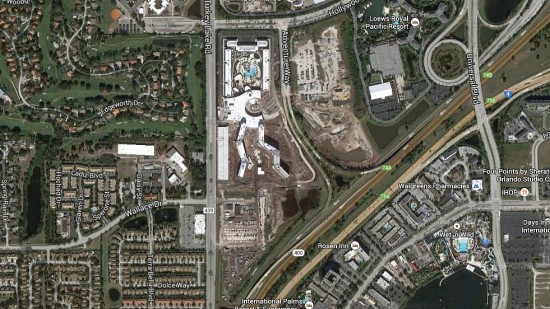 There was one last morsel that our sources kicked our way, and it's a juicy one, at that. It seems that one of the new hotels that Universal is apparently getting ready to install over the next few years will, indeed, be sharing space with the new water park, and it will, indeed, be an expansion of Cabana Bay. However, contrary to the previous report, it looks like the two new towers won't hold a measly 200 rooms apiece – they might consist of as many as 600 rooms each.
What's that? New construction at Disney World?
With the new FastPass+ system not doing much to dispel the traffic jams at two of Walt Disney World's biggest attractions, it seems like the company is gearing up to do a little bit of expansion work.
First up is Epcot's Soarin', which Screamscape and Disney at Work claim has already begun prep work: the loading/storage area behind the ride is in the process of being cleared out, and the next-door office trailers have already been emptied. In their place will be a third theater, which would (a) help alleviate the always-massive queue, of course, and (b) be ready to open by 2016, which is when the attraction is rumored to be upgraded to Soarin' over the World.
And just to make things even more interesting, Screamscape is upping the ante by reporting that it's hearing rumors of a second possible expansion plan, which would add two new theaters instead of just one. If Disney decided to go down this road, it would require much more extensive construction, as the company would need to reshuffle a lot more of the backstage infrastructure around it. We'll see which path it's opted to take shortly.
Hollywood Studios's Toy Story Midway Mania is next up to bat, which would see a nearly identical expansion: the ride's next-door soundstage, which is currently – and temporarily – home to Oaken's Trading Post and Frozen Funland, will be transformed into a duplicate track for the park's headliner attraction, resulting in an increased throughput of at least a third.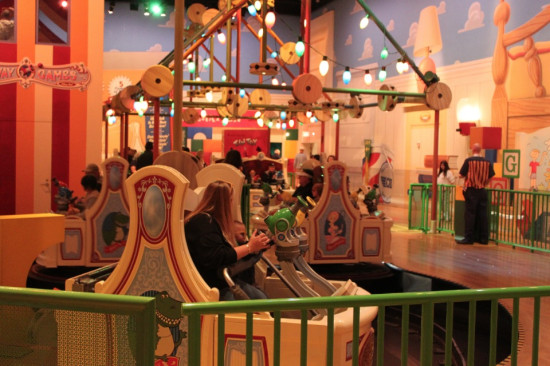 There is much skepticism in response to this report, given the sheer amount of rumors that have targeted this building and its surrounding facilities, ranging from Cars Land to Star Wars Land, but with the former completely scrapped and the latter perpetually delayed, and with Toy Story Mania remaining continually congested, this would perhaps seem to be the best course of action.
Comcast to buy SeaWorld?
Okay – settle in for a little story.
SeaWorld was founded by four entrepreneurs in 1964 who thought a sea-based park would bring a little bit of spice to California and, later, Ohio (right in my backyard!). Shortly thereafter, Disney World opened, and the businessmen saw a huge, still-untapped market in Orlando.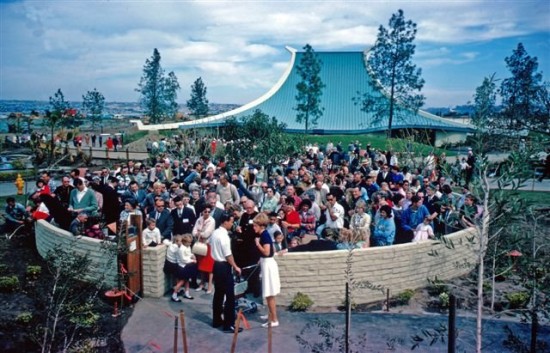 The three parks were so successful, they caught the attention of book publisher Harcourt (called Harcourt Brace Jovanovich at the time), which was looking to pursue that elusive financial god called diversification by getting into such myriad industries as insurance and theme parks. It opened yet another location in Texas, and then promptly faced bankruptcy. It sold SeaWorld to beer giant Anheuser-Busch, which was looking to get a little more diversification of its own. It lumped the marine parks in with its Busch Gardens amusement parks and controlled everything through a subsidiary called Busch Entertainment. That was 1989.
In 2008, Anheuser-Busch itself got purchased by another brewer, InBev, which wanted to sell off all "diversified" holdings in order to reach profitability as quickly as possible (hey, buying major global corporations is expensive). Possible suitors included none other than NBCUniversal, which would have been more than happy to absorb SeaWorld Orlando into its Universal Orlando Resort (exactly what happened to my beloved SeaWorld Ohio, which became part of Six Flags before ultimately being shuttered for good). Universal never made a bid, however, and InBev ended up selling Shamu and friends to the Blackstone Group, the world's largest "alternative investment" firm.
Three short years later, Blackstone decided that the next step for Busch Entertainment was – what else? – to go public. It did exactly that, being renamed SeaWorld Entertainment in the process and retaining the Blackstone Group as its majority shareholder. This is where things continue to stand today.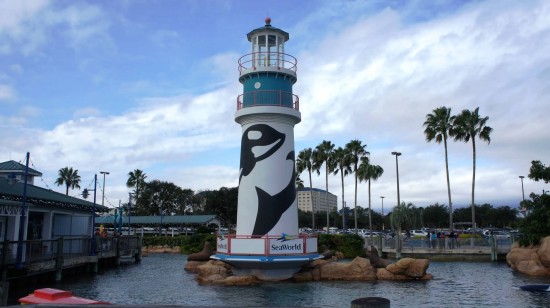 Except, well, maybe not. Comcast is on the theme park scene now, having purchased NBCUniversal some four years ago – and although it initially wanted nothing to do with the themed industry, a little something called Harry Potter has since opened its mind to the financial possibilities that are just waiting to be had. The company has since famously pledged to invest $500 million a year in its three American theme parks; with Comcast willing to drop that kind of money, and with Blackstone's singular concern in running the SeaWorld business being pure and simple profit, it seems like the stars just might be aligning for SeaWorld Orlando, Aquatica Orlando, and Busch Gardens Tampa to all join the Universal fold (which isn't to mention, of course, all of SeaWorld Entertainment's other parks across the country).
The emphasis, of course, has to go on "might"; although we're hearing from multiple sources from multiple places that the two companies have begun something along the lines of exploratory talks, they could just as easily fizzle out, like they did six years ago. That was before both Comcast and the Wizarding Worlds of Harry Potter were around, however, and before Universal thought it was possible to topple Disney from its profitability throne, if not also its attendance throne, as well.
With all of SeaWorld in its clutches, it may very well do that – and soon.
NOTE FROM THE EDITOR
Our rumor articles are designed to give fans of Orlando a glimpse into what might be on the horizon for our theme parks and entertainment destinations. Some of the information we share comes to us directly from anonymous sources, and some of it comes from our research on other websites, which we always link to and are proud to showcase.
If you enjoy our weekly summary of the latest internet chatter and gossip, and you understand that these are rumors and not facts (unless explicitly stated), then this column is for you, and we're very happy to have provided it for 118 weeks in a row! If, on the other hand, you find that you cannot discuss theme park rumors without becoming hostile toward anyone who has heard different information than you, or anyone who has a different opinion than you, then this column – and, indeed, our entire website – is not for you. Thanks for your understanding.
Want to read about more rumors? View all of our rumor articles
Want to discuss more rumors? Join us in the OI Forums