King Kong and the Raiders of the Lost Ark
In last week's episode of Orlando United's podcast, rumormonger HateToFly shared a bit about the King Kong ride that is purportedly arriving at Islands of Adventure sometime next year, and if even half of what he contends is true, we're all in for a very exciting – and possibly revolutionary – experience.
In case you don't remember from previous reports, King Kong's new home will be Skull Island, a mini-land that will be squeezed in between Jurassic Park and Toon Lagoon and which will constitute the park's eighth "island." You can expect to find it to the left of Thunder Falls Terrace, as seen here: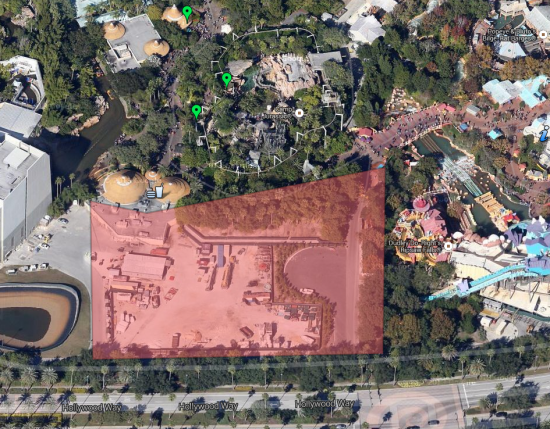 The new information starts at the entranceway to the area: a giant gate that opens on the ruins of an ancient temple, which double as the attraction's elaborate queue. The queue is actually located underground and is said to be just as highly detailed and immersive as that of Disneyland's Indiana Jones Adventure, which is widely held to be – along with Harry Potter and the Forbidden Journey, of course – the gold standard of pre-ride atmospheres. Guests will work their way on up through the ruins, ultimately reaching the loading platform at the very top of the temple. Yes, that's right – you'll board your ride vehicle outside, marking the first unusual element of the attraction.
The vehicles themselves are two tram- or bus-esque cars, one hitched to the other, with a "tour guide" in the first and extra seating in the second. It's estimated that somewhere between four to six people can fit per row, with somewhere around five or six rows in the first vehicle and seven or eight in the second. That means approximately 50 to 85 people will be loaded per outing, making this one of Universal Orlando's higher-capacity rides.
The first three scenes of the attraction will all be outdoors, leading up to the great wall that keeps King Kong separated from the inhabited part of Skull Island. Once guests manage to breach the wall, they'll seamlessly transition into the show building, where they'll be attacked from both sides by numerous audio-animatronic creatures, including gigantic centipedes, scorpions, and dragonflies, and eventually end up in a cave filled with numerous bats.
From there, the king himself makes an appearance thanks to projectors, which will be deployed on a scale that is exponentially beyond what is used on Transformers and is similar in scope to Harry Potter and the Escape from Gringotts. This particular sequence sounds like it may be similar to King Kong: 360 3D over at Universal Studios Hollywood, wherein Kong fights off a pack of dinosaurs all around the hapless tram passengers, who are immersed in the encounter thanks to air and water effects.
[youtube_video]KdQVF5lGwps[/youtube_video]
Once they have survived the grand finale, riders will venture back outdoors to disembark – but the experience isn't over yet. There's one final scene as guests work their way out of the building, the equivalent of an epilogue in the world of television screenwriting. Just what, exactly, this "tag" may be is completely unknown – does it somehow involve the mandatory gift shop on the way out? – but we're happy to finally see Universal Creative take our advice about extending the story beyond the traditional theme park parameters.
The Orlando Eye sees all – and, now, so do we
Our friends over at Theme Park Insite treated us all to a delicious sneak preview of what the much-anticipated Orlando Eye (formerly I-Drive Live) will have in store for us as it opens in phases all throughout this year.
Thanks to the leaked blueprints they've published, we now have a pretty good idea of what will be populating the development. Next to the main three attractions of the Orlando Eye, Madame Tussaud's, and the Sea Life aquarium will be Sugar Factory, Cowgirls (a country bar), and the ubiquitous Walgreens. Lining the front of this entertainment section, meanwhile, will be Outback Steakhouse, Carrabba's, Buffalo Wild Wings, Seafood Republic, and Dick's Last Resort. Next door, fronting the hotel area, will be Chuy's, Bargain World, and Red Robin (a personal favorite of mine).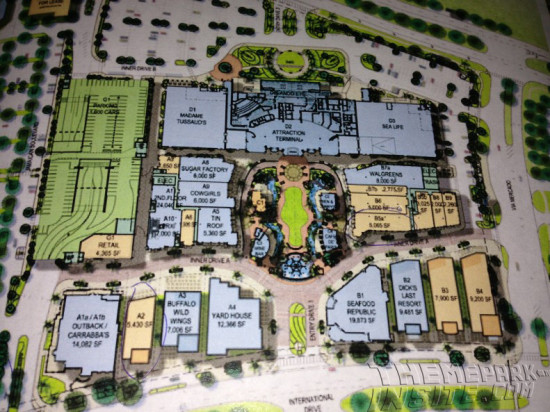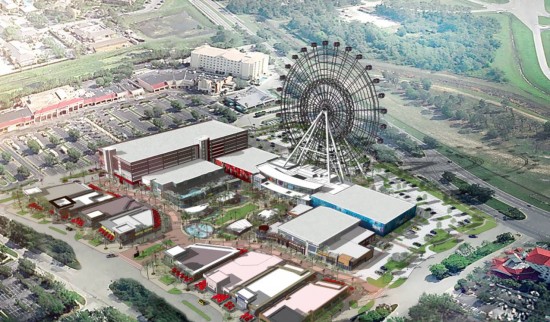 While none of these tenants is a particularly exciting property in and of itself, their combined presence makes for not only a cover-all-the-bases dining/shopping complex, it also makes a strong argument for how the Orlando Eye will be a major contender in Orlando's entertainment market. When taken in conjunction with the fact that there are still several slots open for future businesses – which is not to mention that last remaining "secret" attraction that developer Merlin Entertainments has been teasing over the past few months – all vacation-goers should be keeping one very serious eye on the development.
By the way, are you curious as to what the secret attraction may be? As one of our readers commented, "My money is on The Dungeons for the Eye's secret attraction. Merlin's big thing is to cluster Sea Life, Tussaud's, and Dungeons."
Quick hits: Seven Dwarfs, Falcon's Fury & free wifi
All those who have been looking forward to riding the Seven Dwarfs Mine Train across these past three or four years will, unfortunately, have to wait a bit longer. According to Screamscape's sources, the planned opening date in February has been pushed back to late March/early April – "if all goes well." In the meantime, landscaping is finally being installed all around the outer edge of the attraction area and the trains are cycling, which are steps in the right direction.
[youtube_video]sarK2uM8rlw[/youtube_video]
Okay, so the upcoming Falcon's Fury at Busch Gardens Tampa Bay is beyond our Orlando purview, but we can't help ourselves: the ride looks like it's going to be all sorts of exciting when it opens this summer. And what makes it all the more enticing is our very first glimpse of just how the revolutionary attraction is going to operate, including its load/unload process and exact seat configuration.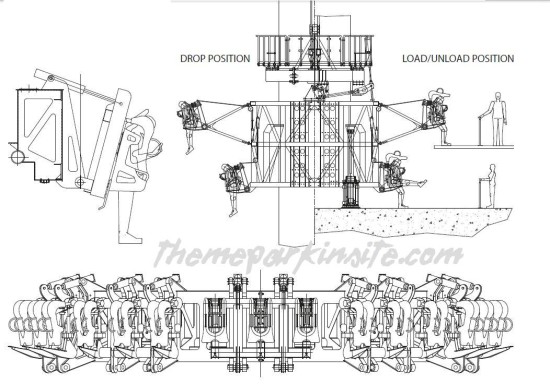 Finally, a bit of small-but-nonetheless-good news: Loews, the hotel chain that runs all of Universal Orlando's resorts, has finally entered the 21st century and started offering free wifi to all guests (and not just those who are part of Loews's loyalty program). In addition, the new Starbucks at Islands of Adventure, which just opened Thursday, also offers free wifi. If we keep getting lucky like this, hopefully the day when free public wifi is available throughout all of Universal Orlando Resort won't be too far away.
Final confirmation that standard in-room wifi is indeed now free at @UniversalORL's on-site hotels pic.twitter.com/br952gqDKp— Orlando Informer (@OrlandoInformer) January 24, 2014
NOTE FROM THE EDITOR
The propose of our weekly rumor column is to provide a window into what might be happening by collecting the latest speculation from sources across the internet (which we always link to). We take that speculation and condense it into one weekly post as a service to our readers, so you don't have to spend hours tracking down all the stories yourself.
We rarely claim to be the source for our stories. In reality, anyone can do what we do: Google "Orlando theme park rumors" and see what the darker corners of the theme park community are chatting about. But we know you don't have hours of free time to seek out this stuff — plus, Marc is really good at analyzing it — so we do the heavy lifting for you. Overall, this is a simple premise, and we're happy to have been executing it every week for almost two years (this is our 97th rumor post).
View all of our Rumor Round-Ups
[sws_author_bio user="msunyata@yahoo.com" size="105″ authorposts="More OI posts by Marc" name_format="About the author"] [/sws_author_bio]