Epcot to get Frozen?
Screamscape recently turned up the heat on the glacial pace of development at Epcot with news that a new ride has been greenlit for the blue-sky stage of development. Should Disney execs like what they see, they'll then proceed to fund the design phase, with construction presumably following not (too) long thereafter – but please keep in mind that's a big if.
The rumor goes a little something like this: given the phenomenal box office success that Frozen has been enjoying, along with the positive response guests have been having to its character meet-and-greet already in place at the park, Imagineering is currently thinking of removing the Maelstrom boat ride in World Showcase's Norway pavilion and replacing it with a new one dedicated to Disney's latest animated film.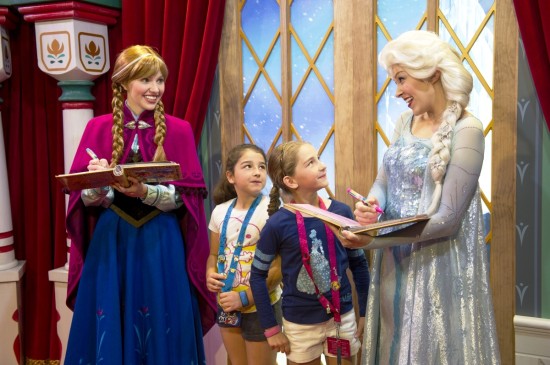 Given the malleable (pun intended) nature of the blue-sky phase, the site reports that every possible approach is being considered, from a simple retheming of Maelstrom's ride vehicles and layout to a completely new attraction being built in its place (possibly the new flume ride system that is supposedly going to be utilized for Shanghai Disneyland's version of Pirates of the Caribbean).
Yes, it may be a long shot, but, then again, Disney has already announced that it's going to be inducting Frozen's Anna and Queen Elsa into its Disney Princesses lineup, and Epcot is currently the only park at Walt Disney World to be without some type of expansion or renovation (Magic Kingdom has New Fantasyland, Animal Kingdom has Avatar and the new after-hours makeover, while Hollywood Studios is rumored to be getting a Star Wars overlay shortly – maybe).
Racing Disney to the Next Gen
Parkscope dropped something of a little bombshell on us all right around New Year's by uncovering a patent for something that looks suspiciously like Disney's now-infamous MyMagic+ system.
You do remember MyMagic+, don't you? It's part of the broader Next Gen initiative that has cost Disney over $1 billion across the past six years and which will, in theory, allow guests to use the brand-new MagicBand bracelets as their combined theme park ticket, hotel room key, and credit card. It also allows for ride and dining reservations to be accessed via smart phone or computer (and limits the number of FastPasses that a guest can utilize per day, although Disney doesn't like to broadcast that part too much).
The only problem with the plan is that, well, Disney just can't get it to work properly on a large scale and, because of this, may just have indefinitely delayed – or outright cancelled – its planned Star Wars Land at Disney's Hollywood Studios (you can't spend money you don't have coming in, not even on a sure-fire thing such as Star Wars).
Despite the technical difficulties and customer-service blowback, it seems like Universal has been interested in pursuing its own version of the program for at least a little while now: the permit that Parkscope uncovered was initially applied for back in June 2012, and it was finally issued just last month. Despite being a large, highly technical read, the paperwork actually doesn't reveal too much. Is it a carbon copy of MyMagic+, right down to the dismantling of the Express Pass/Q-bot system in favor of online-only ride reservations for every single guest? Or will it, as the Parkscope guys recently hypothesized, be mostly available for the thousands of new guests Universal expects to be getting through its new Cabana Bay Beach Resort value hotel, who won't have access at all to free Express Passes?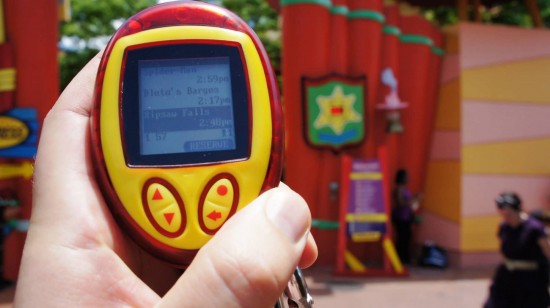 The answer painfully is, at this particular stage in the game, that we just don't know. What we do know, however, is that Uni hasn't had the best of luck with such fancy things as smartphone tech in the past: it was forced to remove its official app two years ago due to a terrible user interface and negative feedback, and the Universal ScreenPlay virtual reality app released last summer never gained traction. Add to that the simple fact that, for the next two or three years, the company will be overwhelmingly focused on delivering a whole slew of new attractions to its Orlando parks.
The bottom line? Don't expect any movement on this Next Gen-esuqe front in the foreseeable future – if at all.
Quick hits: Beetlejuice, E.T. Adventure & USF's 25th anniversary
Our friends at Theme Park Insite have returned to whisper sweet nothings about Beetlejuice in our ear. What did they tell us? Well, once the currently-under-refurbishment Beetlejuice's Graveyard Revue returns, it'll feature not only a more teen-oriented focus, but also the return of the Phantom of the Opera, who starred in earlier versions of the show.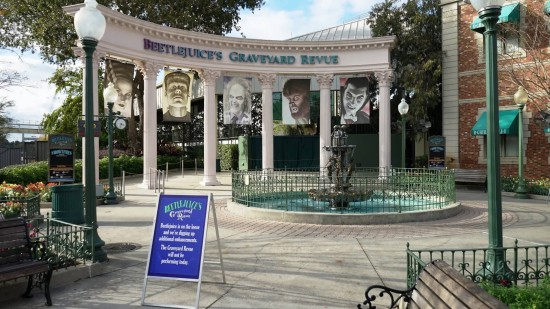 And just in case that isn't enough of the ghost with the most for you, we've also been told that BJ will be making an appearance at Halloween Horror Nights this fall.
Speaking of staple Universal attractions, another new source has stepped forward to provide some more intel on the much-talked-about E.T. Adventure in Woody Woodpecker's KidZone.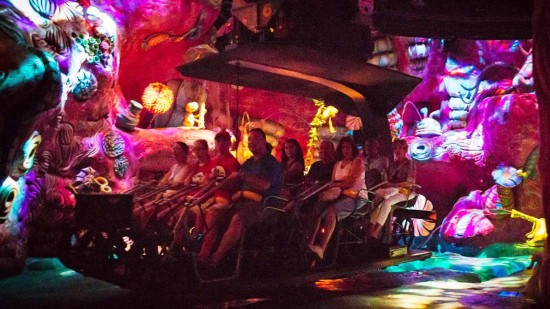 According to the nice bloke, Steven Spielberg holds a lot of clout at Universal – he did help design a number of its attractions, including Jurassic Park River Adventure and Transformers: The Ride, after all – and he seems to be rather keen on keeping his baby in the park for as long as possible. How long? The number that's been tossed around is 10 years. So, regardless of whether KidZone gets its rumored makeover or not, you can expect E.T. to stand stalwart against the likes of the Smurfs or any other IP that may attempt to kick him out.
In case you missed it: signs for CityWalk's new Italian restaurant, Pranzo Italian Kitchen, went up this week. While that's no big surprise – Universal announced the new venue last month, after all – what did catch everyone off-guard is that there's been a name change. Goodbye, Pranzo; hello, Vivo Italian Kitchen.
Vivo is going into the former location of Pastamore's full-service section, which closed just a few days ago. If you'd like to see more of what's happening right now at CityWalk, check out Dan's January 10 Flickr photoset from his Universal tour yesterday (in addition to CityWalk, he also shot over a dozen photos of Diagon Alley, which lost more scaffolding!).
And one last word from Theme Park Insite: in order to prepare for Universal Studios Florida's big 25th anniversary celebrations next year (which, rumor already holds, will include a tweaking/reworking of the Superstar Parade), the Garden of Allah building, which used to be home to the AT&T at the Movies attraction over a decade ago, will be converted into a Universal Studios museum.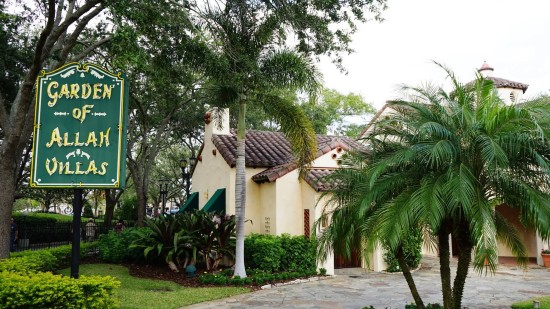 According to the site, expect to see props from nearly every single former Universal Orlando attraction collected there, including Hercules/Xena and, my personal favorite, Nickelodeon Studios. The building is already in the process of being cleaned out, with a new paint job and sign coming sometime later this year or early next.
By the way, did you ever wonder what the heck is the Garden of Allah Villas? Then we highly recommend that you check out OI contributor Dani's blog post series about the USF backlots, which includes a wonderful explanation of the Garden of Allah Villas and many other of the park's facades.
Want to ride the Gringotts Bank coaster today?
One of the best rumor posts we've written yet can't actually be found in the Rumor Round-Up section at all. Called the "Complete telling of the Gringotts Bank ride experience at Universal Orlando," it's exactly what it sounds like: a complete walk-through of the ride, starting with its elaborate queue and ending on the way to its gift shop, based off of all of the currently-available intel. For nearly every chill and spill of the experience, along with hints at the attractions around the Gringotts show building, be sure to check it out.
And, while you're at it, check out all the other installments in our Countdown to Diagon Alley series:
Top five vacation planning tips for visiting Diagon Alley
NOTE FROM THE EDITOR
The propose of our weekly rumor column is to provide a window into what might be happening by collecting the latest speculation from sources across the internet (which we always link to). We take that speculation and condense it into one weekly post as a service to our readers, so you don't have to spend hours tracking down all the stories yourself.
We rarely claim to be the source for our stories. In reality, anyone can do what we do: Google "Orlando theme park rumors" and see what the darker corners of the theme park community are chatting about. But we know you don't have hours of free time to seek out this stuff — plus, Marc is really good at analyzing it — so we do the heavy lifting for you. Overall, this is a simple premise, and we're happy to have been executing it every week for almost two years (this is our 95th rumor post).
View all of our Rumor Round-Ups
[sws_author_bio user="msunyata@yahoo.com" size="105″ authorposts="More OI posts by Marc" name_format="About the author"] [/sws_author_bio]