Hotels, hotels, and more hotels
It has long been known that Universal has been interested in eventually developing five hotels on its property – that's been in the books ever since the mid-'90s, when the company first hatched plans to transform Universal Studios Florida into Universal Orlando Resort – and it's even been thoroughly accepted that the fifth hotel would be started immediately upon Cabana Bay Beach Resort's grand opening. Well, Cabana officially opened last week, and now we're hearing about new permits filled with the office of the Orange County Comptroller for new construction.
Ready for the twist? It's not just for a fifth hotel – it's also for a sixth and seventh resort, as well. (And you thought we were crazy when we spoke about seven resorts or timeshare complexes a few months ago.)
We have two sources on this material: one internal, who had initially asked us to sit on the information until after the end of the month, and one external – the ever-resourceful Parkscope. Interestingly enough, our own private source was only aware of the fifth resort's go-ahead; the discovery of the two additional developments is all Parkscope's doing, and it is a mighty impressive find, at that.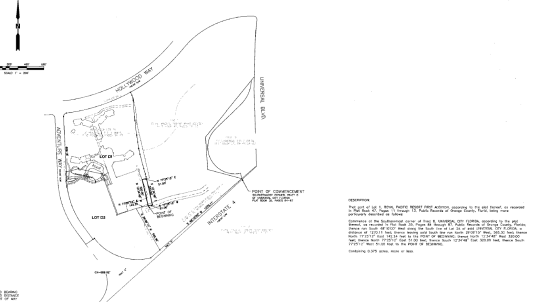 Let's not get ahead of ourselves, though. Resort number five will be a sister hotel to Royal Pacific Resort, generally continuing its theme and overall feel, and will be situated in the empty plot of land that sits in between Royal Pacific and Cabana Bay. Construction is expected to start by the end of the year at the very earliest; although we haven't been informed of any specific opening date, it seems likely that, given Universal's expedited pace of construction, it should be open for the summer of 2016 (when work on Harry Potter's third phase will begin?).
Parkscope was able to fill in a few more blanks here – literally. It seems that a rather large pedestrian bridge, not unlike the one that links Cabana to the rest of Universal Orlando, will join the two halves of Royal Pacific together. Furthermore, it looks like this will be something of a cross between Royal Pacific's deluxe status and Cabana Bay's value/moderate level; while Express Passes won't be offered to its guests, there is the possibility for both water taxi service and the inclusion of family suites. It's going to be very interesting, indeed, to see how this plays out.
There's one more tidbit that the site makes mention of: the size of all these new resorts. The permit lists the fifth hotel as having a total of 1,000 rooms, making it equivalent to Royal Pacific Resort. The sixth hotel would only be 400 rooms – making it only two-thirds the size of the Hard Rock Hotel, the smallest on-site – but here's the rub: it'll only be built if Universal decides not to pursue Cabana Bay Beach Resort's third phase, which, rumor has it, would consist of two 200-room towers. And, finally, the seventh hotel would also only have 400 rooms.
The bottom line? One way or another, don't be surprised if Universal Orlando has a grand total of 6,000 rooms by 2020 – almost three times as many as it had before a certain boy wizard showed up on the premises.
Gypsies, geisha, and masquerades
HHNRumors is at it again – after helping to fill in all of Halloween Horror Nights 24's haunted houses two weeks ago, they also spilled the beans on this year's scare zone roster last week.
In addition to The Purge, which we first mentioned to you a fortnight ago, here are the other (and somewhat strange) areas:
New Orleans voodoo zone – witches and gypsies are said to populate this lovely area. (Central Park)
Japanese zone – there are no details other than it will involve geisha. (Sting Alley, near Mummy)
Bloody masquerade ball zone – the site speculates this will be similar to the 2006 Blood Masquerade scare zone. (Plaza of the Stars)
Face-off 7-style zone – let's just go ahead and quote HHNRumors directly here, as no one can do it any more entertainingly: "If this zone is to be similar to 7, then hopefully it's done a bit better. I love the concept of evolving scare zones, but I think it just confuses the general public, who still needs a map – but this isn't about them." (Hollywood Blvd)
Now, if you're anything like me, you'll be left completely clueless by that last description. So I went ahead and pinged the resident HHN expert here at Orlando Informer HQ, PWT, and asked for a layman's description, which he was nice enough to provide for me:
"7 was a zone in 2011 that 'changed' through the night. Each of the seven sins had a stage with some kind of set-piece and an actress. The actress's makeup and costume would have three phases, with each phase being a bigger manifestation of the sin she was representing. Additionally, each sin had two male actors who would stay near the stage and scare guests. This was titled an 'evolving scare zone,' and it was the first of its kind.
"As far as what 'face-off' means… I'm not sure if it refers to the TV show, the actors 'fighting' each other, or what."
PWT-san was nice enough to also send along a video, which I'm going to share here for your personal edification:
[youtube_video]5SG371E4jSk[/youtube_video]
It's been suggested that there will be more scare zones announced for this year's event, but last year's (ill-fated) Walking Dead "street experience" also only consisted of five areas, so I'm not certain whether Universal will have any further cards up its sleeve.
Not to worry, though – at this rate, we'll know the entirety of HHN 24 by the end of July.
Not be missed: Diagon Alley this week
There have been a few small-but-incredibly-important updates as head into the final week (or so) before the Wizarding World of Harry Potter – Diagon Alley opens at long last.
Two nights ago, Universal started to finally give specifics to its exclusive Harry Potter vacation package guests, giving them an idea of what their "guaranteed access" to Diagon Alley will look like. For a full breakdown – and all the fallout – be sure to check out the OI Community Forums.
Dan has provided his last update on OI's Diagon Alley soft opening predictions – along with a quick rundown on the entire theme park community's accuracy thus far – and it's a doozy. You can also find that in the forums.
And, finally, let's leave this week on an impossibly high note: last week's column, which didn't get published until this week (sorry!), covers the new Wizarding World's long, strange journey from rumor to fact. Covering two full years and consisting of just over 2,000 words, it's the biggest, meatiest Rumor Round-Up we've done to date – and we hope you enjoy it just as much as it made our lives miserable.
NOTE FROM THE EDITOR
Our rumor articles are designed to give fans of Orlando a glimpse into what might be on the horizon for our theme parks and entertainment destinations. Some of the information we share comes to us directly from anonymous sources, and some of it comes from our research on other websites, which we always link to and are proud to showcase.
If you enjoy our weekly summary of the latest internet chatter and gossip, and you understand that these are rumors and not facts (unless explicitly stated), then this column is for you, and we're very happy to have provided it for 124 weeks in a row!
Want to read about more rumors? View all of our rumor articles
Want to discuss more rumors? Join us in the OI Forums