Ready to visit your Gringotts vault?
Breaking the story of Harry Potter and the Escape from Gringotts has been a long and laborious process – it's still one of the best-kept secrets of the new Wizarding World, even after Universal's big webcast last month – but we've been committed to digging through the dirt and uncovering it all for you. Almost exactly a month ago, we took our best first shot at it, and then we were quickly able to add some insider insight into the mix the week after.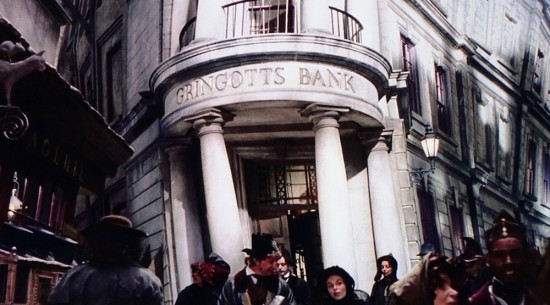 Now, thanks to Theme Park Insider, we've gotten our most complete glimpse of the ride's narrative yet.
(Warning: spoilers!)
As we initially reported two months ago, guests will be debriefed at Bill Weasley's office one group at a time. After he's done explaining how you'll be able to get your very own vault at the bank, the doors on the far side of the room open, allowing you to make the 30,000-foot plunge into the caverns below.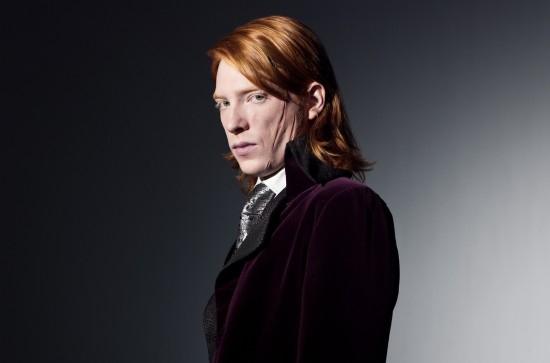 Once aboard the ride proper, it isn't very long before your trip to your just-opened vault is rudely interrupted by Lord Voldemort and Bellatrix Lestrange, who vow that you'll never leave Gringotts alive. (Why, you ask? Well, it might be because they don't particularly care for the idea of Muggles using a wizarding bank, or perhaps it's just that they're plain not nice people – your guess is as good as ours.) This is the point where your ride vehicle lunges down into an unseen tunnel below, and you make good your escape – for now.
Bill Weasley, thanks to the ever-present giant 3D screens around you, pulls up beside you, followed shortly by Harry, Ron, and Hermione in another cart. They are there to help protect you, but their efforts are, unfortunately, short-lived: trolls also arrive on the scene, knocking our heroes out of the way and attempting to shake you out of your ride vehicle (yes, that right – it's not goblins that attack you, as we previously reported).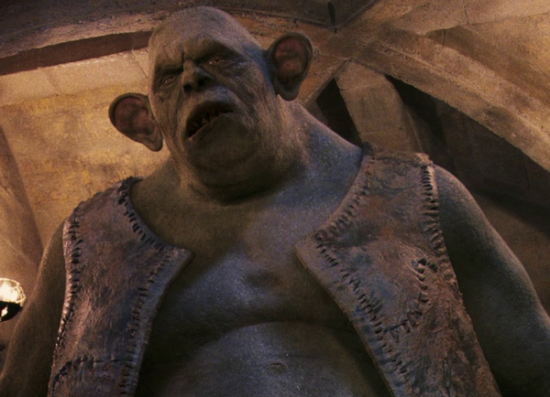 After breaking free and dashing through the Thieves' Downfall (that magical waterfall that washes away all concealment charms), you are left perched on the edge of a cliff – which the trolls, chasing after you, are only too happy to push you off of. Much like The Amazing Adventures of Spider-Man, a simulated free-fall ensues, which ends only when Bill reappears at the last second to save you.
But things, of course, aren't that simple. The white dragon spotted in Harry Potter and the Deathly Hallows, Part II next comes crashing down, spraying fire in all directions, followed shortly by his captors, the Gringotts security guards and goblin employees. Bill might be able to keep the magical beast at bay, but he can't also hold back everyone else. You have no choice but to flee again.
A quick flight through Sirius Black's vault protects you from the pursuers – until Bellatrix, Voldemort, and Nagini (the Dark Lord's pet snake/living Horcrux) reappear in the chamber beyond, hurling Avada Kedavra curses at you. You zip past them and continue on to the infamous 360-degree projection doom, which we now know is a giant cavern with lava pouring into it. The dragon makes a grand reappearance here, with none other than Harry on his back. While fending off Lord Voldemort, Harry simultaneously throws a chain onto your cart to haul you out of the cave. The KUKA-powered screen lifts up out of place just in time for you to zip past it, up through a dark tunnel as the Death Eaters, defeated, disappear out of Gringotts behind you.
The ride is over – but not before you head past one last screen (located behind a knocked-out wall), which has Bill, Harry, Ron, and Hermione bidding you farewell.
Pirates of Pandora
If you'll recall, the upcoming Pandora: The World of Avatar expansion at Animal Kingdom will feature some three or four attractions. The centerpiece of these, the Soarin'-esque Banshee flight simulator, has gotten quite a bit of attention over the past year or so, but now it's time to similarly shed some light on the D-ticket boat ride through Pandora's bioluminescent forest that we've seen highlighted so many times in Disney's conceptual artwork.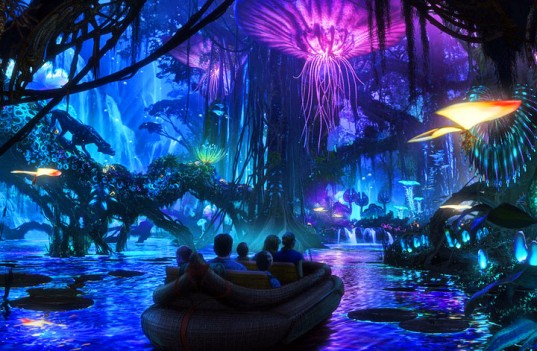 Screamscape has heard some rumblings that the dark ride will be something of a Pirates of the Caribbean clone, featuring animatronic figures (or, in this particular case, creatures), "very cool" lighting and projection effects, and, even, a little drop or two in the ride track to add some oomph to the otherwise passive experience.
The site is hesitant to verify this new information one hundred percent, so we'll just have to wait and see what direction the Avatar boat ride will take. With an expected opening in 2017 – if it makes the cut to be part of the "phase one" attractions, that is – expect to see Disney revealing a bit more at the end of next year or the beginning of '16.
Quick hits: Diagon Alley signs, Harry Potter bathrooms & Seven Dwarfs' Mine
Over the past week or so, signs have been added to the Diagon Alley waterfront buildings at Universal Studios Florida. King's Cross Station, Leicester Square Station, and Wyndham's Theater are now clearly marked. And, as you can see in this video Dan uploaded, we can now even see a sneak peak at a sign for the Leaky Cauldron. Enjoy!
[youtube_video]p9kCQXAeuD4[/youtube_video]
By the way, in case you missed it, Dan also uploaded a video tour of IOA's new Starbucks, applauded for its size but criticized for not continuing the Port of Entry theming into its interior space.
After its closure a little over two years ago, the only two vestiges of Jaws/Amity could be found in the Bruce the Shark photo op (now stationed next to Che'z Alcatraz) and the Amity restrooms nearby. Now we're down to just the one, as Parkscope has uncovered a permit, filed just last week, for internal and external retheming of the bathrooms. Since the whole area is being rebuilt as Diagon Alley, could this new theme be Harry Potter-related?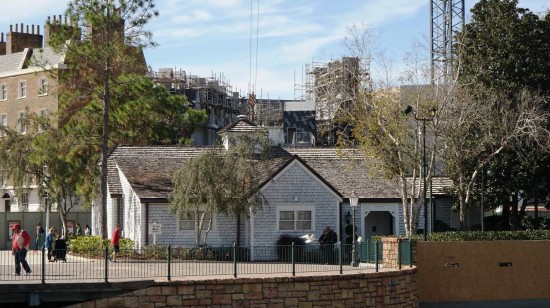 Parkscope hypothesizes that we'll be seeing the London restroom that serves as the secret entrance to the Ministry of Magic (as seen in Deathly Hallows, Part I), which would complement the nearby London waterfront perfectly.
Although the Seven Dwarfs Mine Train keeps getting pushed back and back – we're now hearing an opening date of May – Disney is finally opening up a bit more on what it promises will be the highlight of its New Fantasyland expansion. Over on the company's official blog, it's showing off lots and lots of the little details that, when taken together, will create a highly immersive queue and interior scene (don't forget: most of the ride will take place outdoors).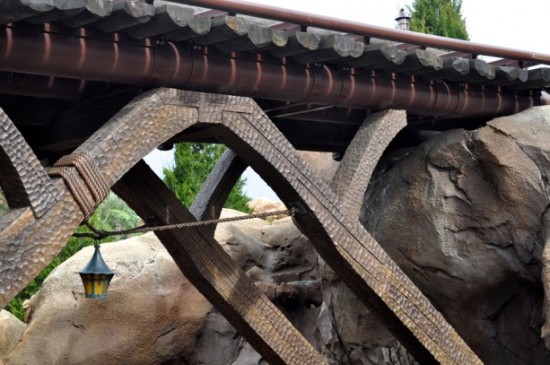 The "sturdy logs, crumbling bark, rough wood planks, thick beams, smooth rocks, and rusty hinges" that are shown off are all hand-crafted by the Imagineers – highly impressive and worth checking out.
NOTE FROM THE EDITOR
The propose of our weekly rumor column is to provide a window into what might be happening by collecting the latest speculation from sources across the internet (which we always link to). We take that speculation and condense it into one weekly post as a service to our readers, so you don't have to spend hours tracking down all the stories yourself.
We rarely claim to be the source for our stories. In reality, anyone can do what we do: Google "Orlando theme park rumors" and see what the darker corners of the theme park community are chatting about. But we know you don't have hours of free time to seek out this stuff — plus, Marc is really good at analyzing it — so we do the heavy lifting for you. Overall, this is a simple premise, and we're happy to have been executing it every week for almost two years (this is our 98th rumor post).
View all of our Rumor Round-Ups
[sws_author_bio user="msunyata@yahoo.com" size="105″ authorposts="More OI posts by Marc" name_format="About the author"] [/sws_author_bio]