Save money on Universal Orlando tickets – for this weekend only
Did you hear about Universal Orlando Resort's price increases earlier this week, which were done to keep pace with Disney's unusually-timed price hikes? And did you read our report that Universal's website prices are still inexplicably set at 2013 levels? (You can seriously save $50 on what will become the resort's de facto ticketing option, a two-day Park-to-Park ticket, by shopping online right now.)
We didn't have an explanation as to why that would be, but – hey – we weren't ones to look a gift horse in the mouth, and we gladly passed the knowledge on to you, our dear readers.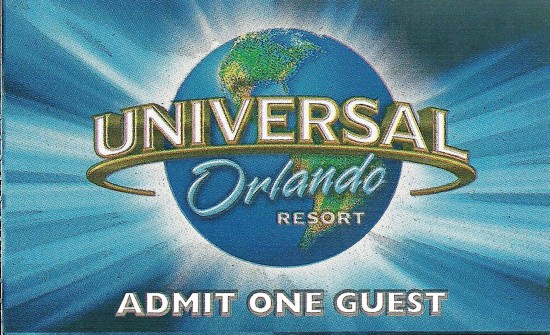 Well, it looks like Screamscape may have uncovered one reason behind the pricing discrepancy. A source of theirs has provided them with an alleged Universal-issued message to the various major travel agencies that UO ticket prices would be increasing on Tuesday, March 4 (which is still atypically early for such a move). The site hypothesizes that the company couldn't grease its online machinery to move any faster, giving guests a few more days to get in on the (accidental) savings.
A call to Guest Services by our humble editor didn't result in a date confirmation, but Dan was assured that online prices are going up "in the next few days."
By the by, we don't have any tips yet on when annual pass pricing will go up this year. However, since Universal raised its 2013 AP pricing before its 2013 general admission pricing, you can be certain that an AP price increase is in the works.
There are always a lot of questions when ticket prices go up. Be sure to see our blog post report and the comments after the post for analysis and answers. Dan also answered quite a few questions on the article's Facebook post.
Expanding – and contracting – Star Wars Weekends for 2014
The Disney Parks Blog made a surprise announcement last week regarding the long-running Star Wars Weekends event at Hollywood Studios, revealing several small but important changes. First and foremost, for the first time in the event's 17-year (non-continuous) history, it'll be open for five weekends instead of the typical four, running every Friday, Saturday, and Sunday from May 16 to June 15.
If that end date sounds suspiciously close to the rumored opening of the Wizarding World of Harry Potter – Diagon Alley (or, perhaps, not), then you'll have a fairly good idea for the reason behind the change – Star Wars is the single biggest property Disney has its mitts on, and it offers the single best way to strike back against Universal and its boy wizard.
Other additions include a nightly "gala fireworks show featuring Star Wars music" and the return of actor James Arnold Taylor, who voiced General Obi-Wan Kenobi in the now-cancelled Star Wars: The Clones Wars animated series, as the event's celebrity host.
And just to top everything off, Disney formally unveiled this year's theme and logo: "Join the Rebellion," featuring a rather determined-looking Red Fighter Mickey Mouse.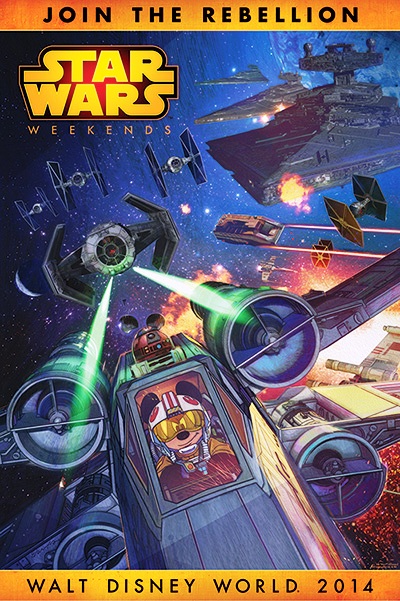 There's more to this story, though, and Behind the Thrills has the scoop. The site revealed that the new fireworks show will actually be the older "Symphony in the Stars," which Disney has occasionally trotted out for various Star Wars-themed events over the past four years, and that it will be joined by another nightly event, a "curtain call" of various SW characters.
Behind the Thrills reports, however, that all of this comes at a price: the patently crazy "Snig and Oopla's Hyperspace Hoopla," which has the Light and Dark Side characters from the films face off in – what else? – a dance competition, will be cut.
[youtube_video]vMFgKtcT3zE[/youtube_video]
The six-year-old show has proven to be a popular one with guests but a somewhat controversial one among SW fans, given its rather silly (but, it has to be said, thoroughly enjoyable) take on the material; current speculation holds that Disney may be attempting to purge all lighter depictions of the saga to prep the stage for its franchise reboot next year (hence the fate of Star Wars: Detours, a sketch comedy series headed by Seth Green, which was cancelled before it even got a chance to air).
As we get closer to the once-a-year Star Wars releases next December – and as Disney is forced to continue to combat Diagon Alley's surging popularity past this summer – it'll be extremely telling to see how the company continues to deploy its biggest weapon of mass destruction in the ever-tightening theme park wars. (By the way, did you hear Star Wars: Episode VII casts its first actor today?)
Quick hits: Leaky Cauldron, NASCAR Grille, Transformers rooms
Universal may have officially announced that the Leaky Cauldron will serve "traditional English fare," but just what that will be has largely been left unsaid – until just today. Tom Schroder, PR Vice President for Universal Orlando Resort, let the world feast its eyes for the very first time on entrees from Diagon Alley's main eatery.
#LeakyCauldron RT @tomschroderUOR: Can you guess what I'm getting to try for lunch today ? pic.twitter.com/IkGjeh6zcO — Orlando Informer (@OrlandoInformer) February 28, 2014
It looks delicious, particularly for just a quick-service restaurant.
Want to read more about the Leaky Cauldron, along with the nearly three dozen other Diagon Alley shops? Check out our complete store directory.
One of our very own sources has provided us with an interesting morsel to chew on. With all of the recent changes coming to Universal CityWalk, everyone thought that NASCAR Grille would be on the chopping block, right next to the likes of Latin Quarter and NBA City. That's true, according to our tipster, who also suggested that NASCAR Grille will be moving down to Daytona. No word on just when that might be, however.
We've been hearing from multiple sources, both public and private, that the Hard Rock Hotel will be getting its 12 kids' suites upgraded to match the Jurassic Park-themed ones at Royal Pacific Resort and the Despicable Me rooms at Portofino Bay Hotel.
What would the new theme be? Transformers, of course, which makes less sense than the (admittedly generic) American music motif that can currently be found at Hard Rock's suites, but which also brings a higher level of detail and immersion – and, presumably, cash for Universal. A little birdie told us that this will be part of a larger, hotel-wide refurbishment, like the extensive one done to Portofino just last year.
Happy birthday to Orlando Informer!
Three years ago today, our editor, Dan, started a simple blog to give himself an outlet for all his Universal Orlando knowledge when he left the resort's Guest Contact Center. Identifying a far-under-served niche, the popularity of his blog took off, and within a few months it was clear that, with enough dedication, this could become a new career for him. Three years later, Orlando Informer is clocking nearly a million monthly pageviews, with growth around 200% in 2012 and 2013. Now, as Diagon Alley prepares to open this summer, and as Dan finalizes the soon-to-be-officially-announced opening of the reinvented OI Forum, we fully expect Orlando Informer's tremendous growth to continue.
In celebration of the site's birthday, Dan is giving away a $50 Universal Orlando gift card on Facebook.
One final quick-hit: since this is a Rumor Round-Up, we'll end the birthday section with a rumor of our own…
@UORBuzz Still kind of a secret, but my goal is to launch a forum in the 2nd quarter (very soon actually), then a podcast in the 4th quarter — Orlando Informer (@OrlandoInformer) February 19, 2014
@UORBuzz But our podcast won't really be like anything that's available now – that part is still totally a secret 😉 — Orlando Informer (@OrlandoInformer) February 19, 2014
NOTE FROM THE EDITOR
The propose of our weekly rumor column is to provide a window into what might be happening by collecting the latest speculation from sources across the internet (which we always link to). We take that speculation and condense it into one weekly post as a service to our readers, so you don't have to spend hours tracking down all the stories yourself.
We rarely claim to be the source for our stories. In reality, anyone can do what we do: Google "Orlando theme park rumors" and see what the darker corners of the theme park community are chatting about. But we know you don't have hours of free time to seek out this stuff – plus, Marc is really good at analyzing it – so we do the heavy lifting for you. Overall, this is a simple premise, and we're happy to have been executing it every week for almost two years (this is our 101st rumor post).
View all of our Rumor Round-Ups
[sws_author_bio user="msunyata@yahoo.com" size="105″ authorposts="More OI posts by Marc" name_format="About the author"] [/sws_author_bio]